If you purchase an independently reviewed product or service through a link on our website, we may receive an affiliate commission. Learn more.
Today is the day that Apple fans have been eagerly anticipating for what seems like an eternity. That's right, Apple fans, the company's new 2017 iPhone lineup is finally here! Apple invited the media to its brand new "space ship campus" in Cupertino, California to witness the unveiling of a trio of new devices that have been 10 years in the making. The iPhone 8 and 8 Plus improve upon last year's iPhones in every way, and then the new iPhone X features a brand new all-glass and stainless steel design that gives us our first taste of the future of Apple phones.
No one would argue that Apple's new iPhones aren't the hottest smartphones the company has ever created. Inside and out, Apple has truly outdone itself. The iPhone 7 and 7 Plus were the fastest and most powerful smartphones in the world, and now Apple's new iPhones outperform them by a staggering margin. All that new power is then wrapped in Apple's gorgeous new glass and metal designs, which might just be the best-looking phone designs we've ever seen.
Of course, there's also a downside to Apple's new iPhones: all that glass means Apple's iPhones are more fragile than ever before. Going caseless simply isn't an option with any of this year's new iPhones, and Caseology has just unveiled a brand new case lineup that's ready to wrap your new iPhone X, iPhone 8 or iPhone 8 Plus in the most stylish protection available.
Caseology is a top selling electronics accessories brand that offers high-quality cases for your favorite devices, including Apple's latest flagships: the iPhone X, 8 and 8 Plus. All of Caseology's products are designed to fit the way you live, and they protect your most necessary device by offering maximum comfort and durability while still catering to your personal style. As a show of commitment to its users, the company also recently revamped its products and website by adding new features and updated colors — all without deviating from the company's core focus on design.
Their latest lineup of iPhone X, iPhone 8 and iPhone 8 Plus cases are Caseology's sleekest and most impressive cases to date, and you can view the entire new lineup below.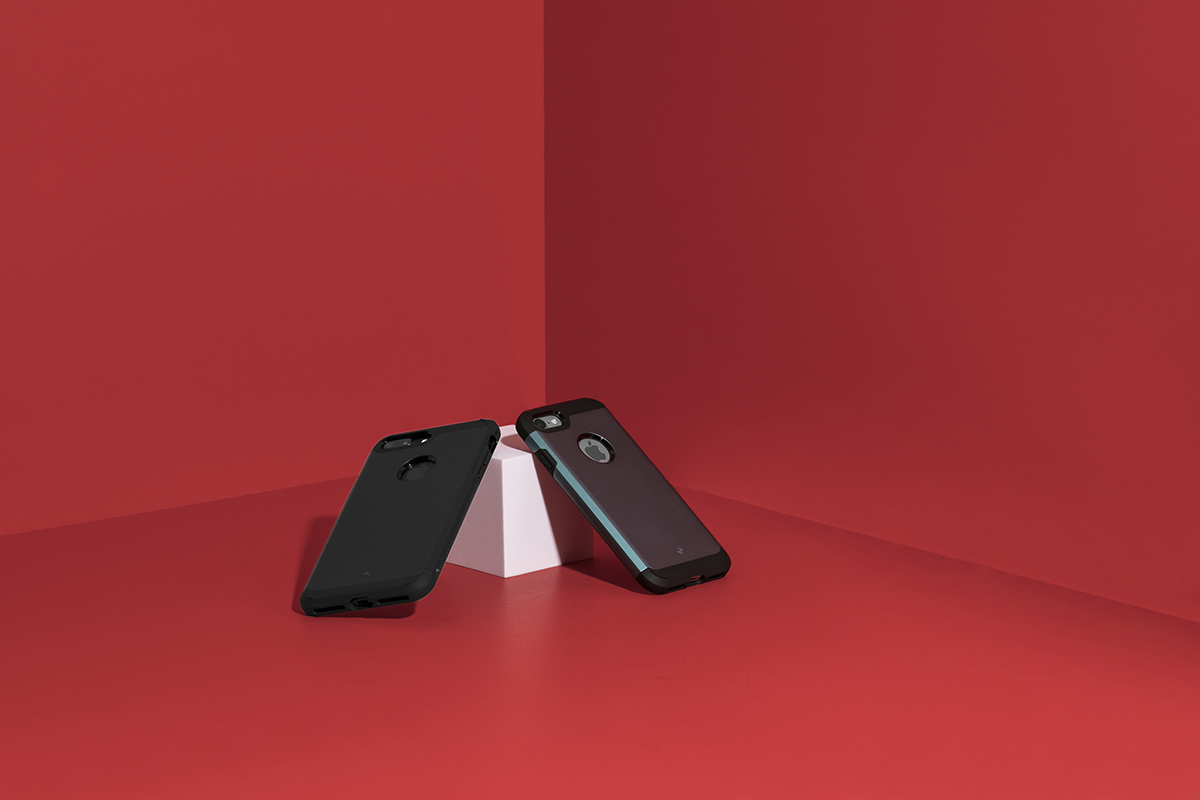 Legion Series in Charcoal Gray & Black shown
Protective Cases
Legion [iPhone X | iPhone 8 | iPhone 8 Plus]
The Caseology Legion Series is a heavy duty protection case that's designed to take on impact. This durable dual layer case offers the benefits of both rubber and hard case by seamlessly combining TPu and PC layers. The sophisticated, military design eliminates excess bulk and features a strategically raised front lip that protects the iPhone display screen when faced down. Also featured is a 4-point rear guard that keeps the back of your phone elevated on flat surfaces. Available in Charcoal Gray and all new Aqua Green.

Vault Series in Burgundy shown
Slim Protective Case
Vault [iPhone X | iPhone 8 | iPhone 8 Plus]
The Caseology Vault Series provides high shock deflection and bounces back from the occasional drop. This rugged TPU case delivers the flexibility & durability needed for daily wear and tear and offers the right amount of protection without adding bulk. The textured cover offers a confident, secure grip and includes a shock absorbing design, corner cushion protection, raised front lip and precision cutouts. Available in Black, Burgundy and all new Pine Green.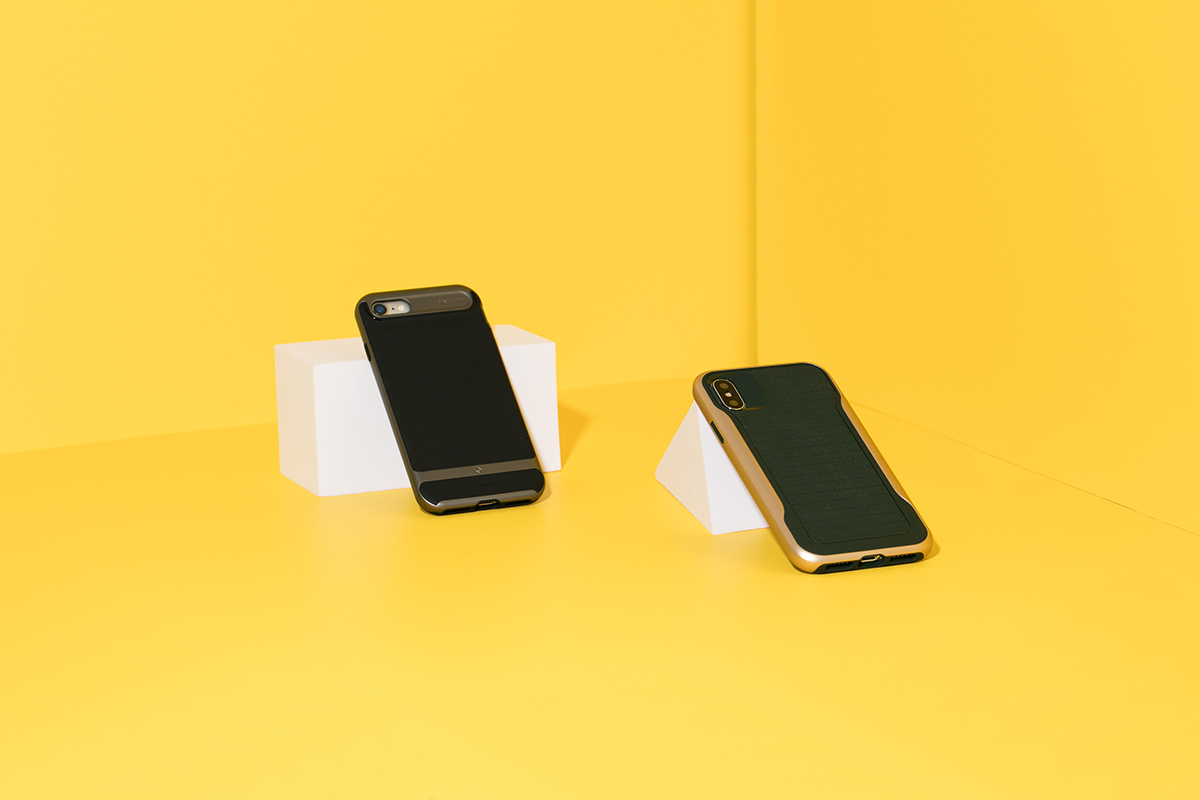 Parallax Series in Burgundy shown
Statement Cases
Parallax [iPhone X | iPhone 8 | iPhone 8 Plus]
The Caseology Parallax Series won the Good Design Selection Award in 2016 and is available for your new iPhone. The popular geometric pattern gives your phone a distinct look while providing a secure grip through its three-dimensional textured cover. The Parallax now features an improved frame with strategic grooves that offer a better grip necessary for taking photos, streaming videos and playing games horizontally. Available in Black, Burgundy and all new Ocean Gray and Pine Green.
Apex [iPhone X | iPhone 8 | iPhone 8 Plus]
The Caseology Apex Series is the latest addition to Caseology's line of modern, minimalist-influenced cases. The understated design mixes geometric shapes and clean lines for a minimal yet bold look that's not overwhelming. The Apex incorporates Caseology's tried-and-true dual layer technology and features an ultra slim profile, precise cutouts, responsive button covers and raised bezel protection. Available in Black, Burgundy, and all new colors—Pine Green, Aqua Green and Ocean Gray.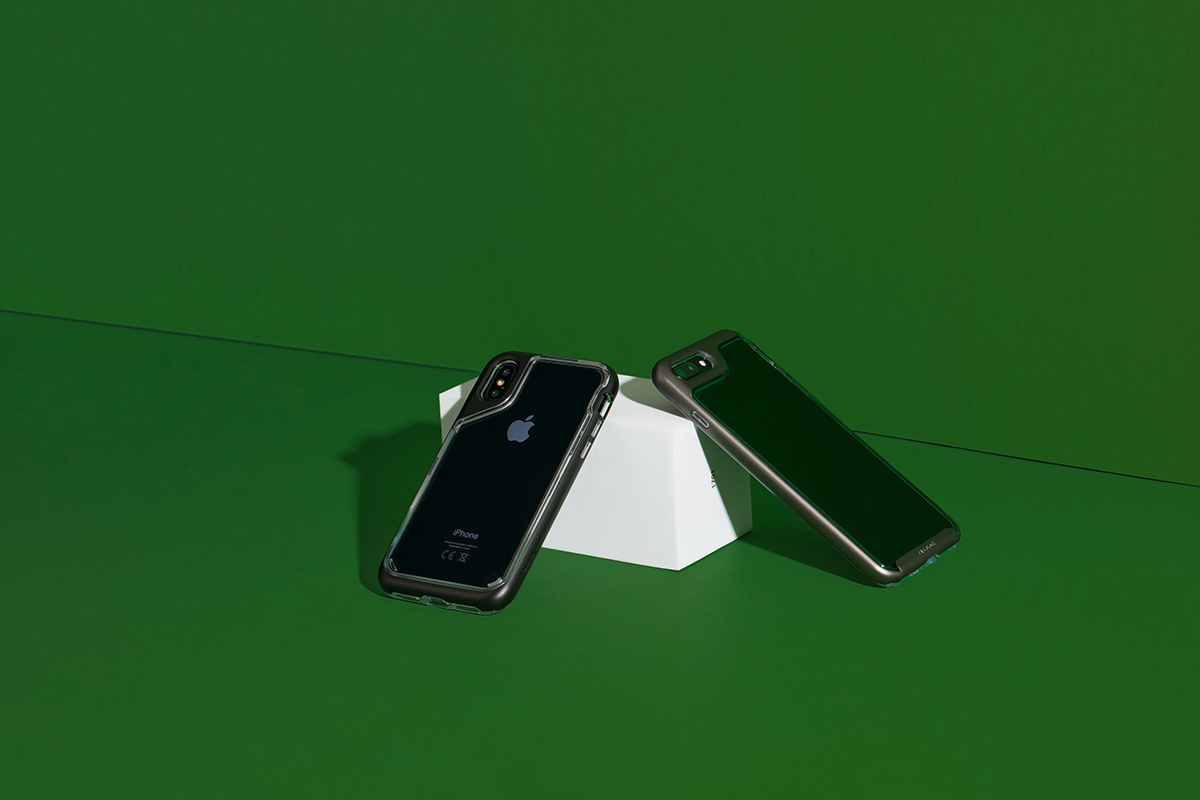 Skyfall Series in Warm Gray & Black shown
Clear Cases
Skyfall [iPhone X | iPhone 8 | iPhone 8 Plus]
The Caseology Skyfall Case is a slim yet effective solution for protecting your new iPhone without covering up its sleek design. The minimalist influences and crystal clear design enhance the typical clear case by combining it with a precision-matched color frame that perfectly matches your phone. The result is seamless protection that looks and feels nearly invisible. The ultra clear cover is scratch-resistant and won't discolor over time. The Skyfall also features a partially clear frame, precise cutouts, low-profile button covers and a subtly raised front lip. Available in Black and all new Warm Gray.
Coastline [iPhone X | iPhone 8 | iPhone 8 Plus]
The Coastline Case for iPhone 8 is a fresh take on the classic clear case. Its crystal clear cover, contrasting color-border, and sheer TPU frame elevates even the most simplistic design. It cleverly integrates all three components into a remarkably slim case that confidently withstands drops. The Coastline's minimalist design also includes low-profile button covers, precise cutouts and raised bezel protection. Available in Frost Gray; Deep Blue and all new White Gray—coming soon.
Coming Soon
Spectra [iPhone X | iPhone 8 | iPhone 8 Plus]
The all-new Spectra Series is the result of Caseology's evolving style and attention to trends. It fuses classic design with contemporary elements for a look that stays relevant season after season. The Spectra is the perfect canvas for a variety of styles and is available in 4 different options: Leather—Black, Pine Green; Wood—Black; Pine Green; Splash—Black; Marble—Ocean Gray.
Nero Tough [iPhone X | iPhone 8 | iPhone 8 Plus]
The all-new Caseology Nero Tough Series is a full body protection case that effectively withstands drops. It's made with a protective blend of TPU & PC material and includes a 9H tempered glass screen protector for front-to-back protection. The slightly weighted build fleshes out your phone for secure yet non-bulky grip. The Nero Tough is packed full of features which include precise cutouts, tactile button covers, a raised front lip and camera bezel protection. Available in Black.
Nero Slim [iPhone X | iPhone 8 | iPhone 8 Plus]
The new Caseology Nero Slim Case is the leaner, meaner iteration of the Nero Tough case. Its ultra slim build and practical design may seem conservative but it delivers superior protection against drops. This full-body PC hard case also includes a 9H tempered glass screen protector for front-to-back protection. The Nero Slim features precise cutouts, responsive button covers, a raised lip and camera bezel protection for complete coverage. Available in Charcoal Gray.
Tempered Glass Screen Protector [iPhone X| iPhone 8 | iPhone 8 Plus]
The Caseology Tempered Glass Screen Protector is an effective solution for protecting the all-screen display on the iPhone X, 8 and 8 Plus against high impact drops and scratches. Made with genuine glass and four additional protective layers, this ultra slim screen protector is highly-durable, scratch-resistant, shatterproof and only 0.33mm thick. It maintains deep vivid colors and detail without distorting the original picture quality and offers complete touchscreen accuracy with immaculate clarity. Features also include precise cutouts, rounded edges, and a high-gloss finish with a hydrophobic & oleophobic coating that protects against fingerprint smudges, water, and oil.
To learn more about our sponsored deals and sponsored posts opportunities, please email sponsored@bgr.com.
---
Our deals and product reviews are picked by BGR's expert editors and team.

Follow @BGRDeals on Twitter to keep up with the latest and greatest deals we find around the web. Prices subject to change without notice and any coupons mentioned above may be available in limited supply.