If you purchase an independently reviewed product or service through a link on our website, we may receive an affiliate commission. Learn more.
There are so many great discounts available right now on laptop computers. You'll find all the hottest ones in our guide on the best laptop deals. But what good is a new laptop if your slow internet speeds are constantly holding it back? That's why you should definitely also check on Amazon's current sale on eero 6 and eero 6+ mesh WiFi routers.
Prices start at just $75.99 for the eero 6 mesh WiFi router, which is normally priced at $90. Or, you can upgrade to the eero 6+ mesh WiFi router with even faster data speeds for $111.99, down from $140. There is a catch, however, and it's that these deals are only available to Amazon Prime subscribers.
A few years ago, I upgraded my home WiFi system to the eero Pro 6. It was one of the best decisions I have ever made. I work from home, and unreliable WiFi was driving me crazy. Eero, on the other hand, delivers lightning-fast speeds that almost never have any hiccups.
It was rather expensive at the time, since a 3-pack of eero Pro 6 routers cost $600. That price has since fallen to $399.99, but that's still quite a bit of money to spend on a mesh wireless system.
Thankfully, Amazon is offering two terrific deals on comparable eero setups.
First, the eero 6 mesh WiFi system is on sale for $75.99 per router. Normally priced at $90 each, this model supports data speeds of up to 900Mbps. That's more than fast enough for most households, even if you have four or five people in your family.
For those of you with a very large family, or if you've got multiple gamers in your household, there's an even faster option. Eero 6+ mesh WiFi routers are down to $111.99 for Prime members.
They normally cost $140 each, and they support gigabit data speeds.
As I mentioned earlier, only Prime subscribers can get these discounted prices. When you visit the product pages, you'll see something like this:

Down near the bottom of that screenshot, you'll see a note if you're an Amazon Prime member. In the example above, it says I can save $28 because I'm a Prime subscriber.
And here's the best part: the discounts aren't restricted to one router. If you have a large home, you can build a 3-router system and you'll save on all three eero 6 or eero 6+ mesh WiFi routers! Here's another screenshot showing the discount on a 3-router system: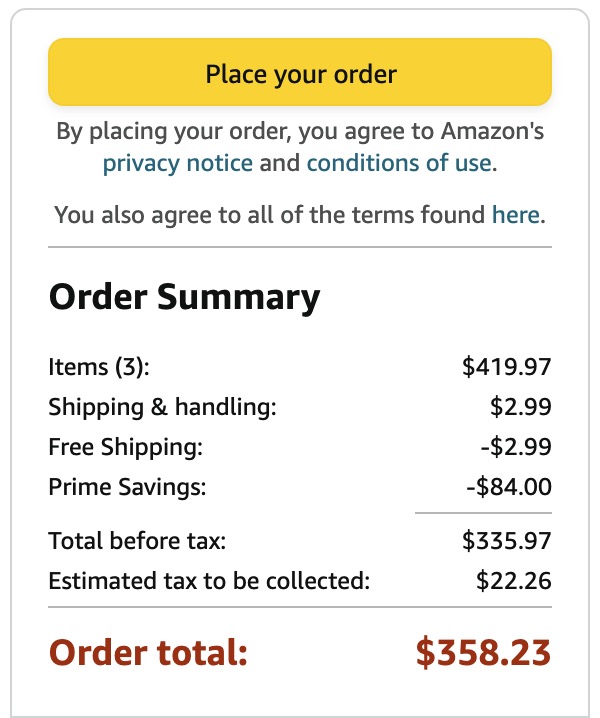 The only thing to keep in mind is that Amazon makes no effort to communicate when this sale might end. That means it could disappear any day now, so you might not have long to take advantage.