If you're a casual music listener who couldn't give a rat's you-know-what about high-fidelity sound, you may want to stop reading here. We're talking about one of the best pairs of wireless headphones on the market — the Master & Dynamic MW60 wireless over-ear headphones.
In case you missed it, you can check out our original rundown of the best wireless headphones, which only included one luxury option. As with all things tech, there's often dozens of products that deserve a highlight, and these MW60 headphones have certainly earned that much. Let's dive into what exactly makes these high-end headphones so luxurious.
Whether you're looking for a way to continue listening to tunes on your iPhone without the headphone jack (thanks, Apple,) or you're simply looking for the best in high-fidelity sound replication, the Master & Dynamic MW60 headphones are definitely worth a look. For those not in the know, Master & Dynamic are a fledgling audio company that has already made their impact on the professional and amateur music world. Taking a page out of Beats playbook, all M&D headphones have a special flair about them; albeit a more classy flair compared to Beats. Point being, if you're looking for a stylish pair of headphones to rock on that 12 hour flight, you can't go wrong with Master & Dynamic. Specifically, the MW60s come in two classic looks: brown and black.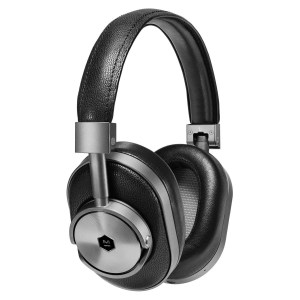 Now, let's get into the nitty-gritty — the stuff that makes these wireless headphones worth the stiff price of $549; audio quality. Where the MW60 headphones make their mark is in high-fidelity sound replication. The 45mm neodymium drivers pump out crisp and full mixes — not too shrill and no flab in the bass. If this is Klingon to you, that's totally understandable. Neodymium is a rare-earth metal, which driver magnet is made of, and is known to produce powerful, clear sound while staying lightweight. Essentially, these headphones are made with the best possible material to remain lightweight with strong signal replication. These bad boys also have Bluetooth 4.1 streaming with the AptX Codec for top-of-the-line music quality, guaranteed.
Lest we forget, these aren't ordinary headphones. These are wireless headphones. So how well does the "wireless" component work? For starters, the MW60s offers a respectable 16 hour battery life on a single charge. While it's not the highest we've seen on the market, it's certainly nothing to scoff at. The headphones also have a visually negligible antenna to boost the headphones signal range — a welcome feature on any Bluetooth product.
Of course, at this price point, these headphones better be comfortable, right? These Master & Dynamic headphones show off stylish lambskin-wrapped memory foam ear pads for total comfort on long listens. They also have hinges in all the areas that could begin to wear on your head so that it never feels too stiff.

Beyond comfort, style, and sound quality, the MW60 wireless headphones also house some impressive ancillary features and accessories. For starters, an omnidirectional noise isolating microphone makes for clear phone calls, as long as you have signal. The headphones can also be plugged directly in with an included 3.5mm attachment if you so choose. On top of it all, the box includes a pouch for the headphones, a pouch for the cord, and a leather cable box to keep every piece safe and sound.
The bottom line is that yes, the Master & Dynamic MW60 wireless headphones are pricey at $549. However, if you're serious about getting the best audio experience out of your music, and are willing to shell out some dough, these headphones are some of the best available anywhere today.