If you purchase an independently reviewed product or service through a link on our website, we may receive an affiliate commission.
Watching two people say "I do" in front of their friends and family brings a tear to many people's eyes. Weddings are certainly an occasion that bring people together to celebrate the love a couple has for one another. But in order to make the day a big success, there's a lot of planning that must take place. From the venue to the band (or DJ) to the centerpieces, weddings can be an overwhelming experience for the couple. One things that is a nice touch of decoration for the day is a wedding cake topper. This can be a symbol of the couple themselves or just a nice decorative addition to your towering cake. You don't have to spend a ton of money on a wedding cake topper, especially if you're already putting down a pretty penny for the rest of the day. We've highlighted some of the best options for toppers below to give you an idea of what's out there for you. Let's take a look at our picks and get you ready to walk down the aisle.
Best Personalized Wedding Cake Topper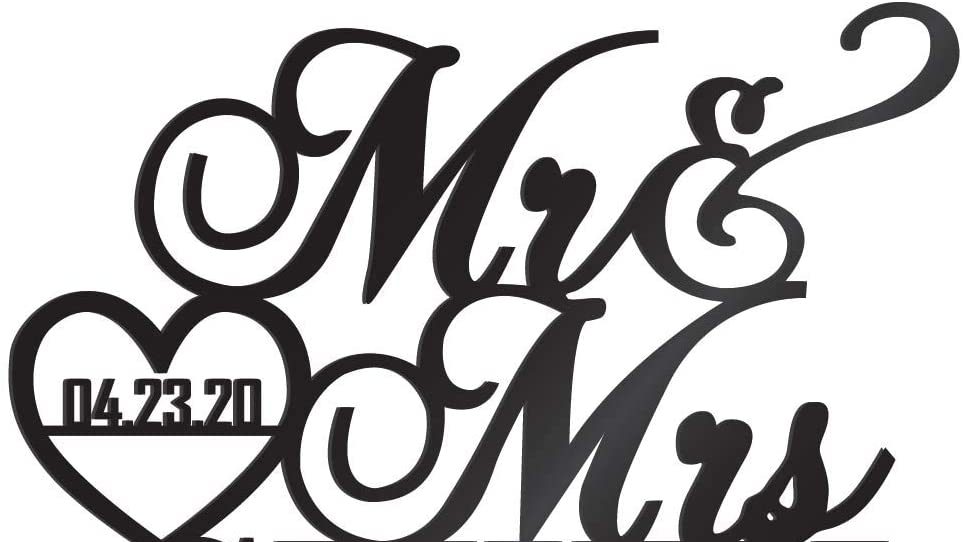 Obviously, you're going to want to customize a lot when it comes to your wedding decorations. Add the cake topper to the list when you get the Sugar Yeti Personalized Wedding Cake Topper. There is a quick turnaround time when the order comes in, so you can wait to order this and have it shipped just a few days before the wedding. There are over 20 color options for all the different four designs. You can pick between wood, solid colors, mirrored colors, and glitter colors. You can get your last names and the date of your wedding as the design. The dimensions 6″ x 7″ with a thickness of 1/8″. This fits a 6″ round cake easily. This is a wonderful design that you're sure to be pleased with.
Wedding Cake Toppers, Personalized Mr & Mrs Heart, Custom Wedding Date & Last Name To Be Bride…
Price:
$14.95
Available from Amazon, BGR may receive a commission
Best Hand-Painted Cake Topper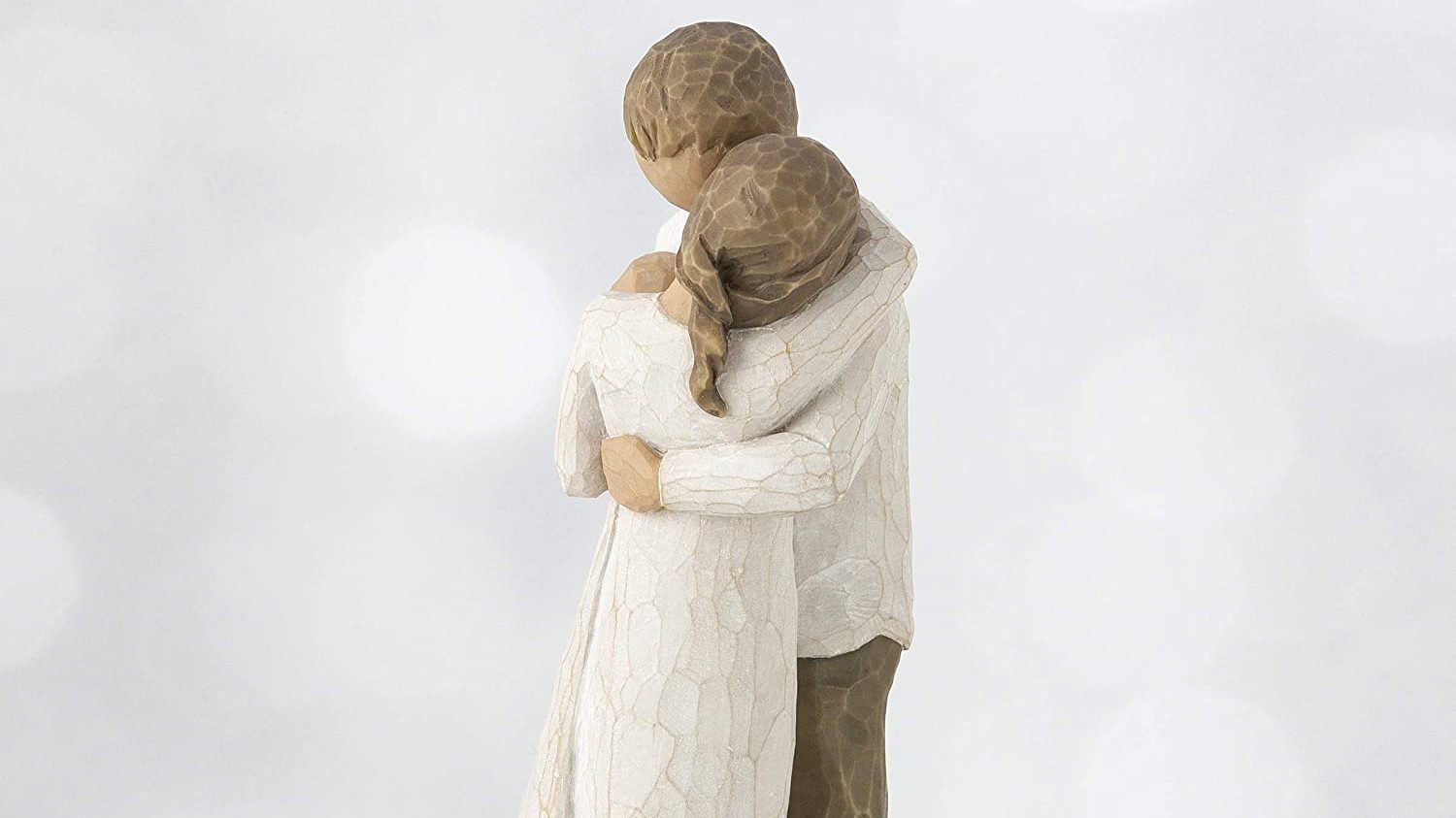 With the sentiment "Hold dear the promise of love" the Willow Tree Promise sculpted hand-painted cake topper is lovely. This 6″ resin figure has a base of carved flowers for both stability and beauty. The paint and resin is lead-free and is tested to make sure it's safe for food. Don't submerge this in water when you're cleaning it, as the paint is not waterproof. The design is of a couple hugging each other in a loving embrace that is sure to be sentimental. These are carved from willow trees in Kansas City, Missouri. You'll feel the closeness when you see this on top of your cake.
Willow Tree Promise, sculpted hand-painted cake topper
Price:
$42.96
Available from Amazon, BGR may receive a commission
Best Variety of Cake Toppers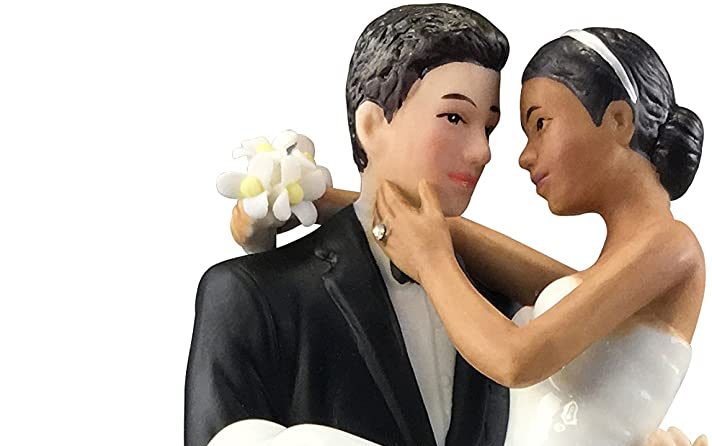 You will have a massive array to choose from when you opt for the Wedding Collectibles Cake Topper Figurines. Each one is made of fine porcelain and they vary in size. They are original Wedding Collectibles designs, so they're unique. You can choose from options like Caucasian Groom Holding African American Bride, Super Sexy Spy Guns, Tractor Western Wedding, Rose Wedding Bride and Groom, Tieing the Knot Funny Wedding Cake Topper, Newly Wed Bride and Groom, as well as many other styles. There are styles for most ethnicities, genders, and sexual orientation.
Wedding Collectibles Caucasian Groom Holding African American Bride Interracial Cake Topper Fig…
Price:
$56.95 ($56.95 / Count)
Available from Amazon, BGR may receive a commission
Best Religious Cake Topper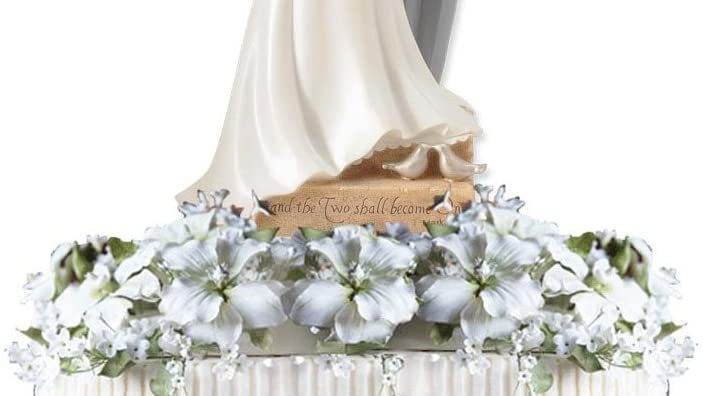 Adding a little biblical touch to your cake, the Enesco Legacy of Love Wedding Bride and Groom Newlywed Cake Topper is one you'll want to keep after your wedding. This is part of Enesco's Legacy of Love line and it features a bride and groom in full and beautiful detail. This intricate cake topper measures 7.82″ in height, so it won't be overwhelming but will definitely stand out. Underneath the bride and groom is a verse from the Bible, Mark 10:8, that reads "…and the two will become one…". This is made from sculpted stone resin.
Enesco Legacy of Love Wedding Bride and Groom Newlywed Cake Topper
List Price:
$35.00
Price:
$28.40
You Save:
$6.60 (19%)
Available from Amazon, BGR may receive a commission
Best Heart-Shaped Cake Topper
The never-ending symbol of love, the Hortense B. Hewitt 10001 Cake Topper comes in the shape of two interlocking hearts. Named "Sparkling Love", this topper is made from metal and it sparkles. The steel construction is safe to use with your cake and it is imported for your liking. The finish is an accent pewter for a refined touch. It measures 5.5″ tall and the base is 3.25″ in diameter, so it will fit on most cakes without a problem. The double heart design is decorated with rhinestone accents, adding to the appeal.
Hortense B. Hewitt Sparkling Love Double Hearts Anniversary, Engagement, Wedding Cake Topper, 5…
Price:
Available from Amazon, BGR may receive a commission