If you purchase an independently reviewed product or service through a link on our website, we may receive an affiliate commission.
One of the world's most underrated, and frankly, underappreciated gifts, is the accessibility of clean water. Considering this, unfortunately, isn't the case for everyone around the world, we should be more grateful for something many of us consider pretty standard. Perhaps one of the cheapest and most efficient ways we can access clean water for both drinking and, to a lesser extent, bathing, is through a water filtration system. A water filter, which is generally pretty inexpensive, can single-handedly deliver purified drinking water straight from your sink. While some might prefer a water filter pitcher, they can be somewhat of a nuisance, considering how often you have to re-fill them and replace the filter itself regularly. Here, we'll go through some of the best alternatives to a water pitcher, and hopefully, you can find a water filter system that works best for your own needs. Let's take a look.
Best Overall Water Filtration System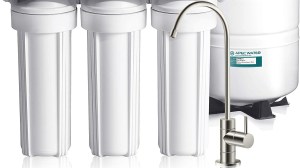 We'll start with a product that, for all intents and purposes, provides you with a full-on water filtration system. The APEC Top Tier 5-Stage Ultra Safe Reverse Osmosis Drinking Water Filter System is a relative no-brainer. This product removes 99% of contaminants en route to fully safe and drinkable water for you and your family. While it might seem like a daunting task to hook up such an intricate system, it's actually pretty easy to install, thanks to a series of online instructional videos. It features a lead-free designer faucet and FDA Certified JG Food grade tubing that effectively removes arsenic, chlorine, lead, fluoride, heavy metals, bacteria, virus, and thousands of other contaminants from your drinking water. It's so good, in fact, that it can actually taste better than standard bottled water. It's virtually leak-free, thanks to the system's quick-connect fittings that require no extra lock clips to fully seal any leak.
APEC Water Systems ROES-50 Essence Series Top Tier 5-Stage Certified Ultra Safe Reverse Osmosis…
List Price:
$260.00
Price:
$199.95
You Save:
$60.05 (23%)
Available from Amazon, BGR may receive a commission
Best Countertop Water Filter
On the other hand, if you're just looking for a simple countertop filter that hooks up to the sink and gives you high-quality drinking water in seconds, the Apex Countertop Drinking Water Filter is a great option. It's super easy to install, as it's compatible with most standard kitchen faucets, and it's designed to sit on your countertop for easy-access water. It can effectively remove chlorine, sediment, mercury, radon, and virtually every pesticide under the sun for delicious drinking water, in addition to filtering out common water-borne viruses like Cryptosporidium, and Giardia cysts. This inexpensive and convenient option is environmentally and wallet-friendly, helping you eliminate the constant need for water bottles and other bottled and/or canned beverages.
APEX MR-1050 Countertop Water Filter, 5 Stage Mineral pH Alkaline Water Filter, Easy Install Fa…
Price:
$81.15
Available from Amazon, BGR may receive a commission
Best Sink Attachment Water Filter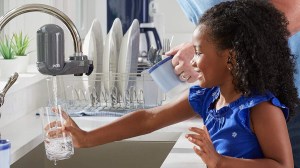 For those who prefer to get their water right from their faucet, essentially cutting out the "middle man," so to speak, the PUR FM2500V Classic Faucet Mount Filter is the way to go. In comparison to some of the more comprehensive systems, this isn't as powerful, but it still removes 70 contaminants — including 99 percent of lead — so you know your water is still more than safe to drink. There's also a limit on its effectiveness as the attachment provides you with up to 100 gallons of filtered water, which amounts to two or three months of standard use until you need a replacement filter. Luckily, they're inexpensive, and of course, perhaps the most convenient option out there.
PUR PLUS Faucet Mount Water Filtration System, Gray – Vertical Faucet Mount for Crisp, Refreshi…
Price:
$21.99
Available from Amazon, BGR may receive a commission
Best Portable Water Filter
Those who travel often might prefer a filter that they can take on the go, whether that's for extended trips, casual hikes, or anything in between. In this case, you should opt for the Sawyer Products MINI Water Filtration System. This quirky device weighs just two ounces, however, this 0.1-micron absolute inline filter removes 99.9999% of harmful virus-inducing protozoa like giardia, and 100% of microplastics en route to delicious, drinkable water on the go. The filter itself can last up to 100,000 gallons, giving you an ample amount of use anytime you're out and about.
Sawyer Products SP103 MINI Water Filtration System, Single, Orange
List Price:
$24.95
Price:
$21.97
You Save:
$2.98 (12%)
Available from Amazon, BGR may receive a commission
Best Water Filter for the Shower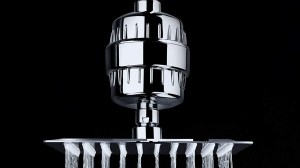 One doesn't typically think about filtered water when it comes to bathing and showering, but those with sensitive skin — or those who care deeply about the condition of their skin, in general — do and the AquaBliss High Output Revitalizing Shower Filter is a fantastic device. This filter allows you to remove any hard, chlorinated, and chemical-ridden water, en route to healthier showers and revitalized hair, skin, and nails. It can effectively reduce dry skin, dandruff, and eczema, and you'll see a noticeable difference in just a few weeks. It's also adept at neutralizing odors and delivering minerals straight to your epidermis. Simply attach the device to your shower head and you'll have clean bathing water in just a few short minutes.
AquaBliss High Output Revitalizing Shower Filter - Reduces Dry Itchy Skin, Dandruff, Eczema, an…
List Price:
$49.95
Price:
$35.86
You Save:
$14.09 (28%)
Available from Amazon, BGR may receive a commission