If you purchase an independently reviewed product or service through a link on our website, we may receive an affiliate commission.
Watches can be seen as status symbols, especially if you're wearing something like a Rolex. Having a watch on your wrist, regardless of if it's a smart watch or a mechanical one, can provide you with a ton of information just by turning your wrist. Wearing a watch can also be used as a fashion accessory, as you can match your watches or your wrist bands to your outfit. But if you like to cycle through different watches, maybe a silver one, gold one, digital one, athletic one, and cloth band one, you need a place to store them all. A watch box organizer is an easy way to keep your watches together. You'll have them laid out, so picking one for the day is simple. It also makes choosing one to match your outfit easy. If you're a watch connoisseur and love to rotate your watches, we've got your organizer choices below. Take a look at our picks for the best watch box organizers and flash your accessories.
Best Carbon Fiber Box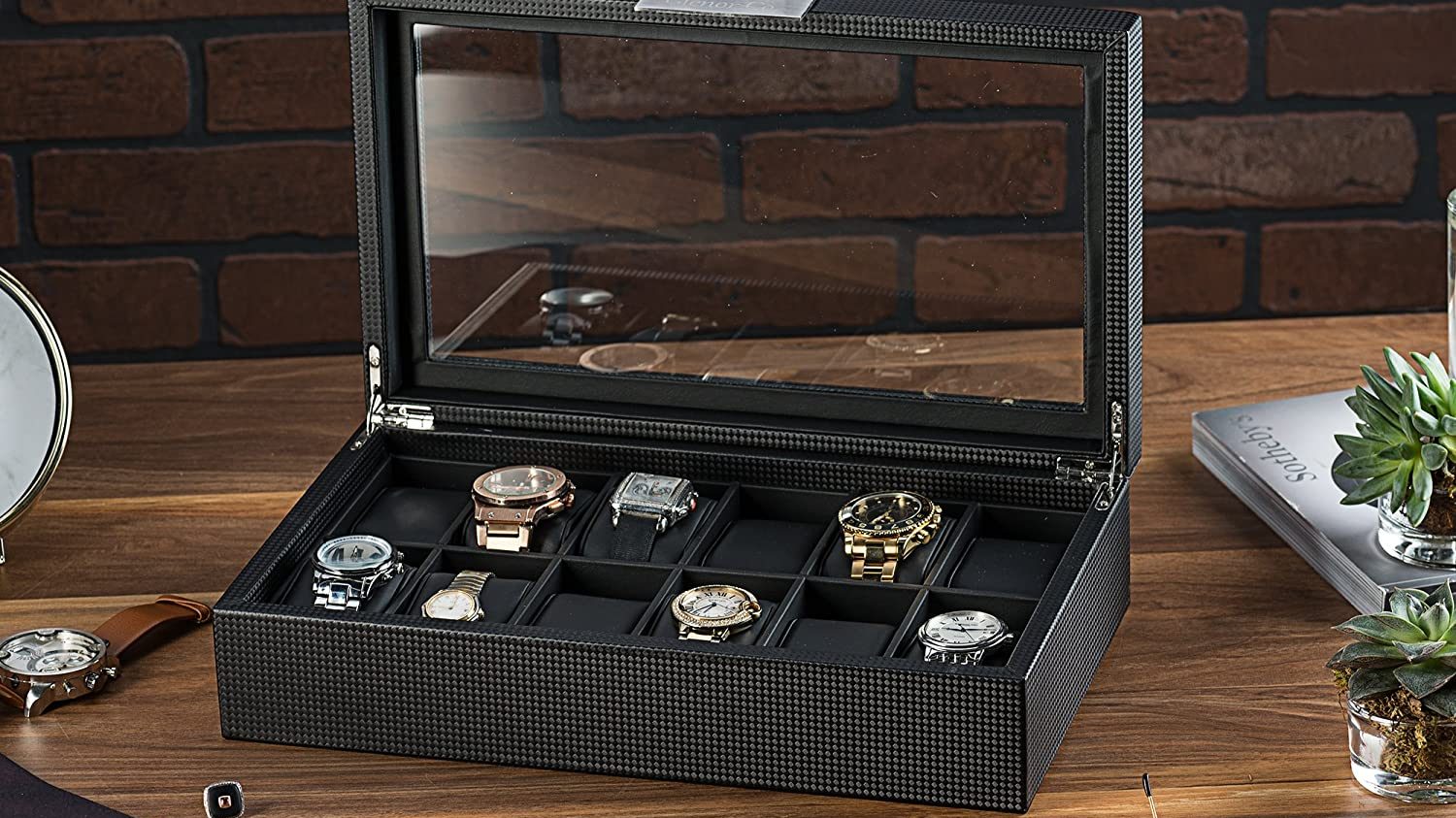 Providing an elegant display to put your watches in, the Glenor Co Watch Box for Men will look good on any dresser or vanity. Made with high quality craftsmanship, this provides cushions for our watches to rest on. There are 12 slots for you to fill and this will hold both small and large watches in place. The exterior measures 14.25″ x 8.50″ x 3.50″ while each interior compartment is 2″ x 3.50″. The carbon fiber display has a metal buckle close that keeps it shut. You can see into the box, allowing you to admire your watches. This flashes a balance between a modern look and a sophisticated one. This comes with a 100% satisfaction guarantee, so if you aren't at all impressed with the product, you'll get a full refund. But we can't see that happening.
Glenor Co Watch Box for Men - 12 Slot Luxurious & Masculine Carbon Fiber Textured Watch Case, S…
List Price:
$49.95
Price:
$44.95
You Save:
$5.00 (10%)
Available from Amazon, BGR may receive a commission
Best Small Box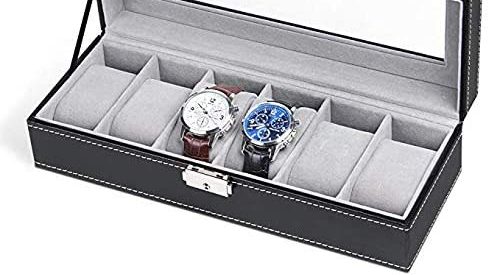 If you only have a few watches that you need to organize, you can opt for the NEX 6 Slot Leather Watch Box Display. This is made from waterproof artificial leather, MDF, and velvet, so it'll look the part. It's extremely easy to clean if you get any fingerprint smudges on it, as you only need to use a cloth. You can keep six watches stored in here and it won't take up much room on your dresser. The glass lid keeps dust off your watches and offers a broad vision of your inventory. You can also remove pillows if you'd like to store cufflinks or other jewelry.
6 Slot Leather Watch Box Display Case Organizer Glass Jewelry Storage Black
List Price:
$25.99
Price:
$19.99
You Save:
$6.00 (23%)
Available from Amazon, BGR may receive a commission
Best Box for Storage
Keep all of your valuables in one place when you use the JS NOVA JUNS Watch Box. Measuring 11.8″ x 7.9″ x 5.1″, there is ample room between the lid and the cushions to store your watches. You can store up to 12 watches in the top portion. But what sets this apart from the previous two choices is the drawer below that adds more storage possibilities. You can put cufflinks, bracelets, necklaces, earrings, brooches, sunglasses, and other valuables. The large glass lid keeps your watches from collecting dust or getting scratched. It's made from artificial leather and velvet and the pillows are removable to make room for larger watches.
Watch Box, 12 Slots PU Leather Case Organizer with Jewelry Drawer for Storage and Display
List Price:
$39.99
Price:
$29.99 ($29.99 / count)
You Save:
$10.00 (25%)
Available from Amazon, BGR may receive a commission
Best Large Box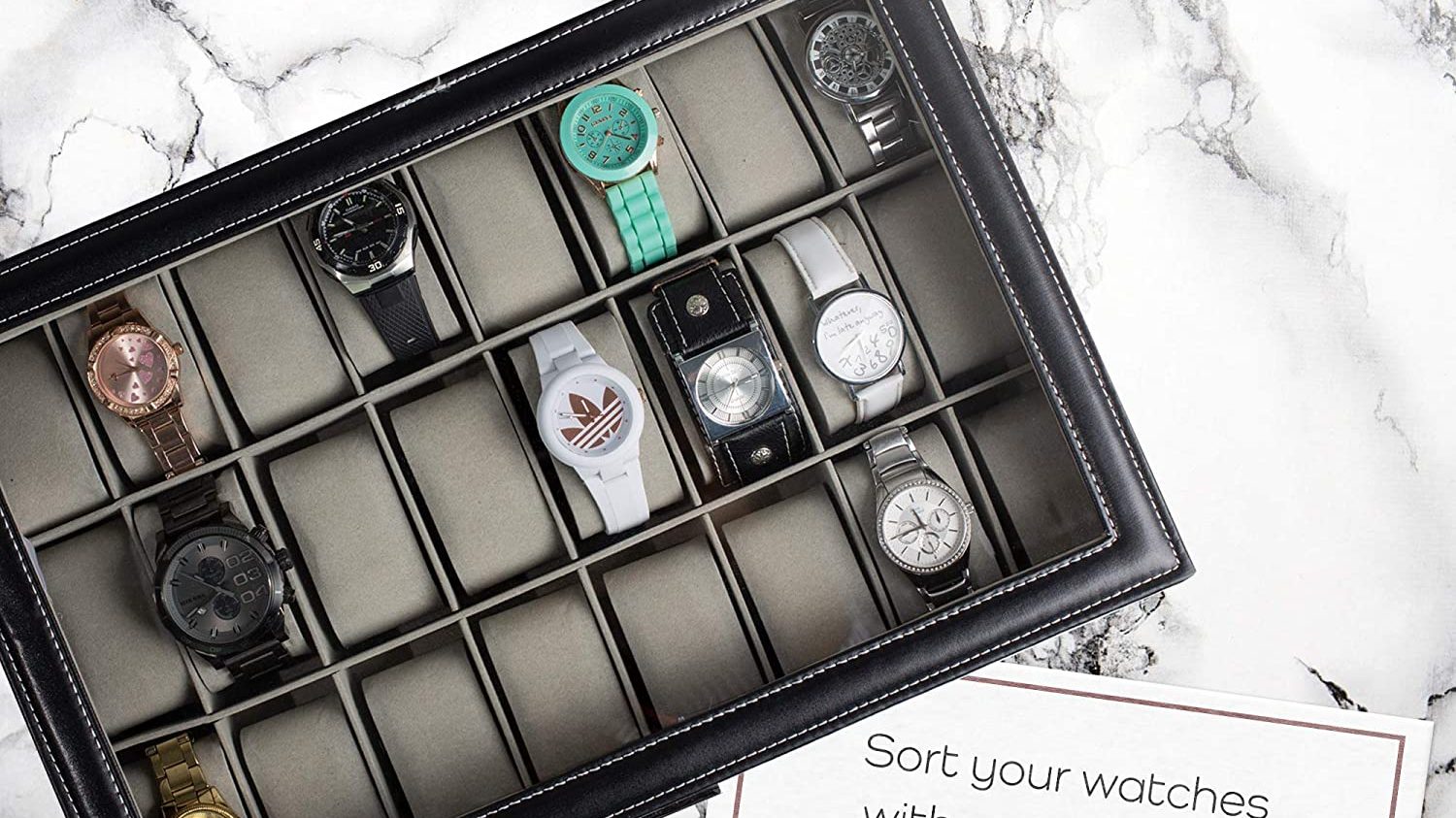 For those with an extensive watch collection, there's the Cas De'Lux Watch Box Organizer. This elegant organizer is made from PU leather and elegant contrast stitching for a classic and attractive and appearance. There are 24 slots for you to fill underneath the framed plexiglass lid. This case for men and women allows you to show off to your friends and family. The pillows will extend the life of your watches, as they cradle them when they aren't be worn. This is a neutral color, so it will fit in with any decorating scheme.
Watch Box Organizer Pillow Case 24 Slot Display Cases With Framed Glass Lid Elegant Contrast St…
Price:
$32.99
Available from Amazon, BGR may receive a commission
Best Lockable Box
Not only does this have watch slots and a drawer for more storage, but the AUTOARK Leather 12 Men's Watch Box also has a lock to keep it all safe. This has a metal lock to protect your valuable accessories. The top layer has 12 pillows and slots for your watches while the bottom layer has a drawer with a jewelry tray. The clear glass allows a top view to see everything. You can store your spare rings, earrings, bracelets, necklaces, as well as your watches. This measures 12″ x 8″ x 5″, so you can display it or tuck it away.
Autoark Leather 12 Mens Watch Box with Jewelry Display Drawer Lockable Watch Case Organizer,Bro…
Price:
$28.99
Available from Amazon, BGR may receive a commission