If you purchase an independently reviewed product or service through a link on our website, we may receive an affiliate commission.
As time goes on, there are only so many storage options available for some of your lesser-used, but still semi-important items around your home. There's always a storage locker or unit, but that can get to a bit pricey, especially if it's only to be used for a couple of knickknacks, blankets, and old clothes. One great space-saving option, however, is using vacuum-sealed storage bags to help you store your items. They take up minimal space, they're easily stackable, and you can place them in tight-knit areas which you likely didn't even realize could store anything at all. But that's the beauty of a vacuum-sealed storage bag — they make storing almost anything a breeze. So we'll go through some of the best vacuum sealed storage bags we found as an ultra-convenient storage alternative, so you won't have to go out of your way to spend money on overpriced storage units ever again.
Best Overall Vacuum Sealed Storage Bags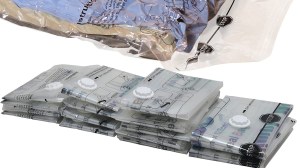 We'll start with these Simple Houseware V 15 Vacuum Storage Space Saver Bags, which are super convenient, efficient, and easy to use. This set comes with a wide variety of bags, 15 in total with two jumbos, five XL, four large and four medium-sized bags. These clear bags are ultra-durable and protective, as they feature an extra-strength, double seal zipper that helps keep items airtight, waterproof, and free from dirt, dust, bugs, and mildew. Each bag comes with a convenient utility clip and can work with virtually every brand of vacuum cleaner — so long as it still contains the hose attachment. When fully compressed, they can save you around 80 percent of space, making them a great option to story varying sizes of clothing, pillow, blanket, etc.
Simple Houseware Vacuum Storage Space Saver for Bedding, Pillows, Towel, Blanket, Clothes Bags
List Price:
$29.99
Price:
$22.87
You Save:
$7.12 (24%)
Available from Amazon, BGR may receive a commission
Best Vacuum Sealer Bags for Food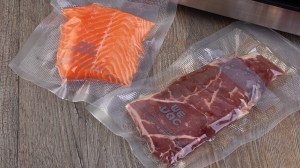 If you have your own vacuum sealing machine and want a roll of vacuum sealing bags that you can cut and seal yourself, these Vacuum Sealer Bags 8×50 Rolls by Wevac are a solid choice. It should be noted, again, that these vacuum seal bags are mostly for storing meat, food, and other items for the freezer, so you probably wouldn't want to store your pillow in here. But for food, it's perhaps the best option out there. This two-pack of 8″ x 50′ rolls feature embossed channels and Bone Guards that increase suction, prevent piercing, freezer burn and dehydration. They'll keep your food fresher for up to six months longer than some other generic brands, making these some of the most durable, long-lasting, and effective vacuum-sealed bags out there.
Wevac Vacuum Sealer Bags 8x50 Rolls 2 pack for Food Saver, Seal a Meal, Weston. Commercial Grad…
Price:
$16.99 ($8.50 / Count)
Available from Amazon, BGR may receive a commission
Best Jumbo Vacuum Sealed Storage Bags
For larger household items — comforters, large pillows, winter jackets, etc — you're probably going to need a bag that's a bit larger, like these Ziploc Flat Space Bags, For Organization and Storage. This set only comes with two extra-large bags, but that's just because they're big enough to hold some of your larger items that need storing. They're perfect for queen-sized comforters, mattress toppers, and any type of bed and linen, in general. They're built with airtight, waterproof construction that protects your belongings against moths, bugs, mildew, dirt, and odors, allowing you to store any of your precious items for long periods of time — or short ones, for that matter.
Ziploc Flat Space Organization and Storage, Reusable, Waterproof Bag, Pack of 2 (XL), X-Large (…
Price:
$18.79 ($9.40 / Count)
Available from Amazon, BGR may receive a commission
Best Vacuum Sealed Storage Bags with Pump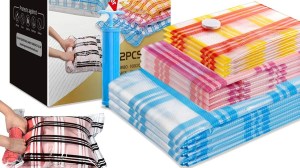 These Storage Master 12 Vacuum Storage Bags, Space Saver Bags come with a convenient hand pump so you don't have to lug around your home's vacuum cleaner just to seal a few bags. This pack comes with 12 bags of four varying sizes (Jumbo, Large, Medium, and Small), providing a convenient way for both travel and home storage. Each bag features a unique, aesthetically pleasing design and features yellow lines on the one side and blue lines on the other side that indicate how sealed the bags are. And of course, it comes with an easy-to-use hand pump which allows you to suction out air, arguably, easier than any vacuum could. Well, at least more conveniently.
Storage Master 12 Vacuum Storage Bags, Space Saver Bags, 12-Pack (3 Jumbo, 3 Large, 3 Medium, 3…
Price:
Available from Amazon, BGR may receive a commission
Best Value Option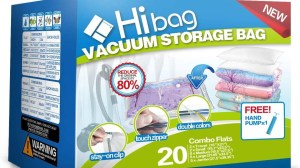 If you're looking to get the most bang-for-your-buck, these Hibag Space Saver Bags, 20 Pack Vacuum Storage Bags are a great alternative. Here, you're getting 20 ultra-durable zipper locked vacuum bags that feature a strong, stay-on clip, a smart zipper, and a plastic valve that effectively prevents air from finding its way into the airtight seal. This pack of 20 certainly allows you some flexibility, as it comes with two travel-sized bags, two small, six medium, five large, and five extra-large bags that help you store a number of different items. This set also comes with a two roll up bags and a hand pump, making this set of 20 the best overall value pack you'll find.
HIBAG Space Saver Bags, 20 Pack Vacuum Storage Bags (6 Medium, 5 Large, 5 Jumbo, 2 Small, 2 Rol…
Price:
$35.99
Available from Amazon, BGR may receive a commission