If you purchase an independently reviewed product or service through a link on our website, we may receive an affiliate commission.
Being "handy" isn't quite what it used to be. Daily household maintenance is now easier than ever before, thanks to the advent of the internet and technology in general. Of course, you can't just use Google for everything (although, there's probably an argument for that as well), and there's no way Alexa is going to help you build a new shoe rack. Sure, she could give you some basic instructions, but she's not going to be cutting the wood for you, now is she? Well, that's where a good old fashioned table saw comes into play. A table saw is perhaps the most versatile tool for your workshop. Really, it's great for making any sort of straight piece of cut on wood. Basically, it's designed to break down any large piece of wood into smaller pieces for your products. It's adept at making long cuts with the grain of the wood, otherwise known as rips, or shorter cuts against it. It can even apply shapes to edges of wood stock. So if you're looking for a versatile table saw for your at-home projects, you're in luck — there are plenty available on the web on the relative cheap. Let's take a look at some of the best deals going around right now.
Best Overall Table Saw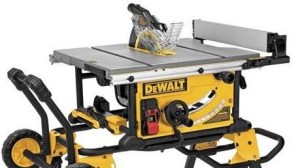 All things considered, the DEWALT (DWE7491RS) 10-Inch Table Saw is a powerful, space-saving, and easy-to-use piece of machinery. This no-nonsense table saw features a 15.0A high-torque motor with the power and precision to cut pressure-treated lumber and hardwoods with ease. The no-load speed is 4800 rpm for smooth and accurate cuts, as well as an impressive 32-1/2″ rip capacity, making this a great choice for either your at-home workshop or job sites. This saw also contains a full on-board storage system for easy access to your ancillary tools, in addition to a unique Rack & Pinion Telescoping Fence System to make quick and easy adjustments on the fly.
DEWALT 10-Inch Table Saw, 32-1/2-Inch Rip Capacity (DWE7491RS)
Price:
Best Overall Table Saw
Available from Amazon, BGR may receive a commission
Best Table Saw for Storage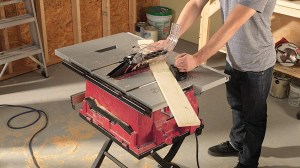 If you don't plan to constantly leave your table saw out (probably a good thing), you might want to opt for one with some user-friendly storage features. The KIL 3410-02 10-Inch Table Saw with Folding Stand certainly fits the bill. This 10″ table saw features a 20″ x 26″ cast aluminum table that can extend to 20″ x 32″ for longer pieces. It features an intuitive, self-aligning rip fence for more accurate measurements, as well as a 3 1/2″ cut height capacity that allows you to cut through four times the amount of material. And of course, it comes with a heavy-duty folding steel stand that allows you to store your table easily, as well as transport it to various job sites without much legwork.
SKIL 3410-02 10-Inch Table Saw with Folding Stand
Price:
Available from Amazon, BGR may receive a commission
Best Portable Tabletop Saw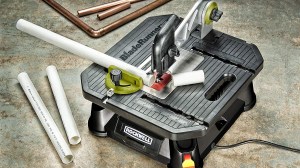 Taking it one step further, if you're looking for a table saw that you could effectively transport from one location to the next, the Rockwell BladeRunner X2 Portable Tabletop Saw with Steel Rip Fence is a great choice. Despite its compact frame, this completely portable table saw can cut wood, metal, tile, aluminum and plastic with ease. Shockingly, it weighs less than 15 pounds, which really allows you to bring it anywhere without making it a huge production. It features a no-load speed of 3000 per minute, and it allows for efficient tool-free blade changes, a larger rip fence for better control, and a vacuum port for easy cleanup.
Rockwell RK7323 BladeRunner X2 Portable Tabletop Saw with Steel Rip Fence, Miter Gauge & 7 Acce…
List Price:
$149.99
Price:
$129.98
You Save:
$20.01 (13%)
Available from Amazon, BGR may receive a commission
Best Multi-Function Work Table w/Saw Horse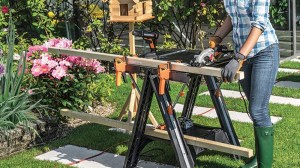 While it might not technically be considered a table saw, the WORX Pegasus Multi-Function Work Table and Sawhorse with Quick Clamps and Holding Pegs is a versatile alternative for someone who needs a "jack of all trades" piece of equipment, so to speak. It has the ability to convert into a sawhorse or workbench in seconds without any actual assembly required. In its worktable form, it can support up to 300 lbs, but the sawhorse can support up to a whopping 1,000. The table features durable leg-locks for additional support, and the entire setup comes with two quick clamps and four clamp dogs to secure a wide variety of work materials.
WORX WX051 Pegasus Folding Work Table & Sawhorse
List Price:
$149.99
Price:
$119.99
You Save:
$30.00 (20%)
Available from Amazon, BGR may receive a commission
Best Wet Tile Saw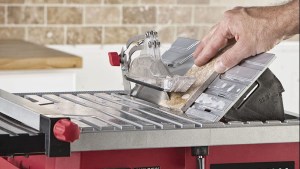 On the other hand, if you need something strictly for wet tile, the SKIL 3550-02 7-Inch Wet Tile Saw with HydroLock Water Containment System is a great alternative. Again, this isn't necessarily a traditional table saw, but this functions in the same manner, only it's for cutting wet tile as opposed to wood. Featuring an advanced Hydro Lock Water Containment System to keep water contained near the blade, effectively reducing clean up time, this 7-inch tile saw is convenient and efficient. It's made with a durable, rust-resistant aluminum tabletop, and contains a Sliding Side Extension that can be adjusted accordingly for tiles up to 18″ x 18″. It's versatile and ultra-powerful with a blade speed of up to 3,600 RPM, making this a great option for carpenters everywhere.
Skil 3550-02 7-Inch Wet Tile Saw with HydroLock Water Containment System
List Price:
$169.99
Price:
$149.00
You Save:
$20.99 (12%)
Available from Amazon, BGR may receive a commission