If you purchase an independently reviewed product or service through a link on our website, we may receive an affiliate commission.
Heading out the door with your child can be stressful, as you're going to have to carry a lot of items. You're likely running down a checklist in your head every time you leave the house. Diaper bag? Check. Pacifier? Check. Wipes? Check. Bottle? Check. These are only a few of the items you're probably thinking of and if you forget their favorite toy, there could be a screaming fit set to commence shortly. If you're heading out to a place where you'll be walking and the child is going to be in the stroller, you should consider getting a stroller organizer. Not all strollers have the same amount of pockets or storage space in them, so you'll need to ensure that you can fit all the items you may be bringing. We've taken a look at some of the best organizers on the market in order to set your mind at ease when you're going through your checklist. Here are our picks.
Save some money and stress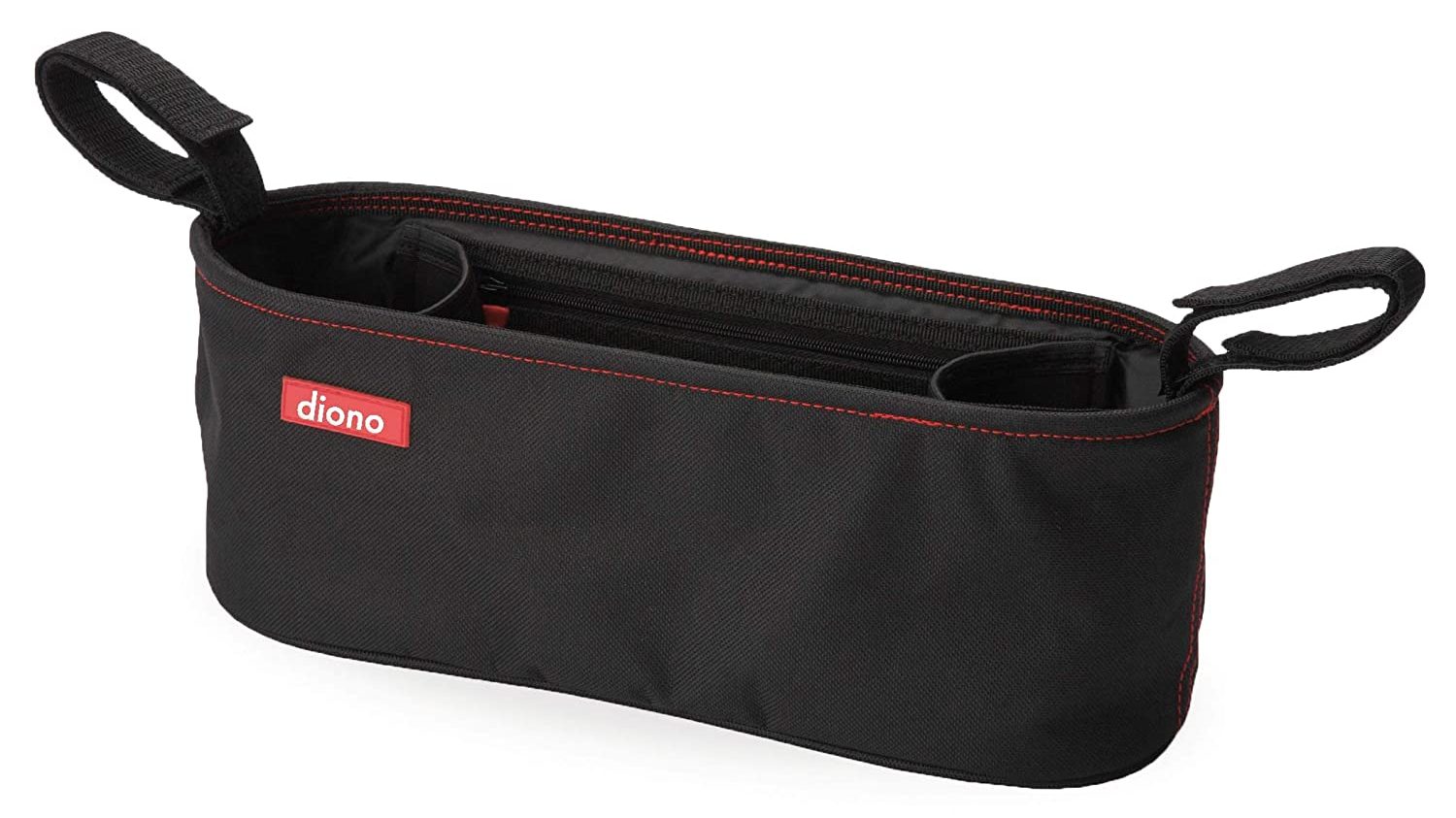 Keeping your child calm and some cash in your wallet, the Diono Buggy Buddy Stroller Organizer is coming to the rescue. This will keep your essentials organized when you're on the go. There are two insulated drink holders that will keep drinks extra cold while they are in there. This also includes a zippered mesh pocket to keep any valuables secure, like your wallet or keys. This is compatible with every type of stroller, from ultra-compact strollers to full size travel systems. You can add this to your stroller quickly, thanks to the easy hook and loop attachment. It measures 4.7″ x 12.2″ x 4.7″.
Key Features:
Cost-efficient option
Two insulated drink holders
Zippered mesh pocket
Diono Buggy Buddy Universal Stroller Organizer with Cup Holders, Secure Attachment, Zippered Po…
List Price:
$10.99
Price:
$9.99
You Save:
$1.00 (9%)
Available from Amazon, BGR may receive a commission
Give the gift of organization
Heading to a baby shower soon for a friend or relative? Give them something they'll actually use rather than another onesie. The Ethan & Emma Baby Stroller Organizer is an excellent gift that will save them many times. You'll be able to bring toys, sippy cups, books, keys, phones, drinks, snacks, diapers, and many more when you're out with your stroller. This comes with a free stroller hook, allowing you to attach it to many different stroller brands. It is made from high quality materials and the frame is collapsible, so it can be left on the stroller when you're folding it.
Key Features:
Comes with a free stroller hook
Works with many different brands
Frame is collapsible
Ethan & Emma Universal Baby Stroller Organizer with Insulated Cup Holders for Smart Moms. Diape…
Price:
$31.75
Available from Amazon, BGR may receive a commission
Store your phone with you
Compatible with many different strollers, the Momcozy Universal Stroller Organizer is a terrific option. This will securely hold bottles and cups and provide you with easy access for storing your valuables and phone. There are two insulated cup holders that will fit most cups and bottles, even a Starbucks drink. The zippered pocket has a detachable wristlet that you can use independently, allowing you to put keys or your phone in there and bring it with you. It takes almost no time to install and there is an adjustable shoulder strap to let you keep it on the go.
Key Features:
Two insulated cup holders
Zippered pocket has a detachable wristlet
Takes almost no time to install
Stroller Organizer with Insulated Cup Holder by Momcozy - Detachable Phone Bag & Shoulder Strap…
List Price:
$31.99
Price:
$23.99
You Save:
$8.00 (25%)
Available from Amazon, BGR may receive a commission
Match your stroller well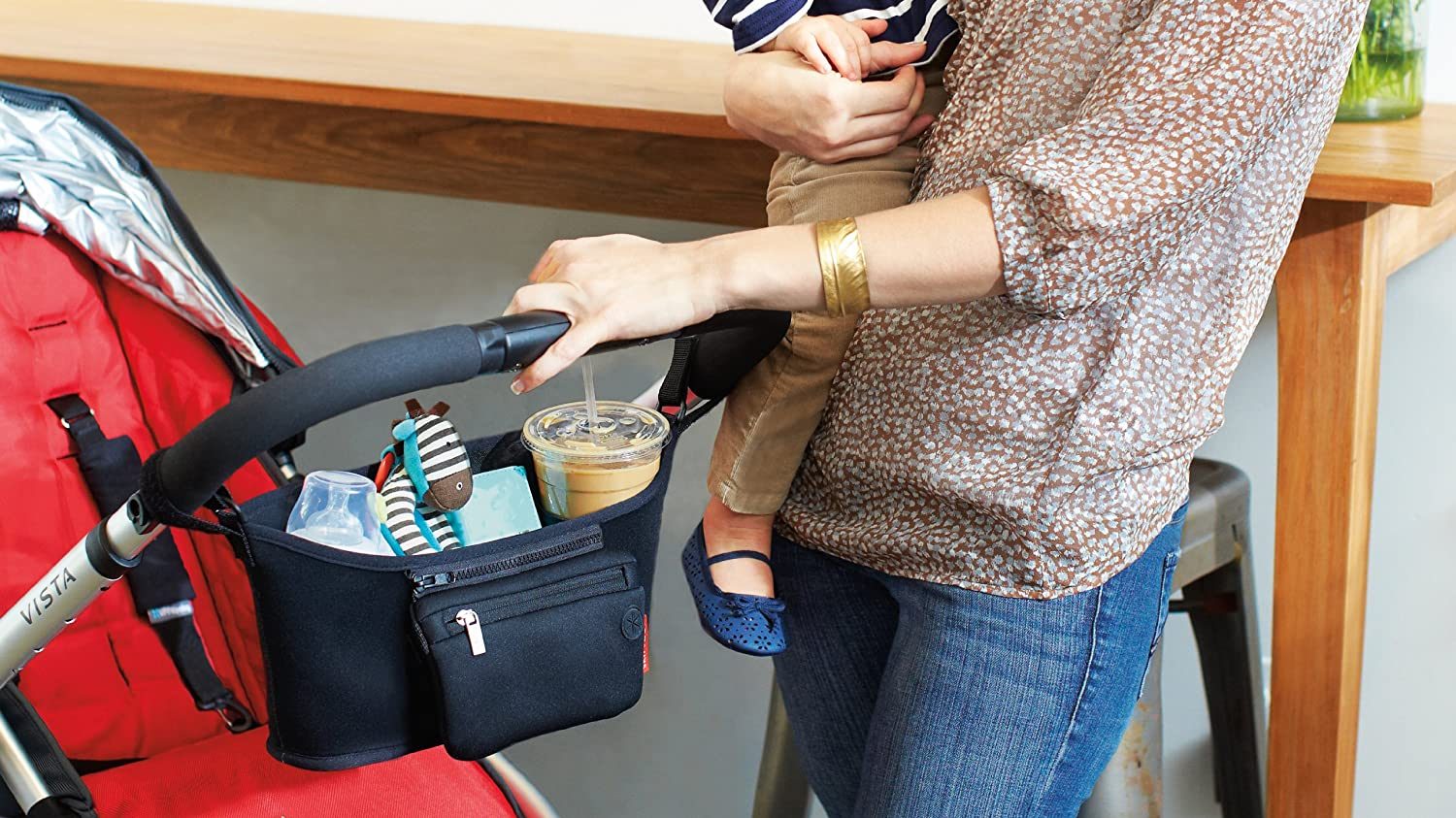 Add some flair to your stroller that will fit in with its design with any of the Skip Hop Universal Stroller Organizers. This has insulated cup holders that stretches to hold bottles and coffee cups securely. This comes in five different patterns: black, black and white stripe, chevron, heather grey, and luxe black for you to choose from. This fits most strollers and handlebars to install simply. There is a detachable wristlet to bring with you and a headphones port that lets you take phone calls hands-free. This will fold up easily with umbrella strollers.
Key Features:
Insulated cup holders that stretch
Comes in five patterns
Headphones port
Price:
Available from Amazon, BGR may receive a commission
Add a lot of storage to your stroller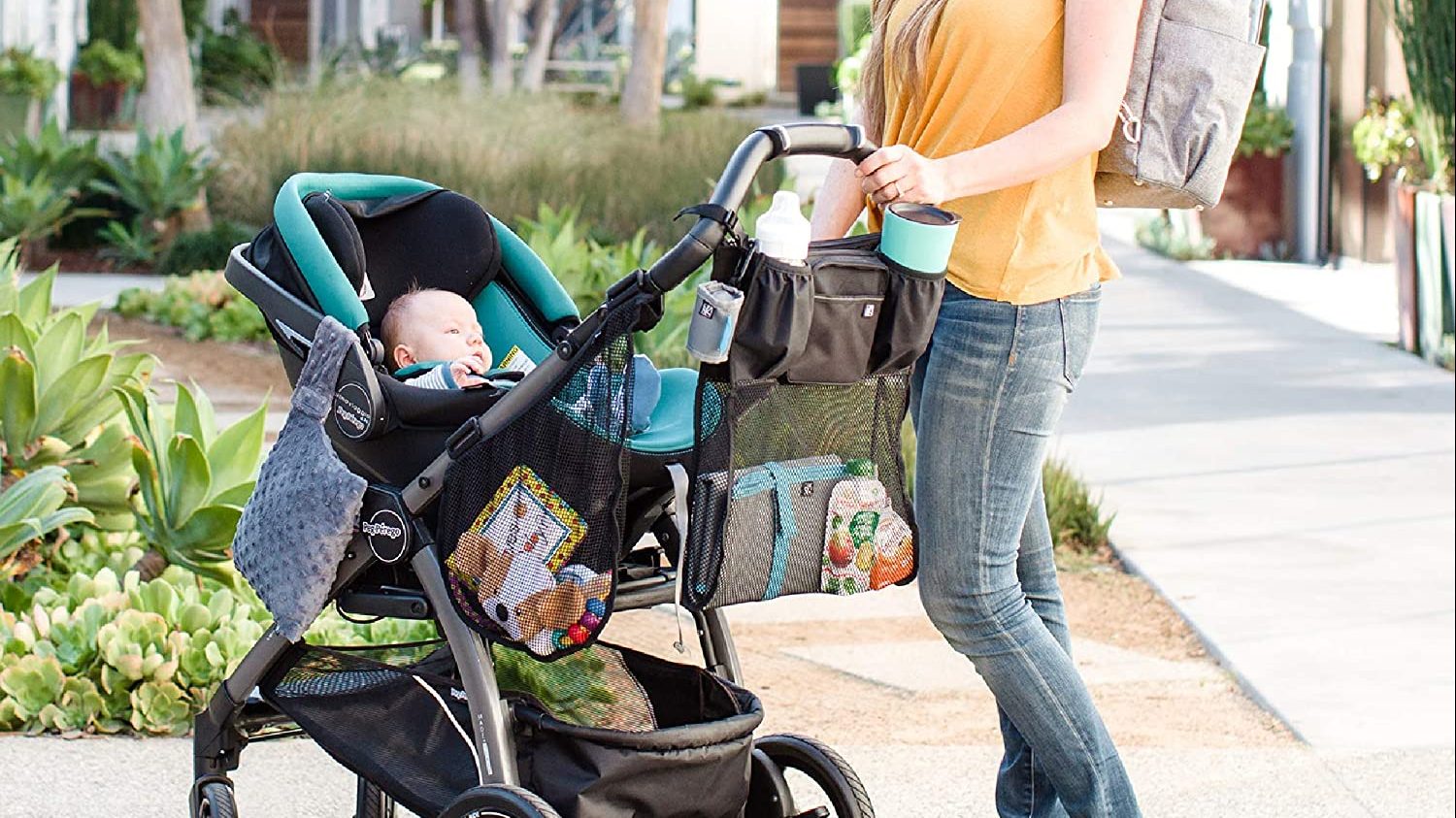 Measuring 14″ x 3″ x 17″, the J.L. Childress Cup 'N Cargo Universal Fit Stroller Organizer can hold a lot of items. This features two expandable cup holders and three zippered pockets, as well as one flat front pocket. You can fit jackets, blankets, extra clothing, diapers, toys, and more in this, as it offers plenty of storage space. These are zippered pockets that ensure the cargo stays secure. The adjustable buckle strap allows you to install it on many strollers.
Key Features:
14″ x 3″ x 17″
Four pockets
Adjustable buckle strap
J.L. Childress Cups 'N Cargo, Universal Fit Stroller Organizer with Extra Large Storage, Expand…
Price:
$23.97
Available from Amazon, BGR may receive a commission