If you purchase an independently reviewed product or service through a link on our website, we may receive an affiliate commission.
You never know when you're going to need certain tools around your house. Home repairs and home renovation projects can cause a whole lot of upheaval for those involved, whether you're the one doing the renovations or the one who lives in the home. But if you're someone who likes to handle their own home repairs, you need a full set of tools to work with. Do you have some furniture that needs some cloth updates or some readjusting to the felt underneath? Make sure you have a staple gun. A staple gun is much easier to use than a regular stapler, as you'll be able to mass press staples into surfaces without worrying about jamming. You can move through your heavy-duty stapling in a much quicker fashion with a handheld staple gun. We've handpicked some of our favorites to provide you with an easier time tackling your home repairs and renovations. Here are our picks for the best staple guns.
For a staple gun that can do more
Whether you need a nail gun for decorating, repairing, or fastening, you can use the Topec Staple Gun. It's extremely easy to install and use, as the manual staple gun has a spring-back impact that adds to long-lasting durability. It's made from thick carbon steel, so it's built for a long time. You won't have to worry about constantly jamming, as you can pull the binding switch and remove the stuck nails quickly. In order to match the thickness of the staples, you can adjust the power to make your job easier. This works with three different kinds of nails, D-type, U-type, and T-type, to help you with all your renovation needs. It's simple to load each and every time and it comes with 1800 staples.
Staple Gun, 3 in 1 Manual Nail Gun with 600 Staples - Heavy Duty Gun for Upholstery, Fixing Mat…
Price:
Available from Amazon, BGR may receive a commission
Air-pressured is the way to go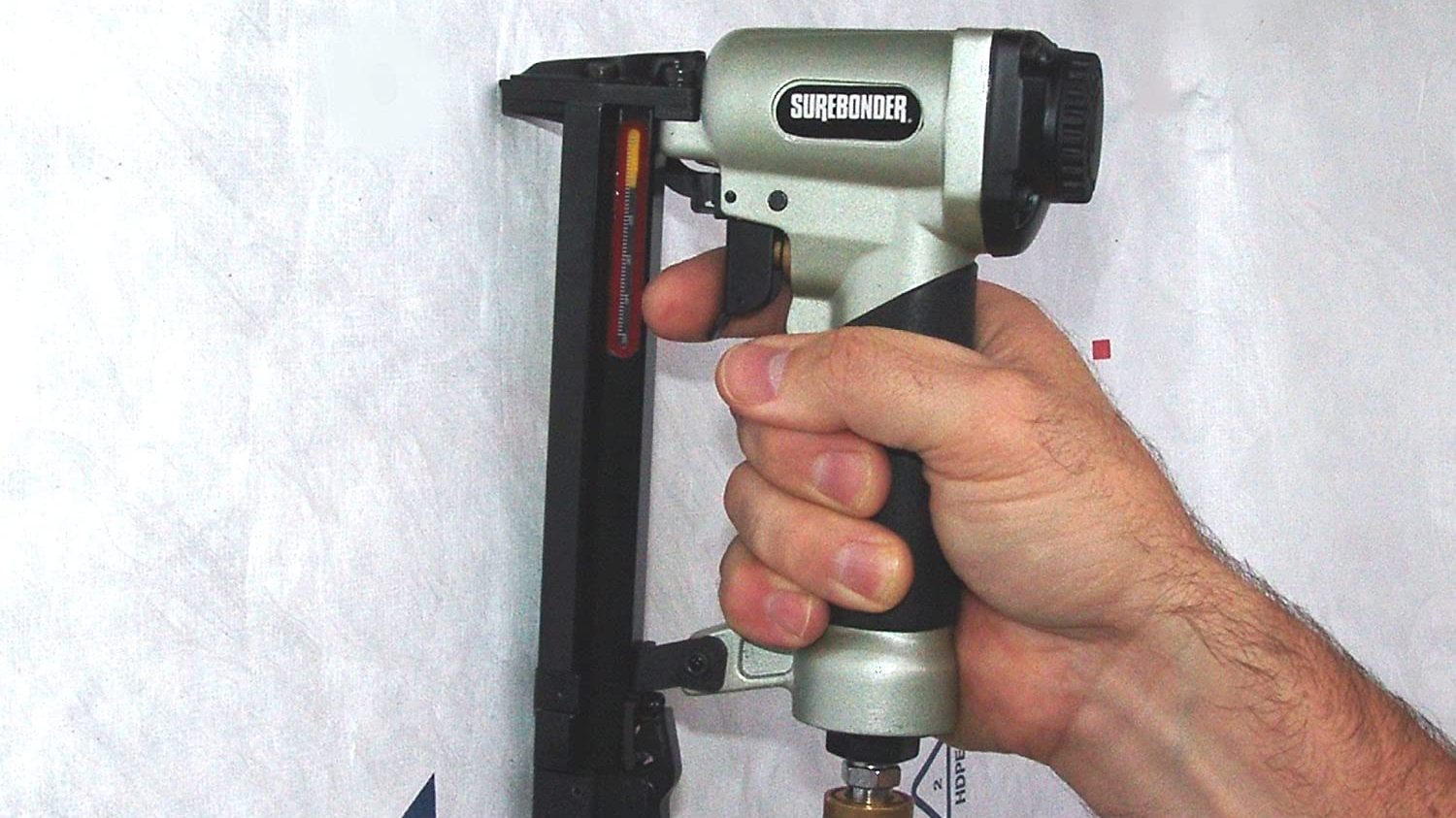 If you need more power and better handling when it comes to rapidly putting down staples, the Surebonder 9600AK Pneumatic Heavy Duty Standard T-50 Type Stapler Kit is a solid choice. This uses seven types of T-50 Surebonder number 4 staples to handle applications such as cabinet backs, carpet padding, screen door repairs, and other small furniture projects. You'll get 6,250 staples in five different lengths along with this gun, providing you with plenty of ammo. You'll also get an Allen wrench and a bottle of tool oil to keep it working smoothly. It doesn't come with an air compressor, so you'll have to supply that yourself.
Surebonder 9600AK Pneumatic Heavy Duty Standard T-50 Type Stapler Kit, 1/4-Inch - 9/16-Inch, 7-…
List Price:
$38.95
Price:
$35.47
You Save:
$3.48 (9%)
Available from Amazon, BGR may receive a commission
Use many kinds of staples
Working through many different kinds of staples makes your job simpler, especially when you're using the Arrow Fastener T50 Heavy Duty Staple Gun. Made with all steel construction, this is built for the long haul. The steel was hardened in a 1,500 degree furnace, so it's rugged and durable. It is designed to work with six different sizes of T-50 staples, ranging from 1/4″ to 9/16″. There is a jam-resistant mechanism that allows you to work more smoothly. The entire machine measures 11″ x 3″ x 2″, so you can store it easily when you're aren't using it.
Arrow T50 Heavy Duty Staple Gun for Upholstery, Wood, Crafts, DIY and Professional Uses, Manual…
List Price:
$32.56
Price:
$19.44
You Save:
$13.12 (40%)
Available from Amazon, BGR may receive a commission
Don't take up a lot of room
Worried about putting away another tool in your toolbox? Then you should check out the Stanley TR45 Light Duty Staple Gun. Imported and made from rugged steel, this staple gun handles light duty stapling with ease. It has a convenient handle lock that minimizes the size, making it easier to store. There is a quick jam clearing mechanism, so if your staples to do jam, you'll be able to get rid of it efficiently. This uses either Stanley TRA200 or Arrow JT-21 light duty staples for its work. The steel construction makes it last a long time.
Stanley TR45 Light Duty Staple Gun
Price:
$19.05
Available from Amazon, BGR may receive a commission
Your hand won't be tired after using this
Stapling can be hard on your hands, so you should think about getting a gun that's easier to hold like the Swpeet 3-in-1 Staple Gun Kit. This comes with a staple gun, staple remover, and 600 staples, so you're ready to work as soon as you open the package. The steel handle has an over molded rubber grip and convenience handle lock for comfort and superior storage. It is very easy to use and there is an instruction manual for those who need some guidance. The chrome-plate construction is meant to work well on job sites, outdoors, or indoors.
Swpeet 3-in-1 Staple Gun Kit with Staple Remover and 500Pcs Staples Selection Pack Kit,Hand Ope…
Price:
$13.99
BGR may receive a commission