If you purchase an independently reviewed product or service through a link on our website, we may receive an affiliate commission.
Versatility in cooking is something that we all strive for. Acting like you're on an episode of Chopped when it comes to figuring out what to do with the ingredients that you have in your home can be fun. Trying to work through a recipe and prepare it properly doesn't always go as planned if you realize you don't have all the parts that you need. That's why you want some flexibility in your cooking. The same should go for your cookware and your eating, which is why a spork is a vital instrument in any home. Sporks are, you guessed it, combined spoons and forks that give you the best of both worlds. You'll be able to stab your food or scoop it all in one handy instrument. These are especially helpful when you're traveling. If you're looking for an extremely easy-to-use item, check out our picks for the best sporks on the market.
Best Titanium Spork
For a durable and lightweight utensil, pick up the Snow Peak Titanium Spork. Made from Japanese titanium, this is an iconic utensil that's expected to be used anywhere. It measures 6.5″ x 1.6″ and weighs just over half an ounce. The craftsmanship standards have been passed down by many generations. This won't corrode or leave any residue in your food like some wooden or plastic sporks can. It is aesthetically unique with a sandblasted finish that is pleasing to look at. Ideal for backpacking, camping or using in your everyday life, you can bring your spork with you to work to enjoy your lunch with. There are four different colors you can choose from: silver, blue, purple, or green.
Snow Peak Titanium Spork - 0.6 Oz - Titanium
Price:
$9.95
Available from Amazon, BGR may receive a commission
Best Six-Pack of Sporks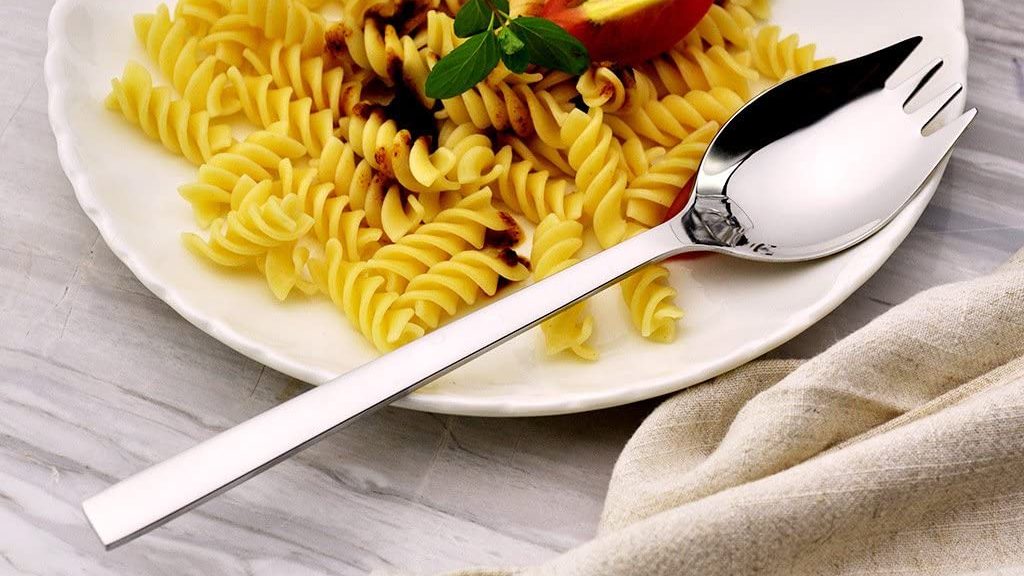 Outfitting your drawers with versatile tools, the Hiware Sporks 6-Pack 18/10 Stainless Steel Sporks can be used for any meal. Each one weighs 1.6 ounces and the handle measures 7.6″ in length, for a solid grip. You can use these for ice cream, dessert, fruit, breakfast, or lunch. Soups, cereals, salads, and pastas are easy to eat with this pack of sporks. This is an excellent gift for any occasion, especially for someone who is in need of silverware. The entire pack is dishwasher-safe, as you can put them in the utensils portion of your dishwasher and they'll rinse off nicely. People of any age can use them and they won't scratch your dishes.
Hiware Sporks 6-pack 18/10 Stainless Steel Sporks for Everyday Household Use, 7.6-Inch / 1.6-Ou…
List Price:
$15.99
Price:
$8.99
You Save:
$7.00 (44%)
Available from Amazon, BGR may receive a commission
Best Long Sporks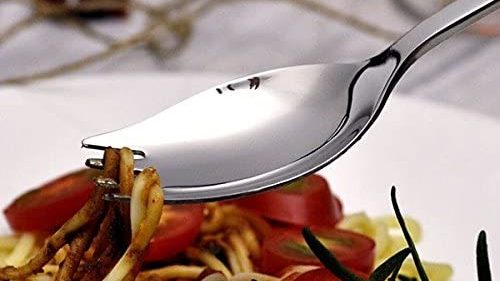 For those who need some extended reach, the Xesea Sporks 4-Pack is a solid option. These have a reach of 8.2″, far superior to any of the previous choices. They are made from certified 18/10 stainless steel, so they won't rust or corrode. These are backed by a lifetime guarantee, so if any of them have any imperfections or something happens to one of them, you can return them and get a refund or a replacement quickly. You can choose between three different sizes, but the long ones offer the most flexibility. These are meant for all ages, but is especially helpful for senior citizens, as the big palm of the spoon helps them scoop.
4-pack 1.6-inch Wide 18/10 Stainless Steel Sporks for Everyday Use, Camping Appetizer Salad Des…
Price:
$8.99 ($2.25 / Count)
Available from Amazon, BGR may receive a commission
Best Dual-Ended Spork
While the humangear Gobites Uno Travel Spork / Camping Spork, you'll have a rounded fork end but also another spoon end on the other side. The ergonomic U-shape is comfortable to hold and the design is pretty indestructible. This comes in many different variations, including ones that fold into each other, ones that come with a variety in a pack, one that comes with knives, and miniature ones, to name a few. You'll be able to scrape the food inside your container with the sides of the sporks and handle both soft and hard foods.
humangear Gobites Uno Travel Spork / Camping Spork, Gray
Price:
$4.49
Available from Amazon, BGR may receive a commission
Best Multi-tool Spork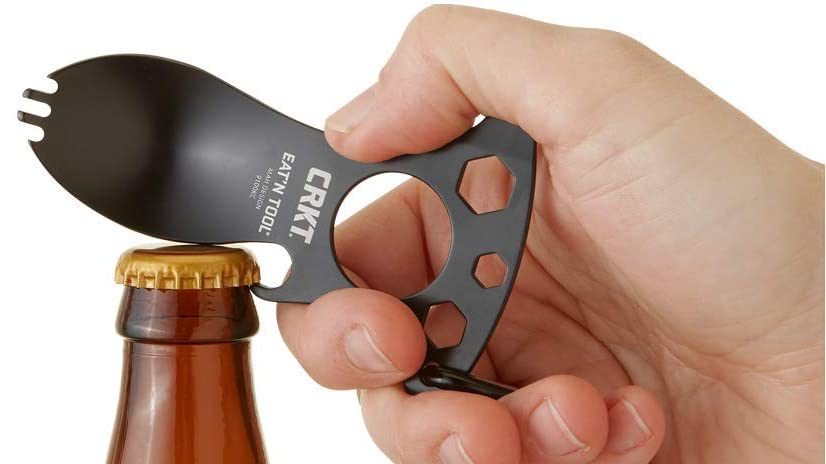 Giving you more bang for your buck, the CRKT Eat'N Tool Outdoor Spork Multi-tool is ideal for outdoor activities. This is a lightweight spoon and fork combination that has multiple uses. It can open a bottle and it has a flat screwdriver head as well. This works for 6, 8, 10mm as well as hex. It comes with a clip that you can add to your belt or key chain, so you can always have it with you when you may need it. It is designed in Florida and comes backed with a one-year limited warranty. So before you head out on your next hiking adventure, pick up one of these.
CRKT Eat'N Tool Outdoor Spork Multitool: Durable and Lightweight Metal Multi-Tool for Camping,…
Price:
$14.42
Available from Amazon, BGR may receive a commission