Cooking at home is a great way to try out new recipes, save some money, and actually use all of the food in your home. Nothing feels worse than buying a bunch of groceries, only to toss them in the garbage days later after they've expired and you didn't use them. But after you've worked hard to become a chef in the kitchen, you'll get to eat some really amazing food. Unfortunately, that also means that you'll have a bunch of dishes to do after the fact. In order to get through your most challenging grime and grease stains, you'll need a trusty sponge. Not everything can go in the dishwasher and plenty of homes don't have one anyway. A sponge will let you scrub away the nastiest bits of leftover food, leaving your pots, pans, and dishes clean and ready to be used again for the next meal that you cook at home. For those looking for the best sponges out there, we've got you covered. Let's take a look at our picks for the top sponges, so you can spend less time cleaning up and more time preparing for your next dish.
Best Plant-Based Sponge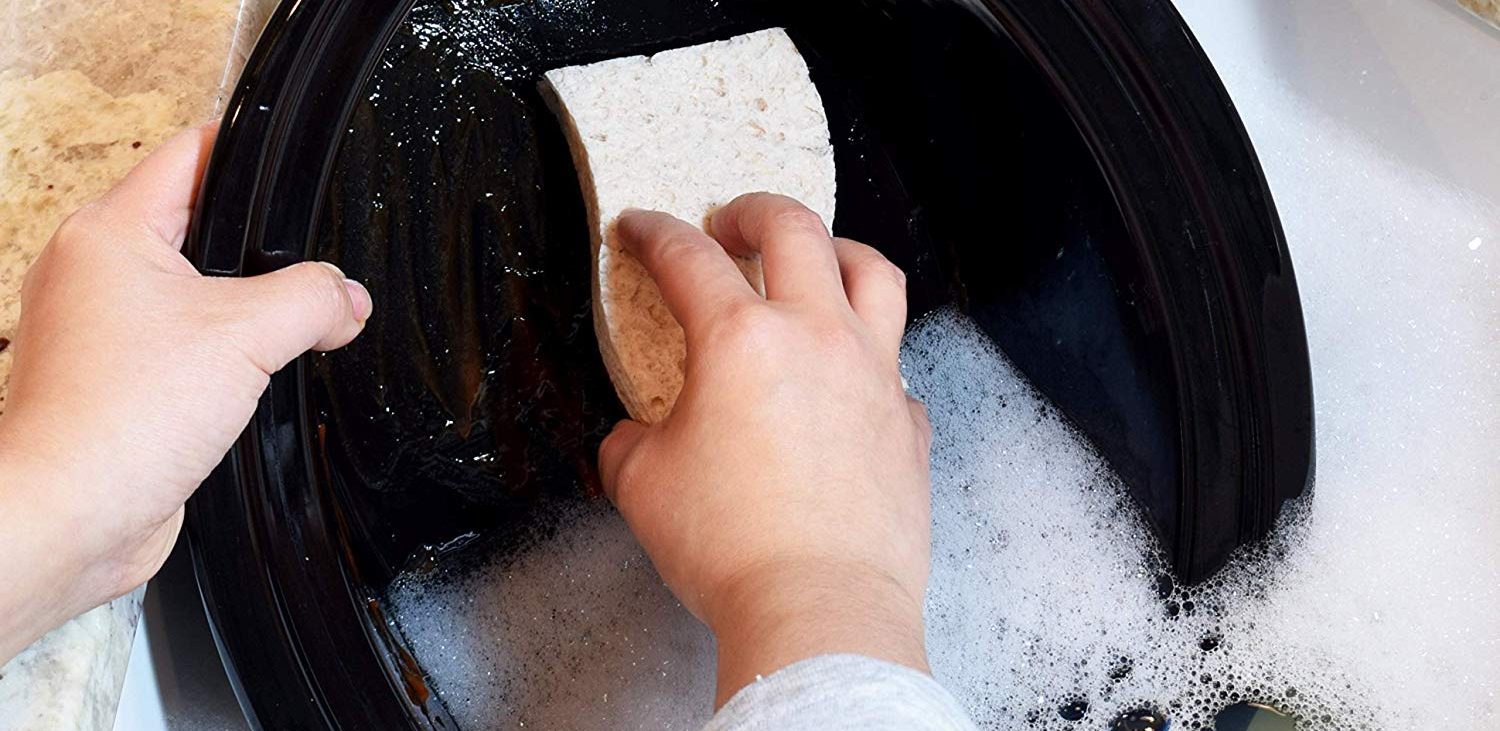 Keep even your non-stick cookware safe and protected by using the Scotch-Brite Greener Clean Non-Scratch Scrub Sponges. 50% of the scrubbing fibers on these sponges are made from agave plant, so they're non-abrasive. The non-scratching cleaning process is easy on your non-stick cookware, countertops, showers, tubs, or anything else you need to scrub. Even your wheel wells can be cleaned using these. One of these sponges will outlast up to 30 paper towel rolls and is made up of 23% recycled materials. Even the packaging is 100% recycled content. 100% of the sponges' fibers are plant-based. This is a top eco-friendly product on the market today. You'll get six in a pack.
Best Microfiber Sponge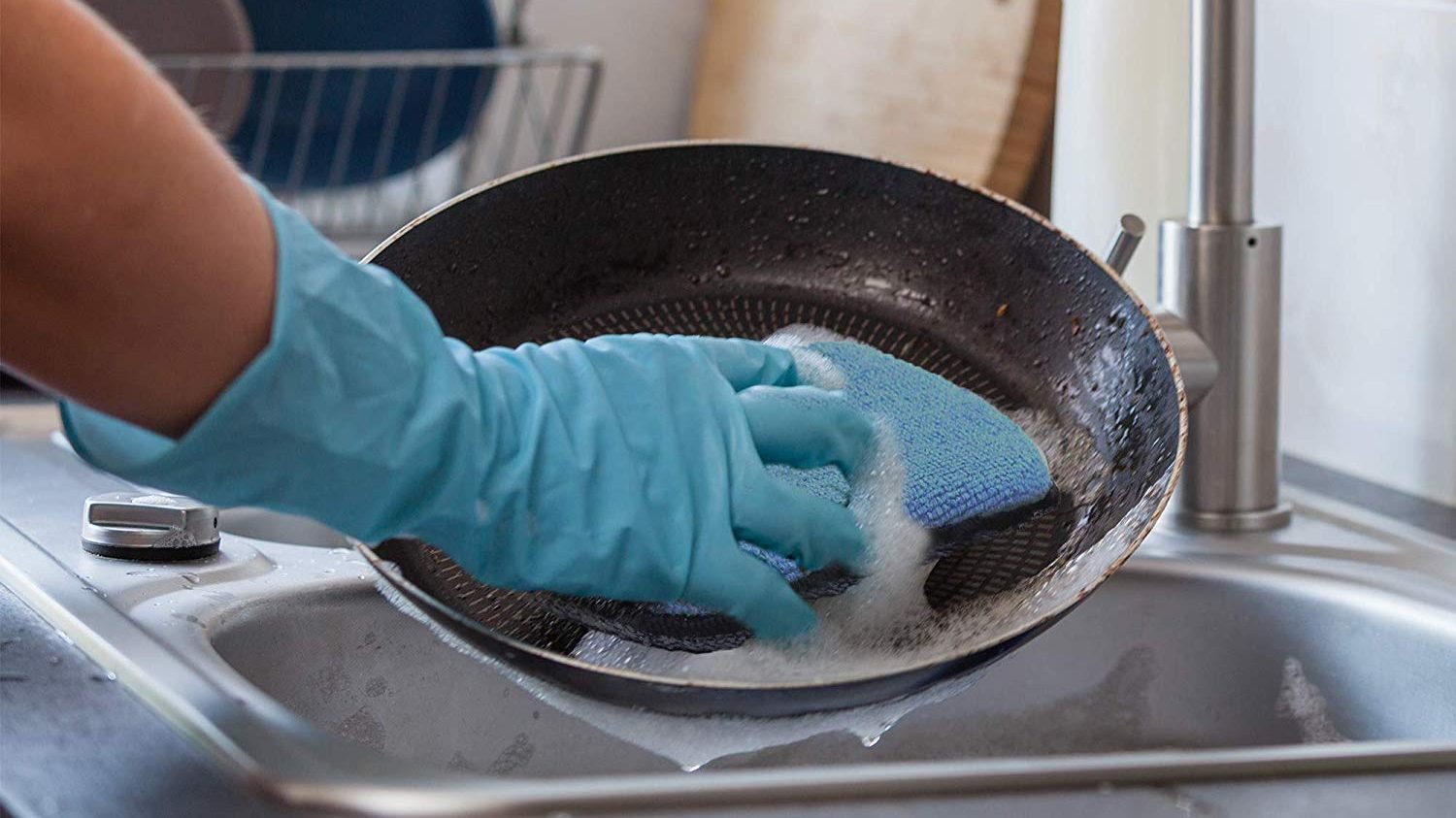 Meant for eliminating tough stains on your pots and pans, the Scrub-It Multi-Purpose Scrub Sponges for Kitchens can do a few different duties. This designed scourer/microfiber cloth combo is made to last. One is for drying and one side is for scrubbing. It comes in a pack of six, giving you plenty to last you for years. They are made from high-quality polyester, polyamide, and polyurethane, ensuring it will ensue for many cleaning scenarios. These do not contain harsh chemicals and they are 100% safe to use for you and your dishes. If you're noticing that your sponge is becoming a little grimy, you can throw it in the washing machine and the dryer and it'll be as good as new. These come backed by a 100% satisfaction guarantee and you can return yours within 30 days for a full refund.
Best Extra Thick Sponge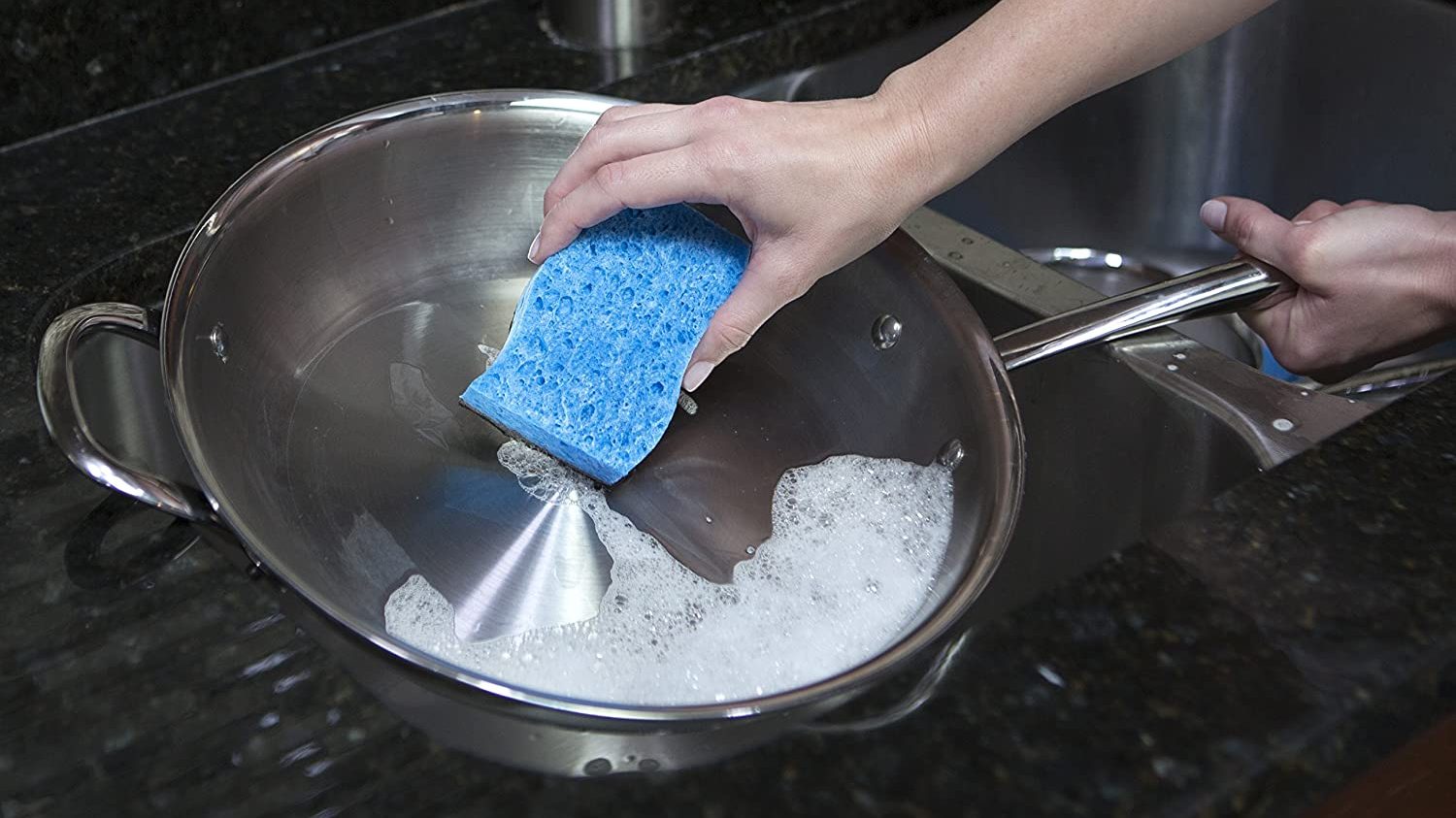 For those harder jobs and the awkward angles you get when cleaning things like a muffin tin, you'll want an O-Cedar Heavy Duty Scrunge Scrub Sponge. The top of each of the sponges in this six pack is rippled to easily break up and lift away dirt. There are many holes in the sponges' extra thick layers, so it will hold a lot of water and soap. Each one is made from durable materials that lasts up to 20% longer than your average sponge. You can rinse these clean after use to keep them lasting even longer. You can get these in a pack of six, 12, 18, or 24.
Best Temperature Controlled Sponge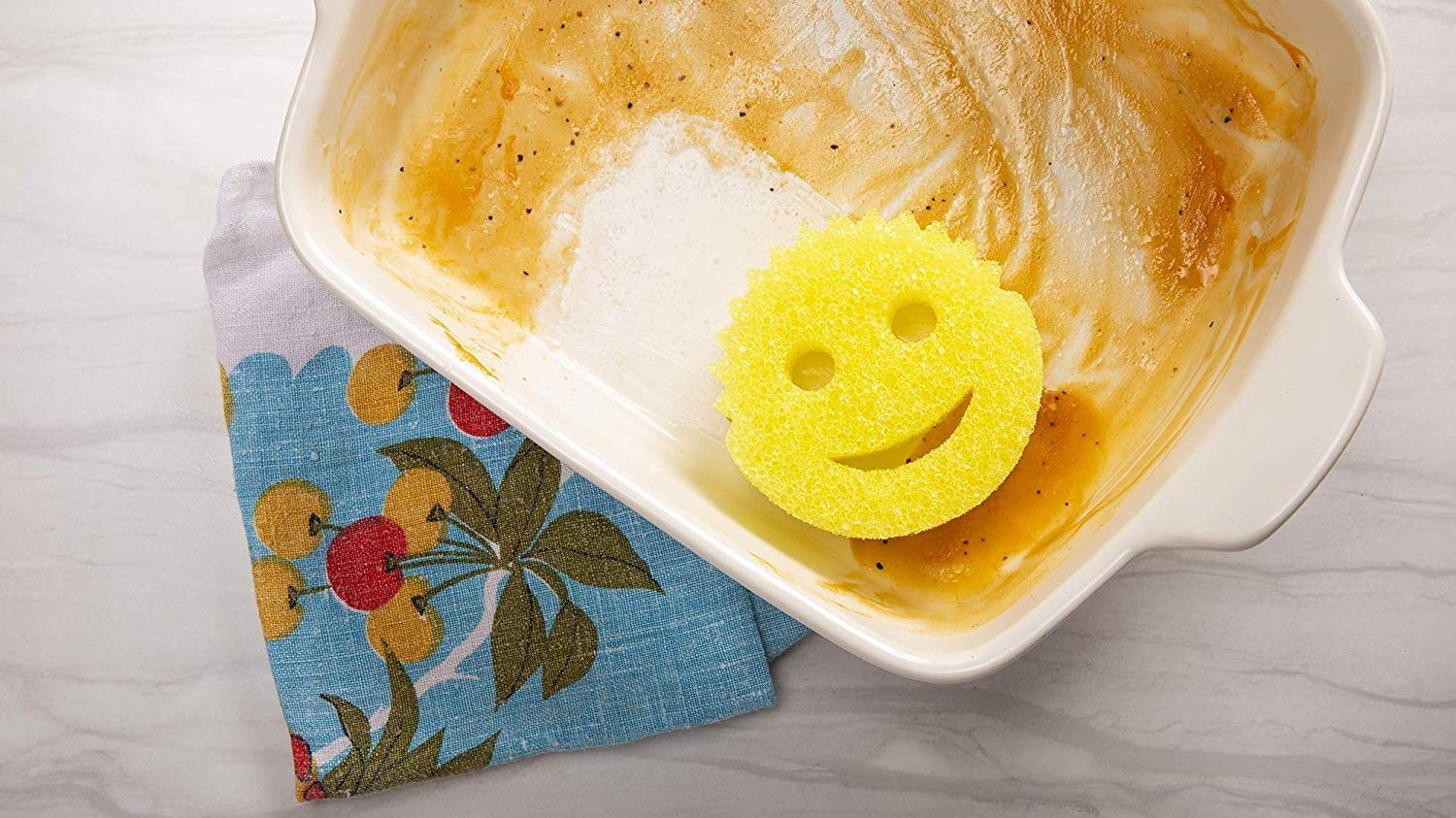 You want your sponge to be flexible when it needs to be, which is why you should opt for the Scrub Daddy Colors. You get to choose the texture of your sponge, as the FlexTexture reacts with cold water to keep it firm for tougher scrubbing and warm water makes it soft for softer scrubbing. You can get different colors for different rooms of your house, like yellow for the kitchen or blue for the bathroom. This sponge is safe to use on over a dozen surfaces like glass, stainless steel, cast-iron, non-stick coatings, and more. This will not hold odors for up to eight weeks, keeping your kitchen less pungent. It's extremely easy to hold, as the ergonomic shape fits in your hand without much hassle. It also has a smiley face design that makes for a nice perk for your day.
Best Silicone Sponge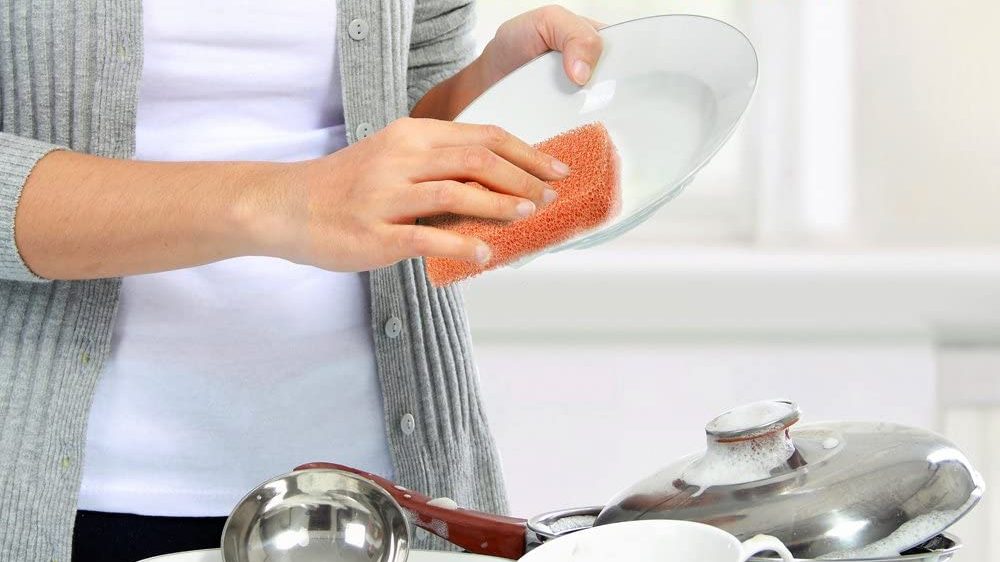 For something that dries extremely quickly and works on your pots and pans, try the Peachy Clean Silicone Scrubber. These have a peach fragrance and come with three in a pack. Silicone is safe on pots and pans and it is infused with antimicrobial fibers to stop any smells. It is made up of a non-absorbent matrix that has fast drying capabilities, so you'll be ready to use it again soon after you've set it down. This scrubber is soft on your delicate surfaces but works heard to get out tough stains.