If you purchase an independently reviewed product or service through a link on our website, we may receive an affiliate commission.
You're looking at the mountain of dishes in your sink and you're immediately worried. You roll your eyes but you know there's no one else to blame but yourself. You've been neglecting these dishes for a while and the kitchen is starting to smell. A lot of them won't fit in your dishwasher, so loading them into there isn't even an option. You look to grab your sponge and dish soap and start scrubbing when you realize that your sponge is in the sink, underneath all the clutter of the pots and pans. That's why you need a sponge holder. This will keep your sponge in a specific spot near or in your sink, allowing you to grab it with ease whenever you have some dishes to clean. This will also be where your sponge can dry to reduce the buildup of mildew and mold in between uses. We've picked our five favorite sponge holders and listed them below. Take a look and be ready to tackle your pots pile.
Just hold your sponge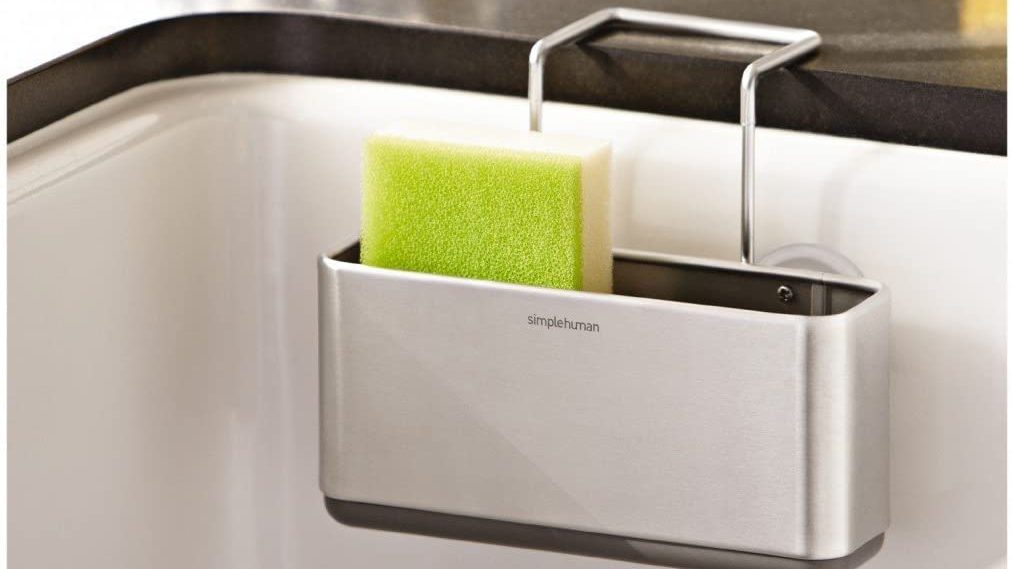 For a slim design to save some space in your sink, choose the simplehuman Slim Sink Caddy. This is made from stainless steel so it will last a long time and won't rust. The four suction cups and wire ledge hanger form a secure, non-slip grip inside your sink. This measures 6.8″ x 4.3″ x 6.3″, providing a slim fitting and chic-looking design. There are numerous ventilation holes and an elevated sponge storage compartments that help maximize airflow so sponges will dry quickly. It will also minimize bacterial growth. This will keep sponges off the countertops and just hold your sponge where you want it.
Key Features:
Stainless steel construction
Chic-looking slim design
Minimizes bacterial growth
simplehuman Slim Sink Caddy Sponge Holder, Brushed Stainless Steel
Price:
$30.00
Available from Amazon, BGR may receive a commission
Keep it close by the edge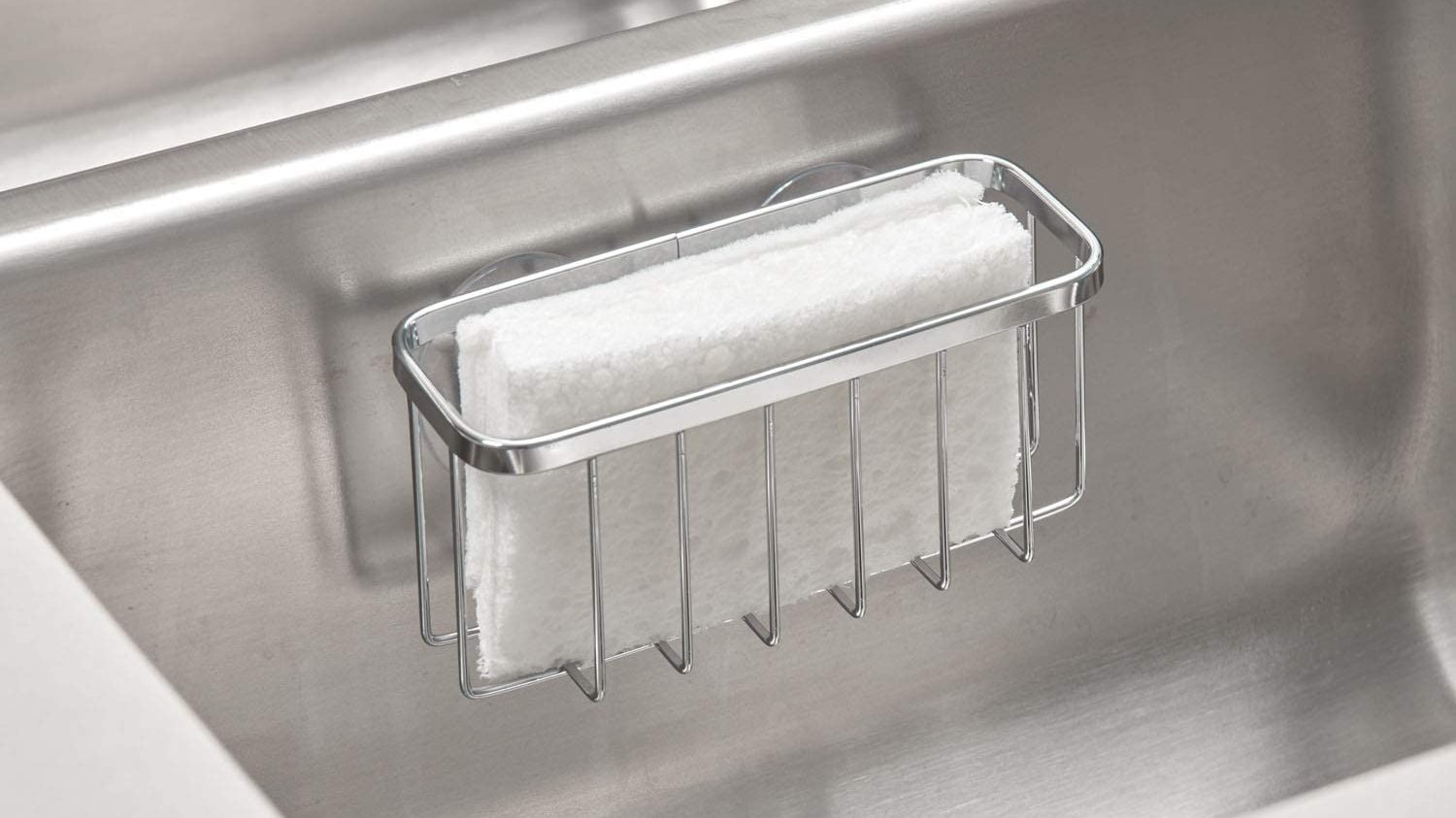 There are multiple colors to choose from when you get the iDesign Gia Stainless Steel Kitchen Sink Suction Organizer Basket. Pick from polished, bronze, copper, pearl white, satin, or sink center to better fit your kitchen aesthetic. This has an extremely slender design with a 5.75″ x 2.5″ x 2.25″ build. The hanging kitchen sink organizer basket keeps cleaning supplies such as bar soap, sponges, scrub brushes, and more off of the countertop. It has an open design that adheres to the sink with suction cups. It takes almost no time to install and it is made from rust-resistant stainless steel, so you won't have to worry about it corroding with all the water around.
Key Features:
Six color options
5.75″ x 2.5″ x 2.25″
Takes almost no time to install
iDesign Gia Stainless Steel Organizer, Dish Sponge Holder Basket with Suction Cups, Ideal for K…
Price:
$9.00
Available from Amazon, BGR may receive a commission
A great two-in-one design
Hold more than just your sponge when you pick up the KESOL Adhesive Sponge Holder + Brush Holder. This is waterproof and has extremely strong adhesive hooks that stick to the surface for an extended period of time. This will hold up to 15 pounds daily for up to three years. It fits one brush and one sponge and the open-air design allows them both to dry quickly. There are no tools needed to install it and it is guaranteed not to rust. It measures 7.1″ x 3″ x 2.5″ and can be used in the kitchen or the bathroom.
Key Features:
Two-in-one design
Holds up to 15 pounds daily for up to three years
Open-air to let items dry quicker
Adhesive Sponge Holder + Brush Holder, 3-in-1 Sink Caddy, SUS304 Stainless Steel Rust Proof Wat…
List Price:
$14.99
Price:
$10.49
You Save:
$4.50 (30%)
Available from Amazon, BGR may receive a commission
One that will last
The flexible construction of the Umbra Sling Flexible Sponge Holder makes it durable. This forms to your sink for a customizable organizational solution that fits around faucet necks and sink walls with ease. The generous cutouts and perforated base improves drainage and prevents moisture from building. You can clean it easily with soap and water. The material is non-slip and elastic, creating a snugger fit around your sink. This is sized to fit around all kinds of faucets and sink walls. You can pick between four different colors.
Key Features:
Non-slip and elastic material
Sized to fit around all kinds of faucets and sink walls
Customizable organizational solution
Umbra Sling Kitchen Sink Accessory, Single-Sided Sponge Holder, Black
List Price:
$7.00
Price:
$4.99
You Save:
$2.01 (29%)
Available from Amazon, BGR may receive a commission
Cost-efficient purchases make sense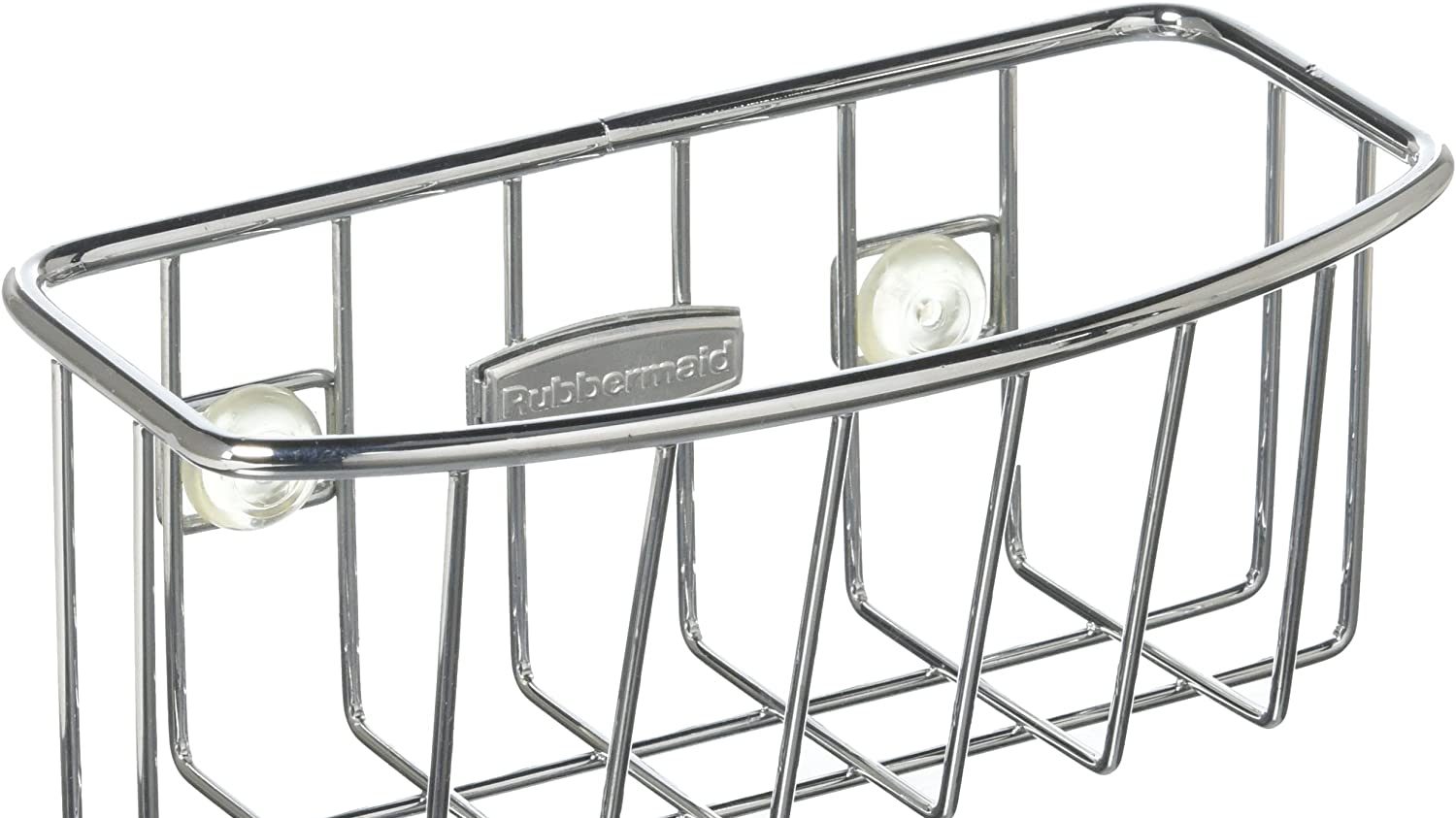 You'll be pleased by the performance of the Rubbermaid Sponge Caddy Chrome. You can organize sponges, scrapers, and brushes on this and it is a cost-efficient solution for your kitchen. The suction cup on the back effortlessly adheres to your sink. It's a great place to store and dry sponges. This has antimicrobial product protection and it is stainless steel.
Key Features:
Organizes sponges, scrapers, and brushes
Suction cup effortlessly sticks
Stainless steel construction
Price:
Available from Amazon, BGR may receive a commission