If you purchase an independently reviewed product or service through a link on our website, we may receive an affiliate commission.
Comfort food is labeled as something that reminds you of your childhood or makes you feel like you're at home. Sometimes, that could be a grilled cheese, meatloaf, or mashed potatoes. French fries or chicken wings are other possible comfort foods that you and your loved ones can indulge in. If you're making some fried foods at home, that means that you're going to be cooking with oil. That oil is going to get extremely hot in order to reach the right temperatures that you want. Grease and oil stains will also ruin your shirts and pants if they get on there. You need some sort of barrier to protect yourself and your surroundings and a splatter screen works just perfectly. These fit most frying pans and will minimize the splashing of oils. If you're looking to make some comfort foods soon, you should consider picking up any of the splatter screens we've highlighted below. Take a look and get ready to indulge.
The more mesh, the better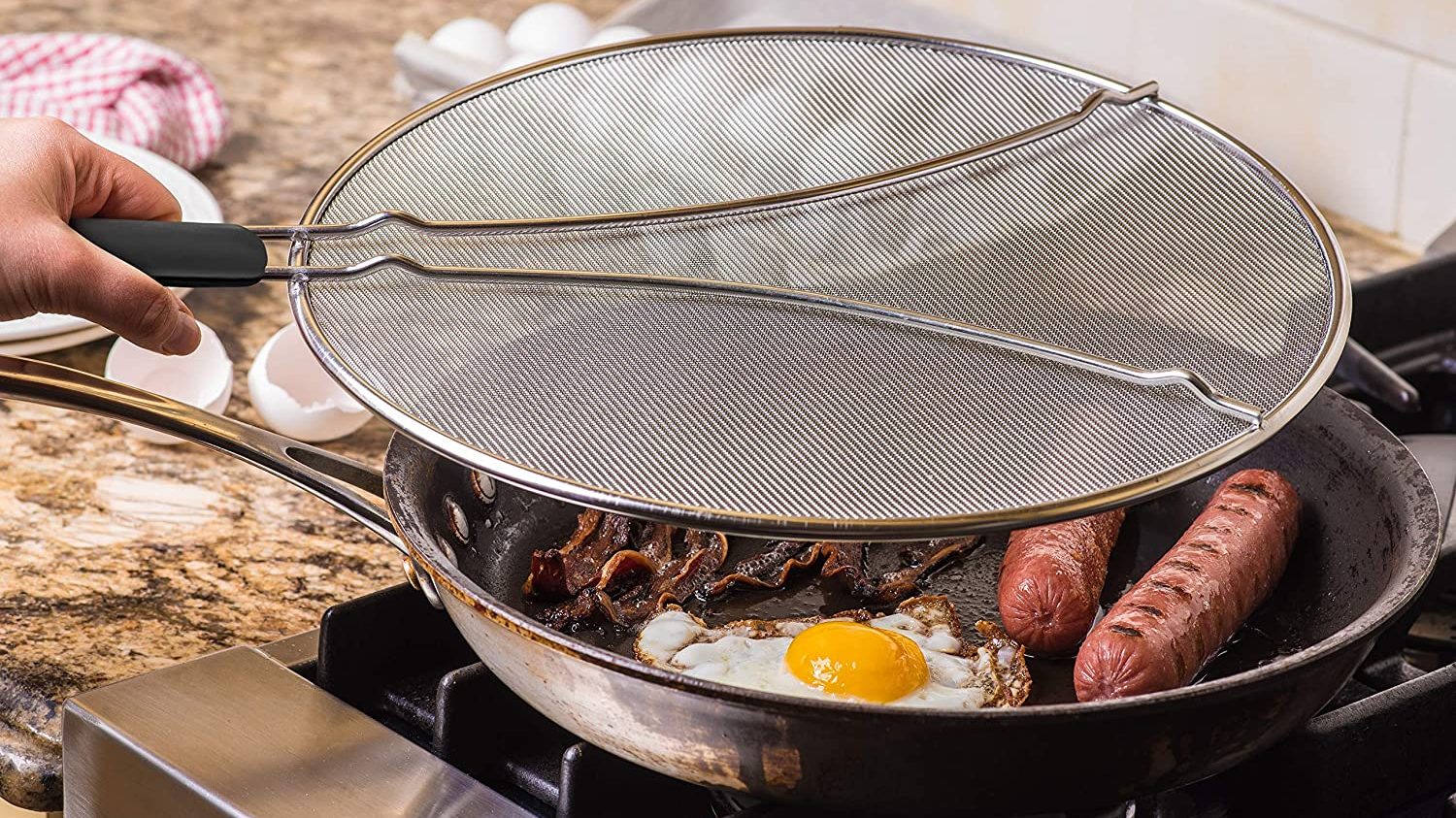 Made with 35% more mesh, the Bellemain 13″ Splatter Screen with TPR Grip-Tight Handle is here to protect your shirts. This splatter guard keeps your countertops from grease stains allowing you to cook whatever you want. 99% of the bubbling grease and sauce is redirected back into your pan or pot. It's made from heavy-duty durability and is made for stay in your hands. It's meant to be handled with wet or dry hands as it comes with TPR for all models. This has a versatile 13-inch diameter specially designed to fit snug with your pan. It covers your favorite stockpots, skillets, pans and pots and can even handle 350 degree ovens. This lets steam escape and and provides the point of view that you need to keep an eye on your food. This has a wipe-to-clean design that takes little time to clean, so you'll be ready to use it again really quickly.
Bellemain Splatter Screen with Soft Grip Handle, Stainless Steel, Fine Mesh Heavy Duty Splatter…
Price:
$9.45
Available from Amazon, BGR may receive a commission
Cover more area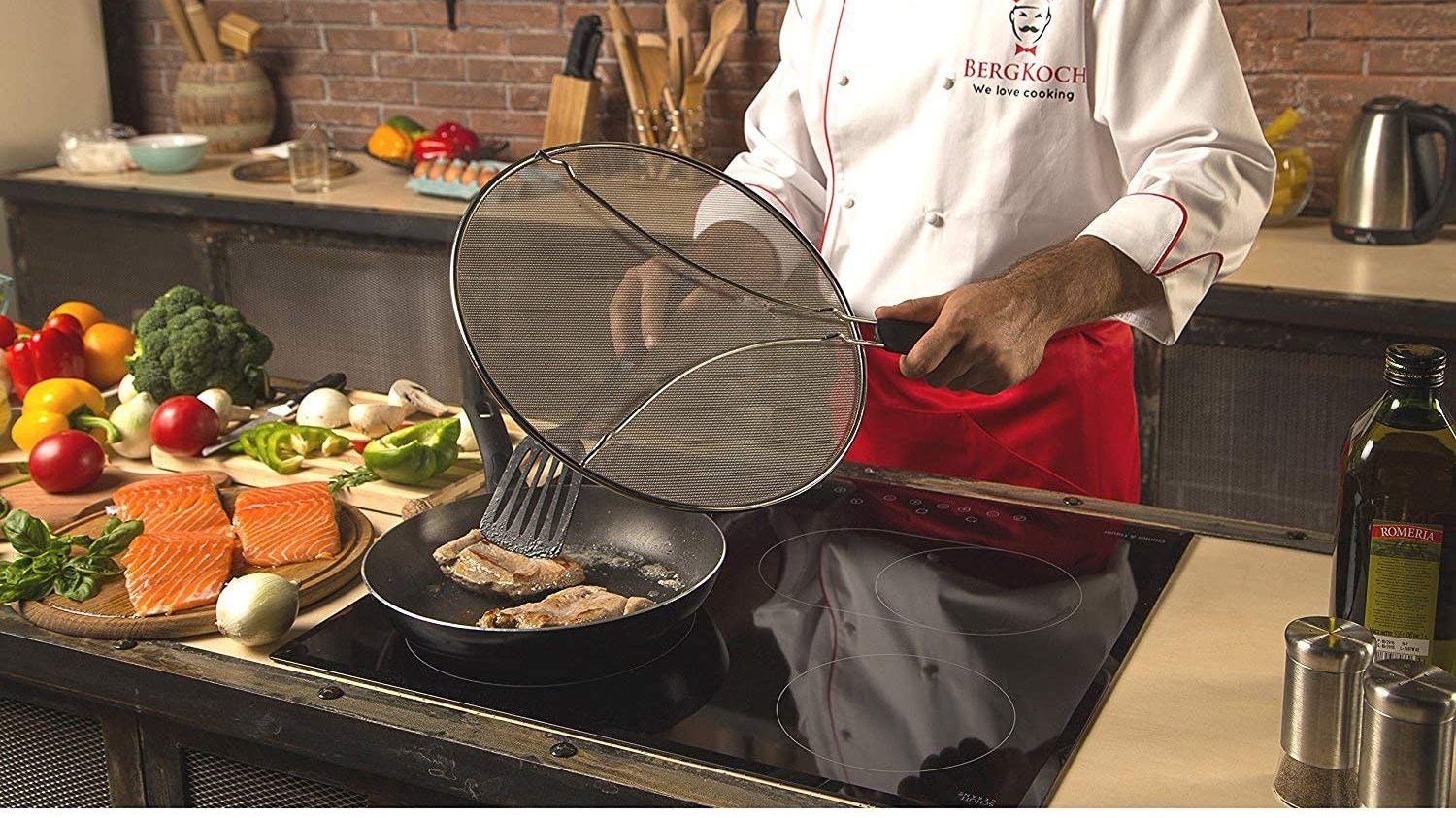 Covering even your largest pots and pans, the BergKoch Grease Splatter Screen for Frying Pans is an ideal guard. This measures 15″ to cover all of your pots and skillets. This also doubles as a strainer, steamer, and a cooling rack while also being narrow and easy to store. It's rustproof and dishwasher safe as it protects you from hot oil. It's made of 304 grade stainless steel and extra fine mesh, it stops 97% of the splash and lets out the steam. The feet keep the grease off of the countertop and you'll be able to just give it a quick wipe to clean it. The handle is made of TPR plastic, so you won't burn yourself.
BergKoch Splatter Screen for Frying Pan – Stainless Steel Grease Guard for 15 inch Pan to Stop…
Price:
$24.99
Available from Amazon, BGR may receive a commission
Keep your pots and pans protected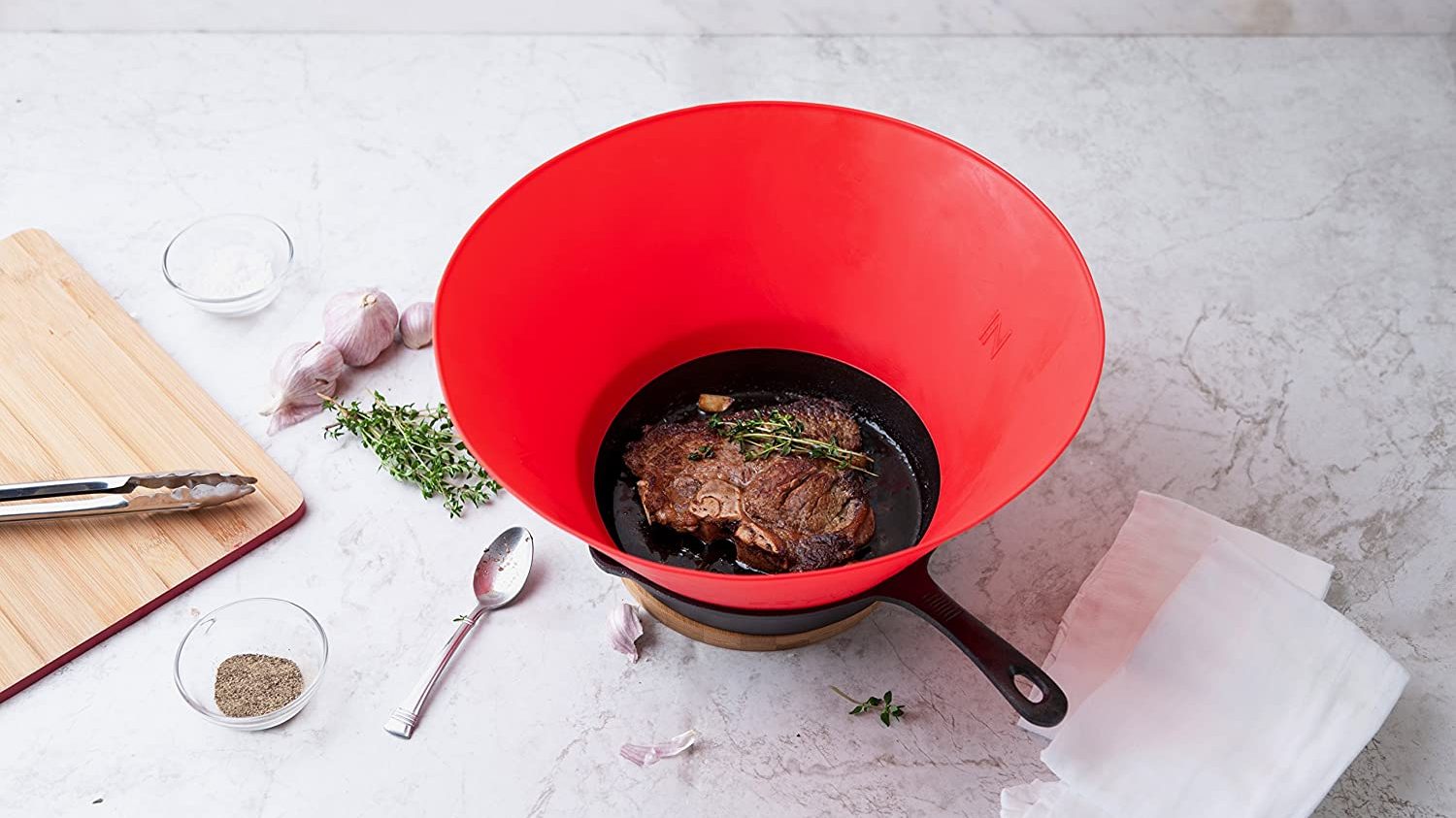 Do you still want access to your food while protecting your clothes from hot oils? Then reach for the Frywall 10 Splatter Guard. This fits a 10″ pan perfectly and is no suitable for downdraft stoves. This combines uninterrupted protection with complete access to cooking surfaces, meaning it is basically a protected uncovered pot. This will stop oil mist and condensation from building and stops any spillover. It's made from BPA-free, FDA-compliant silicone that can withstand temperatures up to 450°F. You can throw this in the dishwasher to clean it.
Frywall 10 (Medium) - Red - Splatter Guard, as Seen on Shark Tank
List Price:
$21.95
Price:
$19.95
You Save:
$2.00 (9%)
Available from Amazon, BGR may receive a commission
Find one that's built to last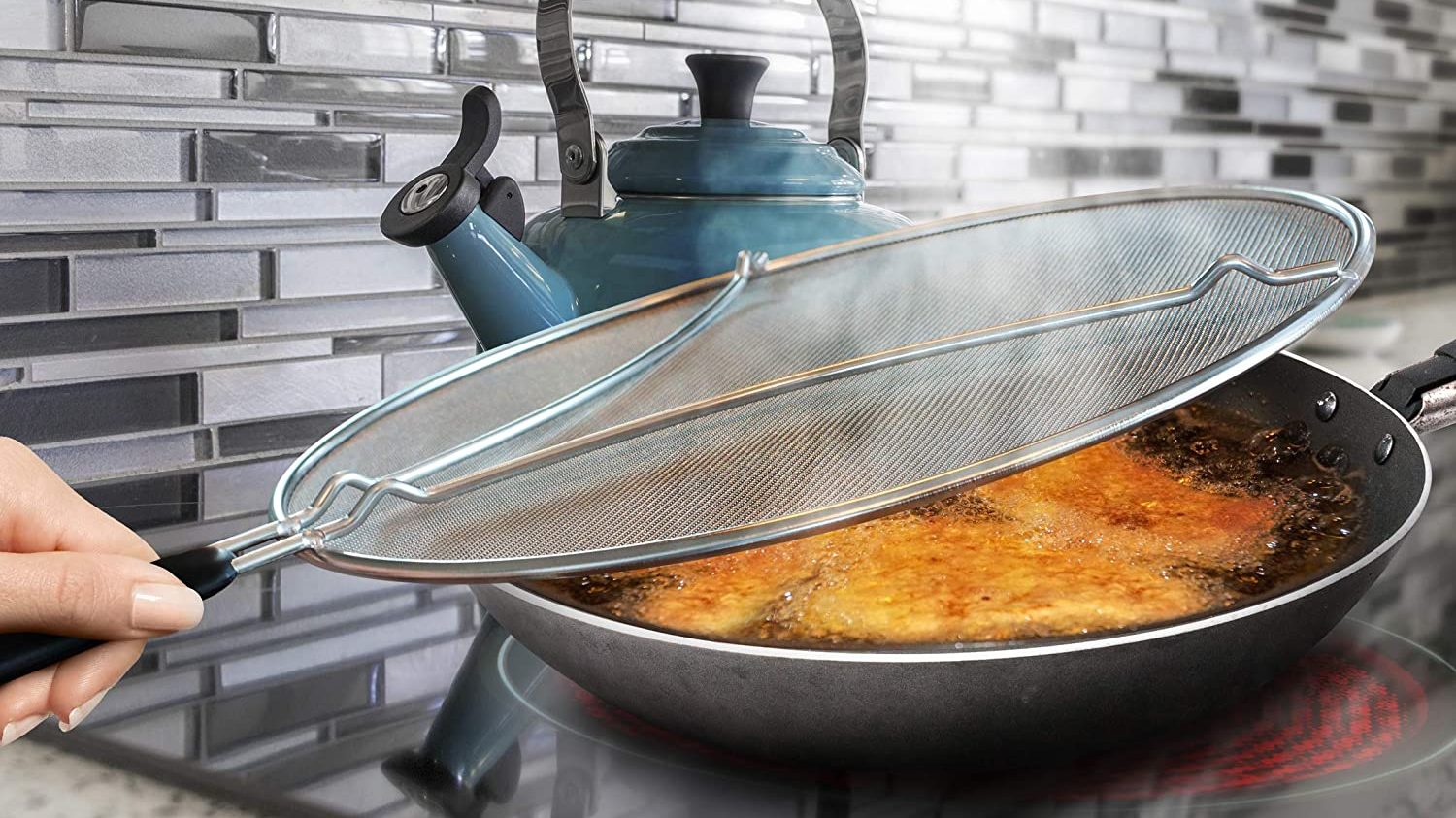 Built to last a long time while protecting you during meal prep, the Zulay Kitchen Splatter Screen for Frying Pans prevents burns. This will help you be clean and protected, as the guard shield stops almost 100% of splatter and mist. This is ideal for deep frying, stir frying, and much more. Made from heavy duty, BPA-free materials that will not rust, discolor or warp. This has an ergonomic design and measures 13″ in diameter. You can clean this easily and it is dishwasher-safe. It has a convenient hook that makes for easy storage.
Splatter Screen for Frying Pan - Stops Almost 100% of Hot Oil Splash - Large 13" Stainless Stee…
Price:
Available from Amazon, BGR may receive a commission
Don't struggle to put it away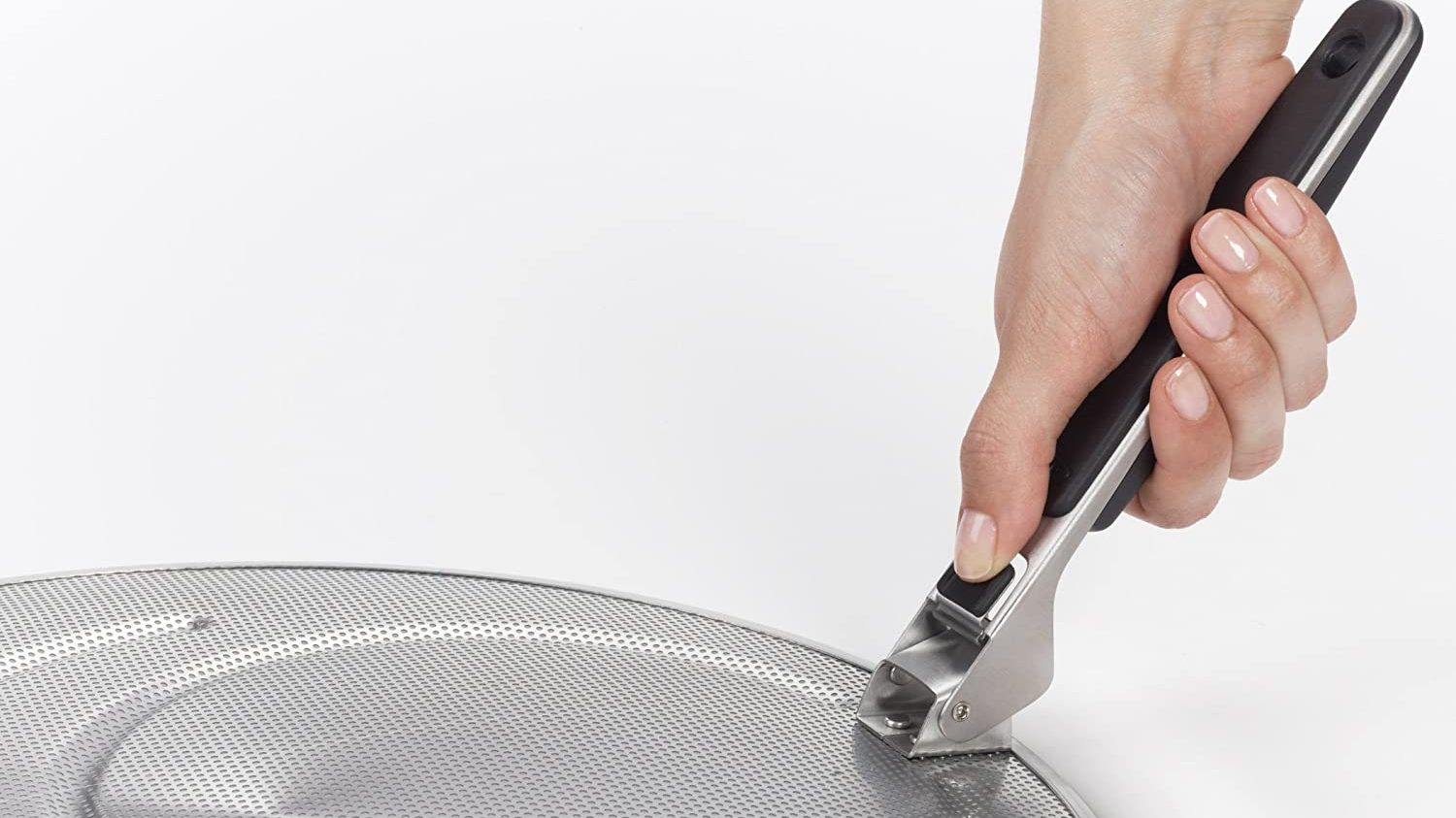 Making it easier to store, the OXO 1064468 Good Grips Stainless Steel Splatter Screen with Folding Handle is a solid choice. It is made from perforated stainless steel and is simple to clean. It doesn't burn like mesh and fits frying pans up to 13 inches wide. The concentric rings center and secure the screen on the pan. The screen handle folds flat for compact storage and the entire thing is dishwasher safe. The handle nests over the frying pan handle.
OXO Good Grips Stainless Steel Splatter Screen with Folding Handle
Price:
$22.99
Available from Amazon, BGR may receive a commission