If you purchase an independently reviewed product or service through a link on our website, we may receive an affiliate commission.
Are you interested in growing fruits and vegetables in your home garden? Homegrown produce can save you money and give you some fantastic additions to your diet. Cucumbers, tomatoes, eggplants, and strawberries are just a few of the many kinds of produce you can grow at home. But if you're working hard and not getting a lot to show for it, you have to start trying to figure out what's going wrong. While it might be the fact that it isn't getting enough sunlight or you've forgotten to water it recently, it could definitely be the soil. That's why you need a soil meter, if you're serious about gardening. This can provide you different readings of your soil to help give you a better idea of what's going on. We've highlighted our picks for the best soil meters on the market below to give you a leg up when it comes to gardening. Let's take a look.
You want real results
For quick and precise readings, you should reach for the Sonkir Soil pH Meter. This has three functions in one device, as it will measure the soil moisture, the pH level, and the sunlight level of the plants. The premium, double needle detection technology strongly enhances the speed and accuracy of your readings. This will detect and analyze, giving you proper readings on moisture and pH values. This helps promote plant growth and will tell you when you need to water your plants. It should be noted that this should not be used for any type of other pH readings and it should definitely never be used for any other liquid. If the plant is very dry, the pointer will not swing, meaning that you need to water your plant as soon as possible. The display is very simple to read for all three tests and it only needs to be inserted between two and four inches. Once the pointer stops swinging, that will be your accurate reading. This can be used indoors and outdoors, depending on where your plants are.
SONKIR Soil pH Meter, MS02 3-in-1 Soil Moisture/Light/pH Tester Gardening Tool Kits for Plant C…
List Price:
$29.99
Price:
$12.99
You Save:
$17.00 (57%)
Available from Amazon, BGR may receive a commission
Measure the moisture quickly

If you're just worried about the moisture level of your soil, then you should opt for the XLUX T10 Soil Moisture Sensor Meter. This hydrometer doesn't require any batteries to operate, as you can take it out of the box and it'll be ready to go. You can use this indoors or outdoors, making it very versatile. All you'll need to do is insert it between two and four inches into the soil to get a proper reading. It has a large dial that includes ten scales, for a wide range of results. It goes from dry to wet on the moisture scale and is easy to read. It has a single probe, so you'll need to be careful if the soil has a lot of roots. Hard roots can potentially damage the meter. It doesn't dig up too much soil after the test. It should not be used to test water or any other liquids. This is meant to test soil only. If the soil is too dry, it could damage the hydrometer. After you're done using it, you can just wipe it clean.
XLUX Soil Moisture Meter, Plant Water Monitor, Soil Hygrometer Sensor for Gardening, Farming, I…
Price:
$12.99
Available from Amazon, BGR may receive a commission
Give you some bang for your buck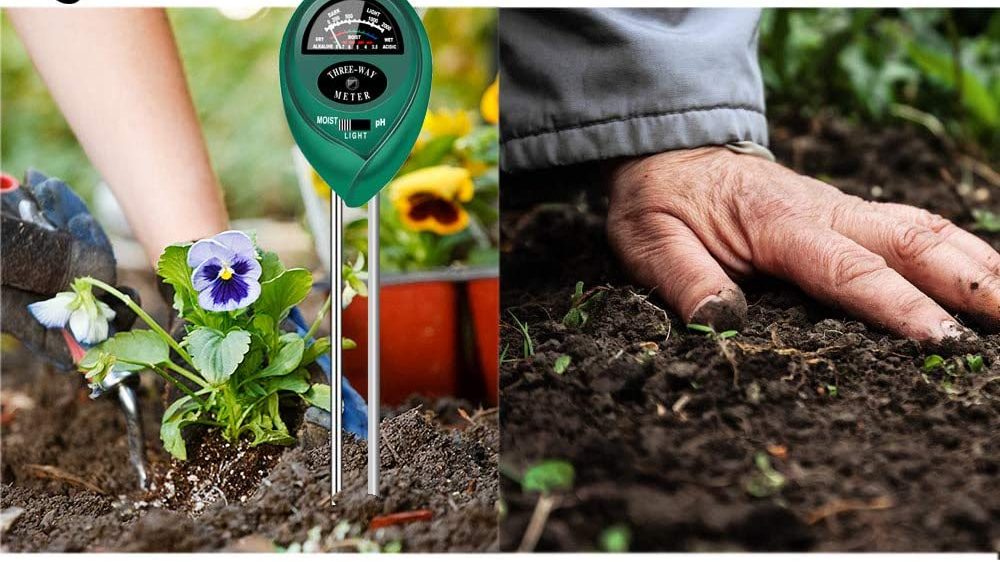 Offering up a solid bang for your buck, the yoyomax Soil Test Kit pH Moisture Meter is a solid choice for those looking to protect their wallets. This will help make your plants happier, as it will give you the information you need to properly treat them. This also has a three-in-one design, as it will give you moisture readings, pH values, and let you know if it's getting enough light. This will tell you how to adjust your gardening practices. There is no electricity or battery needed to operate this. Just plugging it into the soil and reading the results makes gardening easier. This is a necessary tool for anyone with houseplants and their customer service is unparalleled, as they are open 24 hours a day.
yoyomax Soil Test Kit pH Moisture Meter Plant Water Light Tester Testing Kits for Garden Plants…
Price:
$11.99
Available from Amazon, BGR may receive a commission