If you purchase an independently reviewed product or service through a link on our website, we may receive an affiliate commission.
While soap certainly has its fair share of perks — you know, like killing germs, keeping your skin smooth and, of course, making sure you don't smell horrible every day — it does have its downsides. Well, really only one downside, actually — its slippery nature. Corralling soap from sliding all over your shower, bathtub, or bathroom sink can be quite the tall task. And frankly, that small hindrance doesn't exempt you from bathing with soap (that should be illegal, but I digress). However, it does make you have to re-think your hygiene setup. The biggest no-brainer solution is, undoubtedly, finding yourself a soap dish that can effectively house your soap so it doesn't slip and slide all over the place. Luckily, there are plenty of options available on the web that can do just that. Whether it's for additional grip for your bathtub, a suction cup soap dish for when you're taking a shower, or even something for your kitchen sink, there is no shortage of ways to protect that precious soap of yours. Here, we'll go through some of the best of them. Take a look at what we managed to "dish" up. Nailed it.
Best Soap Dish for the Shower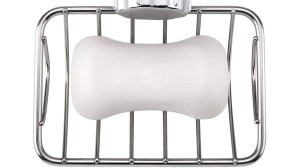 Looking for something that you can hang next to you for easy access when you're taking a shower? Look no further than the iPEGTOP Super Powerful Vacuum Suction Cup Shower Soap Dish, an easy-to-install option for all. Well, install might not even be the right term here, it's more like literally just place on the wall. This vacuum suction cup dish is made out of food grade 304 stainless steel, while the suction cups are made of high-quality rubber material and ABS plastic with a chrome finish. They're both rustproof and waterproof, and contain a strong holding ability that works well on essentially any non-porous surface. We think it works best for the shower, however, as it's easy to put on and take off if you realize one spot is more convenient to place it than another. And of course, you can put it right at eye level and also adjust it accordingly.
iPEGTOP Super Powerful Vacuum Suction Cup Shower Soap Dish - Strong Rustproof Stainless Steel S…
Price:
$9.99
Available from Amazon, BGR may receive a commission
Most Versatile Soap Dish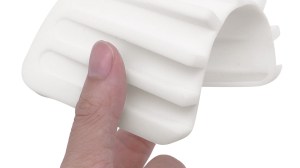 From a versatility standpoint — meaning it pretty much works anywhere soap is required — the Anwenk Soap Dish Tray Saver Holder Drainer Shower Waterfall for Bathroom/Kitchen/Counter Top is a no-brainer. It's made of high-quality silicone, so it's super soft and ultra-flexible, allowing you to use it in either the bathroom shower, tub, or your kitchen. It's also made with self-draining levels that allow water to flow out, preventing mold and rust from forming in the process. It's also designed so that it doesn't stick to your soap, yet it will still adequately holds it from falling off. All in all, if you're looking for a soap dish that you can move from different areas in your house without any installation, this is a great choice.
Anwenk Soap Dish Shower Waterfall Soap Tray Soap Saver Soap Holder Drainer for Shower/Bathroom/…
Price:
$8.99 ($3.00 / Count)
Available from Amazon, BGR may receive a commission
Best Wooden Soap Dish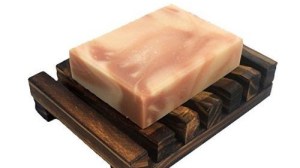 If you're looking for something a bit more aesthetically pleasing, the Onwon Hawaii Style Bathroom Accessories Handmade Natural Wood Soap Dish Wooden Soap Holder is a wonderful looking alternative. While this might not necessarily filter water out as well as some of the aforementioned products, it is still quite adept at allowing soap to drain and dry naturally while also keeping your bar of soap well-ventilated. It's made of all-natural, high-quality pine wood, with large wood slat design to keep your soap well-ventilated as well as the wood itself from rotting. Plus, each soap holder is handcrafted for quality and is extremely durable and long-lasting. In other words, this decorative soap holder will serve your home well for years to come.
Onwon Hawaii Style Bathroom Accessories Handmade Natural Wood Soap Dish Wooden Soap Holder
Price:
$6.98
Available from Amazon, BGR may receive a commission
Best Soap Dish for the Kitchen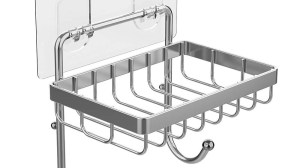 Now, for something that would look great in any kitchen, the ODesign Soap Dish Sponge Holder is a perfect choice. Unlike some of the other soap dishes, this one comes complete with two hooks, allowing you to place kitchen towels, washcloths, or even sponges on it in conjunction with your soap. Plus, it's one that mounts to the wall with an ultra-sticky adhesive that isn't reusable, meaning you can only put it in one finite space. From our experience, the kitchen is the best place to put such a dish that doesn't need further adjustment. Still, the soap dish itself can be removed from the hooks, allowing you to bring it closer to you or the sink while your sponge, hand towels, etc. can still be hung properly. And of course, it's of the highest quality, as it's made of high-grade SUS 304 stainless steel, making it waterproof, rustproof and durable.
ODesign Soap Dish Sponge Holder with Hook for Bathroom Shower Kitchen Wall Mounted Rustproof St…
Price:
$9.99
Available from Amazon, BGR may receive a commission
Best Soap Dish to Preserve Soap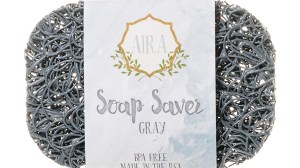 Buying a new bar of soap seemingly every week can, admittedly, be a bit of a nuisance. Instead, you should try to preserve your soap as best as possible by getting yourself the Aira Soap Saver – Soap Dish & Soap Holder Accessory – BPA Free Shower & Bath Soap Holder. This isn't actually a soap dish itself but, rather, an accessory for your soap dish that can help preserve your soap. However, you could, in essence, forgo a traditional soap holder and simply place your bar of soap on this device. Although it's made with a rather simplistic design, this soap dish raises the soap off of your soap dish, while its porous body helps to quickly drain water and circulate air, in turn making your soap last longer. It's certainly a great item for anyone looking to keep their bars of soap in tact and usable for longer periods of time.
Aira Soap Saver - Soap Dish & Soap Holder Accessory - BPA Free Shower & Bath Soap Holder - USA…
Price:
$7.83
Available from Amazon, BGR may receive a commission