If you purchase an independently reviewed product or service through a link on our website, we may receive an affiliate commission.
We all have our own little hobbies that we hold near and dear to our hearts. For some, it might be something as simple as going to the gym. For others, it could be something a bit more extravagant, like base jumping or white water rafting. But there's little to no doubt that for many, sewing can be a lifelong hobby that is both easy to learn and, of course, super productive/convenient. Think about it — how many articles of clothing over the years have you been forced to throw away because they were ripped, worn, or torn? Probably too many to keep track of. But if you or someone in the house knows their way around a needle and thread, this likely won't have to happen again. For those who want to take their hobby — or career — to the next level, owning a sewing machine is a must. They're far easier to use, especially if you're actually crafting your own clothing from scratch, and they're much easier on the hands if you're suffering from arthritis or a similar ailment. So we'll go through some of the best deals on sewing machines that are currently available on the web, so you can upgrade your hobby in a big way. Or at least, a more efficient one.
Best Overall Sewing Machine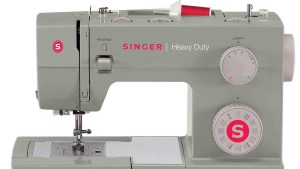 If you're someone who takes their sewing seriously — whether it's simple repairs or full-scale clothing, costume, and dress production — the Singer Heavy Duty 4452 Sewing Machine With Accessories should be an absolute no-brainer. This machine features 32 built-in stitches, including six basic, seven stretch, 18 decorative stitches, and one fully automatic one-step buttonholes stitch. For those who have trouble threading their needles, whether it's due to age, hand size, or any other reason, the Singer also provides you with an automatic needle threader to help you avoid such frustration. Plus, with a powerful motor that's 60% stronger than your average device, stitching up to 1,100 stitches per minute, you'll be able to finish your projects faster than ever before. The whole set includes an all-purpose foot, zipper foot, buttonhole foot, button sewing foot, seam ripper/lint brush, quilting guide, needles, bobbins, screwdriver, auxiliary spool pin, and spool pin. Additionally, it comes with four extra heavy-duty, must-have accessories: an even feed/walking foot for layers of fabric, non-stick foot for leather and vinyl, a five-pack of size 16 needles, and a clearance plate.
SINGER | Heavy Duty 4452 Sewing Machine , Gray
Price:
$219.99
Available from Amazon, BGR may receive a commission
Best Lightweight Sewing Machine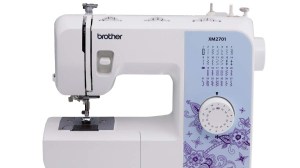 For something a bit more lightweight and compact, you should opt for the Brother XM2701 Lightweight Sewing Machine. While it's a bit smaller in make — it weighs in at just 12.6 pounds with dimensions of 12.1″ x 5.9″ x 15.3″ — it's just as powerful and efficient as any other brand name sewing machine on the market. This machine also features a sizable amount of built-in stitches — 27 to be exact — including decorative, blind hem, zigzag, stretch stitches, and even auto-size buttonhole. It also contains an auto-threading feature so you can get started on your projects without the hassle of threading your needle. The XM2701 is even designed with LED lights so you can brighten your work area. And with an easy stitch selector, jam-resistant, top drop-in top bobbin, and complementary instructional DVD for first-time users, this machine is great for beginners and advanced sewing enthusiasts alike.
Brother XM2701 Sewing Machine, Lightweight, Full Featured, 27 Stitches, 6 Included Feet
Price:
$183.06
Available from Amazon, BGR may receive a commission
Best Value Sewing Machine for Beginners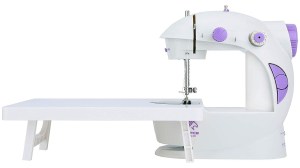 If you're looking for something even more inexpensive — a machine that's great for novice sewers, younger children, and part-time hobbyists — then the Varmax Mini Sewing Machine with Extension Table is the perfect purchase. This mini-sewing machine is even smaller than the aforementioned model from Brother — it's only 6.9″ x 3.5″ x 8.6″ and weighs just 2.6 pounds. However, it comes equipped with a large extension table, so you can do bigger projects on it without a hassle. It also features easy-to-use double thread stitching, as well as low and high-speed options that you can adjust based on the project. This machine is better for simple craft projects, home sewing, and tailoring, but it's versatile enough to be used for quite a few different things. While you're not going to be able to pump out large-scale projects like you would with a professional-grade sewing machine, when you consider price and quality, it's a great choice for beginners.
Varmax Sewing Machine with Extension Table and Sewing Kit
Price:
$35.99
Available from Amazon, BGR may receive a commission