If you purchase an independently reviewed product or service through a link on our website, we may receive an affiliate commission.
Don't stand out in the rain just to get your steaks and burgers cooked. Sure, you'll be seen as a hero at your party when you come in soaked but holding a tray full of grilled meats and vegetables. But you can avoid having to do that if you have an indoor grill. You're more likely to have more space for one if it's round as well, so you can slide it easier in a cabinet or wherever you need to store it. A round indoor grill allows you a finite space to place your grilling items, letting you know exactly how many pieces of chicken or kebabs you can grill at once. Certain kinds of round indoor grills can also be placed on a stove top to have a more communal feel while you're barbecuing. No longer will two people have to go outside in the rain to grill, as you'll obviously need someone to hold an umbrella for you while you're going at it. If you're excited by the idea of cooking at a round indoor grill, we've got you covered. Check out our picks and enjoy your grilling times more.
Enjoy a wide cooking surface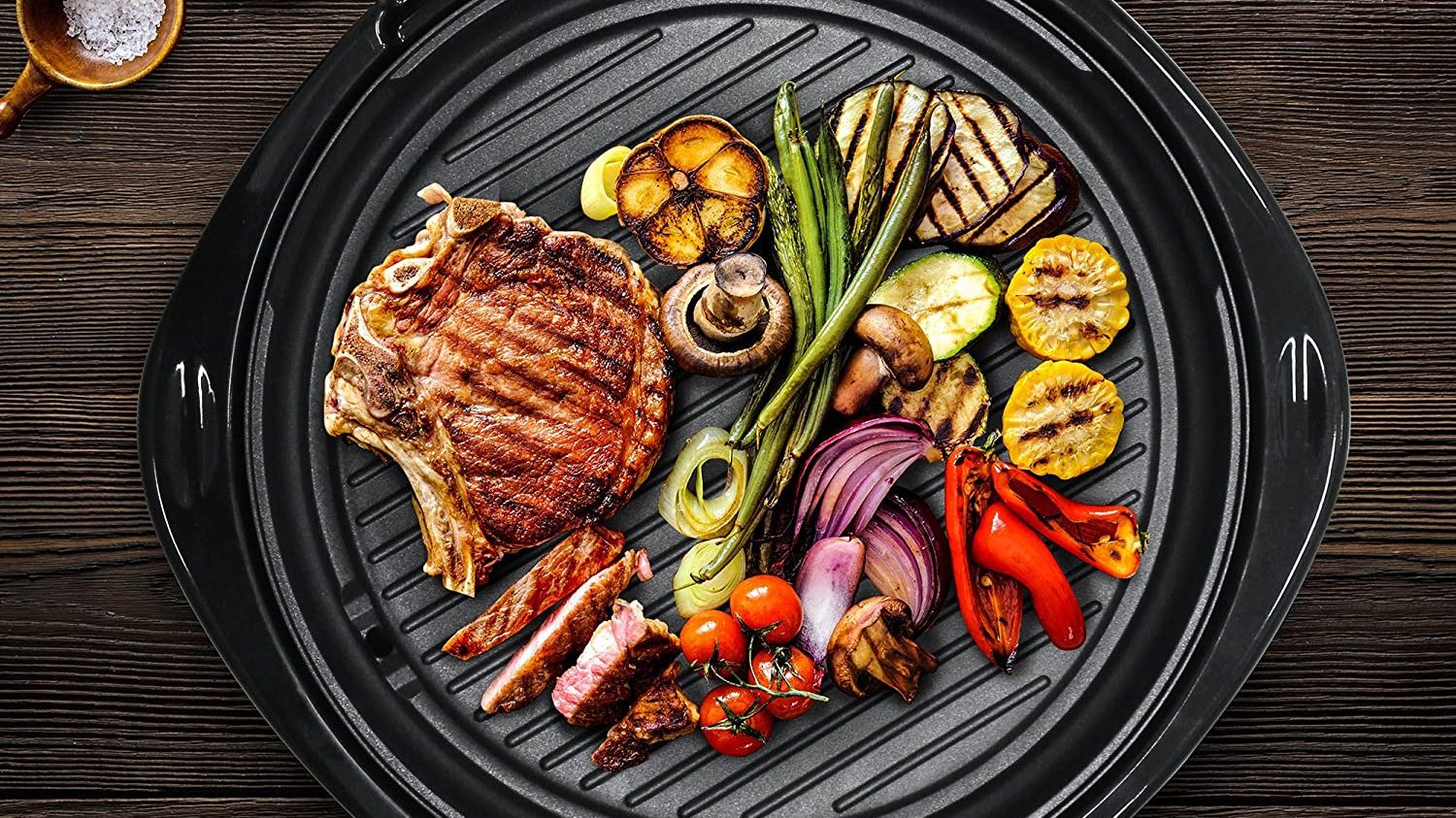 Utilizing a surface like the Maxi-Matic Elite Gourmet EMG-980B Large Indoor Electric Round Nonstick Grill will make your day better. You'll enjoy all the fun of outdoor barbecuing indoors when you use this. This has a large 14″ grilling surface, which allows you to cook salmon, steak, and vegetables all at once if you want. You don't have to worry about food being stuck on the grills, thanks to the nonstick grilling plates. There is removable 120V/1300W thermostat control with five adjustable settings, so you'll have better control over how to cook your food. It can reach up to 450°F and it features a circular heating element that will heat up quickly and evenly. Cleaning it is simple, as you can wash it all in the dishwasher.
Key Features:
Large 14″ grilling surface
Removable thermostat control with five adjustable settings
Circular heating element to heat quickly and evenly
Maxi-Matic Smokeless Indoor Electric BBQ Grill with Glass Lid Dishwasher Safe, PFOA-Free Nonsti…
List Price:
$39.99
Price:
$36.99
You Save:
$3.00 (8%)
Available from Amazon, BGR may receive a commission
Do more with your grill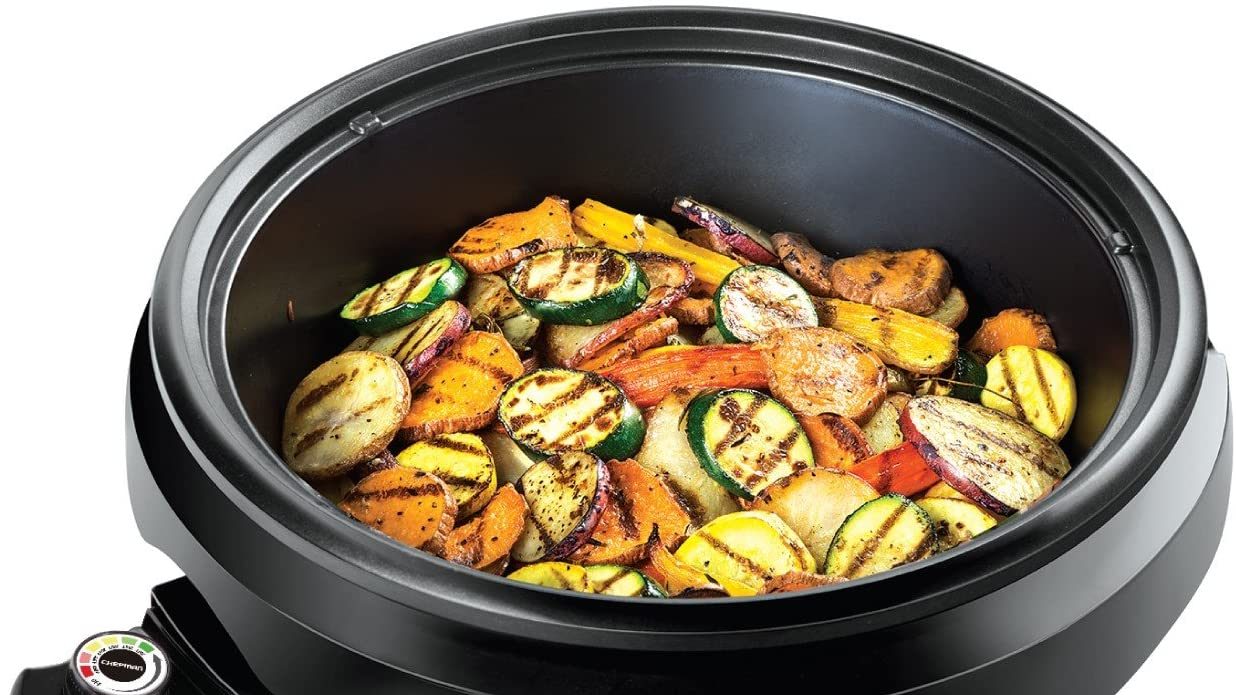 Nail all the grill marks and searing that you've been searching for right in your kitchen with the Chefman 3-in-1 Electric Indoor Grill Pot and Skillet. You'll be able to grill no matter where you are or what the temperature is outside. This has an adjustable temperature range from 200°F to 450°F and it has a large 10-inch diameter and is three-quarts deep. There are multiple cooking options available to you, such as grilling, steaming, slow cooking, simmering, and stir frying. It has a tempered glass lid that makes it easy to keep an eye on your food. The raised grill surface makes it easy for fat to drip away. Most of it is dishwasher safe.
Key Features:
Multiple cooking options available
Temperature range from 200°F to 450°F
Large 10-inch diameter
Chefman 3-In-1 Electric Indoor Grill Pot & Skillet, Slow Cook, Steam, Simmer, Stir Fry, 10-Inch…
Price:
Available from Amazon, BGR may receive a commission
Grill even if you live in an apartment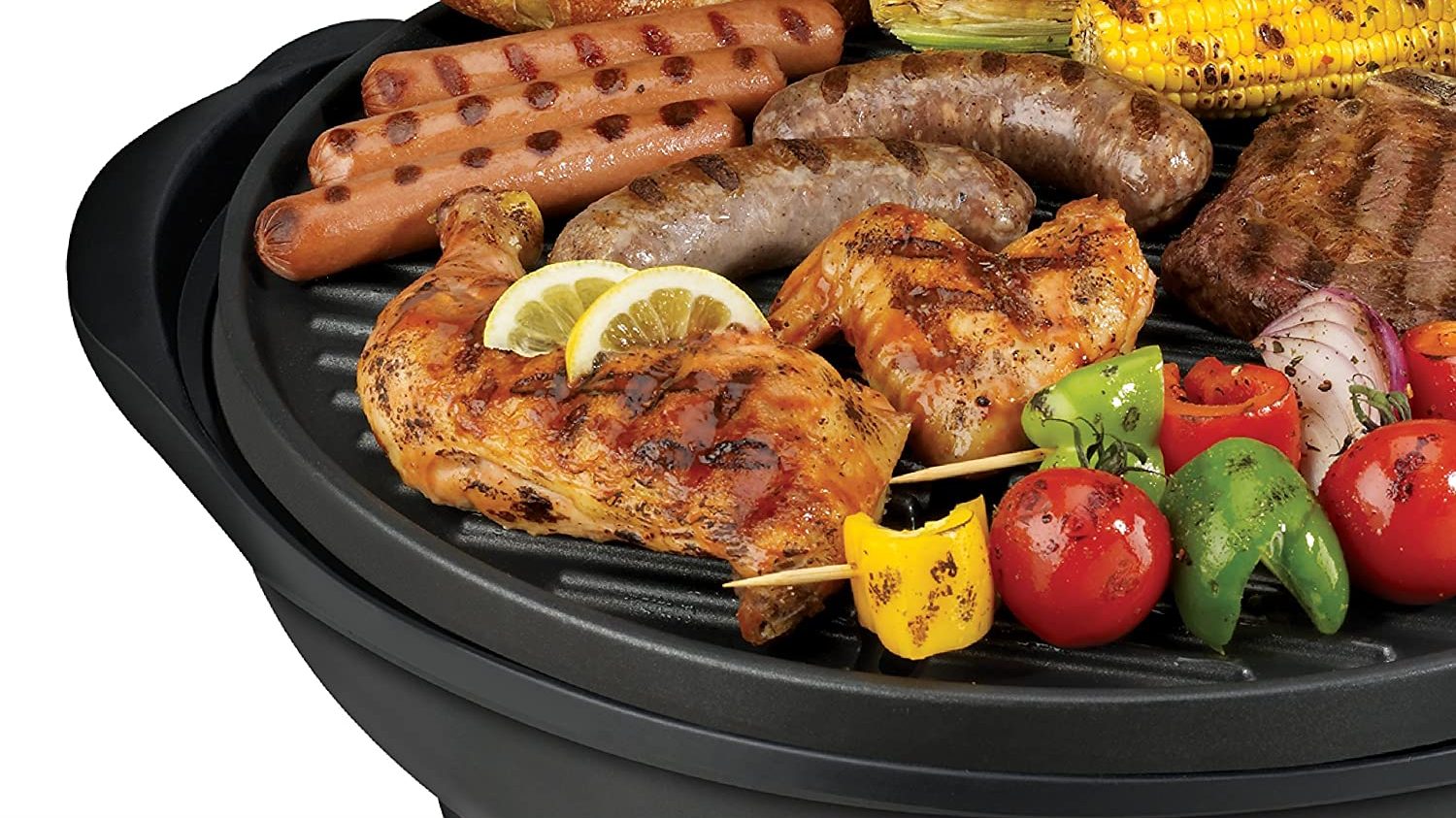 There is more than one way to enjoy the George Foreman 15-Serving Indoor/Outdoor Electric Grill. It has adjustable temperature control, so you can best suit your food. You'll have 240 square inches of cooking surface at your fingertips and you can make food to serve up to 15 people. The nonstick coating makes cleaning it extremely simple. It has an indoor/outdoor removable stand, so you can set it up outside on a patio or balcony or put it on your countertop if you're cooking indoors. It's water-resistant and the top handle on the cover can be hung for storage purposes. It is heavy-duty, so you can use this all year round.
Key Features:
Comes with a grill and a cover
240 square inches at your fingertips
Can be used indoors or outdoors
George Foreman 15-Serving Indoor/Outdoor Electric Grill, Silver, GGR50B & GFA0240RDCG Round Gri…
Price:
Available from Amazon, BGR may receive a commission
Enjoy a Korean barbecue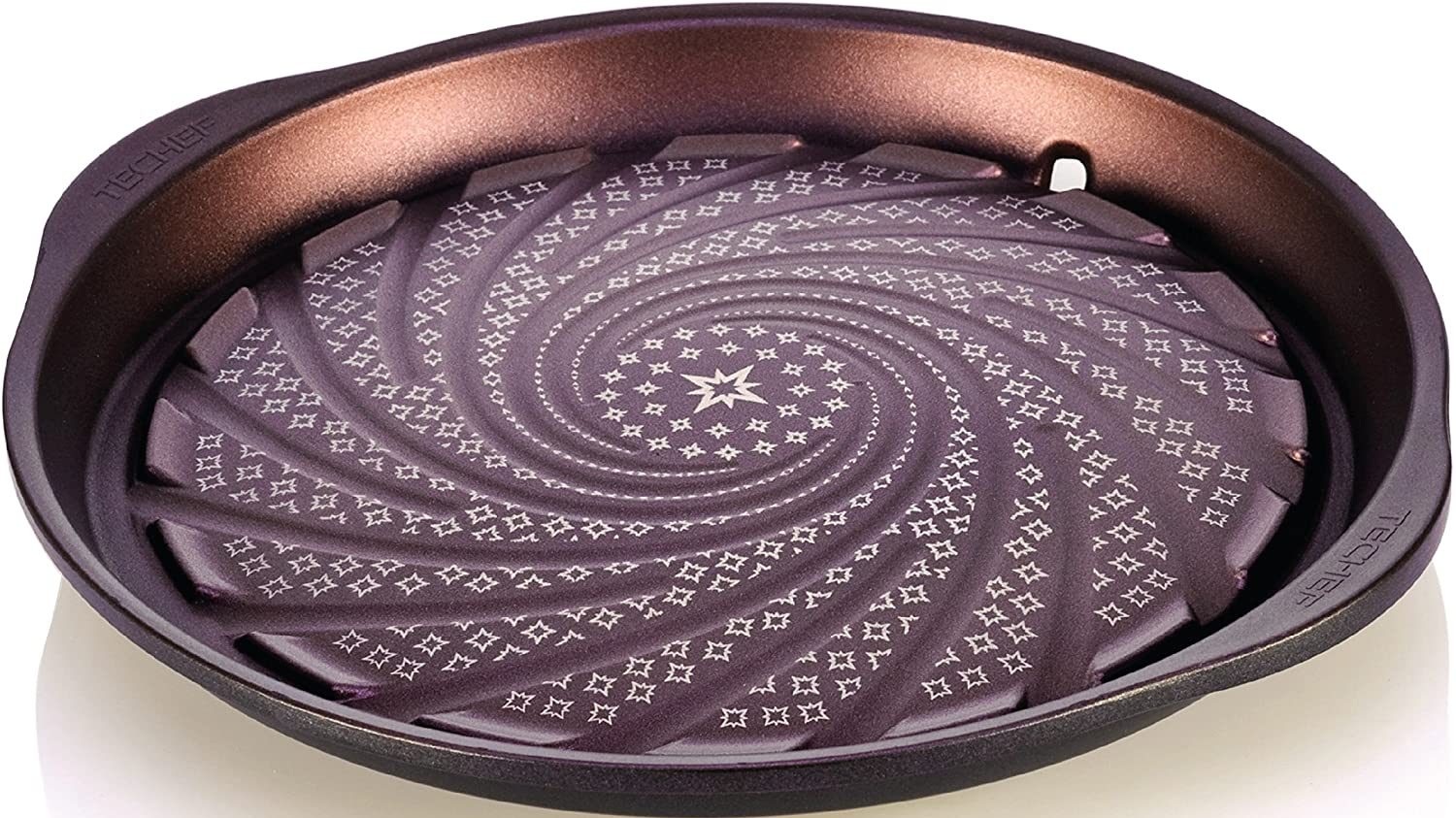 Ideal for Asian flavors, the TeChef Stovetop Korean BBQ Non-Stick Grill Pan is extremely durable. This is coated five times with Teflon print designs. It has a unique swirled channel design that helps oil drain slowly to give your food more flavor. This is great for draining of pork fat, especially if you're making Korean gui. It is made in Korea with exceptional quality and it is safe to put in the oven up to 450°F.
Key Features:
Coated five times with Teflon
Unique swirled channel design to help oil drain slowly
Safe for the oven
TeChef - Stovetop Korean BBQ Non-Stick Grill Pan with New Safe Teflon Select Non-Stick Coating…
Price:
$32.99
Available from Amazon, BGR may receive a commission
You can grill on the stove top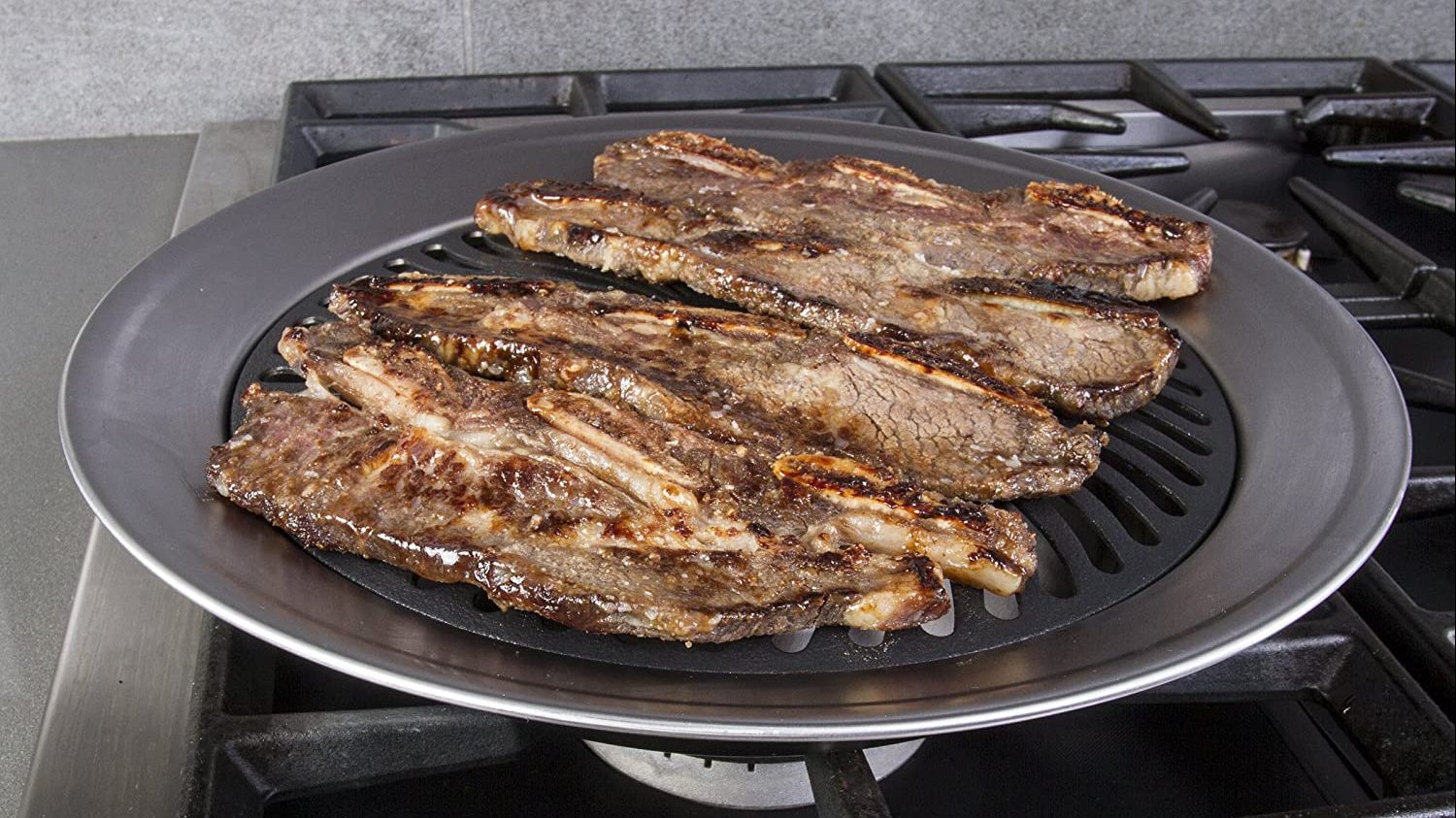 The Kitchen + Home Stove Top Smokeless Grill Indoor BBQ is double-coated. It is wear-resistant and durable and allows you to make delicious meals without much effort. It is nonstick and gives you an alternative to broiling or grilling outside. This has an integrated drip pan to catch oils and you can add water to the drip pan to get rid of any unpleasant smoke or splattering. This is also great to use on a camping trip.
Key Features:
Nonstick
Wear-resistant and alternative
Integrated drip pan
Kitchen + Home Stove Top Smokeless Grill Indoor BBQ, Stainless Steel with Double Coated Non Sti…
List Price:
$29.95
Price:
$24.99
You Save:
$4.96 (17%)
Available from Amazon, BGR may receive a commission