If you purchase an independently reviewed product or service through a link on our website, we may receive an affiliate commission.
If you've ever lived in an apartment, you know how important getting your security deposit back is. As long as you haven't completely destroyed your place, you should be able to get back some portion of it. Those last few days before you move out are full of packing, straightening, and cleaning. You want it to be in the best shape possible for when your landlord comes to do the check to see what damages may have been inflicted. If you hung anything up on your walls, you likely will have to repair those holes, no matter how minuscule. That's where a putty knife can come in handy. The flexible blade will help you spread the putty and spackle into those holes, covering them up and hopefully saving you from having to pay anything. For those who are moving out shortly and are in need of some help, we've highlighted five of the best putty knives around to help you patch up those holes.
Durability is key for home repairs

Working in the house to spread putty around can be accomplished efficiently with the Red Devil 2IN Flex. This one has a 2″ blade but you can choose the blade that you prefer. It features a shatterproof polypropylene handle and high carbon steel blades that is rust-resistant. The handle is also solvent-resistant, so you won't have to worry about it warping or breaking while you're using it. The blade itself is flexible, allowing you to work from many different angles applying putty and spackle. It has a solid steel nail setting head that is designed for maximum safety and dependability. The precision-ground blade works to ensure your job is completed.
Key Features:
Shatterproof polypropylene handle
Flexible blade made from high carbon steel
Solid steel nail setting head
Red Devil 4206 2" Flex Putty Knife, 2"
Price:
$7.91
Available from Amazon, BGR may receive a commission
Flexible blades for easier tasks

Take care of the holes with the Warner 90127A ProGrip Full Flex Putty Knife. You can choose between 1.25″ and 6″ in terms of blade size and we are focusing on the 1.5″ option. This is made with a high-quality carbon steel blade that is fully flexible. You can pick between flex and fully flex options, depending on the level of work you are doing. On the handle, there is a large hang hole, so you can keep this up in your workshop to know exactly where it is at all times. It will also free up space in your toolbox. It is designed to fit in your hand and reduce fatigue.
Key Features:
Fully flex blade
Large hang hole
Designed to fit in your hand and reduce fatigue
Warner Manufacturing 90127A ProGrip Full Flex Putty Knife, 1-1/2".
Price:
$3.99
Available from Amazon, BGR may receive a commission
Cover all of your bases with this set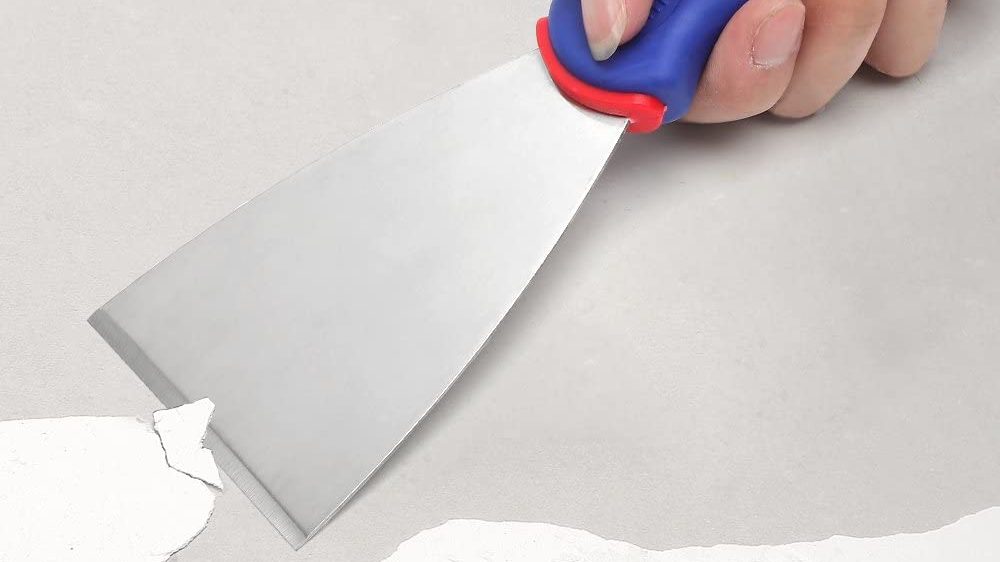 Rather than buying putty knives individually in the size you may need, pick up the WORKPRO Putty Knife Set. You'll have four knives at your fingertips with this, including ones that measure 1.5″, 3″, 4″, and 6″. The blades range between flexible and stiff for multiple purposes. They are all constructed of stainless steel that is durable and smooth. All are rust-resistant and mirror polished to last a long time. The ergonomic handles are made from PP&TPR material and have finger guide rails for a softer grip.
Key Features:
Four knives that range between flexible and stiff
Constructed of stainless steel
Ergonomic handles
WORKPRO 4-Piece Putty Knife Set, Stainless Steel Made - Perfect for Drywall Spackle, Taping, Sc…
Price:
$15.99
Available from Amazon, BGR may receive a commission
Take care of the small hole quickly
Providing you all that you'll need, the 3M SHR High Strength Small Hole Repair Kit is a smart investment. You'll come out with a professional repair when you're done using this. It is ideal for hole repairs up to 3″ in diameter. It includes an 8 fl. oz. tub of primer enhanced spackling compound, a 4″ self-adhesive patch and a 3″ putty knife and sanding pad. There won't be any shrinking, cracking, or sagging and it will come out smooth. The spackle is easy to sand when you're done.
Key Features:
Small hole repair kit
Putty knife, sanding pad, self-adhesive patch, and spackling compound included
Won't be any shrinking, cracking, or sagging
3M High Strength Small Hole Repair Kit with 8 fl. oz Spackling Compound, Self-Adhesive Patch, P…
List Price:
$13.99
Price:
$11.97 ($11.97 / Count)
You Save:
$2.02 (14%)
Available from Amazon, BGR may receive a commission
Get more bang for your buck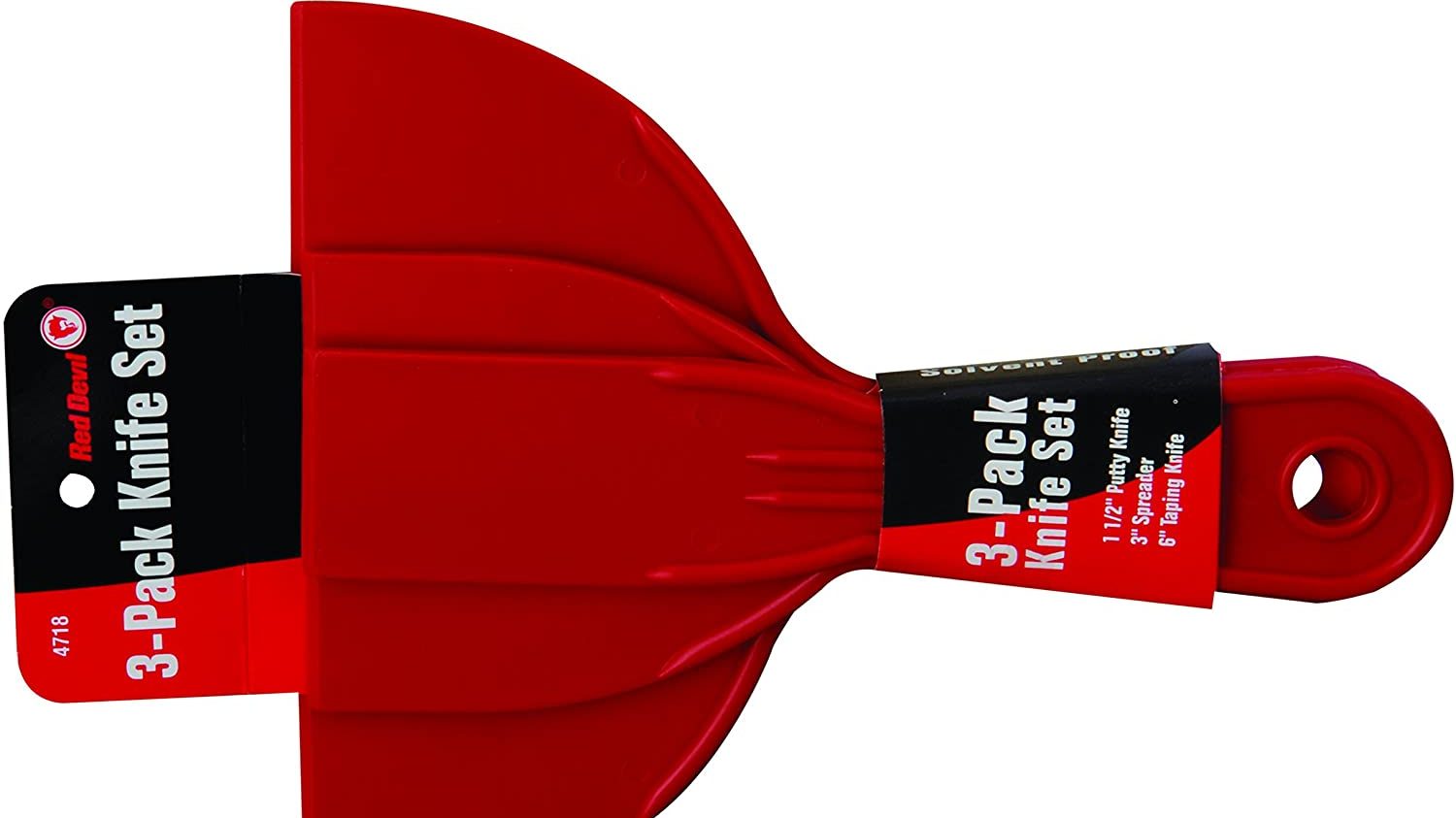 The Red Devil 4718 3-Piece Plastic Knife Set provides you with tremendous value. This includes a 1.5″ putty knife, a 3″ spreader, and a 6″ taping knife. Made from quality plastic construction, it provides strength and flexibility when you're working. This is an excellent alternative to metal and is most cost-efficient. If you don't want to reuse them, you can dispose of them once you're done.
Key Features:
Three knives in the set
Made from quality plastic construction
Disposable
Red Devil 4718 3-Piece Plastic Knife Set, 1-Pack
Price:
$4.79
Available from Amazon, BGR may receive a commission