If you purchase an independently reviewed product or service through a link on our website, we may receive an affiliate commission.
Movie nights are some of the best nights you can have at home. Spending the evening cozy with your friends or family on the couch while you settle in to watch a film is a fantastic time. Besides a TV and the movie itself, there is another must-have when you're sitting down for a viewing and that's popcorn. Popcorn is most closely associated with the movie theater, so bringing that tradition home with you is a necessity. But since you're home, you can also spice up your popcorn eating there. There are tons of ways to do so, like mixing your popcorn with candy in the bowl, but adding some popcorn flavoring or seasoning with your pieces can add some extra flavor. If you're getting bored with just plain butter, we've got you covered. Below, we've listed our favorite seasonings to put on popcorn to get you more in the mood for movie night. You can even sneak these into the movie theater the next time you go. We won't tell. Let's take a look.
Best Season Salt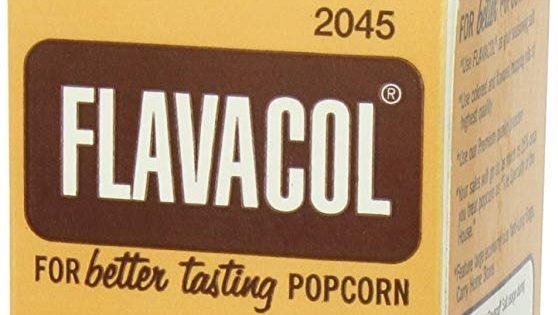 The crunchiness of the popcorn goes so well with some saltiness and Perfectware Flavacol Popcorn Season Salt is a great addition. This makes for better tasting popcorn, plain and simple. This is ideal for fairs, carnivals, charity events, and especially for at-home moving watching. This is something that is used in movie theaters to make the popcorn's flavor really pop. These are fine salt flakes that stick to the popcorn, whereas ground salt will just fall off and sit at the bottom of your bowl. It provides great taste and color to your popcorn, making it even more appealing to look at.
Flavacol Popcorn Season Salt - 1 35oz Carton
Price:
$10.10
Available from Amazon, BGR may receive a commission
Best Pack of Seasoning Shakers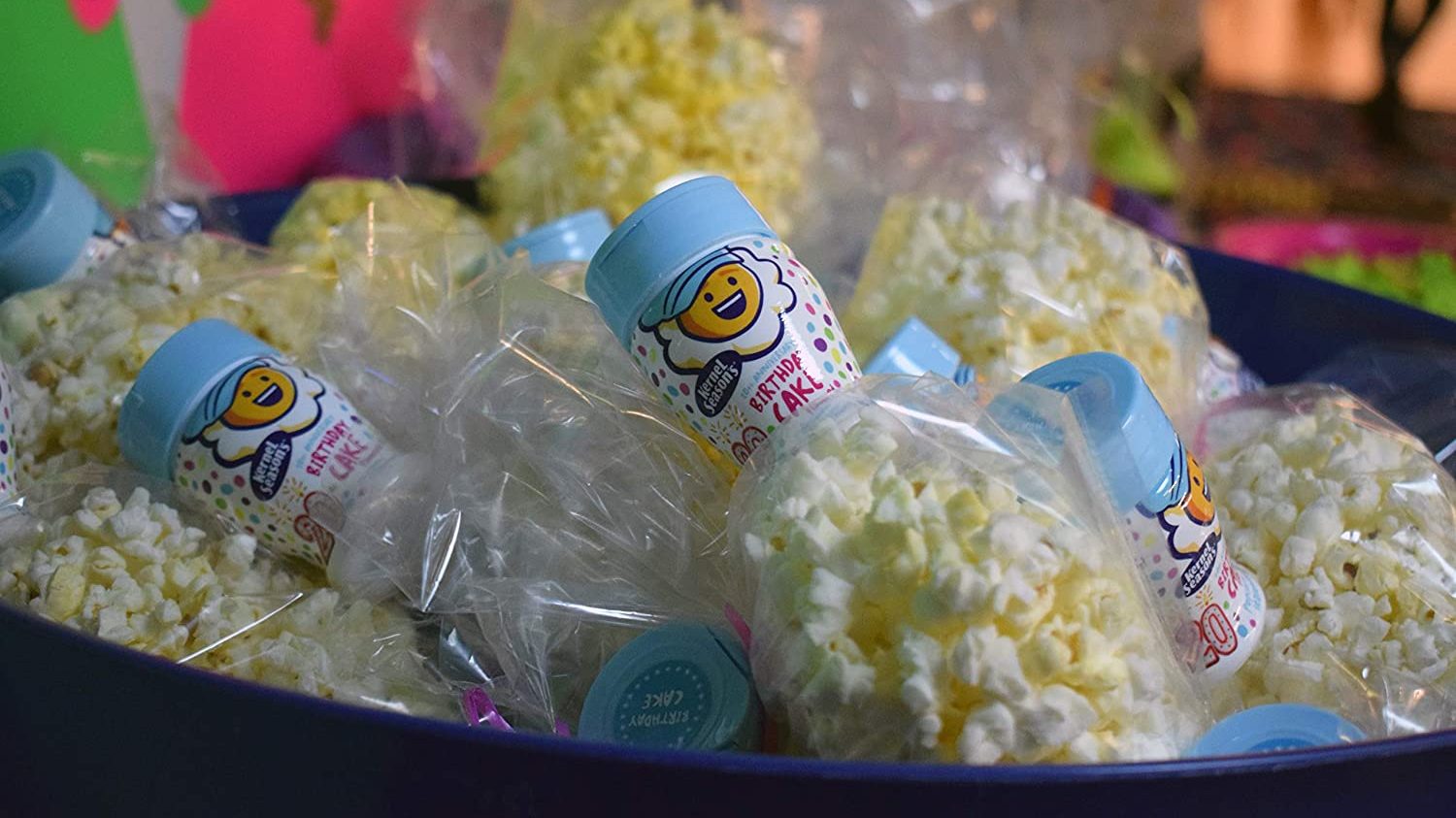 Coming in different flavors to appease all of your guests, the Kernel Season's Mini Popcorn Seasoning provide even more taste for your kernels. You can choose between a cheese variety pack, a savory variety pack, a variety pack, or birthday cake flavoring. Some of the different flavorings you can enjoy are white cheddar, bacon cheddar, garlic Parmesan, ranch, and kettle corn. The birthday cake flavoring is a great way for you to have your cake and eat it too, pun intended. You can also choose between packs that are 0.75 ounces or 0.9 ounces. There are no artificial colors or flavors in these seasonings and all of them are gluten-free. These are a great way to shake up your popcorn.
Kernel Season's Birthday Cake Mini Popcorn Seasoning, Birthday Cake, 0.75 Ounce (Pack of 8)
Price:
Available from Amazon, BGR may receive a commission
Best All-in-One Packs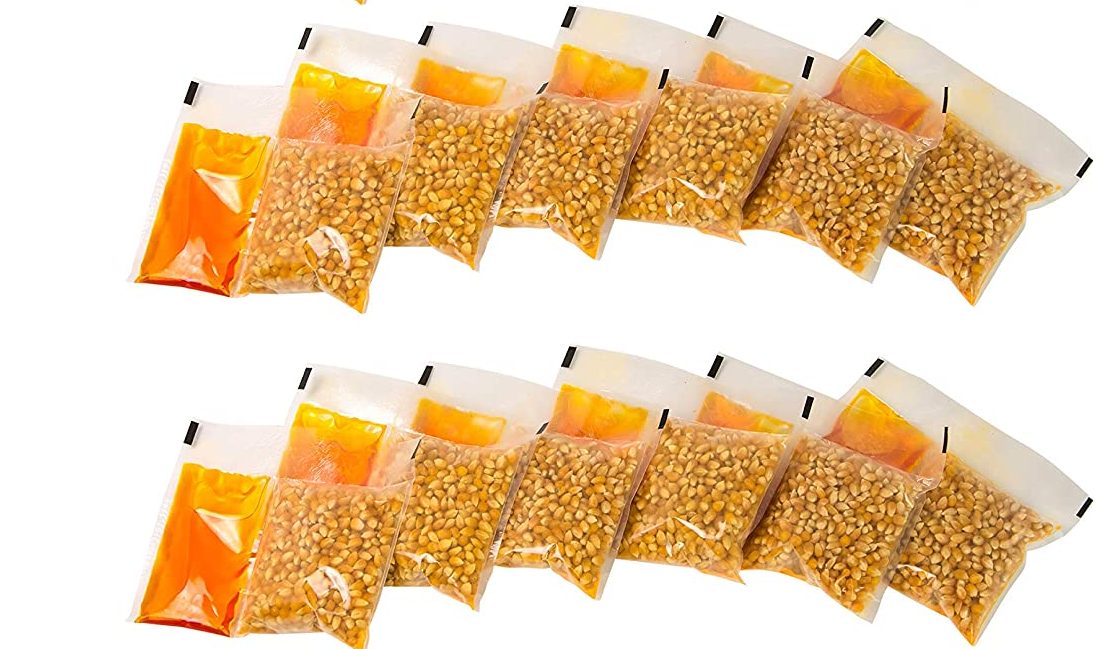 Giving you the popcorn and the seasoning together, the Nostalgia KPP424 Best Tasting Premium 4-Ounce Popcorn, Oil & Seasoning Salt All-in-One Packs provide you with everything you need for your movie night. This includes 24 four-ounce packs that are individually portioned oil, popcorn, and seasoning to give you professional tasting popcorn. You won't have to measure things out and the freshness is guaranteed. This contains all natural soft shell popcorn kernels, coconut oil, and seasoning salt to create a delicious snack. One four-ounce pack creates 16 cups of popcorn and there are no trans fats, GMOs, gluten or cholesterol. This works well in a kettle style popcorn maker or a stirring popcorn maker.
Nostalgia KPP424 Best Tasting Premium 4-Ounce Popcorn, Oil & Seasoning Salt All-In-One Packs -…
List Price:
$29.99
Price:
$23.62 ($0.49 / Ounce)
You Save:
$6.37 (21%)
Available from Amazon, BGR may receive a commission
Best Cajun Seasoning
If you're someone who enjoys some Cajun spices on their food, why not try Spiceology Black & Bleu Rub on your popcorn? It's a perfect blend of dehydrated bleu cheese powder and Cajun blackening spices. It comes in a 4.3-ounce glass bottle that can be stored with your other spices. This is great on chicken, meats, fish, vegetables or in pasta. Sprinkling this on popcorn punches up the flavor and it is super versatile to use in your daily life. This also tastes great on potato chips.
Spiceology Black and Bleu Cajun BBQ Rub | BBQ Grilling Spice Rub | 4.3 oz Bulk Container
Price:
$16.45 ($3.83 / Ounce)
Available from Amazon, BGR may receive a commission
Best Spicy Seasoning
Taking the heat index up a little bit on your popcorn means Frank's RedHot Seasoning Blend Original makes a lot of sense. This is a terrific blend of garlic and spicy cayenne pepper that tastes just like the liquid hot sauce version. This is a must have in your pantry, as it goes great on top of chips, fries, and popcorn as well as rubbed onto beef, pork, and chicken, especially wings. Burgers and pizza won't taste the same after you've dropped some Frank's on it. It comes in a 4.12-ounce plastic spice bottle for easy sprinkling.
Frank's RedHot Original Seasoning Blend, 4.12 oz
Price:
$4.36 ($1.06 / Ounce)
Available from Amazon, BGR may receive a commission