There isn't a parent or even babysitter on Earth that could say babies aren't a handful. As they start to grow up and begin to toddle and walk, you have to pay even more attention to them. But there are plenty of ways to keep them happy and safe while they're playing. A playpen is an ideal environment for kids to enjoy their toys and stay in a confined area. You won't have to worry about them scooting or running around the house when they are in the playpen. You might even be able to catch up on some chores of your own or even enjoy some downtime near them while they play. Playpens aren't only good for indoors. You can bring this in the backyard, to the park or beach and let your child have a blast outside. We've highlighted our favorite playpens to help you when it's time for you to buy one for your son or daughter. Let's take a look.
Your young one will find comfort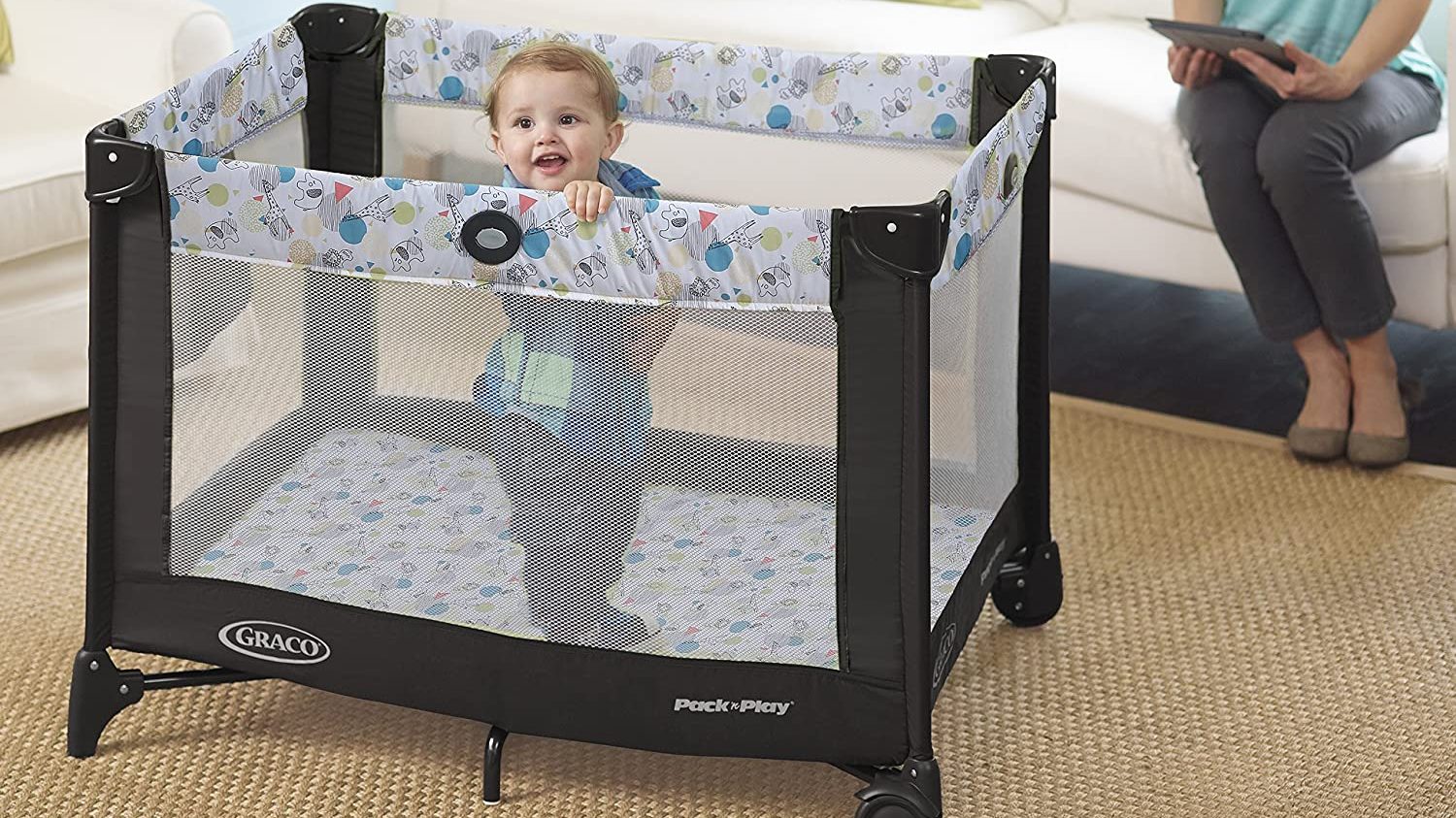 A great place for kids to play that is also easy to carry, your son or daughter will love the Graco Pack 'n Play Portable Playard. This features airy mesh sides that provide maximum ventilation and also allow you to see inside the playpen. This is an ideal place for babies to play and also a simple and comfortable area for them to nap. Anybody is able to fold and transport this, as it has automatically folding feet and wheel that help you bring it to and from places. It has a durable frame that makes it the perfect travel companion for your baby. The signature push button fold makes compacting it quick and easy. It also comes with a carrying case for easier transport. It measures 40″ x 28.5″ x 29″, giving you baby a good amount of space, but not a ton to run around in.
Give children a large area to roam
Providing plenty of room for multiple kids to play in, the Toddleroo by North States Superyard Colorplay 8 Panel Baby Play Yard is a superior setup. Designed to be used both indoors and outdoors, this is a safe play area for children. This creates up to 34.4 square feet of playing area and the sides are 26″ tall, keeping your children contained and content. The multicolor design also adds extra comfort and sensory stimulation during tummy or play time. This set of eight panels comes with carrying straps and non-slip pads. You can also turn this into an extra wide wall barrier for homes with open floor plans with the Superyard Wall Mount Kit (sold separately).
Don't make cleaning a chore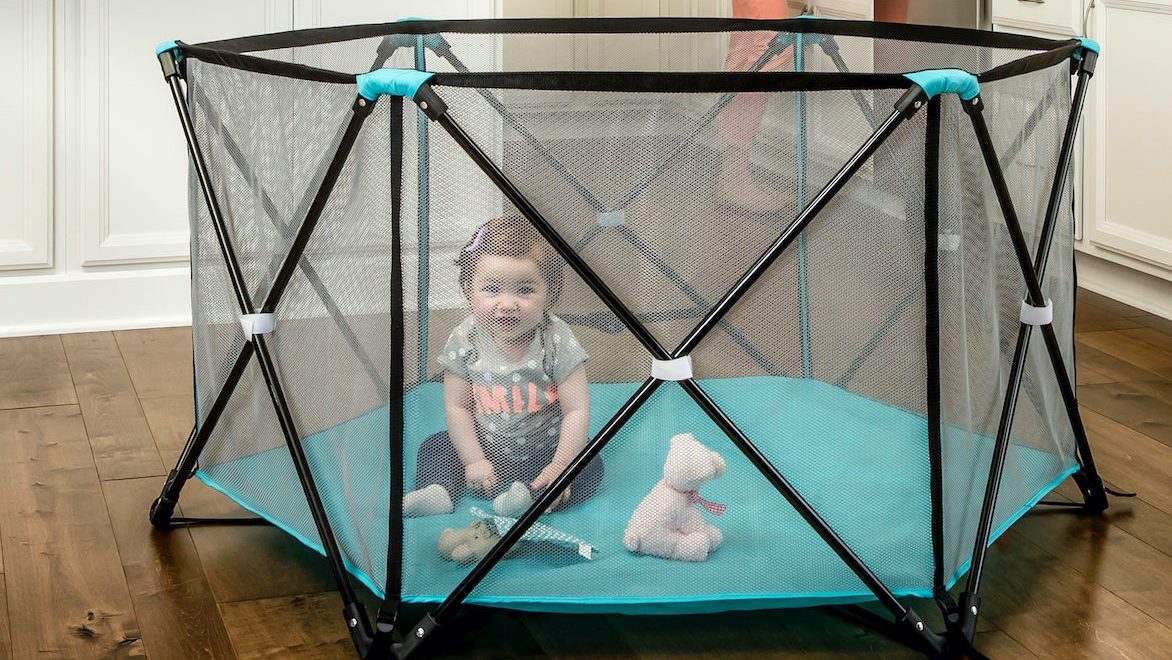 There are bound to be messes in your playpen if your kids are enjoying them. If you have the Regalo My Play Portable Play Yard Indoor and Outdoor, cleaning won't be an issue. The nylon bottom protects against rough surfaces and it has a patented easy fit with a one-time adjustment system. It is water-resistant, so wiping it down with a damp cloth and soap is the best way to clean it. The mesh sides help it dry faster and allow your child more ventilation when they are playing. It measures 48″ wide and 26″ tall. You can set it up and take it down in seconds, thanks to the fold and go design.
Let them play outside
Just placing your playpen in the grass may not be enough to keep it secured. With the help of the Evenflo Versatile Play Space, you'll be able to stabilize it easily. That's because of the exclusive reversible legs that have outdoor stakes for lawn stability. By clamping these into the ground, the playpen won't be going anywhere. The other side has anti-mobility, non-slip pads for inside, so you can use this indoors or outdoors. This is meant for children aged six to 24 months and there's over 18.5 square feet of space. There are no tools required to set it up and it measures 28″ tall.
Bring it to the beach
Bringing your child to the beach is a fun outing for the entire family. When you have the Summer Pop 'n Play Portable Playard, it's made easy too. There's 14 square feet of play space inside the pen and the folding metal frame weighs only 12 pounds. If you attach the full canopy or half canopy (both sold separately), your child will be able to enjoy the beach and the surrounding area without the risk of any sunburn. The water-resistant canvas floor keeps your baby dry, even if they are near the water. This is a space-saving playpen in terms of transporting it and setting it up.