If you purchase an independently reviewed product or service through a link on our website, we may receive an affiliate commission.
You might not realize it when it's happening, but going on your daily — or more realistically, twice-daily — walks with your pup represents what is perhaps the biggest highlight of his or her days. Unfortunately, older dogs can't always physically handle something that was once considered routine. If you're looking for a way to continue this long-standing tradition and, in turn, also give your pooch their much-needed highlights, you can always opt for a pet stroller. This, of course, really only works for smaller and medium-sized canines, but for this demographic, it's certainly a valuable tool. Conversely, for those who always wanted to take their cat on a walk but realized it's inherently difficult to do so, this is also an intriguing option, as they're also made for cats, too (well, at least those who can stand one). Here, we'll go through some of the best pet stroller options for dogs and cats. Going for a walk has never been so simple — for your pet, that is.
Best Overall Pet Stroller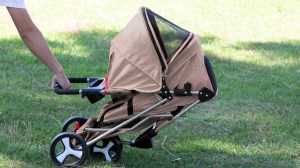 We'll start with the Paws & Pals Dog Stroller – Pet Strollers for Small Medium Dogs & Cats, the perfect option for, well, any small to medium-sized dog and cats. This pet-centric stroller features roomy dimensions of 19.5"L x 25.5" W x 39.25" H, but it's also compact, as it can fold with just a simple press of a button located on the handle. The three-wheeled carriage is super-pet friendly, as it's easy to "load" and "unload" your pet, thanks to a convenient front zipper entry and front footboard step, as well as the alternative option, which is a back zippered door. It also features mesh windows that allow your pet to get a great scenic view, protects from bugs, and facilitates breathing in the fresh air. It's available in a few different colors — blue, gray, pink, purple, and beige, amongst others — and provides you and your pet with a new means of transportation on all sorts of outdoor endeavors.
Paws & Pals 3 Wheeler Elite Jogger Pet Stroller Cat/Dog Easy to Walk Folding Travel Carrier, Be…
Price:
$79.98
Available from Amazon, BGR may receive a commission
Best Four-Wheel Pet Stroller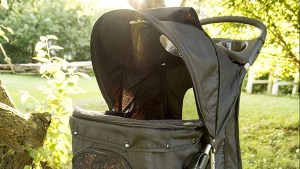 While a high-quality three-wheeled stroller is certainly stable, if you're looking for increased stability and durability, the VIVO Four Wheel Pet Stroller is the perfect alternative. This version is fairly similar to the aforementioned model, with the only key difference being, again, the additional wheel. It features a sizable protective space with dual zipper access points for ease of use. It can fit animals up to 30 lbs, so you do have a little bit of wiggle room to work with, at least in terms of pet size, and it also features dual cup holders, a center tray, and spacious basket for storage. This stroller is also fully collapsible, making it travel-friendly and convenient.
VIVO Black 4 Wheel Pet Stroller for Cat, Dog and More, Foldable Carrier Strolling Cart, STROLR-…
Price:
$99.99
Available from Amazon, BGR may receive a commission
Best Compact Option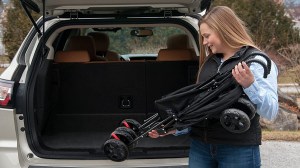 If you're looking for something a bit more compact for traveling or even if you plan on taking your pup to a different location for their stroll and need to get there by motor vehicle, the Pet Gear Ultra Lite Travel Stroller is a great fit. This is really only compatible with smaller dogs and cats, so if your dog is more of the "medium" sort, you might want to opt for another model. But for small dogs up to 15 lbs, it's the best option. It's by far the most convenient and compact version out there, as it can fold to an ultra-compact size in seconds, allowing you to easily store it in your car or even just carry it with you. Despite its smaller size (it contains dimensions of 15.5″L x 11″W x 23″H), it features extra-large 6″ wheels that make it easy to push in rocky or bumpy terrain. So if portability and compactness are your biggest concerns, this is a great option for you.
Pet Gear Travel Lite Pet Stroller for Cats and Dogs up to 15-pounds, Black
Price:
$77.99
Available from Amazon, BGR may receive a commission
Best Double Pet Stroller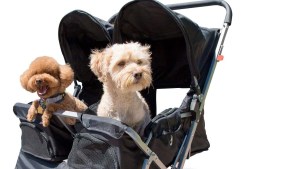 For those with two animals who need something to accommodate both at the same time, this Paws & Pals Double Pet Stroller works wonders. It features generous dimensions of 31.25"L x 26"W x 38.5"H and can hold up to 50 lbs in weight. It also features multiple entry points for your dog or cat, as well as easy turn front wheels rotate that can rotate up to 360 degrees and shock absorbers for easy movement and control. The tires are also made with wear-resistant plastic for increased durability, while the frame itself is derived with heavy-duty iron tubing that works in conjunction with a polyester cloth fabric outer layer to make a super durable and strong product.
Paws & Pals Double Pet Stroller - 4 Wheels Lightweight Two Puppy, Dog & Cat Strollers - Best fo…
Price:
$119.98
Available from Amazon, BGR may receive a commission
Best Pet Stroller for Inclimate Weather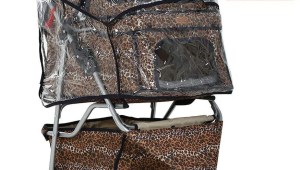 While weather can change, unfortunately, your pet's bathrooms needs, errr, don't. Rain or shine, you can take them out for a nice stroll with this All Terrain Extra Wide 3 Wheels Pet Dog Cat Stroller w/RainCover from Best Pet. This animal stroller is made out of ultra-durable materials and features large 6.3" wheels that can be rotated a full 360° without dead ends, allowing you to take it on any sort of terrain in nearly any type of undesirable weather. It's formed from high-quality Oxford cloth which is both tough and water-resistant, yet it still contains an additional plastic rain cover, making it almost completely weather-proof. It's roomy for pets, yet it also contains a "humanized" design, which features a convenient cup holder near the handles and easy folding/assembly. All in all, this is a great option for those who live in an area that's particularly prone to rain, snow, and/or bad weather in general.
All Terrain Extra Wide Leopard Skin 3 Wheels Pet Dog Cat Stroller w/RainCover
Price:
$58.89
Available from Amazon, BGR may receive a commission