If you purchase an independently reviewed product or service through a link on our website, we may receive an affiliate commission.
As you already know, there are certain knives that you can use in the kitchen that are meant for specific duties. We know that cleavers or butcher knives are used for larger cuts of meat. We know that butter knives, well, are meant to spread butter. But if you don't have the room in your kitchen drawers or a wood block that's large enough to carry every kind of knife that you need, you'll want some knives that can do more than one thing. A paring knife is a perfect example of a versatile knife that can handle a lot of different tasks for you. Cutting vegetables and fruits can be done with a paring knife as you're bound to use it while you're preparing many meals. You can also use it for general cutlery while you're eating your meal too. If you're trying to save space, any of the five paring knives we've listed below will do the trick. Take a look and enjoy more versatility in the kitchen.
Have a sturdy and hard knife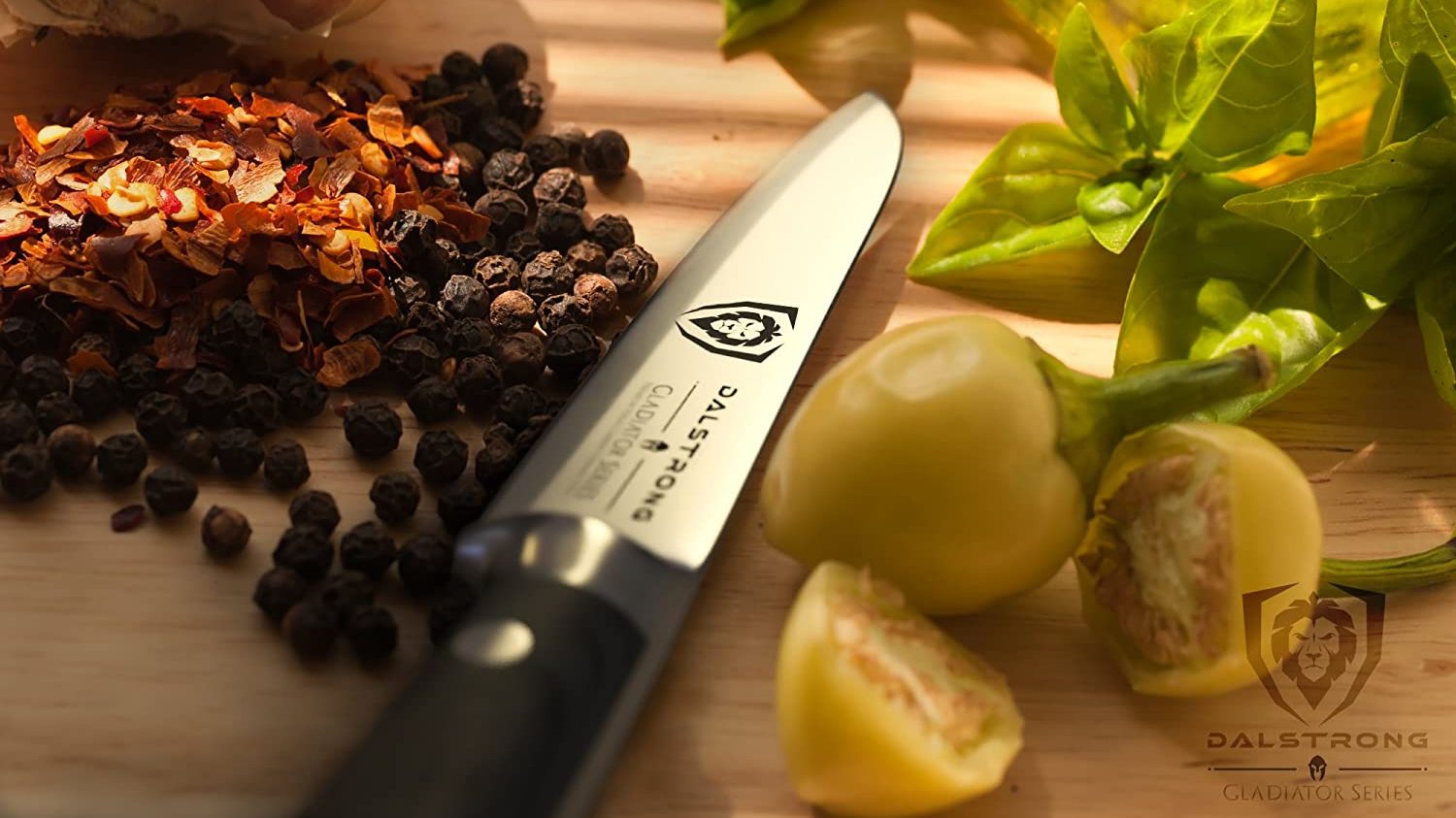 Cut to precision, the DALSTRONG Paring Knife is a great addition to any kitchen. Made with outstanding craftsmanship and cutting-edge technology, it is made from premium materials that lead to its durability. It has a 56+ Rockwell hardness rating and is hand polished with a satin finish. The 3.5″ blade is precisely tempered and stain-resistant, while the height of the blade allows for safe knuckle placement while you're cutting. There is minimal slicing resistance while you're using this. It has a satisfying heft and feel the handle is made from black pakkawood. It has full tang for a lifetime of use.
DALSTRONG Paring Knife - 3.5 inch - Gladiator Series - Forged German High-Carbon Steel - Black…
List Price:
$39.99
Price:
$35.00
You Save:
$4.99 (12%)
Available from Amazon, BGR may receive a commission
Get more than one
Filling out your kitchen for your guests as well, the Victorinox 1 4-Piece Set of 3.25 Inch Swiss Classic Paring Knives is here to help. These have multipurpose straight edges designed for garnishing, slicing, and dicing. They each have different colored handles, as you'll get one with a green handle, pink handle, orange handle, and yellow handle. The tapered knife edge is razor sharp and laser-tested, providing you with a solid blade. The contoured Swiss Classic handle provides a sure grip for easy handling, even when it's wet. Excellent for more intricate jobs, these can trim beans but also are versatile enough to cut up mangoes. The exacting angle is easy to use.
Victorinox 4-Piece Set of 3.25 Inch Swiss Classic Paring Knives with Straight Edge, Spear Point…
List Price:
$32.94
Price:
$21.75
You Save:
$11.19 (34%)
Available from Amazon, BGR may receive a commission
Rust buildup is bad for any blade

With a high carbon forged steel blade, you won't have to worry about the blade on the Mercer Culinary Genesis Forged Paring Knife. With a santoprene handle made for comfort and safe grip, it's an easy knife to use. This knife is made in Soligen, Germany and the stain-resistant blade resists rust, corrosion, and discoloration. This features full tang that runs the entire length of the handle for superior balance. The taper-ground edge allows for added stability, easy honing, sharpness that lasts, and an easier time when it comes to chopping and cutting. This knife should be hand washed to protect it.
Mercer Culinary M20003 Genesis 3.5-Inch Paring Knife
List Price:
$25.00
Price:
$16.99
You Save:
$8.01 (32%)
Available from Amazon, BGR may receive a commission
Extend your reach

You'll be hard-pressed to find a knife that feels as comfortable in your hand as the J.A. Henckels 31160-101 Classic Paring Knife. This paring/utility knife has a four-inch blade, slightly longer than other paring knives. It is made in Spain and fabricated from high quality German stainless steel. This features a fully forged construction that offers durability and a seamless transition from blade to handle. The blade has a professional, satin finish for precise cutting and it's honed for long-lasting sharpness. It is ergonomic, as the triple rivet handle provides balance and comfort. You can wash this in the dishwasher.
HENCKELS Classic Paring/Utility Knife, 4-inch, 0
List Price:
$59.00
Price:
$39.99
You Save:
$19.01 (32%)
Available from Amazon, BGR may receive a commission
Save your money for premium food options

If you're looking for a cost-effective choice, you can opt for the Cuisinart C77TR-3PR Triple Rivet Collection 3.5-Inch Paring Knife. This has a superior high-carbon stainless steel blade that allows you to cut with precise accuracy. The stainless steel rivets secure the full tang. This comes with a blade guard for durability. The extra-wide safety bolster for perfect stability and control. It doesn't even weigh two ounces, so it's easy for anyone to use.
Cuisinart C77TR-3PR Triple Rivet Collection 3.5" Paring Knife, Black
Price:
$24.58
Available from Amazon, BGR may receive a commission