If you purchase an independently reviewed product or service through a link on our website, we may receive an affiliate commission.
Arts and crafts projects are a part of a teacher's life, especially if you're teaching elementary or middle school. Construction paper, scissors, crayons, markers, glue, and glitter are all a part of any given day. There are many different items that you're likely to see in most classrooms or find in schools that make teachers' lives easier. A paper trimmer is one of those items. This can be used for a multitude of tasks including cutting the proper size for a project, slicing paper in quarters for quizzes, getting construction paper to the right dimensions for a display and so much more. While you may not think about a paper trimmer outside of a classroom, having one for your business makes sense too. It can save paper in the long run, as you can print memos multiple times on one page and then cut them for your employees. Keeping one in your office makes sense, so let us show you which are the best that you can choose from. Here are our picks for the best paper trimmers.
Swing the blade downward
Swinging the arm down can be a satisfying feeling but it is also an efficient one when you're using the Swingline Paper Trimmer. This possesses a 12″ cut length and can handle up to 10 sheets of paper at a time. It's simple to use and has a handy alignment grid that takes almost no time to line up. It's also light enough to transport wherever you may need it, which also means you can store it somewhere and bring it out when you have paper to trimmer. This is a convenient choice for the most common trimming tasks. This is ideal for both home and office use. This is designed for accuracy and precise cuts each and every time. It features a dual scale ruler with marks in both inches and centimeters that help you with measuring. There are safety features as well, as there is a guard rail to keep your fingers away from the blade. The blade latch hook keeps the arm locked in place when you aren't using it.
Swingline Paper Cutter, Guillotine Trimmer, 12" Cut Length, 10 Sheet Capacity, ClassicCut Lite…
List Price:
$88.19
Price:
$31.44
You Save:
$56.75 (64%)
Available from Amazon, BGR may receive a commission
Use your trimmer for more than just straight cuts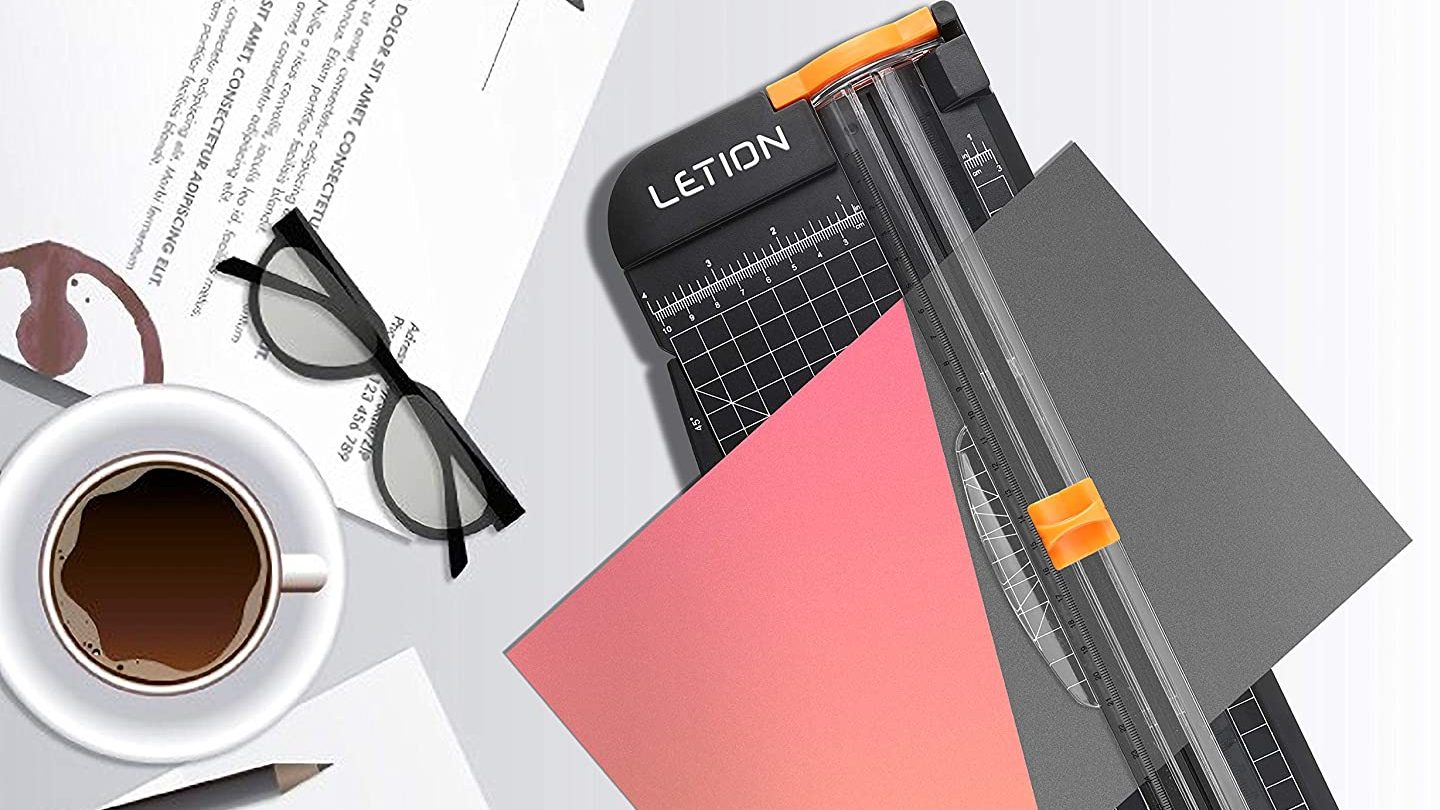 You don't only have to trim in a straight 90-degree angle if you have the LETION 66 A4 Paper Trimmer. Ideal for scrapbooking, this is designed to cut A2, A3, A4, and A5 paper, photos, labels, cards and more. This can cut through thicker materials with ease. This is capable of cutting at both 90-degree and 45-degree angles, giving you more flexibility. The sharp trimming mechanism is coupled with a precise measuring ruler for perfectly scaled trimming. It is lightweight, versatile and features a protective rail guard and latch hook lock to protect users.
Price:
Available from Amazon, BGR may receive a commission
Have more room to handle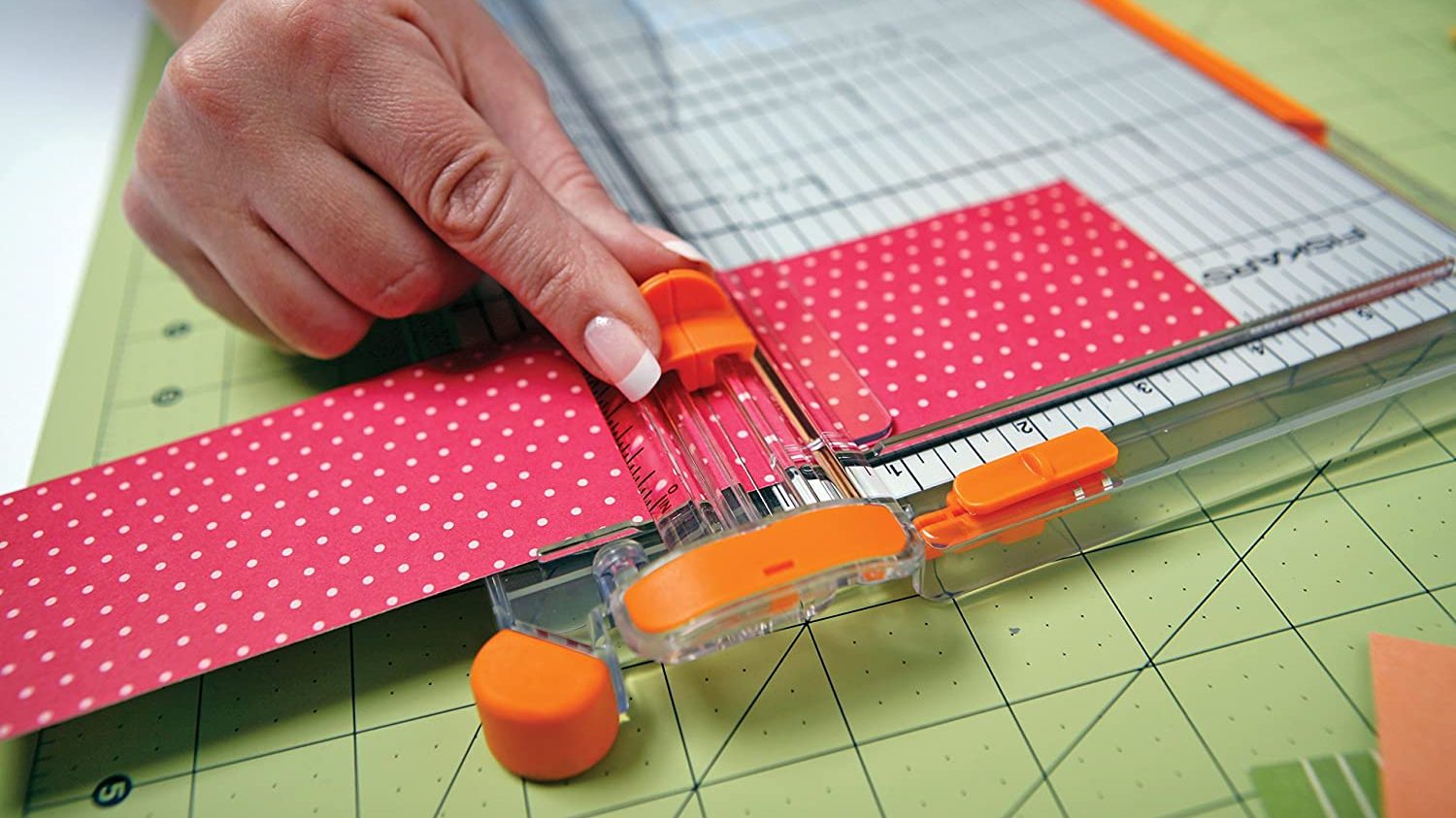 Giving you plenty of room to work on, the Fiskars SureCut Deluxe Craft Paper Trimmer has the widest base on the market. The base is 6.25″ wide and it makes card cutting easier. You can cut many different craft materials, including photos, paper, scrapbook pages or specialty materials. This features sure cut wire cut-line marks that make it easy to see where the blade is going to come down. It has a patented Triple Track System that interlocks the blade and rail for cuts that are steady and straight. This is backed by a lifetime warranty.
Fiskars Craft Supplies: Paper Cutter, Paper Trimmer for Crafts, Photos, and Stationary, 12" Cut…
List Price:
$38.99
Price:
$34.97
You Save:
$4.02 (10%)
Available from Amazon, BGR may receive a commission
Protect your children's hands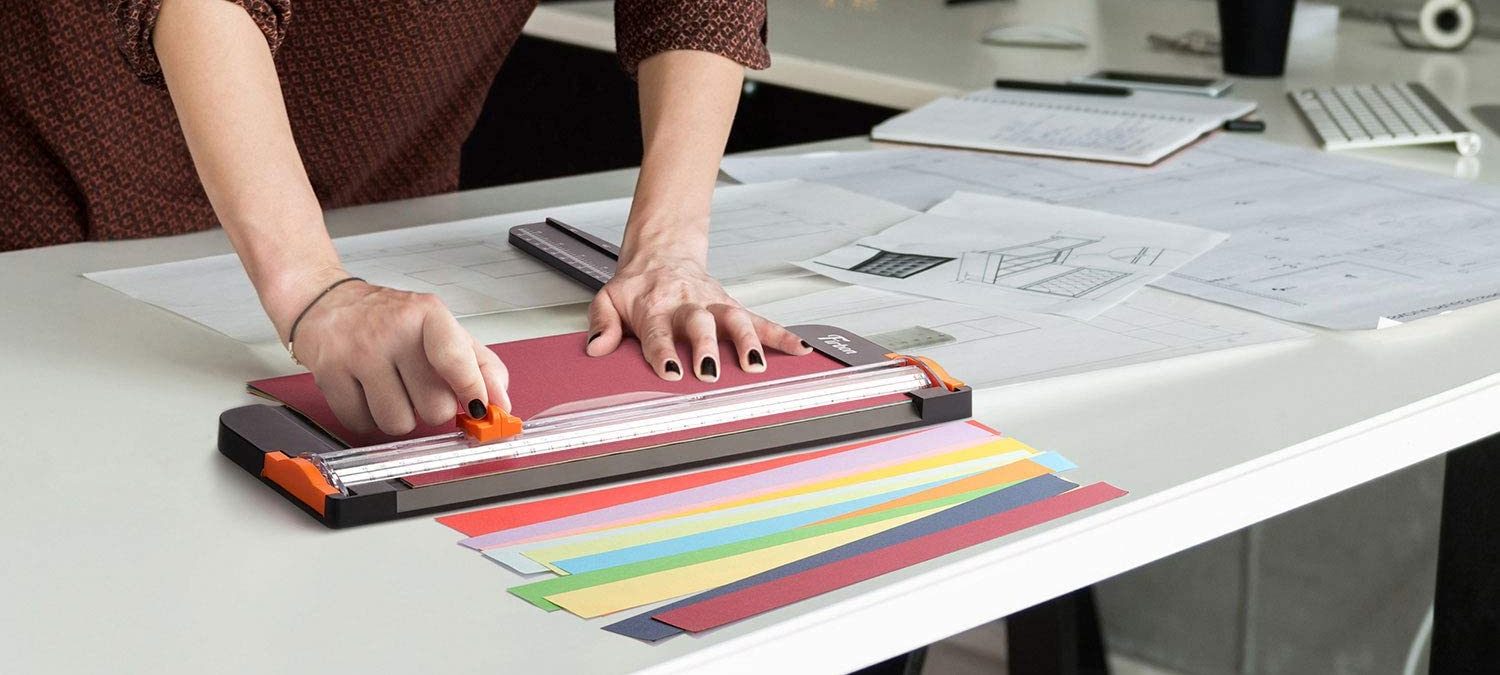 Keeping a paper trimmer in the classroom is smart, so you should consider the Firbon A4 Paper Cutter. This is a professional guillotine, as it presents a straight cutting operation along printed lines. If the blade becomes blunt, it's easy to replace. This is designed to cut A3, A4, and A5 paper, photos, laminated cards, and more. It only works when you press on the blade, so it's safe to use around children. You can measure multiple angles and cutting a little lesser prolongs the blade's life.
Firbon A4 Paper Cutter 12 Inch Titanium Paper Trimmer Scrapbooking Tool with Automatic Security…
Price:
$12.99
Available from Amazon, BGR may receive a commission
Length for paper matters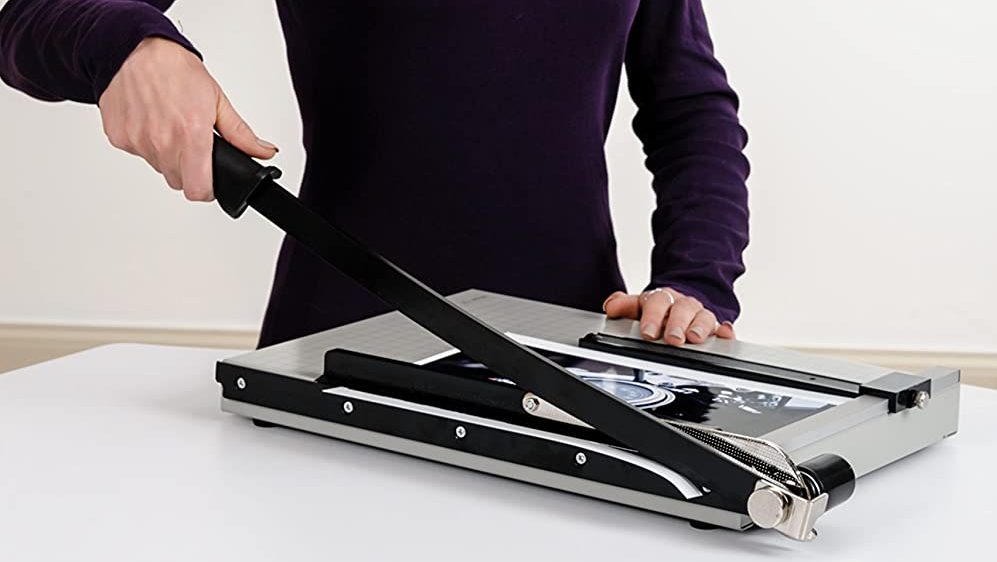 You can choose between three lengths of paper trimmer when you opt for the Dahle Vantage Paper Trimmer. Whether you want 12″, 15″ or 18″, you'll be able to use one. The arm is bent, so that is allows for a better cut. The spring action metal blade will not fall down. It has a sturdy metal base with a pre-printed grid that allows you to measure your paper cuts properly. The 15″ can cut up to 15 pieces of paper at a time.
Dahle 15e Vantage Paper Trimmer, 15" Cut Length, 15 Sheet, Automatic Clamp, Adjustable Guide, M…
List Price:
$62.99
Price:
$57.90
You Save:
$5.09 (8%)
Available from Amazon, BGR may receive a commission