If you purchase an independently reviewed product or service through a link on our website, we may receive an affiliate commission.
Allergy season is something feared by millions of people. Having to constantly have tissues, handkerchiefs or something to blow your nose into at all times is just a logistical nightmare. While allergy medication is common and people can take it for many different afflictions, there are other remedies to trying to clear out your sinuses. Saline solution has been proven to open up your nasal passages and give you more ability to breathe out of your nose. Using a neti pot is a perfect way to pour that solution into your nose. While it may look or feel odd to do so, the results can't be argued with. Below, we've highlighted our top picks of neti pots to give you some background on how to enjoy a sniffle-free life (for the most part). Here are our choices for the best ways to clear our your sinuses.
Best Nose Cleaner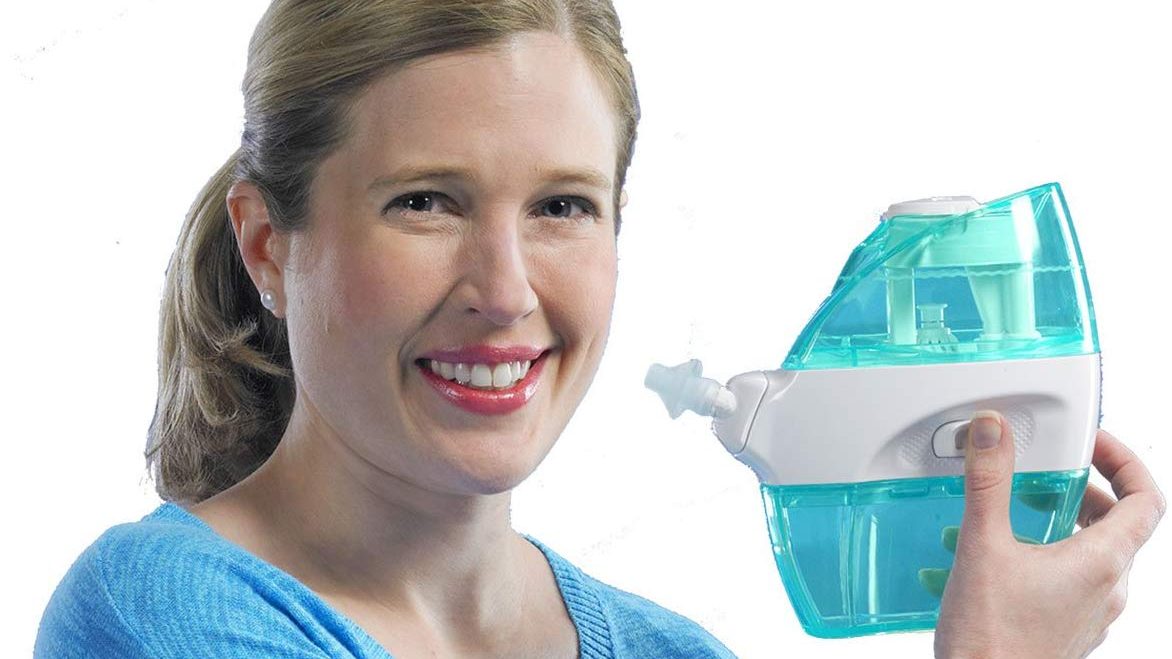 With a suction feature that will surely help you allergies, the Navage Nasal Care Starter Bundle is a top pick. You won't have to take any medications while using this and it's a fast and efficient way to clear you up. Sinus congestion will be a thing of the past, as this is the world's only nose cleaner that has powered suction to flush out allergens, mucus, dust, and germs. Included with the Navage Nose Cleaner are 18 Navage SaltPods, standard nose pillows, and batteries to run the machine. This will only work with Navage SaltPods, so you won't be able to use different brands of saline solutions. It will push the solution into one nostril, around the back of your sinuses, and back out through the other nostril, for a stream of cleaning. For each irrigation cycle, make sure you replace the SaltPod.
Navage Nasal Care Starter Bundle: Navage Nose Cleaner, 20 SaltPods, Plus Bonus 10 SaltPods
List Price:
$109.95
Price:
$99.88
You Save:
$10.07 (9%)
Available from Amazon, BGR may receive a commission
Best Child-Approved Nasal Wash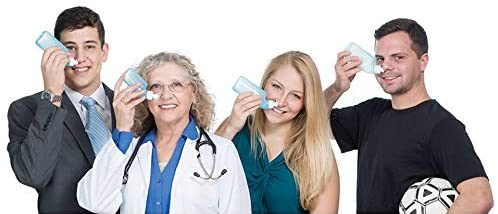 Created by a pediatrician, Dr. Hana's Nasopure is safe to use for all ages. This system kit includes an eight-ounce Nasopure nasal wash bottle, 20 buffered salt packets, as well as instructions on how to use it by Dr. Hana. This will remove allergens, pollutants, and other infectious particles from your nasal cavity. This will provide allergy relief, which could, in turn, minimize your need for allergy medication. The buffered salt blend gives you non-drowsy allergy relief without the burn of other nasal solutions. It is BPA- and drug-free and 100% recyclable. This comes with a satisfaction guarantee, so it doesn't hurt you to give it a try. You'll get sinus congestion relief from sinusitis, post nasal drip, and sinus infections.
Nasopure Nasal Wash, System Kit, "The Nicer Neti Pot" Sinus Wash Kit, Comfortable Nasal Rinse 8…
List Price:
$20.00
Price:
$16.95 ($16.95 / Count)
You Save:
$3.05 (15%)
Available from Amazon, BGR may receive a commission
Best Quick Action Neti Pot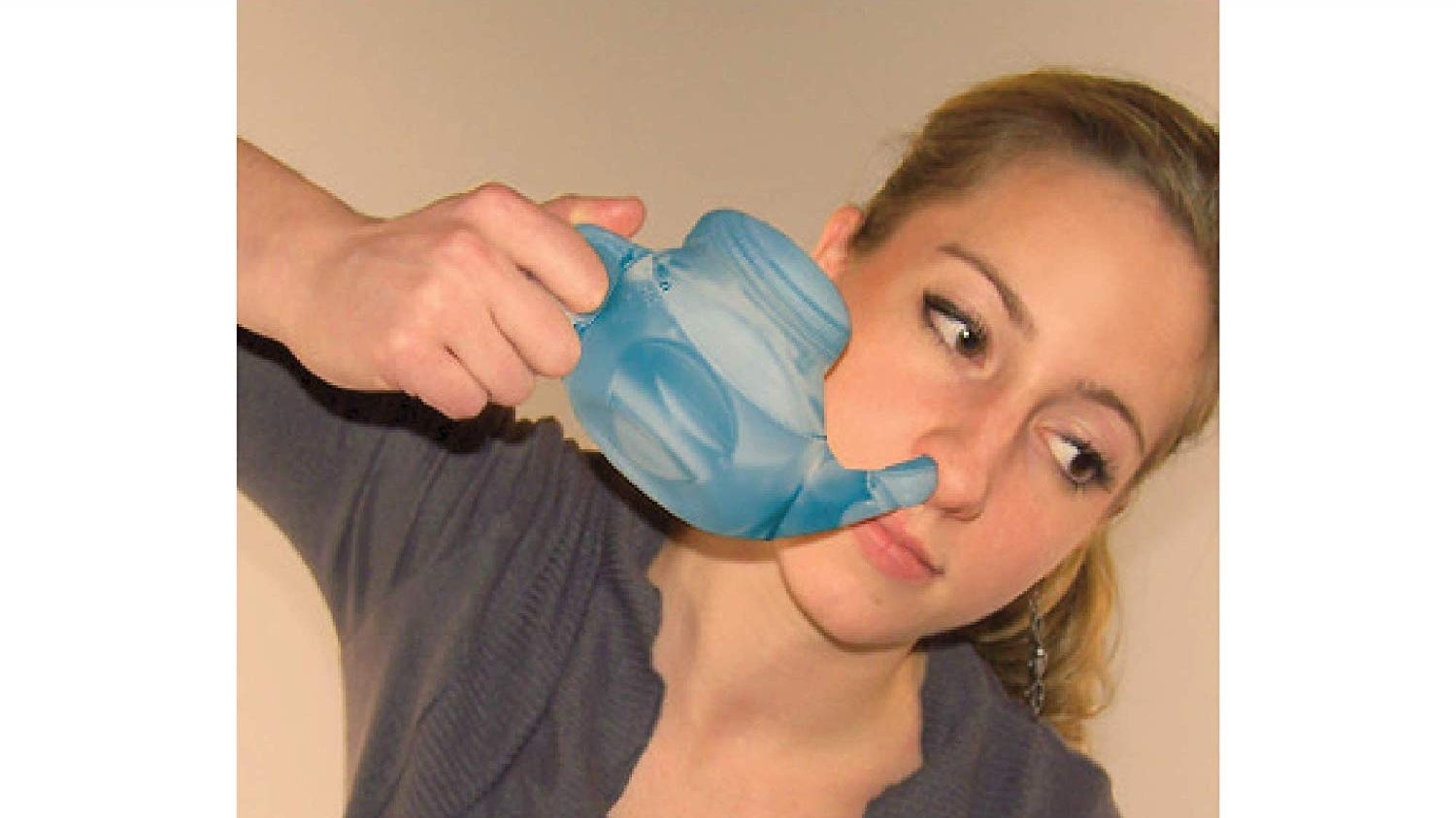 Providing fast results after usage, the SinuCleanse Soft Tip Neti-Pot Nasal Wash System is safe, easy, and convenient. This really just uses the flow of gravity to do a lot of the work, as you will insert the soft tip of the neti pot into your nose and let the water flow as it will. You'll get a neti pot and 30 packets of saline solution with your purchase, allowing you to breathe easier with the power of salt. It is BPA- and latex-free and the buffered saline packets are for isotonic or hypertonic use. This will quickly soothe and relieve nasal symptoms and congestion associated with cold and flu, allergies, sinusitis, rhinitis, and dry air. It can hold eight ounces, and there is a fill line to show you just how much to raise the water level to. The ergonomic handle is easy to hold as you're tilting your head.
SinuCleanse Soft Tip Neti-Pot Nasal Wash Irrigation System Relieves Nasal Congestion & Irritati…
Price:
$12.49
Available from Amazon, BGR may receive a commission
Best Anti-Spill Neti Pot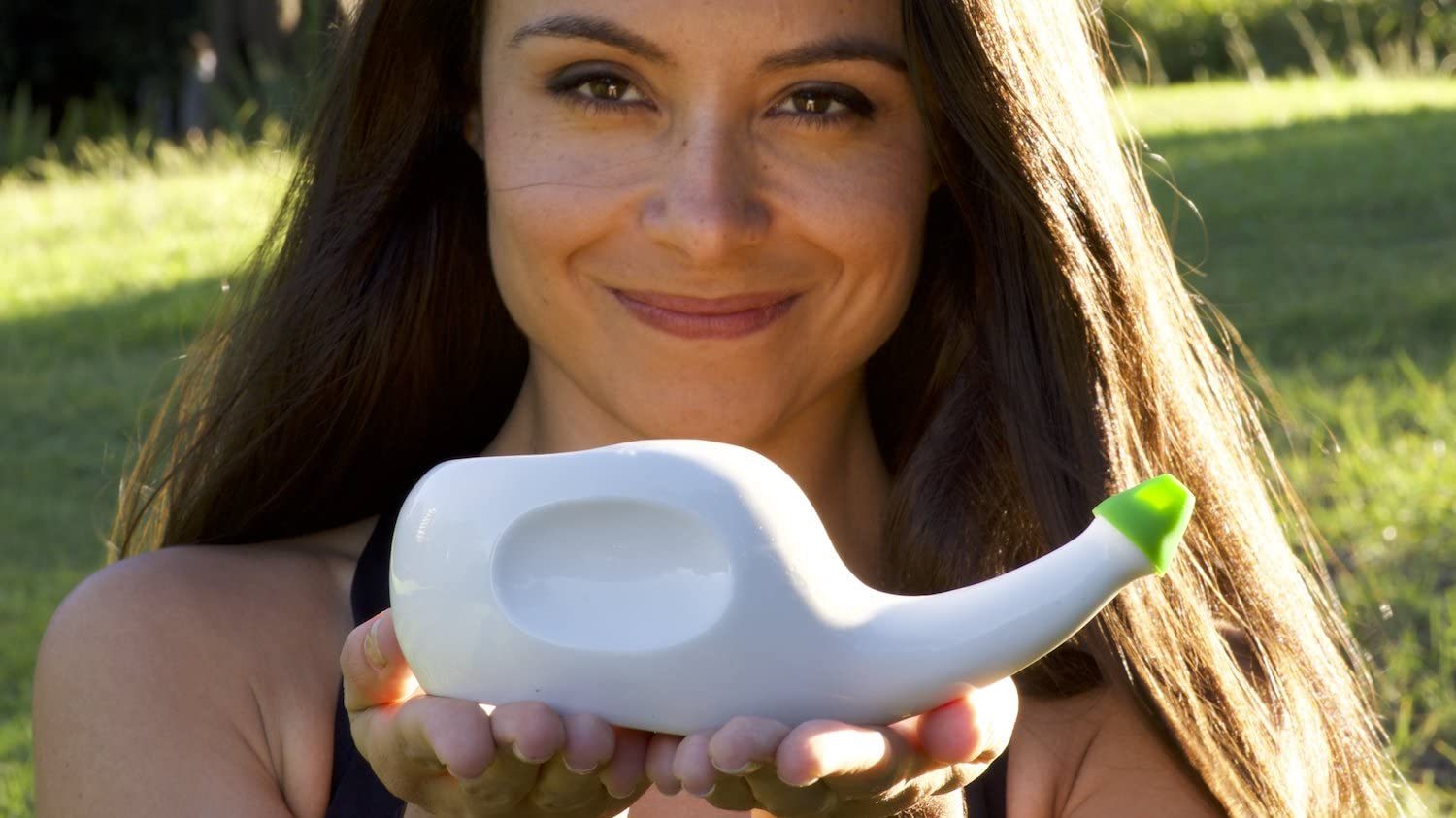 Don't worry about spilling solution all over the place when you use the ComfyPot Ergonomic Ceramic Neti Pot Sinus Rinse. This fits in your nostrils comfortably and comes with a unique silicone nozzle that creates a comfortable seal for easy pouring. The ComfyPot is designed to give you an excellent and even flow, flushing out your sinuses. It is wide enough to access the inside for easy cleaning and it's shaped perfectly to avoid unnecessary spilling when you're filling it up. This one does not come with any type of saline solution, so you'll have to find that elsewhere. You can wash this in the dishwasher and the two silicone nozzles are removable for easier cleaning. This is built to last, as the ceramic is heat-treated.
Neti Pot Sinus Rinse Bottle Nasal Irrigation System Congestion Relief Nose Cleaner Wash Nasal R…
Price:
$17.67 ($17.67 / Count)
Available from Amazon, BGR may receive a commission
Best Smooth Stream Neti Pot
Rather than trying to force water through your congested nasal passages, the Waterpulse Neti Pot Sinus Rinse Bottle flushes your sinuses out smoothly. The soothing stream gently flows through the nostrils, hydrating and soothing your irritated passages. This sinus rinse bottle does a good job of cleaning and flushing, thanks to the automatic system. You just have to put it in upside down and press the button. You won't have to squeeze the bottle and it comes with two types of nozzles that are meant for adults or children. Each junction of the neti pot is meant to avoid leakage and you'll be able to breathe better after using it.
Neti Pot Sinus Rinse Bottle Nose Wash Cleaner Pressure Rinse Nasal Irrigation for Adult & Kid B…
Price:
$13.85
Available from Amazon, BGR may receive a commission