If you purchase an independently reviewed product or service through a link on our website, we may receive an affiliate commission.
Two of the most unpleasant nuisances in the world: cold beverages that are warm and hot beverages that are cold. While both are certainly less-than-ideal in their own right, the latter might just be a tad bit worse — at least from a taste standpoint. When your hot coffee goes cold, it's also effectively stale. Nobody wants that, especially when you need all the precious energy you can find while trying to get through the day. One particularly great option is getting yourself a mug warmer, something that you can simply place on your desk to ensure your beverage stays at an optimal temperature. And "stays" is the keyword here — you're not using it to necessarily reheat your hot coffee or tea but, rather, maintain it at the temperature of your choosing. Here, we'll go through some of the best mug warmers available on the web right now, so that you'll never have to be forced to drink cold, stale, or straight-up BAD coffee (or whatever your go-to hot beverage is) again.
Best Mug Warmer Set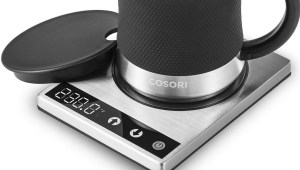 For a combo set that includes both a mug warming plate AND a durable, stainless steel mug that works in perfect conjunction with it, the Cosori Coffee Mug Warmer & Mug Set is the way to go. The set features a water-resistant heating plate, touch-tech controls, an LED display, and a high-tech PI film heating element that allows the plate to reach temperatures of up to 230°F. The mug itself can store up to 17 oz of liquid and is made out of FDA-approved and food-grade 304 stainless steel, making it ultra-durable and long-lasting. And while the mug is adept at retaining heat, it's built with a cool-touch handle and a silicone slip-resistant sleeve to make your drinking experience top-notch (and virtually burn-proof).
COSORI Coffee Mug Warmer & Mug Set, Beverage Cup Warmer for Desk Home Office Use, Coffee gifts,…
Price:
$39.99
Available from Amazon, BGR may receive a commission
Best Mug Warmer for Your Desk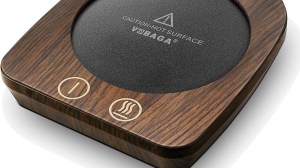 On the other hand, if you're simply looking for a warming coaster for your desk that can work with any of your pre-existing mugs, this VOBAGA Imitation Wood Grain Coffee Cup Warmer & Mug Warmer For Desk is an excellent alternative. This iteration contains three-temperature control (104℉ / 131℉ / 149℉) so you can enjoy your beverage at your ideal temperature. It's suitable for tableware, stainless steel cups, classic ceramic mugs, milk boxes, glass cups, and more. However, it's not to be used with double-insulation cups. The VOBAGA comes with an auto-shutoff feature after four hours and it's made with high tech polyimide film materials to make the device both heat-resistant and fire-resistant for advanced safety precautions — ideal for any work setting.
VOBAGA Imitation Wood Grain Coffee Cup Warmer & Mug Warmer For Desk, Electric Cup Beverage Warm…
Price:
$30.99
Available from Amazon, BGR may receive a commission
Best Temperature Control Mug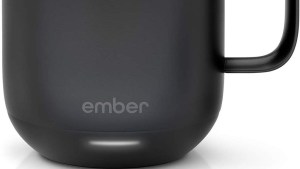 Now, if you want the heat straight from the source, you might want to opt for the Ember Temperature Control Smart Mug, which allows you to control the temperature from the mug, rather than a third-party warming device. It comes with a charging dock that allows you to, in essence, keep your beverage hot the whole day. One full charge, however, can keep it hot for up to a full hour. It's made of high-quality stainless steel along with an updated ceramic coating to help reduce marks and scratches, and can keep your beverage to a customizable temperature between 120°F – 145°F for an optimal drinking experience at all times.
Ember Temperature Control Smart Mug, 10 oz, 1-hr Battery Life, Black - App Controlled Heated Co…
Price:
$129.95
Available from Amazon, BGR may receive a commission
Best Decorative Cup Warmer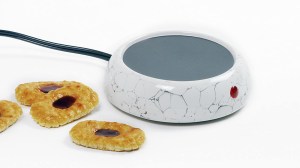 For something a bit more decorative, the Norpro Decorative Cup Warmer looks like an enhanced coaster of sorts and can serve as a great addition to any desk setup. Featuring an on/off switch complete with a neon light indicator as well as an extra long 60" cord, this device blurs the line between traditional coaster and mug warming device! It's relatively small, around 3.75″ inches, but it's still powerful to its core, producing up to 120 volts (or 24 watts) of heat for your beverage to stay warm. Plus, it's small and compact enough to bring with you everywhere, whether it's for work, school, traveling, etc.
Norpro Decorative Cup Warmer 3.75"/9.5 cm
Price:
$19.79
Available from Amazon, BGR may receive a commission
Best Value Mug Warmer
From a pure value standpoint, this Home-X Mug Warmer is a fantastic alternative. This simple, yet effective option features a sturdy plastic body and a bright "on" button that can reach 120V 60Hz 17W. It has an easy-to-reach on/off switch on the cord and can keep your beverage warm virtually all day long. It's lightweight, yet durable and can be used with any ceramic or glass mugs. Keep in mind, however, it's limited to ceramic and glass, so don't try to use this with any other type of coffee mug.
Price:
Available from Amazon, BGR may receive a commission