If you purchase an independently reviewed product or service through a link on our website, we may receive an affiliate commission.
Mixing up cocktails can be a chore, but it also can inspire a lot of creativity. Sure, we've all tried to make cocktails in our home with whatever we had lying around and some of them have been terrible. But some have been pretty darn good, which is why the experimenting is fun. If you're learning how to make mojitos, you know that you need to work those mint leaves into the bottom of your shaker. The best way to work together herbs and fruit into your drink is with a muddler. A muddler can smash up the pieces to make them easier to mix. Limes, lemons, and oranges are frequently used in cocktails and in order to squeeze them into the cocktail, a muddler can be pressed down on top of them. If you're looking to properly create cocktails, take a look at our picks for the best muddlers on the market. Maybe you could even name your creation after us.
Best Muddler to Hold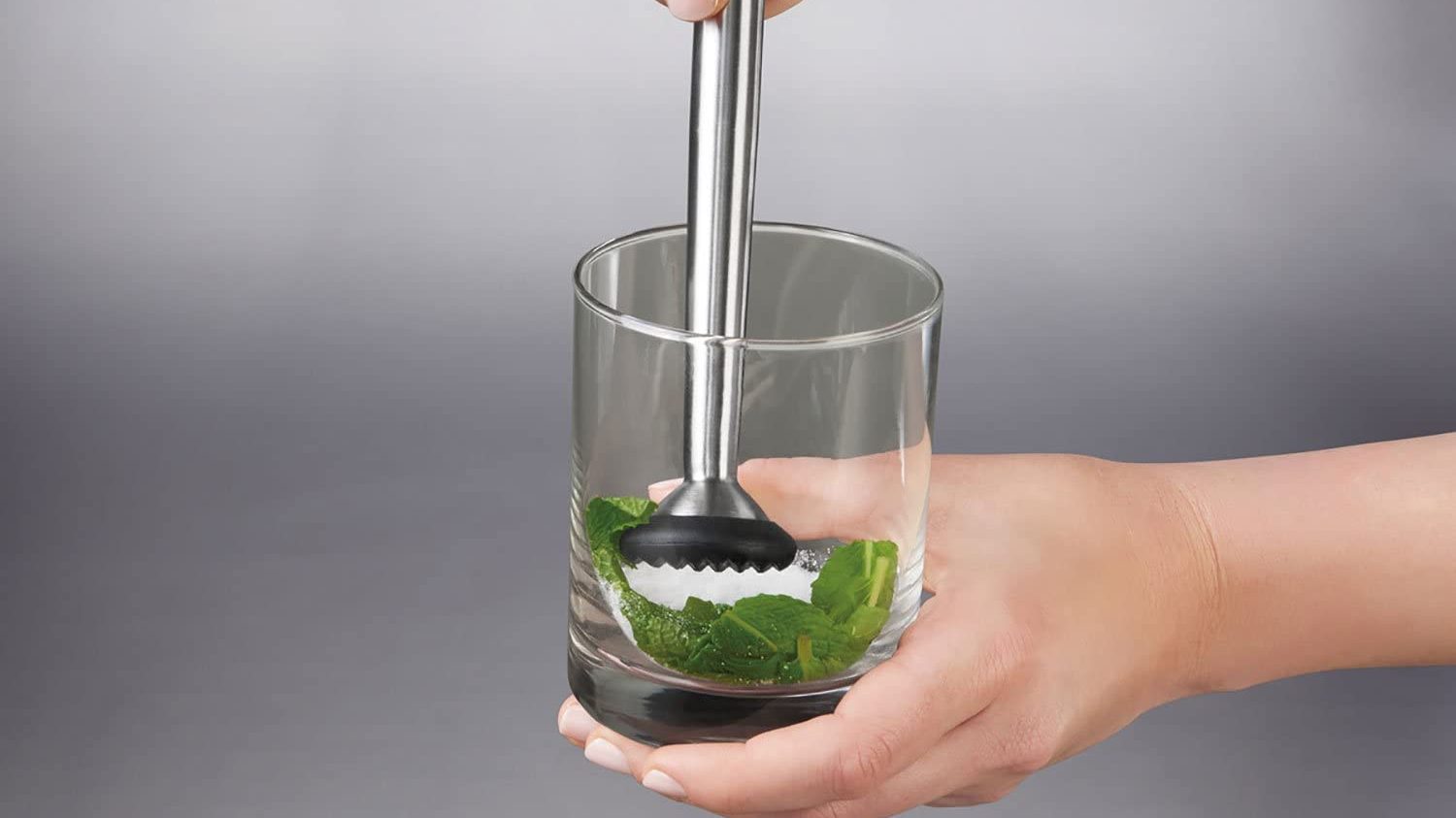 With a non-slip grip, the OXO SteeL Muddler is a cut above. This is made from sturdy, die-cast zinc so it's built to last. It has a soft, non-slip grip handle that is ergonomic and easy to hold. The nylon head is firm but softer, so it protects the integrity of your glasses when you're using it. The handle is black and will fit pretty much any size hand. You can put this in the dishwasher after you've used it, in case there's any dried bits of leaves or herbs left on it.
OXO SteeL Muddler with Non-Scratch Nylon Head and Soft Non-Slip Grip, Silver, 9-Inch
Price:
$15.95
Available from Amazon, BGR may receive a commission
Best Long-Lasting Muddler
Built to endure many uses, the Barvivo Professional Drink Muddler is sturdy and durable. This is an ideal bartender tool for making mojitos, old fashioned, mint juleps, and caipirinhas. It's excellent at breaking ice and you can personalize one as a gift. Natural mint, lime, citrus fruit and sugar are all standard cocktail additions, regardless of what kind of alcohol you prefer. This is made from high quality, rustproof stainless steel, so it will work well in the glass. It won't leave any residue or aftertastes in your drink, as some wood or bamboo muddlers can. This can also be used for so much more in the kitchen, as you can mash up avocados for guacamole, mash potatoes for a dish, or make kombucha tea. You can even use it to crush up pills and make them easier to take. This comes with a 100% satisfaction guarantee or you can get your money back.
Professional Drink Muddler - Ideal Bartender Tool for Old Fashioned & Mojitos by BARVIVO - Mudd…
List Price:
$10.94
Price:
$9.94
You Save:
$1.00 (9%)
Available from Amazon, BGR may receive a commission
Best Muddler Set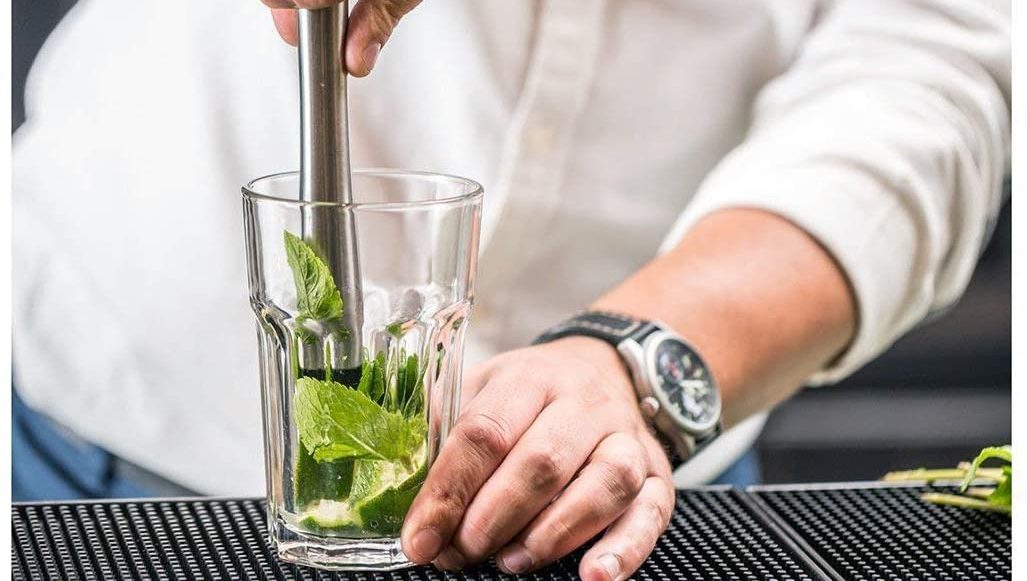 Make it easier to mix and stir your cocktails, the Cresimo Muddler Bar Tool Set comes with additional items. Along with the stainless steel muddler, you'll receive a cocktail mixing spoon and a cocktail recipes eBook with your purchase. The 10″ muddler allows you to muddle citrus fruits, herbs and other ingredients for cocktails, allowing them to pop with flavor. It features a grooved nylon head for mashing without leaving residue behind. Perfect for a Ginger Rogers, this is the right tool for the job. The mixing spoon will help you combine all of your liquids and solids into your glasses without having to shake them. Plus, you'll get many great recipes with the illustrated eBook. This is all backed by a two-year warranty.
10 inch Stainless Steel Cocktail Muddler and Mixing Spoon with Cocktail Recipes Book - Professi…
Price:
$8.95
Available from Amazon, BGR may receive a commission
Best Dishwasher-Safe Muddler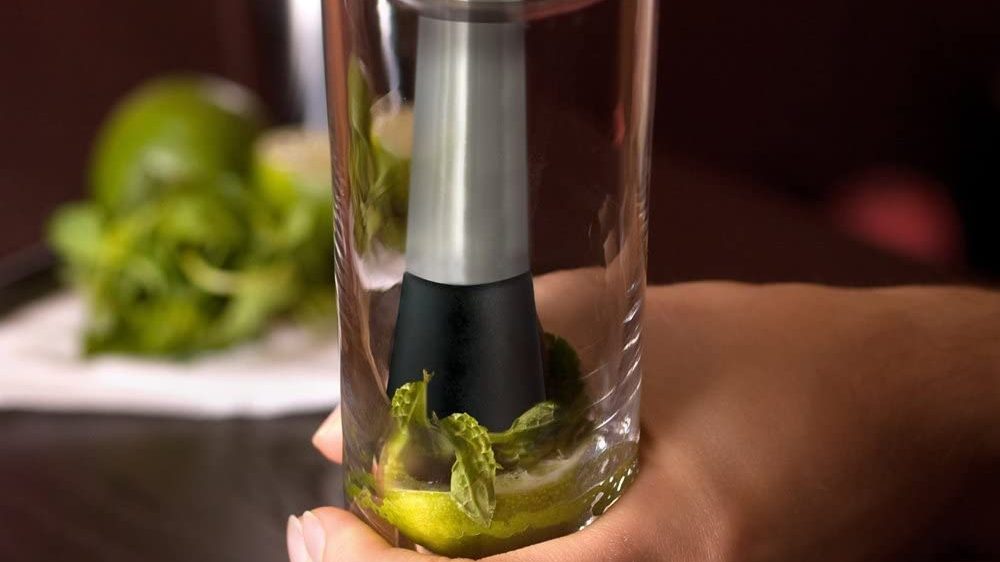 Extremely easy to clean, you won't feel stressed out after a night of using the Hiware 10 Inch Stainless Steel Cocktail Muddler. This is ready to make your cocktails burst with goodness. It is well-designed to muddle everything from strawberries, lemon, spices, herbs, and even ice with ease. This tall and thin design is easy to use in taller glasses. This bar accessory has a black gridded nylon head that's extremely functional. You can put this in the dishwasher to clean it, as you don't just have to scrub it to get it ready to use again.
Hiware 10 Inch Stainless Steel Cocktail Muddler and Mixing Spoon Home Bar Tool Set - Create Del…
List Price:
$12.00
Price:
$7.99
You Save:
$4.01 (33%)
Available from Amazon, BGR may receive a commission
Best Budget Muddler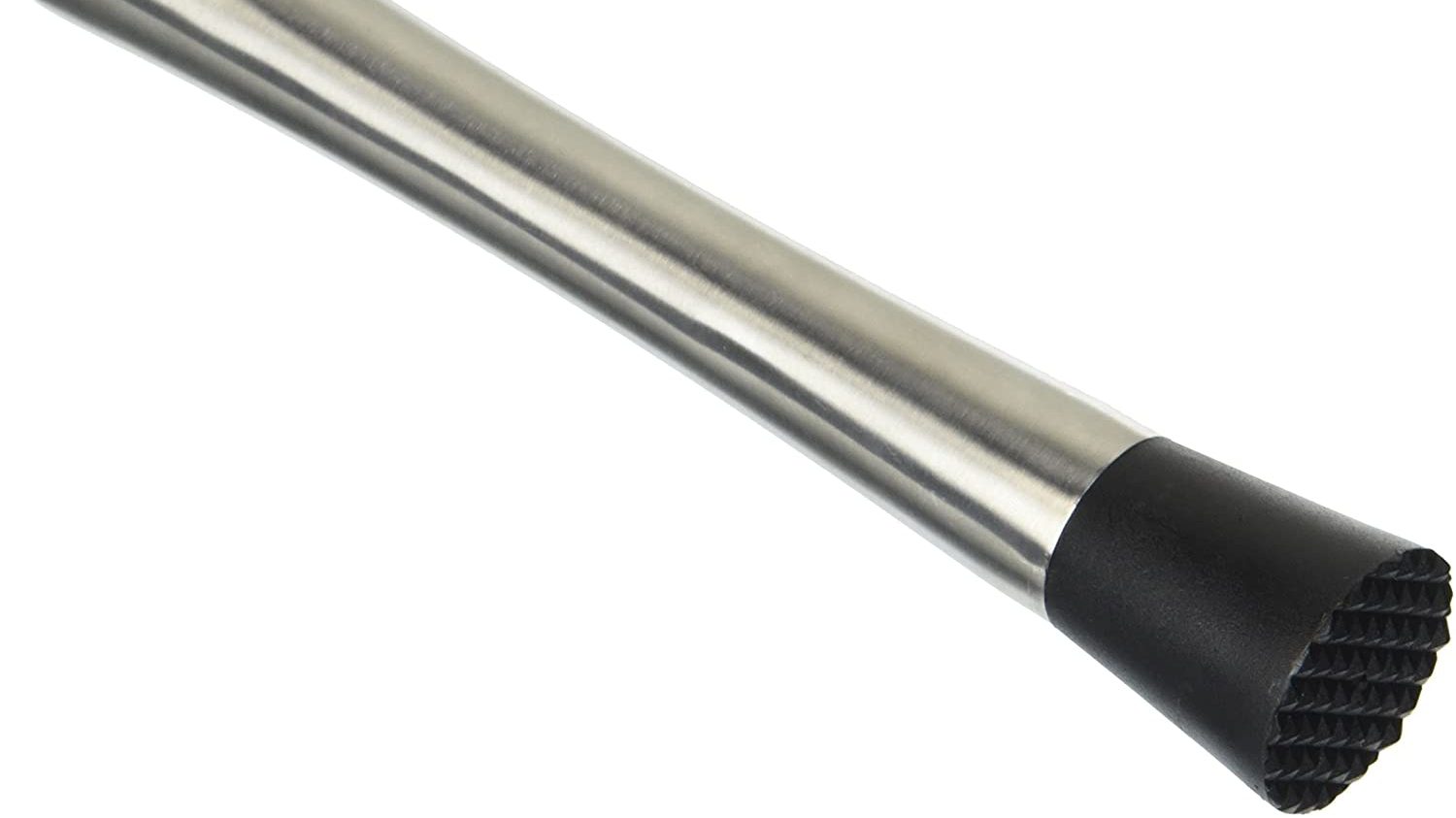 For a simple muddler that will handle your muddling duties, check out the HQY 8″ Long Stainless Steel Cocktail Muddler. This will not break while muddling, as it's made from high quality stainless steel. This is perfect for muddling mint leaves, or mashing citrus fruits, herbs, and spices. This one is also dishwasher-safe and it is a little shorter than the other muddlers, so you won't be able to use it in taller glasses. It does come with a risk-free guarantee, so if you don't like it, you can return it for a refund.
8" Long Stainless Steel Cocktail Muddlers by HQY, Muddler
Price:
$6.99
Available from Amazon, BGR may receive a commission
8" Long Stainless Steel Cocktail Muddlers by HQY, Muddler
Price:
$6.99
Available from Amazon, BGR may receive a commission