If you purchase an independently reviewed product or service through a link on our website, we may receive an affiliate commission.
For many, drinking coffee is more of a way of life than it is a hobby. If you're a coffee drinker through and through, you can't possibly make it through your morning without some java. That right there is a recipe for disaster. But for those who don't simply drink coffee for its stimulating effects, preparing your coffee correctly is a must. Believe it or not, making the perfect cup of coffee is actually a science of sorts. You have to get the whole process down pat, from the type of beans you're using, right down to the proper measurements. Of course, this isn't all that difficult, especially if you have a simple, yet steady measuring scoop for your coffee. Sure, you could always opt for your baking measuring spoons, but that would ultimately force you to wash your scoop after every use, as you're essentially shifting them between uses. Plus, they might not be deep enough or, at the very least, properly designed to effectively scoop coffee beans. Luckily, finding the right measuring scoop isn't all that difficult. We looked at some of the best deals on the market — for a variety of different scoops — so you can easily make some of the most delicious (and strongest) coffee you've ever dreamed of. Check out what we managed to find.
Best Overall Measuring Scoop Set
Overall, you're not going to find a pair of scoops more durable and ergonomically-designed than the 1Easylife Endurance Stainless Steel Coffee Scoops. These scoops are made of high-grade stainless steel, which makes them ultra-durable, non-corrosive, and virtually rust-free. They even contain a mirror-polished finish, which helps them maintain their sleek design while always looking spotless and clean. The package comes with two different scoops — one that's one tablespoon and one that's two tablespoons, allowing for you to get perfectly level coffee scoops every single time. Most people don't actually realize that one coffee scoop is supposed to be one even tablespoon, so this set allows you to more accurately measure each scoop of coffee you're putting into your caffeinated concoction. In addition to being long-lasting and durable, these scoops are made with an ergonomic indentation at the top of each handle to make it easy to hold with just the forefinger and thumb. Plus, it takes almost zero effort to clean and store these, making them perhaps the best option on the web right now.
1Easylife Endurance 18/8 Stainless Steel Coffee Scoops Set, 2 Piece Ergonomic Measuring Spoons,…
List Price:
$10.99
Price:
$9.99
You Save:
$1.00 (9%)
Available from Amazon, BGR may receive a commission
Best Measuring Scoop for K-Cups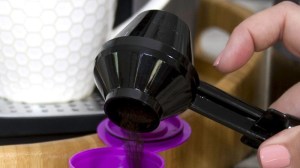 Of course, if you're somebody who brews their coffee in a Keurig and makes up their own K-cups through reusable coffee pods, you're probably going to need something like the Perfect Pod EZ-Scoop, which collects the perfect amount of grounds to put in each capsule. This unique product essentially allows you to measure without actually measuring, so to speak, as the device fills up with two tablespoons of coffee grounds, aka the exact amount required to fully fill a reusable K-cup pod. This is essentially a coffee scoop with an integrated funnel, so if you're prone to making a mess when filling up your K-Cup (join the club), this is the perfect option for you. It basically requires four simple steps en route to a perfectly filled K-cup — flip, scoop, close, and pour. This option is great for lefties and righties alike, and they're perfect for anyone who enjoys a clean kitchen; especially one sans coffee grinds.
Perfect Pod EZ-Scoop | 2-in-1 Coffee Scoop and Funnel for Single-Serve Refillable Capsules, 2 T…
Price:
$17.20
Available from Amazon, BGR may receive a commission
Best Value Measuring Scoop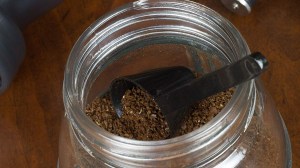 From a sheer value standpoint, the Chef Craft 21702 Coffee Scoop is virtually unmatched. Its price alone is something that should make you instantly pull the trigger, but it's also extremely effective at their job, too. This scoop is made with a little bit of a longer handle, so you can get deep into your coffee jars/bags, in turn allowing you to grab every last bit of grounds. Each level scoop also represents one tablespoon, so you can more accurately measure every scoop for your morning coffee. It's also super easy to level too — all you need to do is give it a light shake or tap and it basically levels itself out. Obviously, everyone's preference for making a pot of coffee is different, but this will help you find the perfect medium for your own particular blend of choice. This pack comes with two scoops, but you can also opt for the larger pack that comes with four — ideal for a household with multiple coffee pots.
Chef Craft Classic Plastic Coffee Scoop, 1 ounce 2 piece set, Black
Price:
$3.50
Available from Amazon, BGR may receive a commission