If you purchase an independently reviewed product or service through a link on our website, we may receive an affiliate commission.
The things we do to keep our bodies feeling good. Or perhaps more accurately, in relatively good condition. It's no secret that the more we age, the harder it is to do the things we normally do. One thing we can all agree that helps — at least in the short-term — is getting a soothing massage to get those muscles feeling fresh and loose. Unfortunately, it's a bit impractical for most of us to get a massage every week (or every day, for those who REALLY need one). There are, however, some ways to make due — such as getting your own massage chair. Finding the right massage chair can help your muscles from feeling too tight and your circulation from becoming restricted. No longer do you have to go to your local mall to try out one of those fancy-schmancy recliners in the store (and overstay your welcome in the process while not actually purchasing anything), as there are plenty of fantastic options available on the web. Let's take a look at some of the best of them.
Best Overall Massage Chair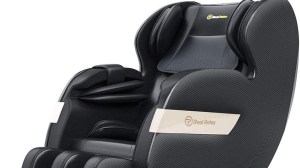 For a high-end massage chair similar to one that you would, in fact, find in the mall or at a tech store, the Real Relax 2020 Massage Chair definitely has you covered. This chair might appear to be a bit pricey, but with all of its features, it's actually quite reasonable. Capable of providing you with a full body massage, this chair features eight massage neck back rollers, 50 airbags placed around the shoulders, arms, hips, calves, and feet, a foot roller massager, and lower-back heating. It's also made with a one-button, zero gravity design that makes you feel weightless and, in a sense, renewed. This massage chair from Real Relax also comes with Bluetooth capabilities, a changing LED light, and six different customizable auto modes.
Real Relax 2022 Massage Chair of Dual-core S Track Recliner with Smart Voice Controller Zero Gr…
Price:
$1,171.04
Available from Amazon, BGR may receive a commission
Best Massage Recliner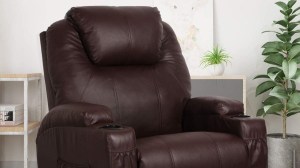 On the other hand, if you're looking for a chair that resembles a classic recliner — only with way cooler specs — then the Esright Massage Recliner Chair Heated PU Leather Ergonomic Lounge 360 Degree Swivel is a great choice. It looks just like your traditional recliner, only it combines vibrating, rocking, reclining, heating, and 360° swivel for one ultra-comfortable and relaxing experience. It's made of super comfortable faux-leather material and padded with an extra thick sponge material along the back cushion and armrest for increased plushness. The recliner features full 140° manual control recline, five control modes, and two intensity levels. In total, the setup comes with one remote controller and power cord for the massaging function, two built-in cup holders, and additional storage bags for your extra remotes, books, or whatever else you'd like to keep on deck.
Esright Massage Recliner Chair Heated Brown PU Leather Ergonomic Lounge 360 Degree Swivel Sofa
List Price:
$339.99
Price:
$309.99
You Save:
$30.00 (9%)
Available from Amazon, BGR may receive a commission
Best Budget Massage Chair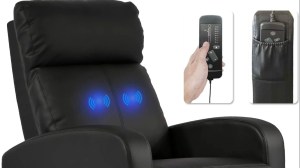 Admittedly, massage chairs can be a little pricey. For something a bit more wallet-friendly, this Massage Recliner by BestMassage is a solid alternative. Made with a durable steel frame and capable of supporting up to 275 lbs, this massage chair is super inexpensive, easy-to-install, and above all else, comfortable. It's crafted with a sleek, modern design, and upholstered with durable PU. And of course, the chair features eight different massage modes that will certainly have your back, shoulders, and neck area feeling reinvigorated after no time.
Recliner Chair for Living Room Massage Recliner Sofa Reading Chair Winback Single Sofa Home The…
List Price:
$158.65
Price:
$150.65
You Save:
$8.00 (5%)
Available from Amazon, BGR may receive a commission
Best Shiatsu Massage Chair Pad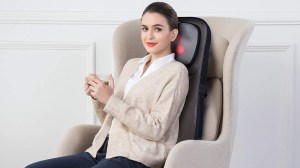 If you're not looking for a large, at-times cumbersome massage chair, you might want to look into a massage chair pad that you could place on various seats throughout your home, office, or anywhere else. In this case, the Snailax Shiatsu Neck & Back Massager with Heat Massage Chair Pad is a great option. This pad can give you a full massage from your office chair, sofa, kitchen chair, car seat, etc. In fact, it offers eight unique neck massage nodes that provide the user with deep tissue massages in both the neck and shoulder regions. The pad also contains four shiatsu massaging nodes that travel up and down relaxing your entire back, as well as a rolling massage feature with adjustable width. In short, this pad provides you with a full-on, detailed massage right in your very own home.
Snailax shiatsu Neck & Back Massager with Heat, Full Back Kneading Shiatsu or Rolling Massage,…
List Price:
$159.99
Price:
$146.96 ($146.96 / Count)
You Save:
$13.03 (8%)
Available from Amazon, BGR may receive a commission
Best Vibrating Massage Chair Pad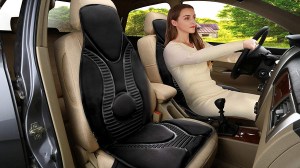 If you prefer a typical vibration massage to the shiatsu method, then you should opt for the FIVE S FS8812 Vibration Massage Seat Cushion. It might not give you as deep of a massage, but it's cheaper and certainly soothing in its own right. It's made with 10 vibration motors for your neck, shoulders, back, and thigh areas. The device also contains a heating feature that targets the upper, middle, and lower back areas. The combination of vibration and heat is designed to relieve pain and increase blood flow. This massage pad also comes with a number of important safety features, including built-in overheat protection and auto-shutoff after 30 minutes of use.
Price:
Available from Amazon, BGR may receive a commission