If you purchase an independently reviewed product or service through a link on our website, we may receive an affiliate commission.
If you fancy yourself an artist, you've probably been doing it for as long as you can remember. Scribbling with crayons in kindergarten could have led to some really great discoveries of your talents. If coloring is something that you still enjoy as an adult, you're going to want colored pencils and markers ready for whenever the mood strikes for creativity. That's why you need a place to store your markers and other drawing utensils. If you're a teacher, markers are an obvious thing that you'll need throughout the year. Marker storage is something that is easy to find, as there are plenty of options on the market right now. But how will you know which one is right for you? We've got you covered as we've made our picks for the best units for marker storage out there. So keep your items organized so you know exactly where they are when you need to grab them.
Best Wooden Organizer
Offering plenty of room when it comes to storage possibilities, the Marbrasse Wooden Desk Organizer is a superb place to hold all of your writing implements. You'll need to assemble it yourself, but everything you need is provided and it's super simple. It is a set of 12 compartments with a shelf, providing you with large capacities. These shelves are fixed with screws and it measures 8.2″ x 3.6″ x 10″. This is made from environmentally safe wood and it's non-toxic. This provides strong and durable organization with a specially varnished and glossy surface for a nice look for your home or office. It's extremely easy to clean and dust, as you can just wipe it down. It can store pens, pencils, markers, rulers, erasers, paper clips, scissors or you can use it for your makeup in your bedroom. It even gives you a junk drawer on the bottom for additional storage.
Marbrasse Wooden Pen Organizer, Multi-Functional DIY Pen Holder Box, Desktop Stationary, Easy A…
List Price:
$25.99
Price:
$15.99
You Save:
$10.00 (38%)
Available from Amazon, BGR may receive a commission
Best Pack of Trays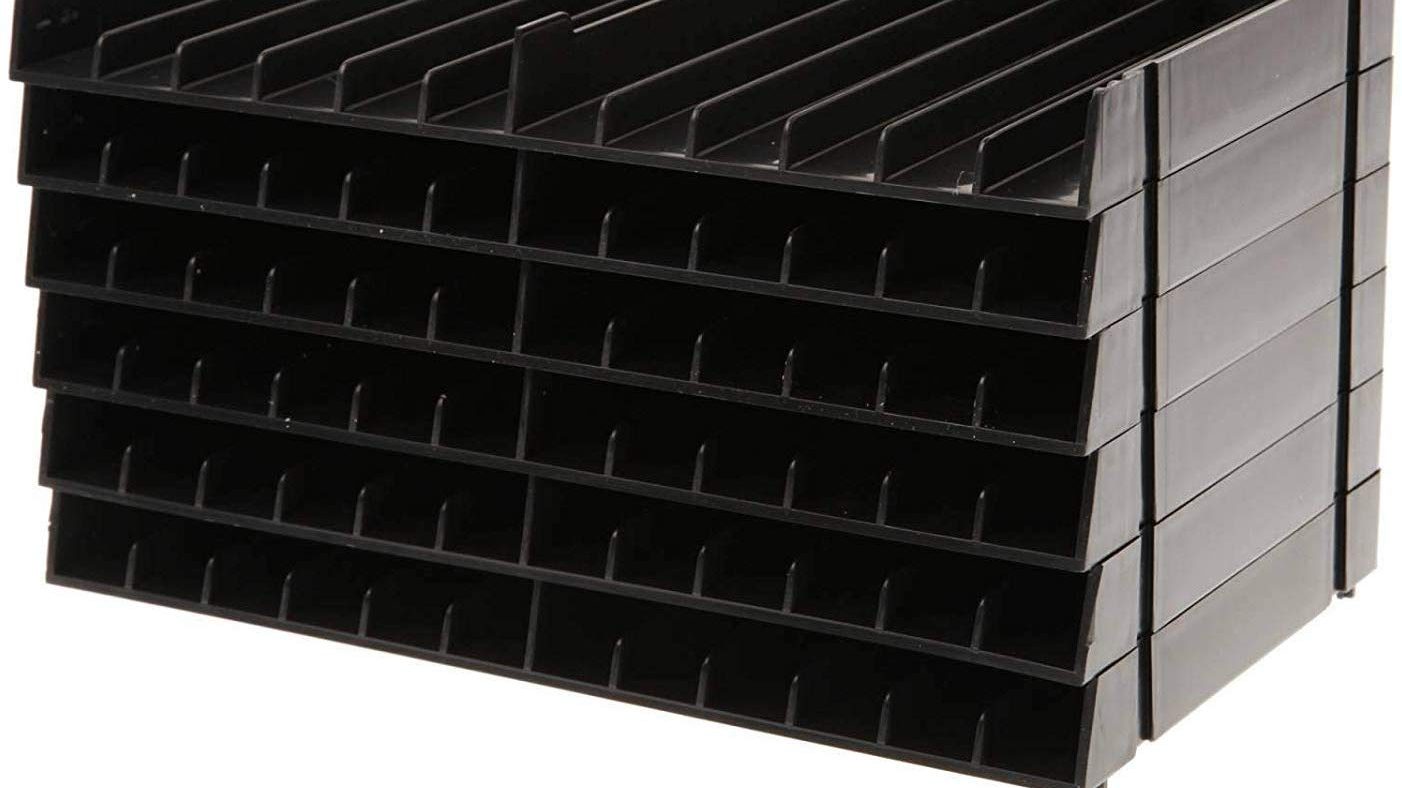 Easily stackable, the Crafter's Companion SPECN-6 Spectrum Noir Marker Storage Trays give you plenty of storage space. Each of the six trays can hold 12 pens, so you'll be able to store 72 pens. This stylish design can be customized, allowing you to fit it wherever you need it. You can angle the build, have it going horizontally or ascending it vertically. It is made from 100% recycled plastic and will accommodate most pen, pencil, or marker types. You can move it quickly and efficiently, as it's portable and lightweight. Each tray measures 13.5 cm x 24 cm. All together, it only weighs two pounds.
Crafter's Companion SPECN-6 Spectrum Noir Marker Storage Trays, 6/Pack,Black
List Price:
$24.95
Price:
$23.63 ($3.94 / Count)
You Save:
$1.32 (5%)
Available from Amazon, BGR may receive a commission
Best Divided Storage Tray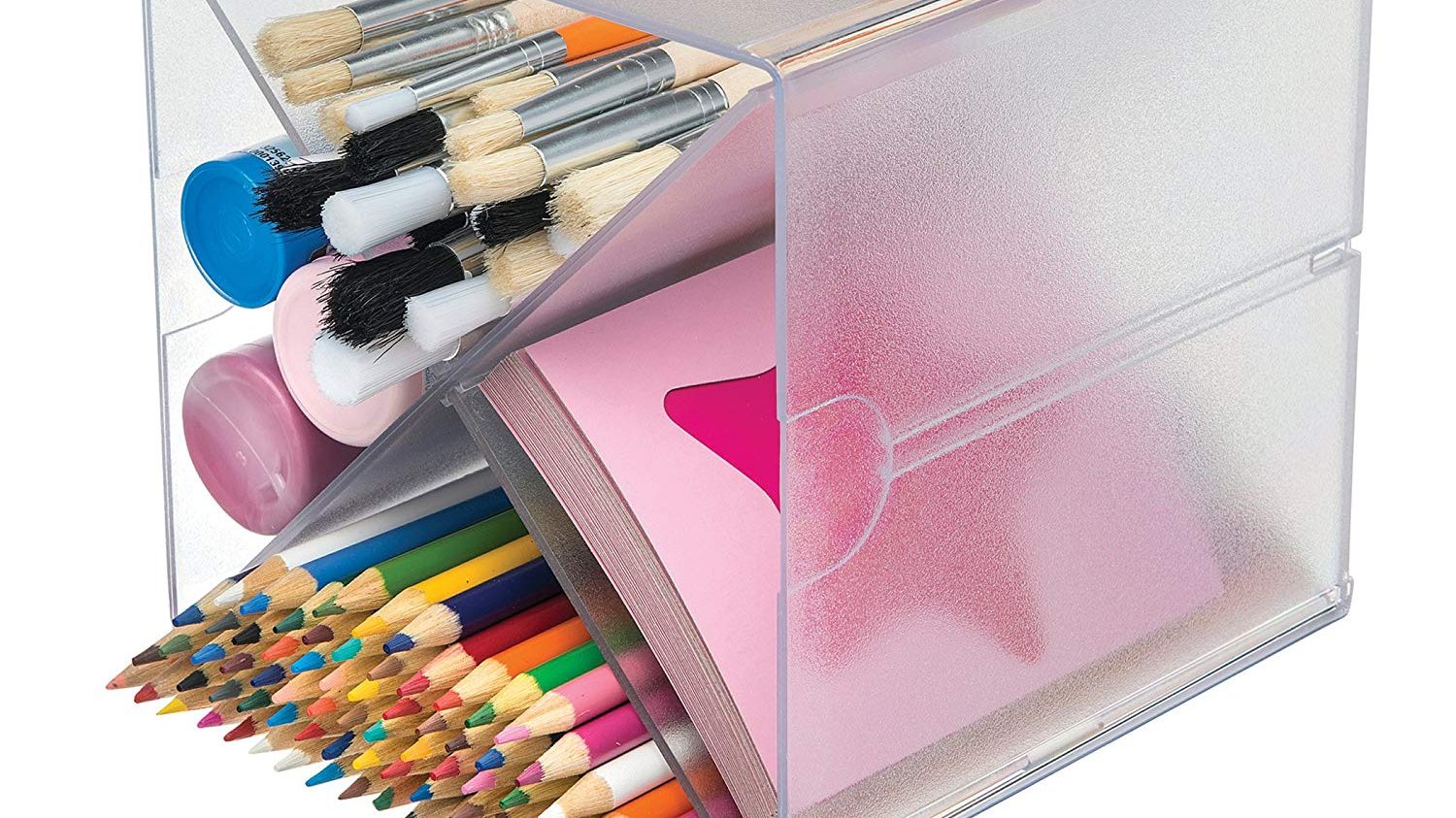 Allowing you to organize more than one item per tray, the Deflecto Stackable Cube Organizer Cross Dividers Desk and Craft Organizer helps you keep things tidy. Clutter won't affect your creativity, thanks to this cube. The dividers are removable to allow you more customizing of your storage areas. But the dividers create four sections per tray for an easier time sorting. The modular organizers stack together with clips for a custom system. One of the clips is included with your purchase. You'll be able to choose between different options and set this up however you like. This will keep small items easily accessible and at your fingertips. It is clear in color, so you'll be able to see exactly what you've stored in each one of the trays. It also makes for a modern look to add to any room of your home.
Deflect-O® Stackable Cube With X Divider, 6"H x 6"W x 6"D, Clear
List Price:
$20.29
Price:
$16.53
You Save:
$3.76 (19%)
Available from Amazon, BGR may receive a commission
Best Locking Storage Tray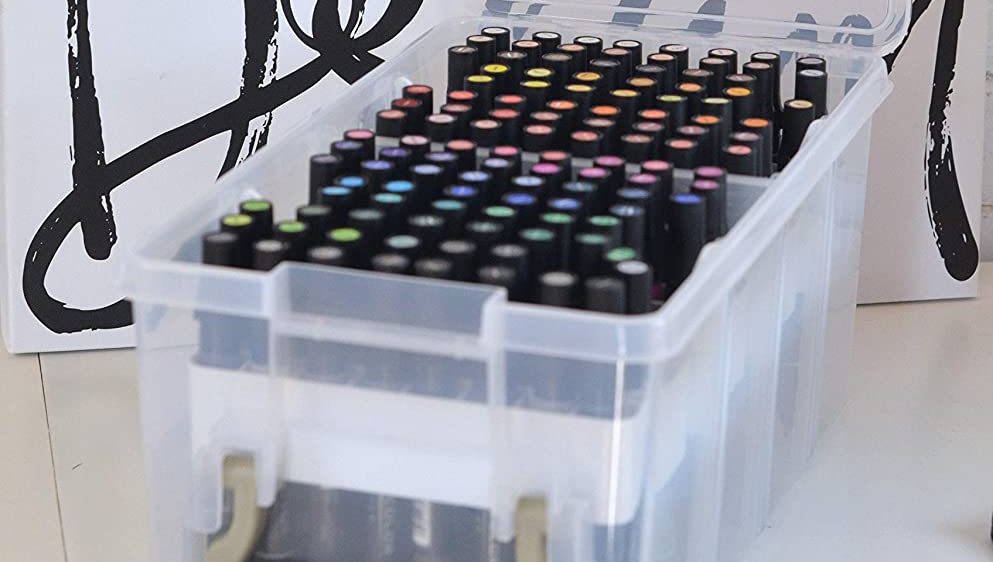 Knocking over a tray of supplies only for them to fall all over the place is nobody's idea of a fun time. Keep your markers and pens secured by using the ArtBin 6934AB Satchel with Marker Tray. It measures 15.2″ x 8″ x 6.2″ and comes with one marker tray and two dividers. This is a unit that you can keep all of your art supplies together in. You can also get a second tray that will fit in the satchel, but that is sold separately. This can hold up to 64 markers or pens that are 6″ in length. This will work for Copic, Prismacolor, Spectrum Noir, and more. You can keep it on its side in order to store the markers horizontally. The lid has a latch that locks in place, so you can easily transport these without having to worry that they'll fall out.
ArtBin 6934AB Marker Storage Satchel with Marker Organizer Tray, Art & Craft Organizer, [1] Pla…
Price:
$25.99
Available from Amazon, BGR may receive a commission
Best Travel Storage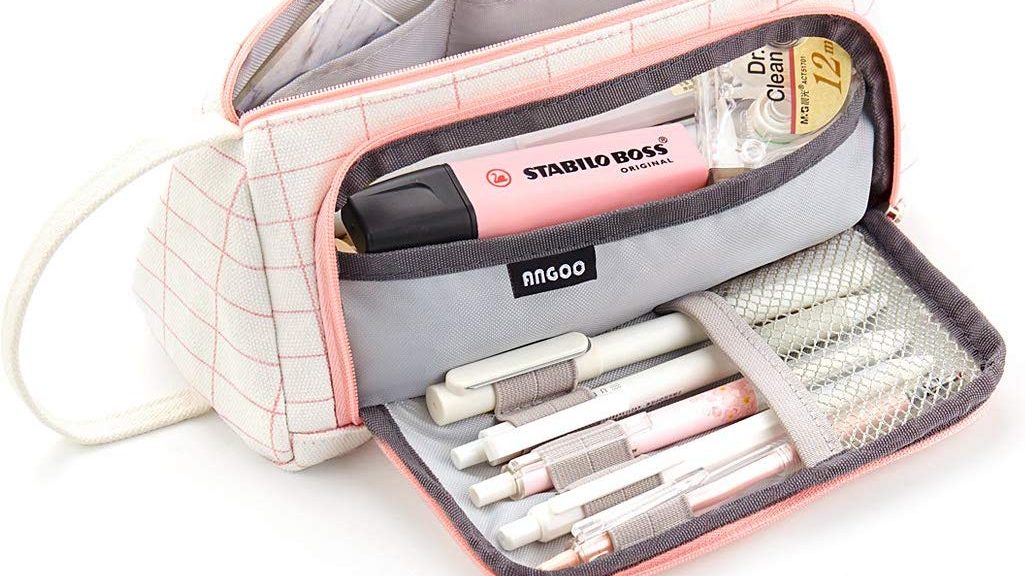 For a perfect sized pouch to bring your markers in, check out the Easthill Big Capacity Pencil Case Colored Canvas Storage Pouch. You can store between 40 and 60 pens, pencils and markers in this pouch and it holds other stationary as well. You can open this multiple ways, as it opens from the top or the sides. It is made from 100% brand new canvas and has durable zippers that will outlast tugging and pulling. It has a handheld band that makes it easy to carry and it can lay flat on a desk after being opened. You can get this in six different colors, allowing you to pick which one best suits you.
EASTHILL Large Capacity Pencil Case Pen Bag Pouch Holder Multi-Slot School Supplies for Middle…
Price:
Available from Amazon, BGR may receive a commission