If you purchase an independently reviewed product or service through a link on our website, we may receive an affiliate commission.
Getting ready to go out for the evening is one of the most fun times during a week. Picking out your outfit for a Friday or Saturday night can be a chore, as you may all of a sudden hate everything in your closet. But when you get out of the shower and begin to get ready, the night is full of anticipation and expectations. In order to get the flawless look you've been wanting, a makeup sponge set can make applying your makeup a lot easier. Made from soft materials that won't cause you to break out, makeup sponges will work with an array of makeups, so you can use them for a lot of your needs. Wet and dry use makes getting ready go a little quicker too. If you're in the market for a new set of makeup sponges, we've done some homework for you. Below are our picks for the best makeup sponge sets available to get you ready for your night out.
Best Overall Makeup Sponge Set
Tested with tremendous results, the BEAKEY 5 Pcs Makeup Sponge Set is a superior pack of sponges. These sponges are meant for all kinds of cosmetics, as they work great with foundation, BB creams, powder, concealer, and other creams. These are made from non-latex materials that feel soft and bouncy when you squeeze them. It comes with five different colors, so you can designate one for a particular kind of makeup if you like. This will help you avoid wasting your makeup, as it is expensive and not something you want to have to buy frequently. When you wet these sponges, they turn bigger, allowing you to dab it evenly to form gorgeous looks. The pointed end is great for lip and eye makeup while the round side works well around the nose and chin and the flat bottom covers cheeks and foreheads easily.
BEAKEY 5 Pcs Makeup Sponge Set, Foundation Blending Beauty Sponge, Flawless for Liquid, Cream,…
List Price:
$9.99
Price:
$7.55 ($1.51 / Count)
You Save:
$2.44 (24%)
Available from Amazon, BGR may receive a commission
Best Six-Piece Sponge Set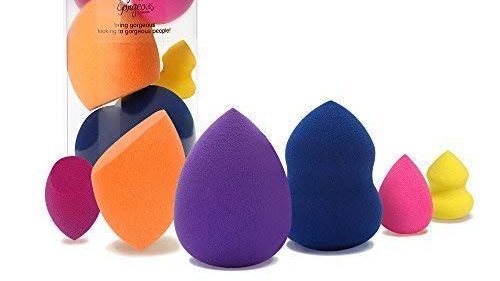 Giving you an extra sponge as compared to many sets, the Miss Gorgeous Makeup Sponge Set comes with six pieces. You get three normal sized sponges and three miniature ones, allowing you to touch up and put on a variety of makeup. These are easy to distinguish, as their bouncy and soft feeling makes them simple to use. You can use these dry when you dip them into powder products such as foundation in order to flutter your face. You can also use them wet, along with creamy or liquid products such as BB cream, lotion, or concealer. These come in six colors: rose, orange, purple, navy, pink and yellow. You can use this set to fit all over your face.
Miss Gorgeous London Makeup Sponge Set Blender Beauty Foundation Blending Sponge - Multi-colore…
Price:
$6.99
Available from Amazon, BGR may receive a commission
Best Mini Sponge Set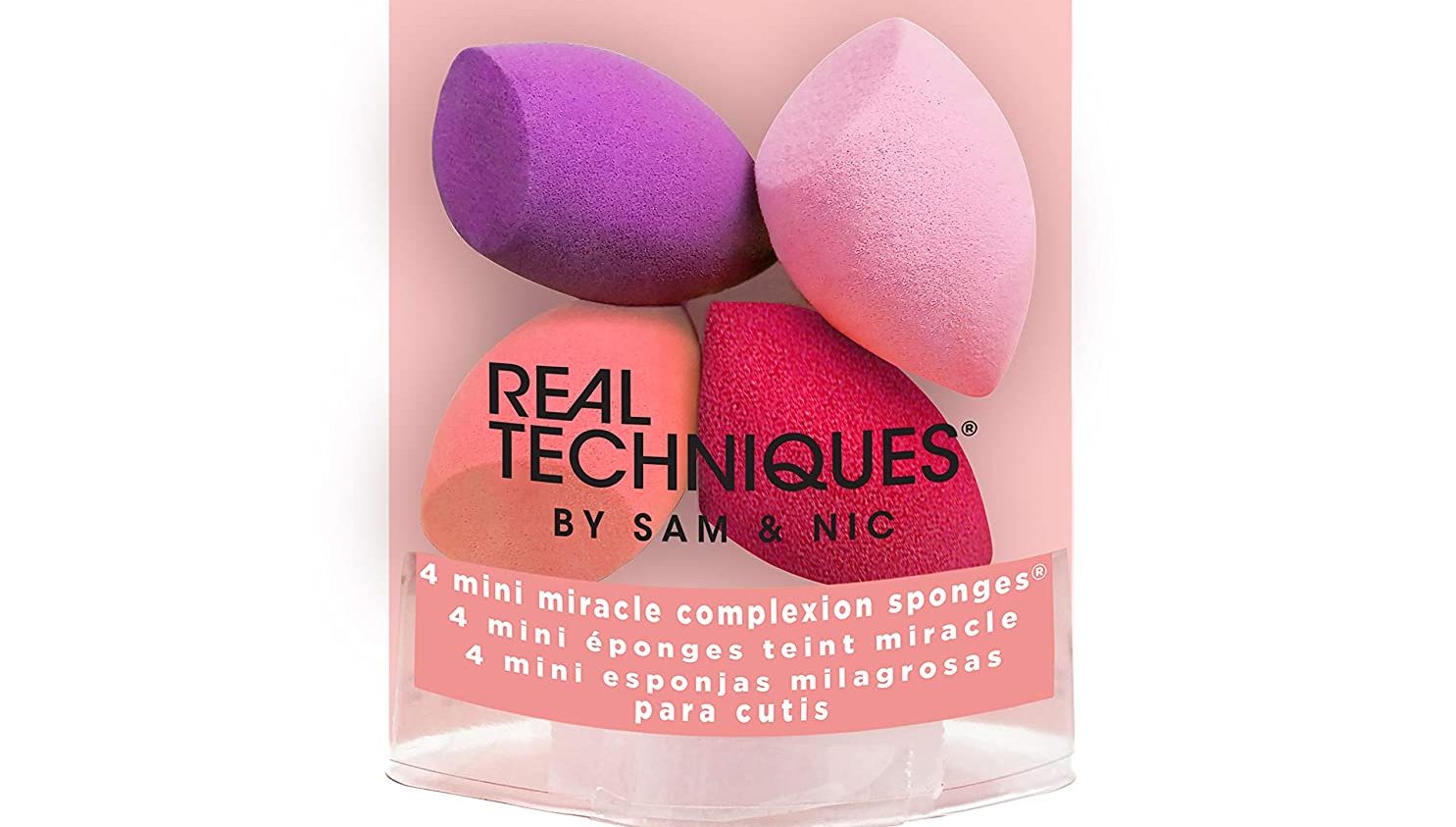 Ideal to pack for travel purposes, the Real Techniques Mini MC Beauty Sponge Set of 4 is a cruelty-free set. This will help you achieve the airbrushed look you want, as the mini sponge set can cover your entire face. You'll be able to correct any misshapes and add color to your favorite features. The rounded sides blend large areas while the tip covers blemishes and the flat edge contours the nose and eyes. You can flawlessly apply your makeup with these and you can wash them with makeup sponge cleaner (sold separately).
Real Techniques Mini Miracle Complexion Sponge Makeup Blender, Set of 4 Beauty Sponges
List Price:
$7.99
Price:
$6.29
You Save:
$1.70 (21%)
Available from Amazon, BGR may receive a commission
Best Two-Pack of Sponges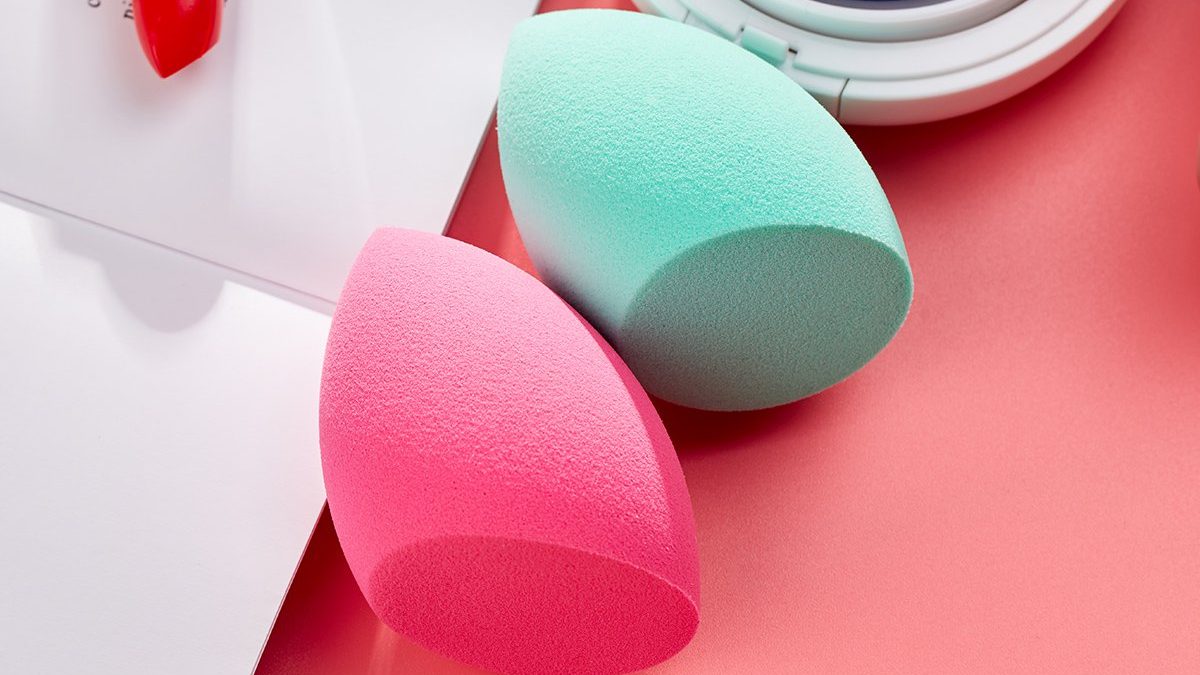 If you only need a few sponges, take a look at the amoore Makeup Sponge Beauty Sponge 2-Pack. These both expand up to 50% when they are wet and they are latex-free. The soft sponges are great for contouring and blending, as they are soft against your skin. They are easy to clean and eco-friendly. These can be used for wet or dry applications to apply various kinds of cosmetics. The edgeless design makes applying foundation simple. It also absorbs oil from the skin.
Makeup Sponge Beauty Sponge Blending Sponge Foundation Sponge (2-Pack)
Price:
$3.29 ($1.64 / Count)
Available from Amazon, BGR may receive a commission
Best Sponge Support Set
Having to put down your sponges on your counter or vanity after you're done using it, it will leave some residue. But if you have the O'vinna 5-Pack Makeup Sponge and Powder Puff Sponge Support Display Stand set, you won't have to put your sponges on the surface. That's because it comes with two sponge support display stands that will hold your sponges when you aren't using them. These blender makeup sponges are ideal for complexion products and are made from polyurethane soft materials. The sponge holders provide stability and ventilation for your sponges. The entire set will last long if you store it in a cool and ventilated place.
O'vinna [5-Pack] Makeup Sponge and Powder Puff Sponge Support Display Stand (5Pcs Makeup Blende…
Price:
Available from Amazon, BGR may receive a commission