If you purchase an independently reviewed product or service through a link on our website, we may receive an affiliate commission.
Although we're moving closer and closer to a fully digitized world, there is still value in buying things in their traditional hard copy format. This is especially true when it comes to books and other reading material, as many people prefer to read on paper, rather than on a screen. And of course, there's something about owning a tangible copy of an item you paid for that simply can't be replaced. Magazine collectors/subscribers are certainly one demographic that prefer to own a physical copy of something. So naturally, they'll also need a place to store and organize them. Whether it's a doctor ordering magazines for their waiting room or a longtime Sports Illustrated fan needing a place to put their older copies, there is certainly value in having a magazine rack/organizer on deck at all times. If you are still ordering those National Geographics (or any other magazine that comes to mind, really), then you'll probably want to check out some of the best magazine racks for your home. Check out what we managed to find.
Best Overall Magazine Rack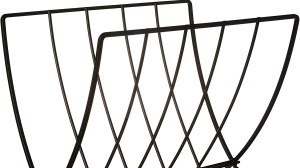 The Spectrum Diversified 37210 Seville Magazine Rack is a great way to store any of your magazines, paperback books, or any other piece of literature your heart desires, really. For starters, it's super compact and convenient, as it's built with an ultra-slim space-saving design that can fold up and allow you to store it, if need be. It's made of high-quality, imported steel with a black matte finish that makes it both incredibly durable and aesthetically pleasing. Plus, the open design allows you to see what magazines are being stored so you or your guests/customers can get a better idea of what to choose from. The rack features dimensions of 8.75″L x 15.5″W x 13.5″H, but it can still fit a surprisingly large amount of magazines at once.
Spectrum Diversified Seville Rack, Sturdy Steel Periodical Home & Office Organization, Chic Sto…
List Price:
$22.95
Price:
$16.95
You Save:
$6.00 (26%)
Available from Amazon, BGR may receive a commission
Best Magazine Basket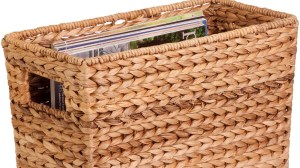 If you're looking for a wicker basket type rack/holder to better fit in with your pre-existing aesthetics, the Honey-Can-Do STO-02883 Magazine Water Hyacinth Basket provides a solid fit. Made with Woven Water Hyacinth construction, this basket can be placed on the floor near a chair or couch or on the coffee table in your living room, as it's essentially scratch and scuff-proof. It also features carrying handles for portability, so you can bring with you when you travel or when you're on-the-go, in general. It can fit virtually any type of book (or small object) in it without fail. The only downside is that you can't see your reading materials from the outside, but of course, you still get an overhead view, so it's certainly not a deal breaker.
Honey-Can-Do 15x5 Magazine Storage Basket STO-02883 Storage Baskets, Woven Storage Baskets, Dec…
List Price:
$19.89
Price:
$13.21
You Save:
$6.68 (34%)
Available from Amazon, BGR may receive a commission
Best Magazine Organizer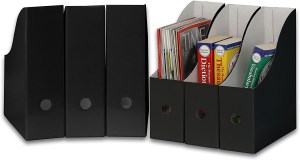 For those looking to actually organize their collection — whether it's by magazine issue, date, volume, etc — the Simple Houseware Black Magazine File Holder Organizer Box is the way to go. This isn't necessarily the best option for displaying your collection, but it's the perfect way to sort your collection for storage purposes. The whole set comes with six black organizers made of premium cardboard material. Each organizer contains dimensions of 9.75″ L x 12.25″ H x 3.75″ W, and it's versatile enough to be placed in a bookshelf, filing cabinet, or to be used on its own.
Simple Houseware Black Magazine File Holder Organizer Box (Pack of 6)
List Price:
$15.99
Price:
$14.97
You Save:
$1.02 (6%)
Available from Amazon, BGR may receive a commission
Best Hanging Magazine Rack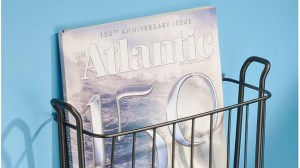 If you're someone who likes to keep magazines in the bathroom for some light reading, you should opt for the iDesign Classico Steel Wire Wall Mount Newspaper and Magazine Holder Rack for Bathroom Organization, as it's a great way to keep your magazines off of the floor and onto a reachable surface. It's particularly great for smaller spaces and bathrooms, as its compact design hangs easily to any wall space for additional storage space. This wire basket made by iDesign is made from high-quality, rust-resistant and durable steel with a bronze finish, so you won't have to worry about seeking out its replacement anytime soon. While it's obviously not as easy as simply taking a magazine rack out of a box and placing it on the floor like you would do with the others, you shouldn't have any reservations about installing it, either, as all wall mounting hardware is included in the set, and it's safe, easy, and generally worry-free to hang up.
iDesign Classico Steel Wire Wall Mount Newspaper and Magazine Holder Rack for Bathroom Organiza…
Price:
$24.77
Available from Amazon, BGR may receive a commission
Most Versatile Magazine Rack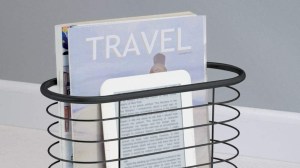 The mDesign Decorative Metal Farmhouse Magazine Holder and Organizer Bin is a versatile option, both in the sense of what it can actually hold as well as where it can be used. This freestanding holder is roomy enough to hold magazines, books, tablets, and more. Between the holder's raised feet and sleek, contemporary design, you can place it in virtually any room, whether it's your living room, kitchen or bathroom (it's also great in bathrooms because the bottom of your magazines/books won't touch the floor). Its oval shape is both compact and kind to the eye, and it's made with a strong steel wire and a durable rust-resistant finish for increased longevity and function.
mDesign Steel Magazine Holder Storage Organizer Bin - for Bathroom, Living Room, Home Office Or…
Price:
$20.49
Available from Amazon, BGR may receive a commission