If you purchase an independently reviewed product or service through a link on our website, we may receive an affiliate commission.
Hearing the sound of the meat sizzling on the grill and the overwhelming aroma of charring steak can make your mouth water. Grilling up all kinds of meats and vegetables is a great way to enjoy an evening or an afternoon, as food is one of the most universal things to bring people together. But once that food is done cooking, you have to take it off of the grill safely. That's where a pair of tongs comes into play. Utilizing tongs helps protect your hands from scalding temperatures and protects the food's integrity, even when you're picking up food that isn't piping hot. Tongs are one of the premiere pieces of equipment every chef needs to use in their kitchen. You've definitely eaten in a buffet before and seen how important tongs are when it comes to communal eating. So before your next barbecue, check out our list for the best kitchen tongs on the market. Then get ready to serve up some more mouth watering dishes.
Best Heat-Resistant Tongs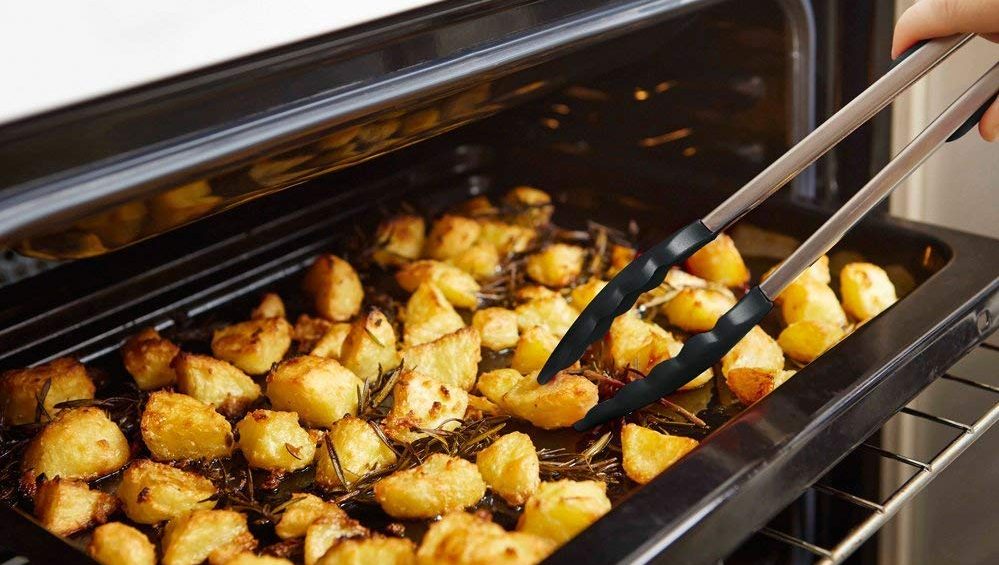 If you're manning the grill or oven, you know there's a lot of heat in the kitchen or outside. You're going to want something that is heat-resistant, so you don't have to worry about it holding up while you're handling food. For that, check out the StarPack Premium Silicone Kitchen Tongs. This premium package is made from the highest quality EU LFGB-Grade silicone, which is safety tested and is heat-resistant up to 600°F. It is guaranteed to be 100% BPA-free and the silicone tip tongs have no removable parts for bacteria to grow on. This pack comes with two pairs of tongs, one that is nine inches in length and one that is 12. These offer superior grip and are made with extra thick, 1mm stainless steel while also having a ring-pull locking system that's built to last. This purchase also comes with a PDF of "101 Cooking Tips."
StarPack Premium Silicone Kitchen Tongs for Cooking Set (9" & 12" Gray Black) - Stainless Steel…
Price:
$18.91
Available from Amazon, BGR may receive a commission
Best Dishwasher-Safe Tongs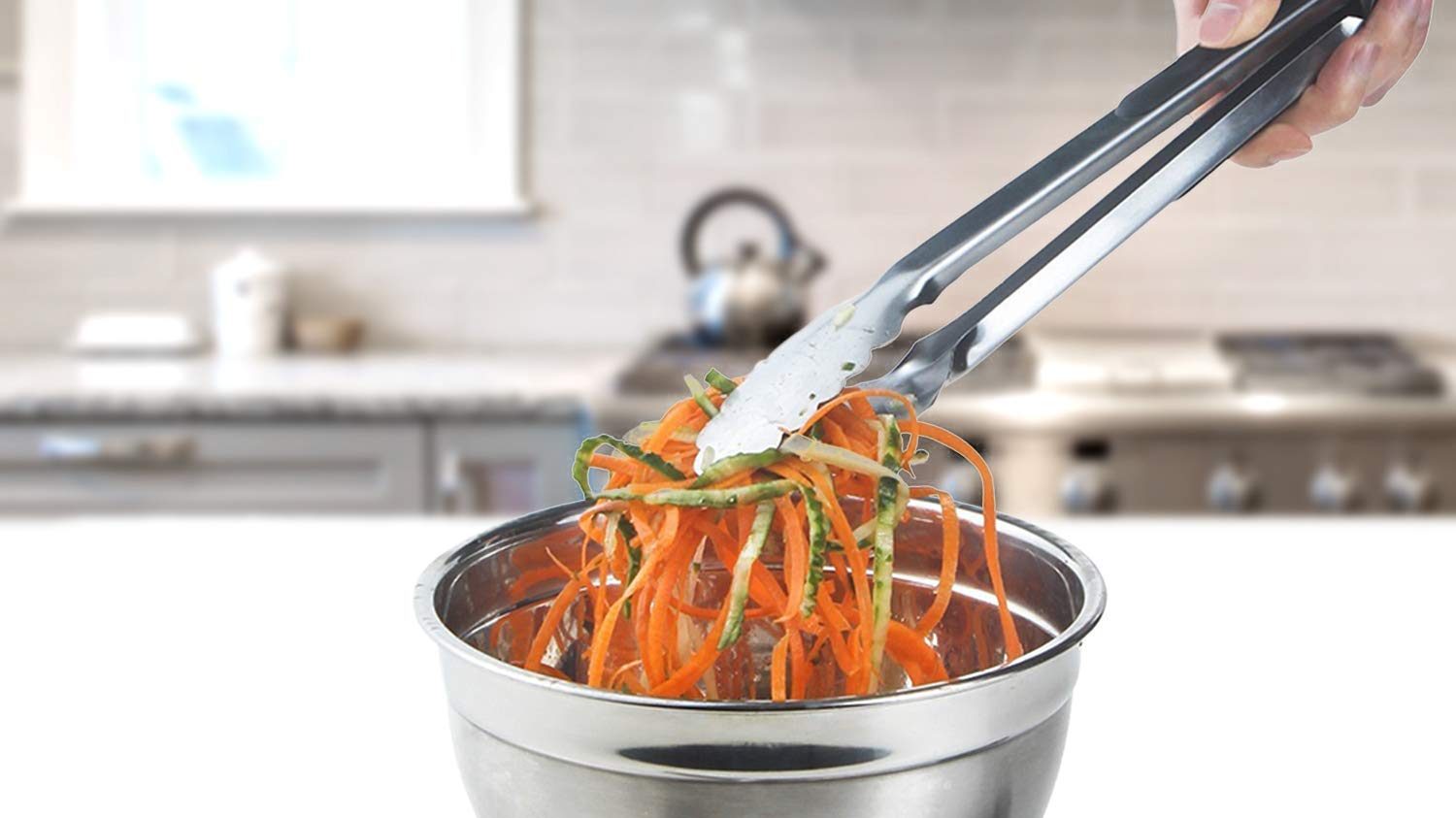 Scrubbing meat gristle out of your tongs is not something anybody dreams of doing. For an easy pair of tongs to clean, pick up the DRAGONN Premium Set of 12-inch and 9-inch Stainless Steel Locking Kitchen Tongs. These are constructed from top quality brushed stainless steel and are meant for all of your grilling and cooking needs. There is a large hanging loop on the end of both pairs of tongs, so you can store them easily in your home. You don't have to worry taking your sponge to the tips, as you can put these in the dishwasher without having to worry. The handles are non-slip and the thumb rests are comfortable to use. The gently raised edges provide the perfect grip and you'll be able to avoid germs and the risk of burning by using them. The tongs will click closed and lock, allowing you to store them in a drawer if you prefer that to hanging them.
DRAGONN Premium Set of 12-inch and 9-inch Stainless-Steel Locking Kitchen Tongs, Set of 2 - Stu…
Price:
$5.99
Available from Amazon, BGR may receive a commission
Best Multi Color Pack of Tongs
Who ever said that all tongs have to be silver and black only? HOT TARGET's Set of 3 Multi Color Tongs adds a little flair to your kitchen and it offers you three different sizes of tongs. You'll get a seven-inch, a nine-inch, and a 12-inch pair of tongs, allowing you to use some to serve, some to flip, and some to turn with. Each pair is made from 1mm thick, corrosion-resistant, 304 stainless steel for power and strength that's unmatched. Even though these are durable, they're all extremely lightweight, making them easy for anyone to use. They are heat-resistant up to 480°F, so you can use them for the stove, oven, or grill. The smallest one comes in green, the middle one is a blue color and the red color is the longest pair. The tips and handles are made from FDA-grade silicone and the scalloped heads makes them easier to grip your food. The pull locking mechanism keeps your tongs closed when you aren't using your pair.
Hot Target Set of 3: 7, 9, 12 inches, Black Color, Heavy Duty, Non-Stick, Stainless Steel Silic…
Price:
$13.49
Available from Amazon, BGR may receive a commission
Best Fine Tongs
For a thin and sophisticated look, reach for the Rösle Stainless Steel Fine Tongs. These ultra-sleek tongs are made from 18/10 stainless steel and are useful for cooking, roasting and serving. They measures 12.2″ long, giving you a little bit of extended reach compared to other pairs. The grooved tips and balanced spring allow you to lift out even the smallest items, like sprigs of rosemary or pieces of garlic from your dish. You can hang this pair from the hook on the handle as well and it can be washed in the dishwasher. This is backed by a lifetime warranty.
Rösle Stainless Steel Fine Tongs, 12.2-inch
List Price:
$38.00
Price:
$32.99
You Save:
$5.01 (13%)
Available from Amazon, BGR may receive a commission
Best Scissor Tongs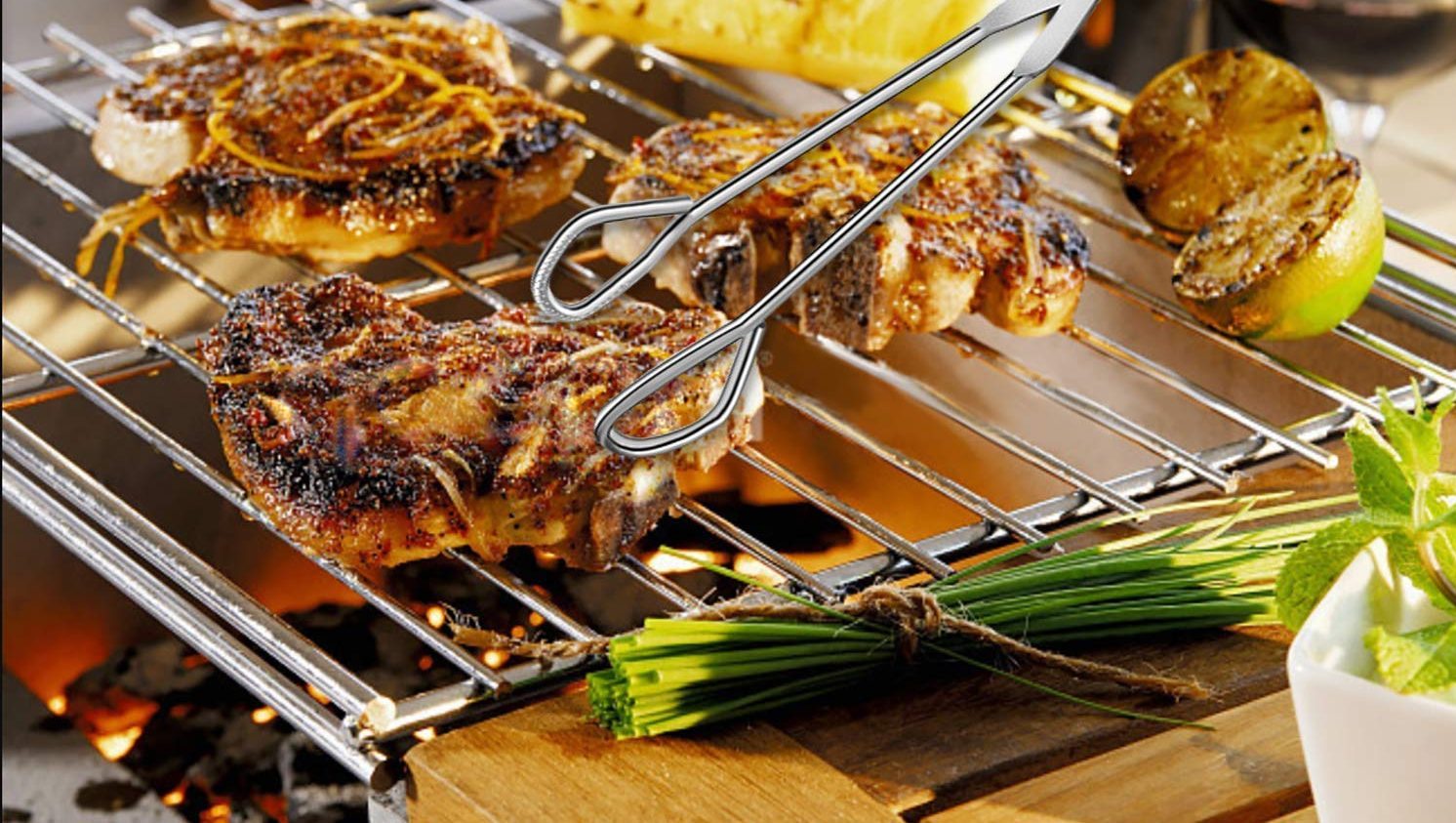 Giving you a more open way to collect and grab your food, the Hiash Heavy Duty Food Tongs are great for buffets. These are also made from stainless steel and measures just over 9 inches long. These have convenient holes in the handle that make hanging them a breeze. They're extremely easy to clean, as food won't get trapped anywhere. This pair can withstand extreme heat and won't ever corrode or rust. The handles are thick, so they won't slip out of your hands while you're using them. It's simple to grab most types of foods, including meats, chicken, or vegetables.
Food Tongs, Hiash Heavy Duty Stainless Steel Kitchen Tongs for Cooking, Barbecue, Serving Sciss…
List Price:
$13.99
Price:
$10.99
You Save:
$3.00 (21%)
Available from Amazon, BGR may receive a commission