If you purchase an independently reviewed product or service through a link on our website, we may receive an affiliate commission.
Martial arts have always been a sacred sport — after all, there's a reason why they're considered an "art." One of the more popular forms of martial arts in recent years has been BJJ or Brazilian Jiu-Jitsu. This particular branch focuses more on self-defense and groundwork, which is effective for a plethora of real-life situations. It's also, of course, a great way to work up a sweat and still have fun in the process. But like any form of martial arts, to really get into BJJ, you're going to need a uniform — otherwise known as "Gi" — to get started. This is not only required for those who participated in federation-mandated tournaments, but they're also just great for practices, sparring sessions, and general classes. So if you're looking for your first set of gi, well, you've come to the right place. Let's take a look at some of the best Jiu-Jitsu gi for BJJ enthusiasts and general martial artists alike.
Best Overall Jiu-Jitsu Gi
Frankly, you'd be hard-pressed to find a better uniform for high-intensity martial arts than this Sanabul Essentials V.2 Ultra Light Preshrunk BJJ Jiu Jitsu Gi. For starters, so long as you choose the correct size, this gi is an ultra-comfortable and perfect fit, as it's preshrunk for optimal sizing. If you do still want to shrink it, however, you can machine wash it in hot water and dry it to bring it down one size. This lightweight, yet super durable gi is worn by some prominent names in the industry, such as legendary Jiu-Jitsu coach John Danaher. The uniform also contains stiff, rubberized collars, tapered sleeves, and a dense single weave design to optimize your speed and still maintain a form-fit. It also comes with a free belt of any color, making it a great choice for novices and advanced combat fighters alike.
Price:
BGR may receive a commission
Most Stylish Jiu-Jitsu Gi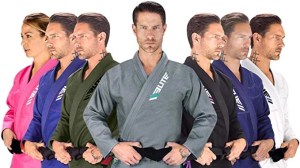 While most BJJ uniforms are pretty similar, at least in terms of looks, the Elite Sports BJJ Gi actually contains a pretty sleek, modern design that can help you stand out amongst the competition. This preshrunk gi not only provides its users with the perfect fit, but it's strong, durable, and able to withstand intense daily training regimens without ripping, stretching or warping over time. It's made with a stylish design that features the Elite logo along the left side of the jacket. It's not too intrusive, though, so it doesn't make you look like a walking billboard of sorts. The sleek, modern uniform also features a ribbed design that not only looks great but helps you from a performance standpoint. The uniform comes in a variety of different colors and comes with a complimentary belt to get you started.
Elite Sports BJJ GI for Men IBJJF Kimono BJJ Jiujitsu GIS W/Preshrunk Fabric & Free Belt (See S…
Price:
Available from Amazon, BGR may receive a commission
Best Value Gi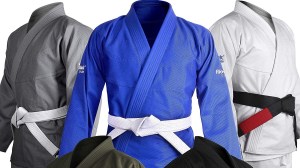 From a sheer value standpoint, you can't go wrong with this Brazilian Jiu-Jitsu Gi from HAWK Jiu-Jitsu. Despite its lower price tag, this gi is of the highest quality, as it's made with 350gsm preshrunk pearl weave fabric and 10 oz ripstop pants that are designed with several belt loops as well as a federation-compliant drawstring to help you maintain the perfect fit. It's also versatile enough to be used in Judo classes as well, and the design features no logos on the front, allowing you to place any badge or personal label without obstruction. This set of gi comes with a free white belt and a black rank bar to store your badges. In terms of bang for your buck, you won't find something superior to this uniform from HAWK Jiu Jitsu.
Brazilian Jiu Jitsu Gi BJJ Gi for Men & Women Uniform Kimonos Ultra Light, Preshrunk (Black, A4…
Price:
$47.99
Available from Amazon, BGR may receive a commission
Best Gi for Children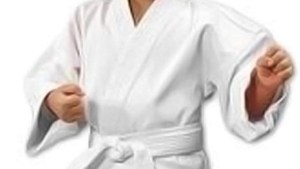 For children, we'd recommend this Pro Force 6 oz. Elastic Drawstring Lightweight Student Uniform, an inexpensive, basic, but nonetheless effective piece of martial arts equipment. Made of a high-quality blend that consists of 55% cotton and 45% polyester for a permanent press fabric, this gi is lightweight, flexible, and totally durable. The pants feature a drawstring, so you'll be able to find the right fit, every time. The whole set comes with a jacket, pants, and of course, the classic white belt for any novice martial artist.
ProForce 6oz Student Karate Gi / Uniform - White - Size 000
Price:
$22.09
Available from Amazon, BGR may receive a commission
Best Martial Arts Belt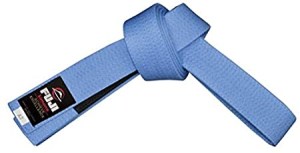 While real martial arts belts are meant to be earned, you could actually just, well, go out and purchase your own. Of course, we don't actually suggest doing that, so this recommendation is more or less geared towards martial arts instructors and teachers who have earned the right to promote their students. So in this case, the Fuji BJJ Belt is a relative no-brainer. It's made of high-quality cotton material that's super durable, as it's designed with a FUJI Premium Weave for increased flexibility and strength. They're available in a variety of colors, ranging from standard Brazilian Jiu-jitsu colors to mid-ranks for children. And yes, a black belt is available — but that's something that should be earned. But, yeah, you can still buy it, too.
FUJI – Premium Cotton Blend BJJ Belt
Price:
$28.83
Available from Amazon, BGR may receive a commission