If you purchase an independently reviewed product or service through a link on our website, we may receive an affiliate commission.
If you're going to be storing clothing for an extended period of time, you have to do it correctly. And by that, we mean, make sure every suit jacket, pair of dress slacks, and dress is absolutely pristine the next time you break it out. But anyone who, well, owns a closet, knows that that's easier said than done — especially for those who own a pet or two. One of the best ways to keep your fancy clothes looking fresh is by getting a few no-nonsense jacket covers for your closet. While we're using the term "jacket cover" here, that doesn't mean we're only talking about protecting your coats and jackets — they're versatile enough to cover virtually any type of clothing you deem "special." So we'll go through some of the best jacket covers we managed to find for your closet, and you can decide which ones are worthy enough to protect your most treasured articles of fashion (that you never really wear).
Best Overall Jacket Cover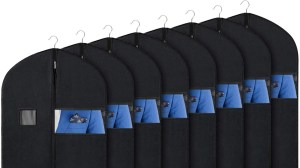 We'll start with the Zilink Garment Bag Suit Bags, which provide you with the best overall coverage for your suits, dresses, coats, and virtually anything else you might want to store in your closet. These are some of the highest quality protectant covers you'll find, as they're made from breathable, acid-free 100GSM non-woven fabric, as opposed to the standard 80GSM fabric used by some other brands. Each cover features a sturdy, durable full-length zipper that's smooth and doesn't slip off. Each cover also features a small window that allows you to look at each piece of clothing from the outside, thus eliminating the need to open it up to check and see which garment is which. The full set contains eight pieces of 50″ garment protector covers that can fit most clothing items, ranging from suits to dresses, and more. Fortunately, each bag is ultra-convenient and easy to store, as they fold up for traveling and tight storage.
Zilink Garment Bag Suit Bags for Men Closet Storage 8pcs with Clear Window Suit Cover Bags for…
Price:
Available from Amazon, BGR may receive a commission
Best Clear Jacket Cover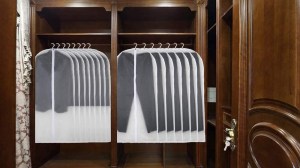 For something that's a little more transparent so that you can see your entire outfit, jacket, etc, the UOUEHRA Hanging Moth Proof Garment Bag Cover 24"X40" Lightweight Clear White PEVA Breathable Bags is a great option. It's made from super high-density, thick PEVA material that's both durable, flexible, and can protect your clothes from dust, water, pest, mold, and any sort of damage, in general. It's also non-toxic, safe, as it contains no formaldehyde for preservation purposes. The biggest highlight, however, is that it's translucent and dull polished, which allows you to see the entirety of your clothing without having to peak through a smaller window, making it the perfect option if you have a wide array of similar-looking clothing.
Hanging Garment Bag 24''X40'' White Lightweight Clear Full Zipper Suit Bags (Set of 6) PEVA Bre…
Price:
$16.99
Available from Amazon, BGR may receive a commission
Best Shoulder Cover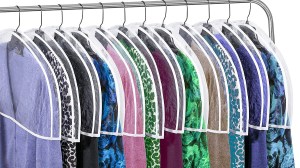 On the contrary, if you only want something that covers/protects the shoulders of your garments, these Clear Vinyl Shoulder Covers by Handy Laundry are a great choice. This is also a great option when it comes to having a cover that allows you to easily see and sift through all of your clothing. While it doesn't provide full-on protection, this cover is made from durable, clear vinyl that can protect suits, dresses, and blouses from accumulating dust in susceptible areas (or in other words, the shoulder area). This pack contains 12 shoulder covers, in total, giving you an ample start to preserving a sizeable part of your wardrobe.
Clear Vinyl Shoulder Covers Closet Suit Protects Storage Home Decor Set of 12, 12"H x 22"W x 2"…
Price:
$14.99
Available from Amazon, BGR may receive a commission
Most Versatile Set

If you want a variety of jacket colors of different sizes for different types of clothing, you should opt for the Plixio Garment Bags Suit Bag for Travel and Clothing Storage of Dresses, Dress Shirts, Coats. This set comes with two longer bags that measure in at 54" x 24", and three medium-length coat bags that measure 40" x 24", providing you with an array of different coat bags for varying sizes of clothes, whether it's a winter jacket, tuxedo, long dress, or even just casual clothing you're looking to preserve. Each bag comes with a 3″ x 5″ window that allows you to look at your clothing from inside the bag, and they're travel-friendly, durable, and an all-around versatile option for any type of garments.
Plixio Garment Bags Suit Bag for Travel and Clothing Storage of Dresses, Dress Shirts, Coats— I…
Price:
$18.99
Available from Amazon, BGR may receive a commission
Best Budget Option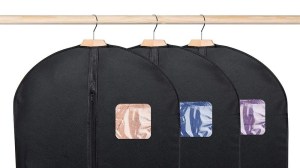 For something a bit more wallet-friendly, you can't go wrong with the Fu Global Garment Bag Covers for Luggage, Dresses, Linens, Storage or Travel. This set contains five 42″ x24″ garment bags that are made of breathable, high-quality non-woven fabric that's durable, easily washable, and great at preserving your garments and ensuring they're fresh, clean and wrinkle and dust-free. It's great for travel, thanks to a Metal eyelet on the lower seam for hanger hook that allows you to carry the bag when it's folded. All things considered, this is most certainly the best bang-for-your-buck option available right now.
Fu Global Garment Bag Covers for Luggage, Dresses, Linens, Storage or Travel 42" Suit Bag with…
Price:
$19.99 ($4.00 / count)
Available from Amazon, BGR may receive a commission