So, you've dropped some hard-earned money on Apple's new flagship handset; now it's time to protect that investment.
It should come as no surprise that the iPhone 7 already has a plethora of case options available on the market, including a few from Apple itself. But which case is right for you?
DON'T MISS: Samsung allegedly tried to bribe a man to keep his exploding Note 7 a secret
Like just about everything else, it's all based on personal preference. For some, a case's style and aesthetic take preeminence over every other factor. For others, it's all about preserving that just-out-of-the-box quality with a rugged protective case. There's no right or wrong choice in iPhone case, so we broadened our focus to find the best case for every type of customer.
It should be noted that a couple of waterproof heavy-hitters, Catalyst and Lifeproof, haven't released iPhone 7 cases yet. Lifeproof has announced a couple of upcoming options on their store, with Catalyst likely to follow suit. If these cases were on the shelves, they'd likely be included in this guide. However, until these products can be properly tested, we'll leave the waterproof category off of this list. But hey, at least this iPhone is natively water-resistant! (Welcome to the party, pal.)
After immersing ourselves in the vast phone case marketplace and sifting through dozens of professional and consumer reviews, we're confident we've found the very best iPhone 7 cases that money can currently buy.
Best overall: Speck Presidio Grip case
Speck has long been a steadfast provider of solid, economical phone cases; the Presidio Grip is no exception.
There's no flash or frills about the Presidio Grip, and that's kind of what we love about it. This case is the perfect balance between protection and slender design — not sacrificing one for the other. This Speck has been drop tested at 10 feet and offers screen protection via a 1.1 mm raised bezel, as well as a raised surface to protect the camera lens. The case's namesake is one of the top selling points, featuring gripping textures to prevent the oh-so-frequent phone slip.
In a continuing effort to make protective phone cases less unsightly, Speck's Presidio Grip case is 20% less bulky than previous entries, making for a sleeker design and a more comfortable pocket feel. The finish of the case is also scratch-resistant and should keep its out-of-box look and last as long, if not longer, than your iPhone 7. The Presidio Grip case also comes in 6 colors, meaning you should have no problem finding a case to match your personality and your iPhone.
It should be mentioned that all of these features come at a price tag under $40, which is possibly the best selling point of all. With its attention to everyday protection and a sleek design, all at an affordable price, the Speck Presidio Grip case takes the cake for best overall.
The Speck Presidio Grip iPhone 7 case is available on Amazon for $39.95.
Best protective case: Otterbox Defender Series
You probably didn't need to open this guide to know that Otterbox is a great protective case, but here we are.
The Otterbox Defender does exactly what its name suggests — defends your iPhone 7. This rugged case features a triple-layer polycarbonate shell, a built-in screen protector, and port plugs to rescue any iPhone 7 from even the clumsiest user, or the toughest environment. Otterbox boasts that the Defender iPhone 7 case will withstand drops, dust, and other untold would-be damaging factors while preserving the function of your phone.
The case also includes a belt clip for easy access, although 21st century style standards prevent us from recommending this function. Thankfully, the clip doubles as a kickstand for easy-going video consumption — a much more socially accepted practice. (We kid.)
Overall, no one makes a more durable protective case than Otterbox. If protecting your iPhone is a chief concern, it doesn't get much better than this case.
The Otterbox Defender Series iPhone 7 case is on sale on Amazon for under $42.
Best wallet case: Mujjo Leather Wallet Case

Carrying a wallet and a phone is simply a waste of pocket space, especially when the Mujjo Leather Wallet case is on the market.
This case allows you to carry up to 3 of your most important cards, and it looks good doing it. The beautiful vegetable tanned leather, coming in tan and grey, wraps around the back of iPhone 7 and covers the corners for a touch of drop protection. The end product is a sleek, visually attractive iPhone case that serves a great function — less stuff weighing down your pockets.
If you can trim your essential carry down to 2 or 3 cards, this case around your iPhone 7 may be the only thing you need to grab when you walk out the door.
The Mujjo Leather Wallet iPhone 7 case is available on Amazon for $44.90.
Best value: TOZO case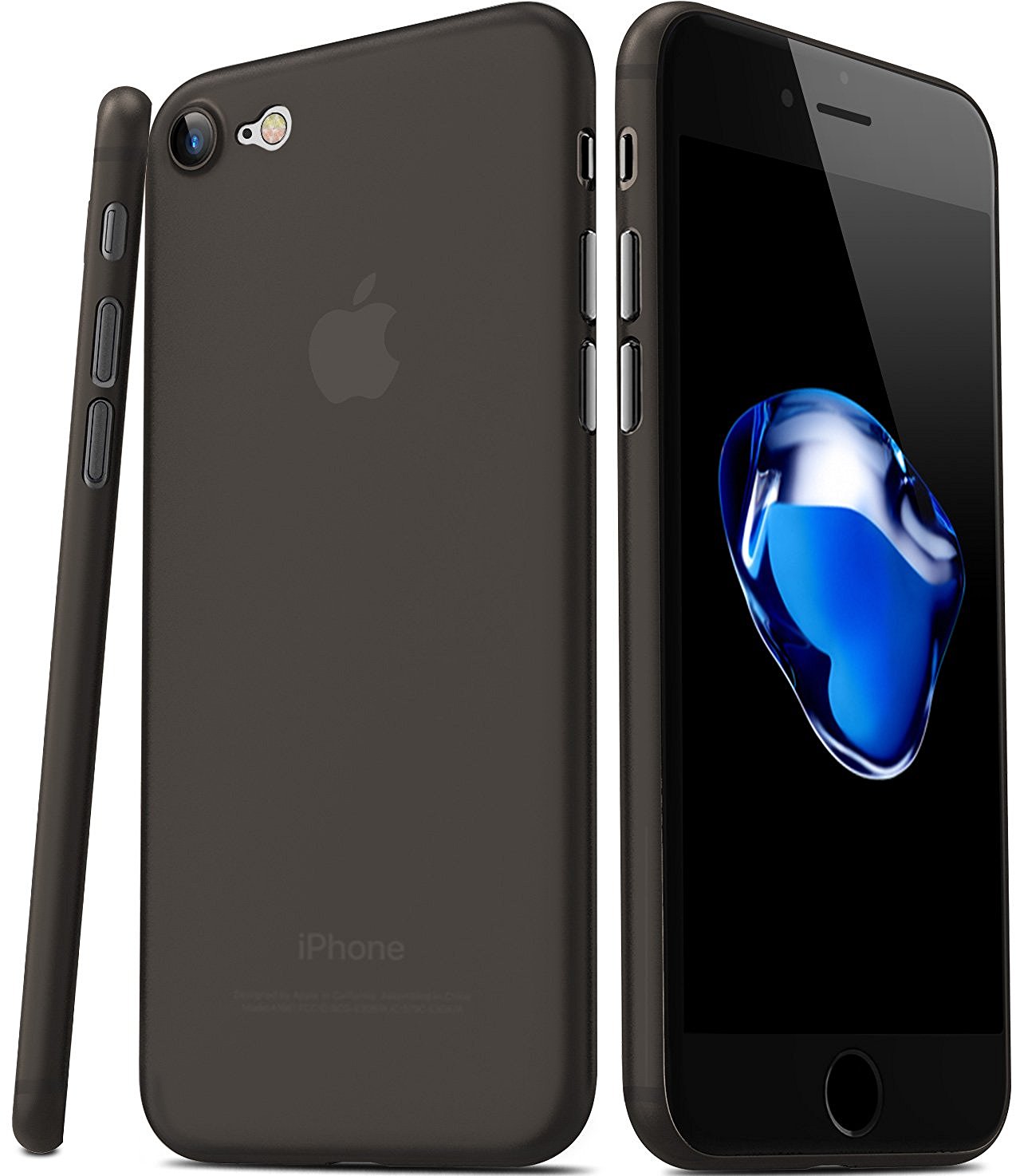 Yes, you can (somewhat) protect your iPhone 7 for less than $10.
The TOZO case is a sleek and semi-translucent matte-finished case that offers more than just scratch protection. This affordable case offers an extra level of protection around the camera lens, as well as a raised bezel to defend the screen against a direct fall to the ground.
The design of the TOZO is simple and understated, allowing the iPhone to show through while the matte finish eliminates harsh glare. The finish also prevents the buildup of hand grease (gross) and fingerprints. As for customization, it comes in three stylish colors: mocha black, frost white, and ore blue.

All in all, there's not much to say about this case other than the fact that it's under $10 and offers some solid basic protection and style. If you're looking for a solid budget option, we can't find a case more economical than this.
The TOZO iPhone 7 case is on sale on Amazon for only $8.99.