If you purchase an independently reviewed product or service through a link on our website, we may receive an affiliate commission.
Settling outside for a nice afternoon when it's warm out is what many people would describe as an ideal day. Sitting on a patio or a deck and enjoying people's company can be a pleasant way to spend your day. However, you could become a bit restless if you're sitting all day, as those of us who like to be up and moving around can get. If you're looking to add an activity into your afternoon in the backyard, a time-tested game is never a bad idea. Setting up a match of horseshoes in your backyard is a smart choice, as that will definitely get the competitive juice flowing and make it so that you're up and tossing. Challenge someone who you are spending the day with to a game of horseshoes with any of the five sets we've highlighted below. You'll have a better time and then you'll be able to sit back down afterwards and discuss who won.
Enjoy a versatile game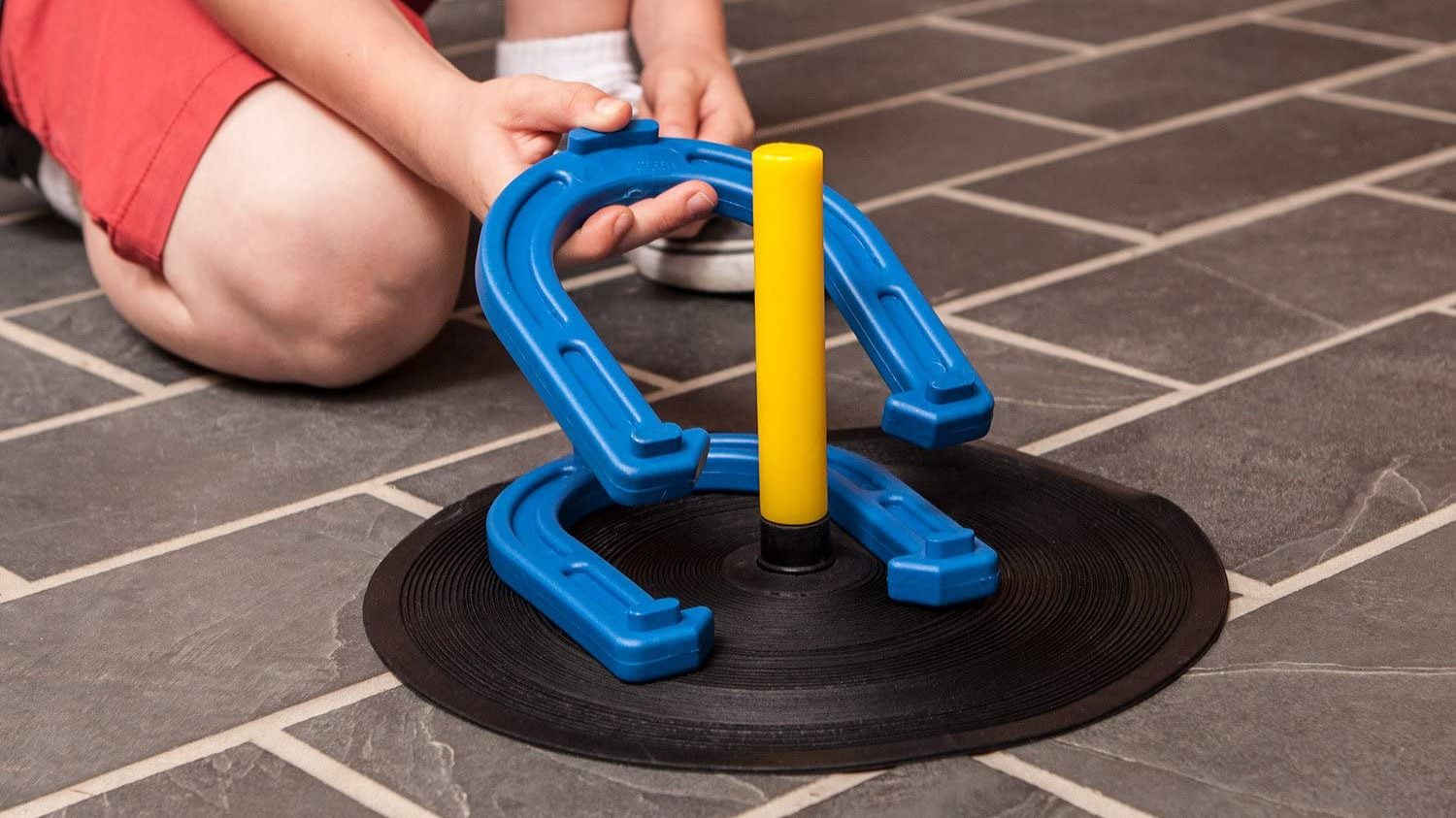 You'll be able to play indoors or outdoors when you have the Champion Sports IHS1 Rubber Horseshoe Set. This is a rubber design for all ages, so it's safe to play for kids and adults. It comes with lightweight rubber playing mats and horseshoes, making it suitable for playing inside or outside. These won't damage floors or walls and the set is sure to stay in place. These have bright, vibrant colors, as the horseshoes are bright blue or red with a yellow stake. There are four horseshoes, two mats, and two red dowels, giving you everything you need to have a good time. These are made to be easy and convenient to set up and tear down right out of the box.
Key Features:
Four horseshoes, two mats, and two red dowels
Rubber mats and horseshoes for safety
Can be used by kids and adults
Champion Sports Indoor/Outdoor Horseshoe Set
List Price:
$22.99
Price:
$14.49
You Save:
$8.50 (37%)
Available from Amazon, BGR may receive a commission
Work with real steel
An upgrade from older sets, the Triumph Steel Horseshoe Set includes all that you'll need. There are four cast horseshoes that are either silver or gold powder-coated, so you're able to tell them apart. These are durable and long-lasting, so you'll be able to use them for an extended period of years. This set adds to any outdoor gathering and you can place the stakes in the ground and then pick them up when you leave. The two stakes are 20″ in length with a silver hammer finish. You can put them in the sand or the ground.
Key Features:
Four steel horseshoes and two stakes
Durable and long-lasting
Silver or gold powder-coated
Triumph Steel Horseshoe Set - Includes 4 Steel Horseshoes and 2 Stakes
Price:
$38.00
Available from Amazon, BGR may receive a commission
An ideal starter set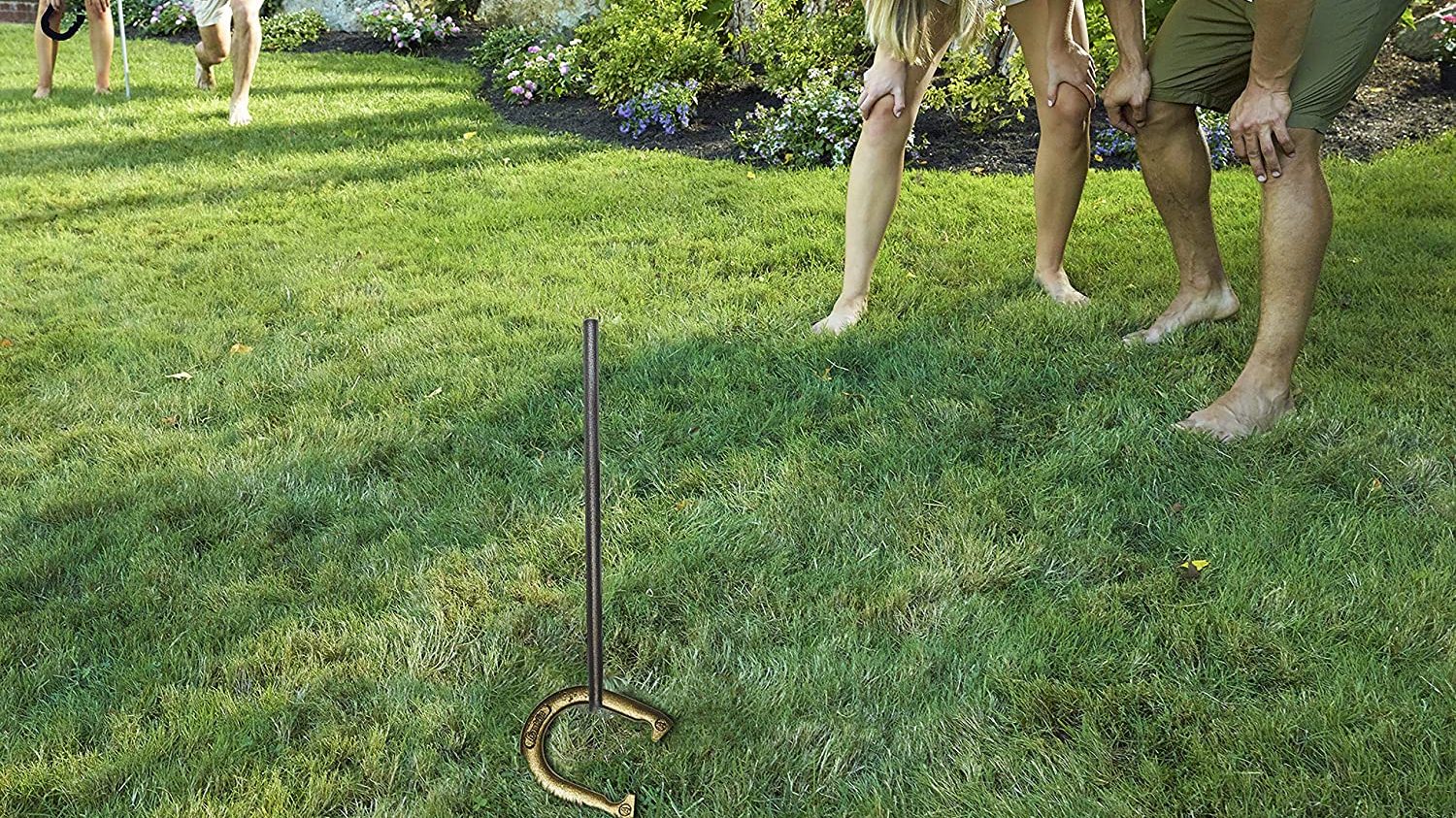 If you or your friends are just learning how to play the game, you should consider the Franklin Sports Starter Horseshoes Set. This comes with two gold and two silver horseshoes that are made from cast iron. This includes all that you'll need to play and it maximizes playability by lasting a long time. It comes with two 20″ solid stakes that are meant to be put in halfway to the ground or sand to play. The weight of each horseshoe is 2.1 pounds.
Key Features:
2.1 pound horseshoes
Four horseshoes and two stakes made from cast iron
Built to last
Franklin Sports Horseshoes Sets - Includes 4 Horseshoes and 2 Stakes - Official Weight Horsesho…
List Price:
$39.99
Price:
$35.69
You Save:
$4.30 (11%)
Available from Amazon, BGR may receive a commission
Play like the pros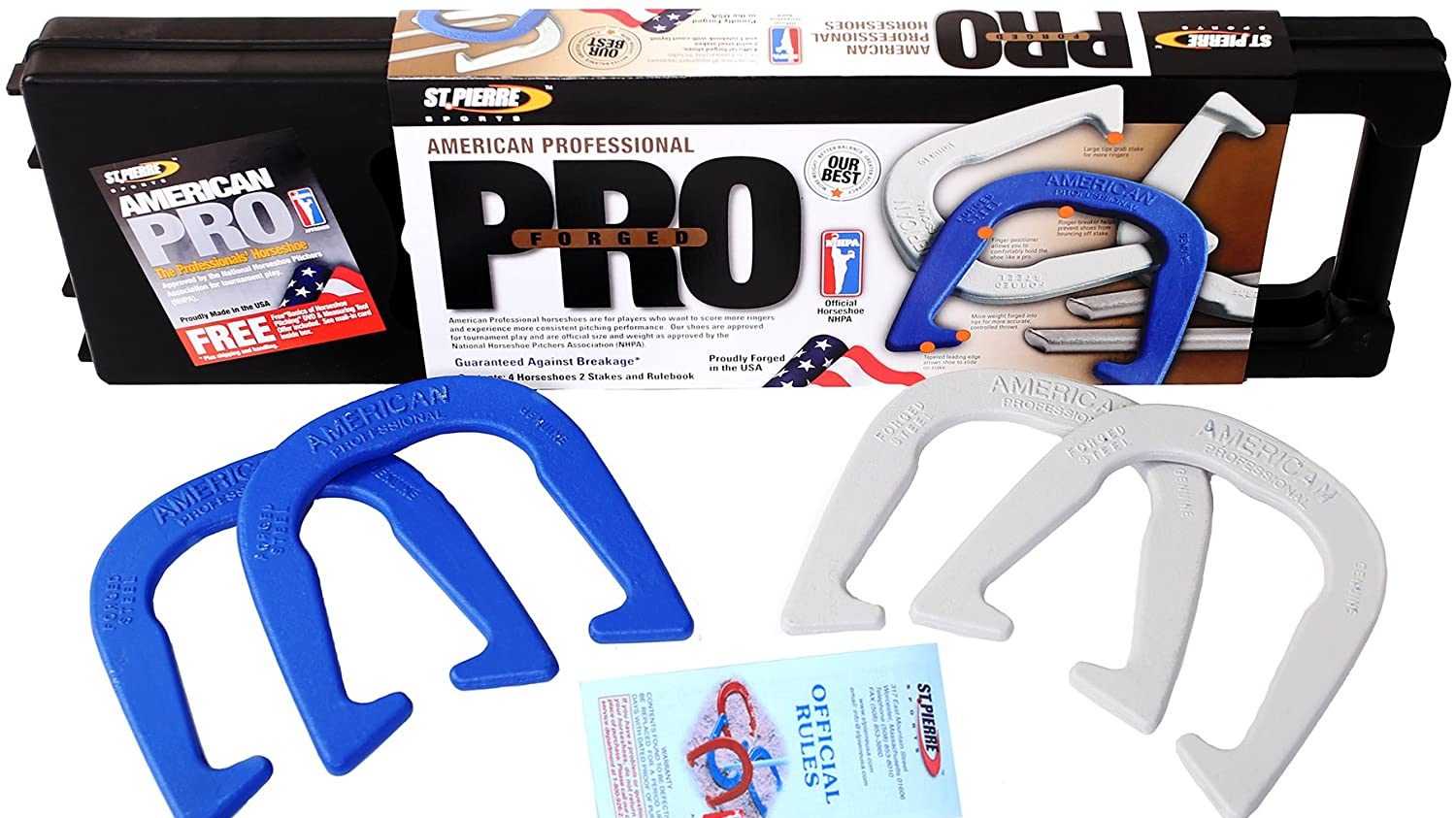 The St. Pierre American Professional Series Horseshoes Complete Set is ready to be played. They come in either blue and grey or blue and red to help you differentiate your horseshoes. They are NHPA-approved and have more weight forged into the tips to improve balance and control. There is also a tapered leading edge to let the shoes slide into the stake easily. The horseshoes have longer tips to grab the stake and there is a finger positioner to hold it properly. The horseshoes are made from forged steel for an authentic feel.
Key Features:
NHPA-approved
Tapered leading edge on the stake
Finger positioner on the horseshoes
St. Pierre American Professional Horseshoe Set
Price:
$59.95
Available from Amazon, BGR may receive a commission
Don't play with this set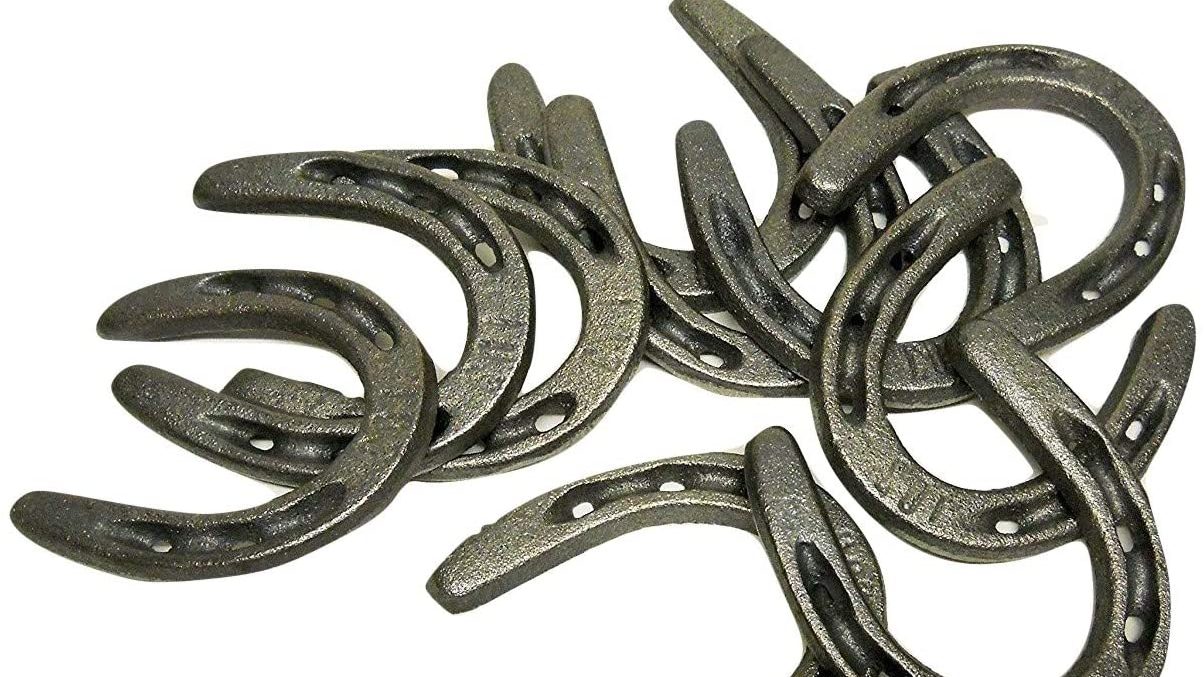 Horseshoes also make terrific decorations, especially if you grew up around horses. The Carver's Olde Iron 20 pc Cast Iron Horseshoes are terrific for crafting. These are each 3.5″ tall and 3″ wide and they come in a pack of 20. There are holes that make them easy to hang and they are perfect for any kind of Western decor. You can also use them as an attachment and mount them. You're sure to find a great place for these.
Key Features:
20 horseshoes in a pack
Holes to hang easier
3.5″ tall and 3″ wide
20 pc Cast Iron Horseshoes for Decorating and Crafts 3 1/2" T x 3" W
Price:
$28.99 ($1.45 / Count)
Available from Amazon, BGR may receive a commission