If you purchase an independently reviewed product or service through a link on our website, we may receive an affiliate commission.
You don't need to be Winnie the Pooh to enjoy honey. Honey is such a versatile food as it can be used in a multitude of ways. You can add it to your tea or you can add it to your bread. Sweetening your dishes with honey can make them more memorable and you can add honey to pastries, cakes, and baked goods. Ever had honey on a waffle? If not, you're missing out. Anyway, if you're a tea drinker who loves a bit of honey in their morning or nighttime cup or you fancy it with other meals, you need a honey pot. This is an ideal place to store your honey, so it's always ready. Trying to get some honey out of a thin jar can be a real pain and it's hard to get a precise amount. With any of the honey pot or jar options we've handpicked for you below, you'll have honey easily available to you. Check them out.
Best Stoneware Honey Pot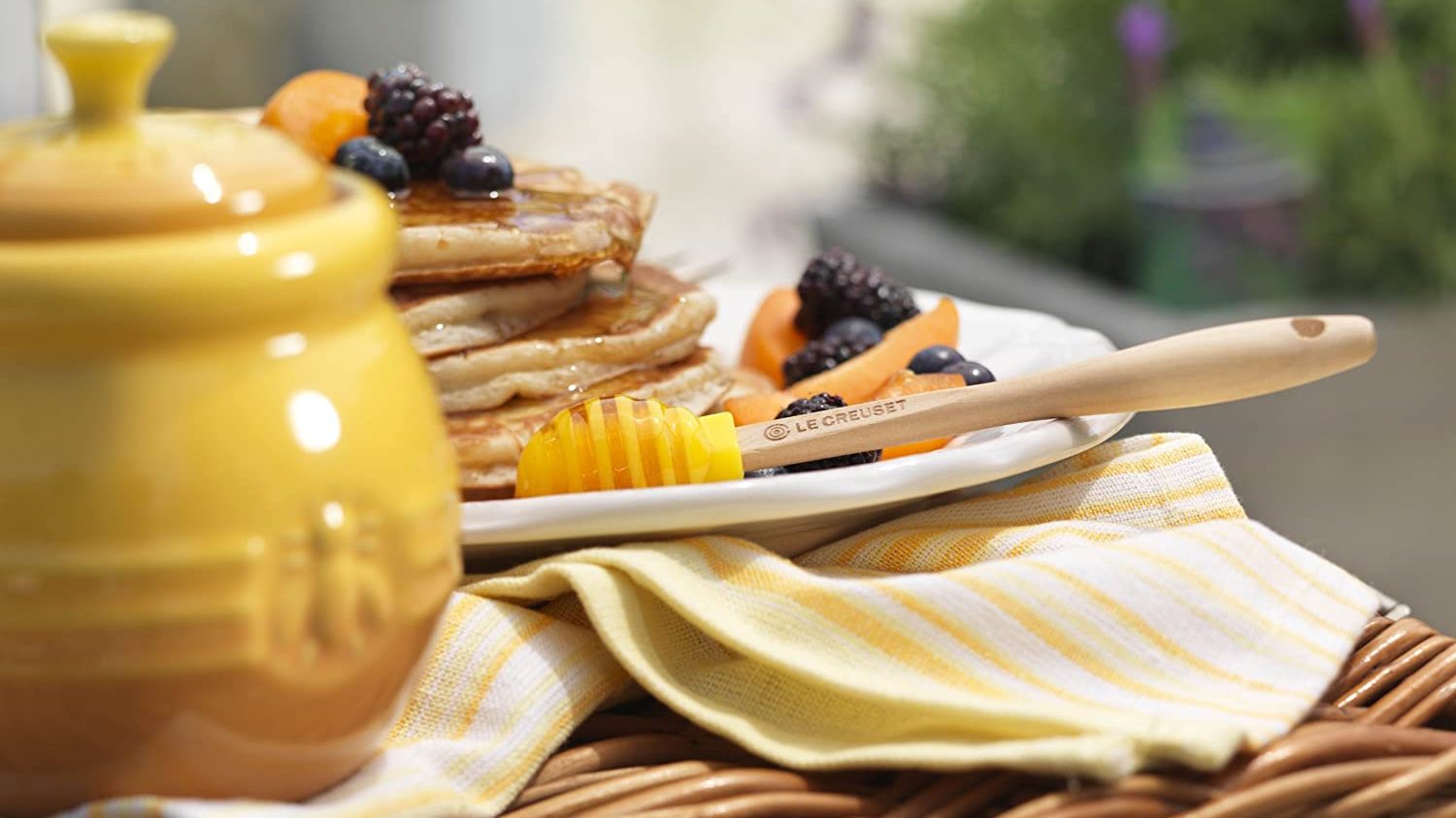 It's pretty hard to make a cuter honey pot than the Le Creuset PG1015-1070 Stoneware Honey Pot. This holds up to 16 ounces of honey, so you'll have plenty to use each time you take it out. This has an exquisite finish made from non-porous enamel that shines. It also makes it durable, as it resists odors, stains, chipping, and cracking. There is a special cut out in the lid to accompany the silicone honey dipper, so you don't have to provide your own honeycomb to get some. It measures 5″ x 4″ x 4″, so it won't take up much room in your kitchen or on your countertop. You can put it anywhere, as it's microwave-safe and oven-safe up to 500°F. Cleaning it is simple, as it can be put in the dishwasher.
Le Creuset Stoneware Honey Pot with Silicone Dipper, 16 oz., Dijon
Price:
$52.87
Available from Amazon, BGR may receive a commission
Best Honey Dispenser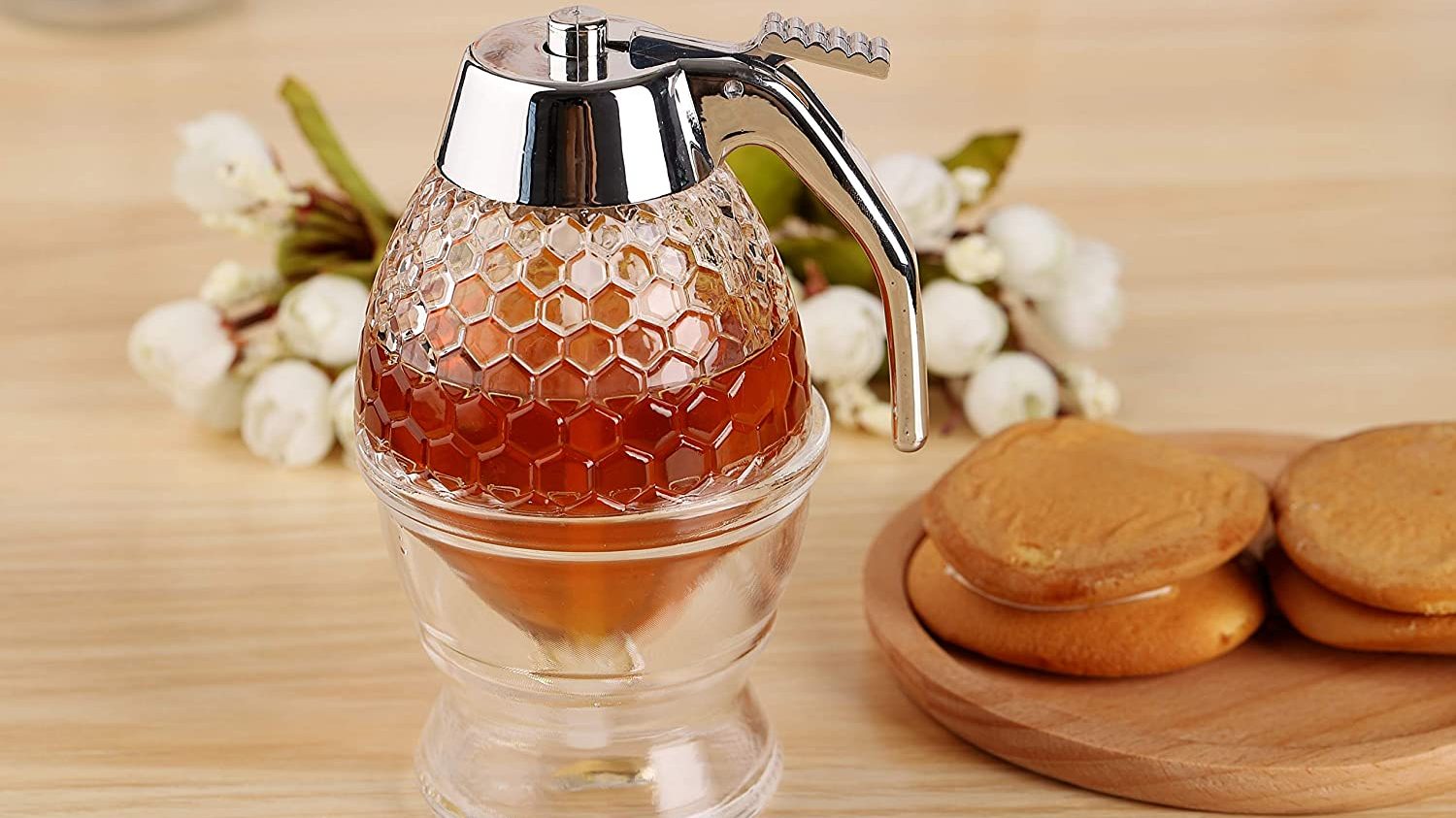 Being able to squeeze the right amount of honey for your need is simple when you have the Hunnibi Honey Dispenser No Drip Glass. Honey is obviously a sticky substance, but this won't drip, so you won't have a mess to clean up. You don't even have to wait for the honey to slowly drip towards the opening, as the design of the dispenser has the opening at the bottom. The release button on the handle opens the spout and releasing it will close it off again. It holds eight ounces of honey at a time, so you won't be refilling it constantly. The bottom keeps the honey server airtight, keeping your honey fresher and not dried out. This can also be used for syrups and other liquids.
Hunnibi Honey Dispenser No Drip Glass - Maple Syrup Dispenser Glass - Beautiful Honey Comb Shap…
List Price:
$32.99
Price:
$25.99
You Save:
$7.00 (21%)
Available from Amazon, BGR may receive a commission
Best Value Honey Pot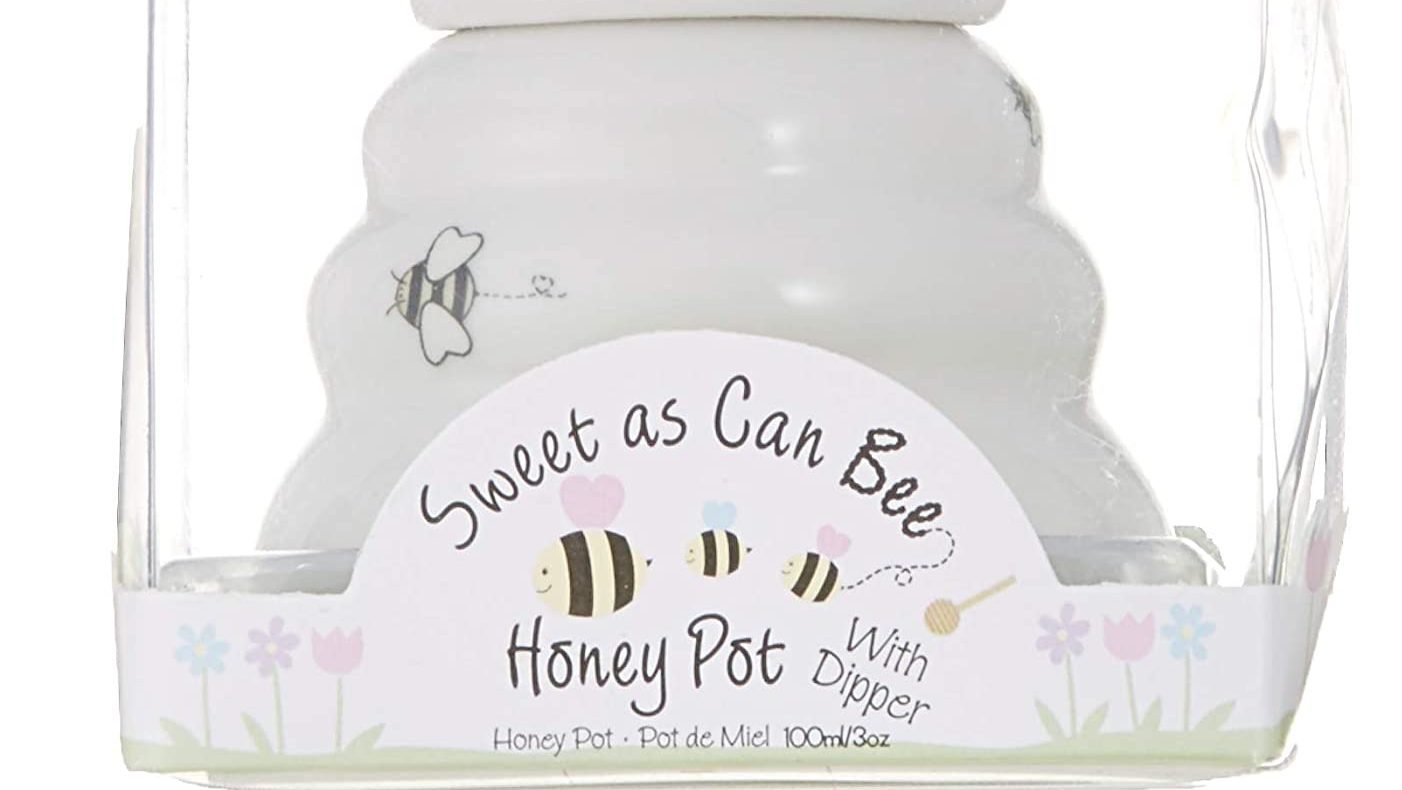 For a delightful addition to your kitchen that won't put a huge dent in your wallet, look at the Sweet As Can Bee Ceramic Honey Pot with Wooden Dipper. This is an extremely cost-effective option that will look great on your table. This is a perfect baby gift for someone as well. It is shaped like a beehive and is made from ceramic and painted white. It is accented with yellow and black honeybees on the base and lid for more decoration. The wooden dipper that's included has a storage space in the lid, so you'll always know where it is. It measures 3″H x 2.75″D, making it a great size to transport from countertop to table.
Sweet As Can Bee Ceramic Honey Pot with Wooden Dipper
Price:
$9.03
Available from Amazon, BGR may receive a commission
Best Crystal Honey Jar
The STUDIO SILVERSMITHS Beehive Crystal Honey Jar is a stunner of a piece for your home. It is crafted from high quality crystal material and is also made in the shape of a beehive. This is a stylish piece that works well in any setting. It measures 5.25″ high and 4.5″ in diameter, while the dipper that is included is 6″ long. The crystal is non-lead and the dipper is made from wood, so the entire set is safe to use with your food.
Beehive Crystal Honey Jar
Price:
$18.96
Available from Amazon, BGR may receive a commission
Best Mini Honey Pot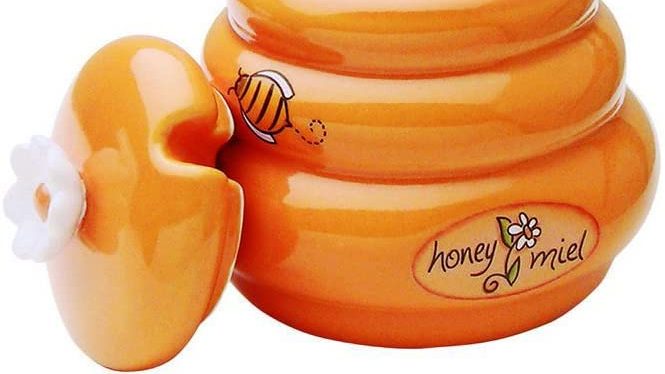 Adding a little piece of decor to your bright kitchen, the Joie Ceramic Mini Beehive Honey Pot and Wooden Dipper is a cute touch. This keeps honey fresh and is perfect for lovers of warm beverages. The dipper has a handle that has a bee on it for a fun design. It measures 4″ x 3″ x 6″ and only weighs 0.16 ounces empty. This functional honey pot will keep your honey messes at bay and is dishwasher safe, but it is recommended to be hand washed if you are caring for it.
Joie Ceramic Beehive Honey Pot and Wooden Dipper, Mini
Price:
$11.88
Available from Amazon, BGR may receive a commission