If you purchase an independently reviewed product or service through a link on our website, we may receive an affiliate commission.
They always say that making things fresh is the best way to enjoy your food. If you can make it at home, why wouldn't you? Sure, there are plenty of things that are more easy to buy, but when you're making things at home, you can be certain how your food is made up. One thing you may not think about as something you can make from home is yogurt. Making homemade yogurt allows you to add any type of fruit or flavoring you desire. Utilizing a yogurt maker makes the process even easier. In fact, you can make homemade yogurt quicker than it may take you to jump in the car to go and get some. If, like many people, this never crossed your mind, do we have some surprises for you. Below, we've handpicked our favorite yogurt makers to give your breakfast or lunch a boost. Let's take a look at a great way to make your food fresher.
Best Yogurt Maker for Large Quantities
If you're looking to plan ahead for a while or you have a lot of hungry family members who love yogurt, you can opt for the Cuisinart CYM-100 Electronic Yogurt Maker. This is a 50-ounce container that allows you to make more than six eight-ounce containers at once. It has a built-in cooling system that automatically shifts to the perfect chilling temperature. It's extremely easy to operate, as you just need to push a button to start and stop it. There are time controls that make it easy to set the recommended fermenting time, based on the recipe that you're using. This boasts 120 volts of energy and has a stainless steel makeup and styling. This machine is BPA-free and has a digital time display that makes it easy to know how much time you have left on them. The housing lid has a scoop in it that makes it easy to portion out. All you'll need to do is add your favorite kind of milk, your favorite flavors and press the button for it to start.
Cuisinart CYM-100 Electronic Yogurt Maker with Automatic Cooling,3.12lb Jar capacity,(1.5L)
Price:
Available from Amazon, BGR may receive a commission
Easiest Yogurt Maker to Clean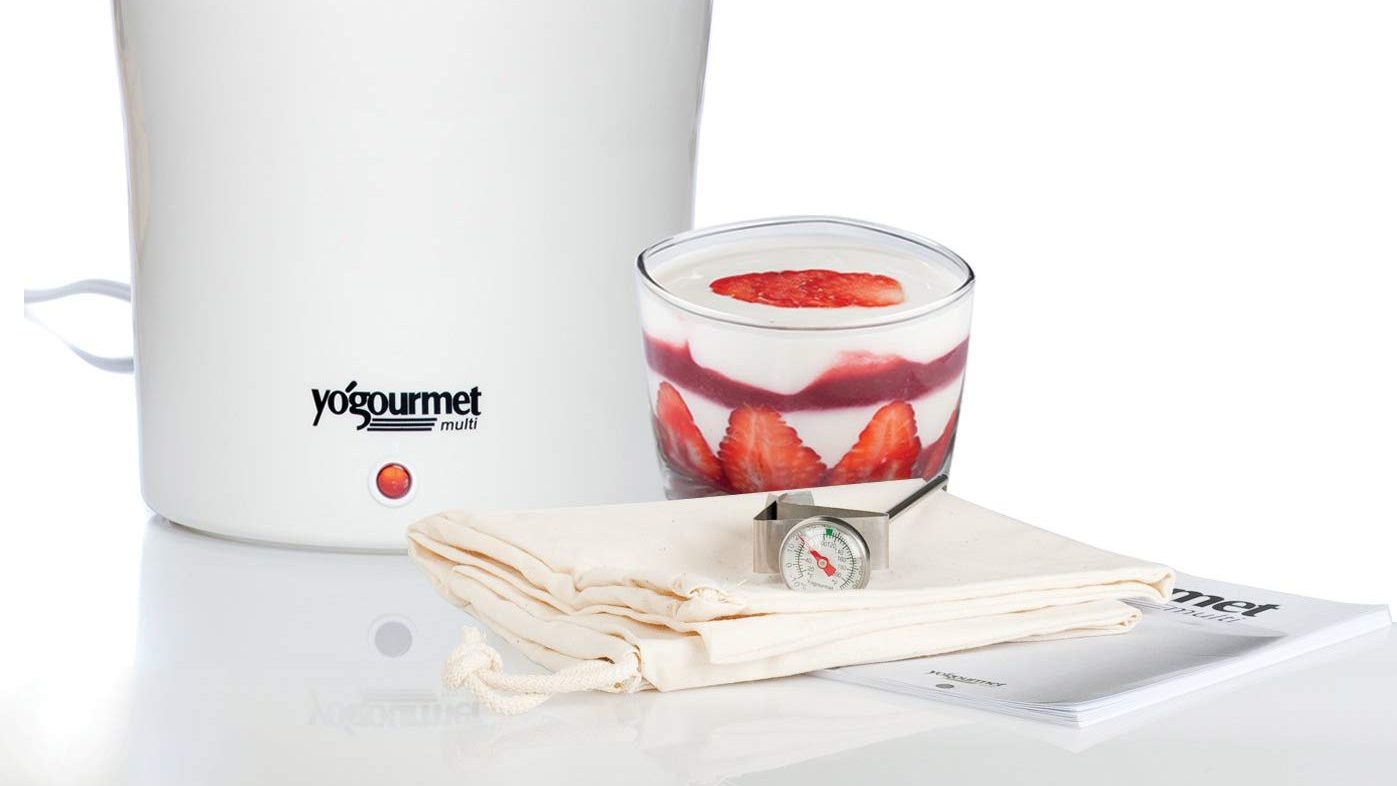 While it may not be the first thing you think about when you're purchasing a new kitchen item, cleaning something like a yogurt maker can be messy, especially if you forget about it and it's caked on. For a yogurt maker that you can put, mostly, in the dishwasher, check out the Yogourmet 104 Electric Yogurt Maker. The inner container is dishwasher-safe and it comes with a seal-tight lid to keep everything fresh. This is specifically designed to maintain the ideal temperature for preparing healthy and natural yogurt. You don't have to worry about sticking a thermometer in yourself and checking the temperature. This is perfect for anyone who is on a strict carbohydrate diet. It has simple instructions to follow and it also comes with a simple thermometer. You can make up to two quarts of yogurt in four and a half hours. You'll get the rich, creamy texture and natural flavor of the yogurt you desire.
Yogourmet 104 Electric Yogurt Maker
Price:
Available from Amazon, BGR may receive a commission
Best Value Yogurt Maker
For an easy yogurt maker that will save you money, not only when it comes to not having to buy yogurt in the store, but in terms of the price of the machine, take a look at the Euro Cuisine YM80 Yogurt Maker. This is a cost-effective option that will keep money in your wallet. It can make seven, six-ounce containers at once, so you can mix and match flavors without much hassle. There is a simple on/off switch to press and the indicator light lets you know if the machine is on. It comes with glass jars to use that are dishwasher-safe. This is BPA-free and measures 9.5″ x 9.5″ x 6″. It is backed by a three-year warranty, so you're sure to get a good amount of use out of yours. There are markings on the side that let you know how much time until the yogurt cycle is finished. If firmer yogurt is something that you desire, you can create that in here too. Just add 10 tablespoons of powdered milk to the room temperature pasteurized milk before pouring it into the glass jars. The clear lid allows you to view the entire cooking process and keep an eye on how it's going.
Euro Cuisine YM80 Yogurt Maker,White 9.6 Inch
List Price:
$49.99
Price:
$34.98
You Save:
$15.01 (30%)
Available from Amazon, BGR may receive a commission