If you purchase an independently reviewed product or service through a link on our website, we may receive an affiliate commission.
Garnish your dishes with the little pieces of seasoning that will really ramp up the flavors when you sprinkle the herbs you've trimmed with herb scissors. Basil is an herb that boosts pretty much any type of Italian dish while parsley, dill, and rosemary all add their own mark to dishes. Whether you're a big fan of chives or not, it's hard to tear them properly in order to get the sizes that you want. With herb scissors, you'll be able to trim pieces directly into your food, so you know exactly how big a piece will turn out. When you're tearing at herbs, you can't really control what the size is. Herb scissors have multiple blades to work through any tougher stems or leaves. So if you're listening to Simon and Garfunkel and cutting up some parsley, sage, rosemary and thyme, consider using any of the three herb scissors we've highlighted below. Let's take a look at our picks.
Best Herb Scissors Set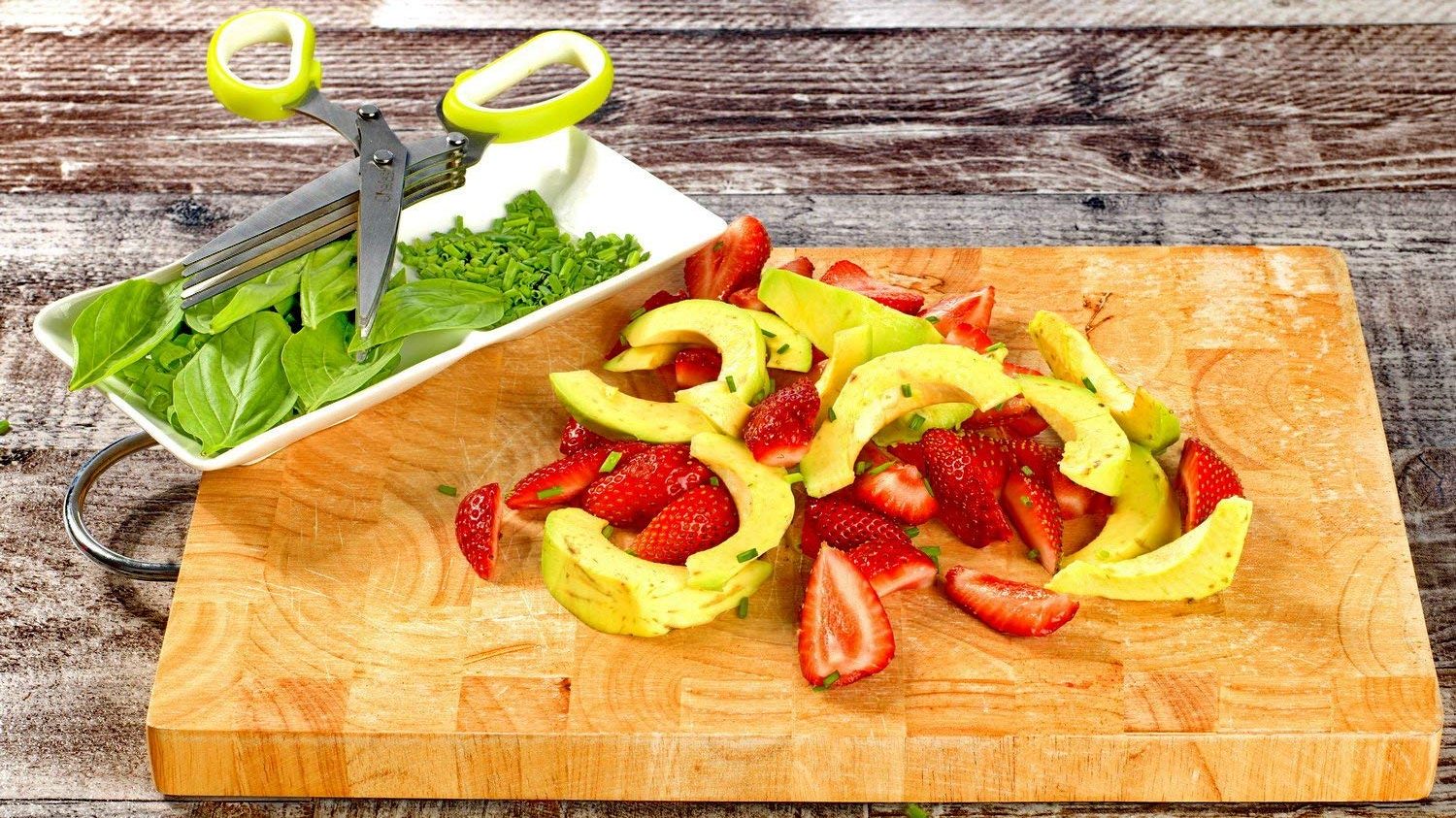 Sometimes, you won't be using all of the herbs you are cutting up during a cooking session. When you can't, you'll need somewhere to store them and when you pick up the Chefast Herb Scissors Set, you'll have a place. For a great combination of both performance and quality, you'll get a pair of herb scissors, two drawstring herb bags, and a safety cover for the scissors that has as brush inside to help clean the scissors. The scissors are made from stainless steel and are made with five, three-inch blades and an ergonomic TPR handle that won't slip. You can use this while cutting up herbs into small pieces or large pieces without a problem. While this has a standard 30-day refund guarantee, it is also backed by a lifetime warranty, in case something were to happen to your scissors while you use them. The herb drawstring bags will keep your unused herbs fresh until you do need to use them. The cleaning comb will give your scissors a quick swipe to get rid of any clingy herbs. You can also give the scissors a quick rinse to have them ready to go for the next time you need them.
Chefast Herb Scissors Set - Multipurpose Cutting Shears with 5 Stainless Steel Blades, Jute Pou…
Price:
$14.99
Available from Amazon, BGR may receive a commission
Best Herb Scissors for Mincing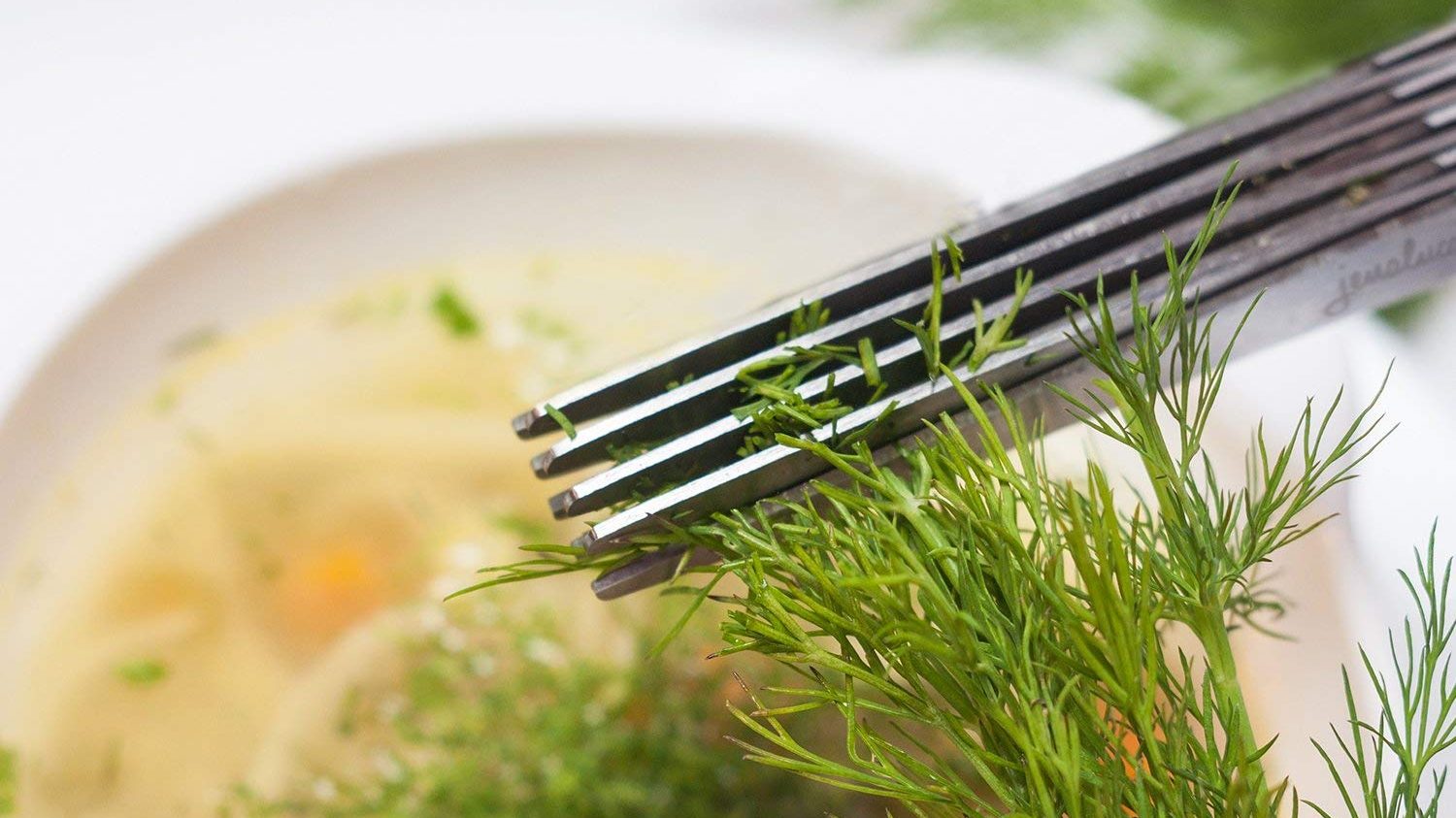 Getting the correct snips of herbs that will work for your dish isn't always the easiest endeavor. With the Jenaluca Herb Scissors, you'll be able to mince, cut, and chop perfectly. There's no tedious chopping with a knife, as you don't have to spend time using a cutting board. This has five sharp blades, which means two snips from these scissors equals 10 cuts from a knife. You can create herbal confetti, so to speak, as you can garnish with finesse. Cilantro is an easy thing to add to many dishes, as you can just snip it over the dishes by using these scissors. You'll get minimal mess and anything that does cling to the scissors can be swiped away using the included comb, reducing any finger cuts you may get from trying to clean it yourself. It also comes with a cover for the scissors, so you don't have to leave them open the elements. The stainless steel won't rust and this makes for a perfect gift for anybody in your life.
Jenaluca Herb Scissors with 5 Blades and Cover - Cool Kitchen Gadgets - Cutter, Chopper and Min…
List Price:
$21.87
Price:
$16.89
You Save:
$4.98 (23%)
Available from Amazon, BGR may receive a commission
Best Value Herb Scissors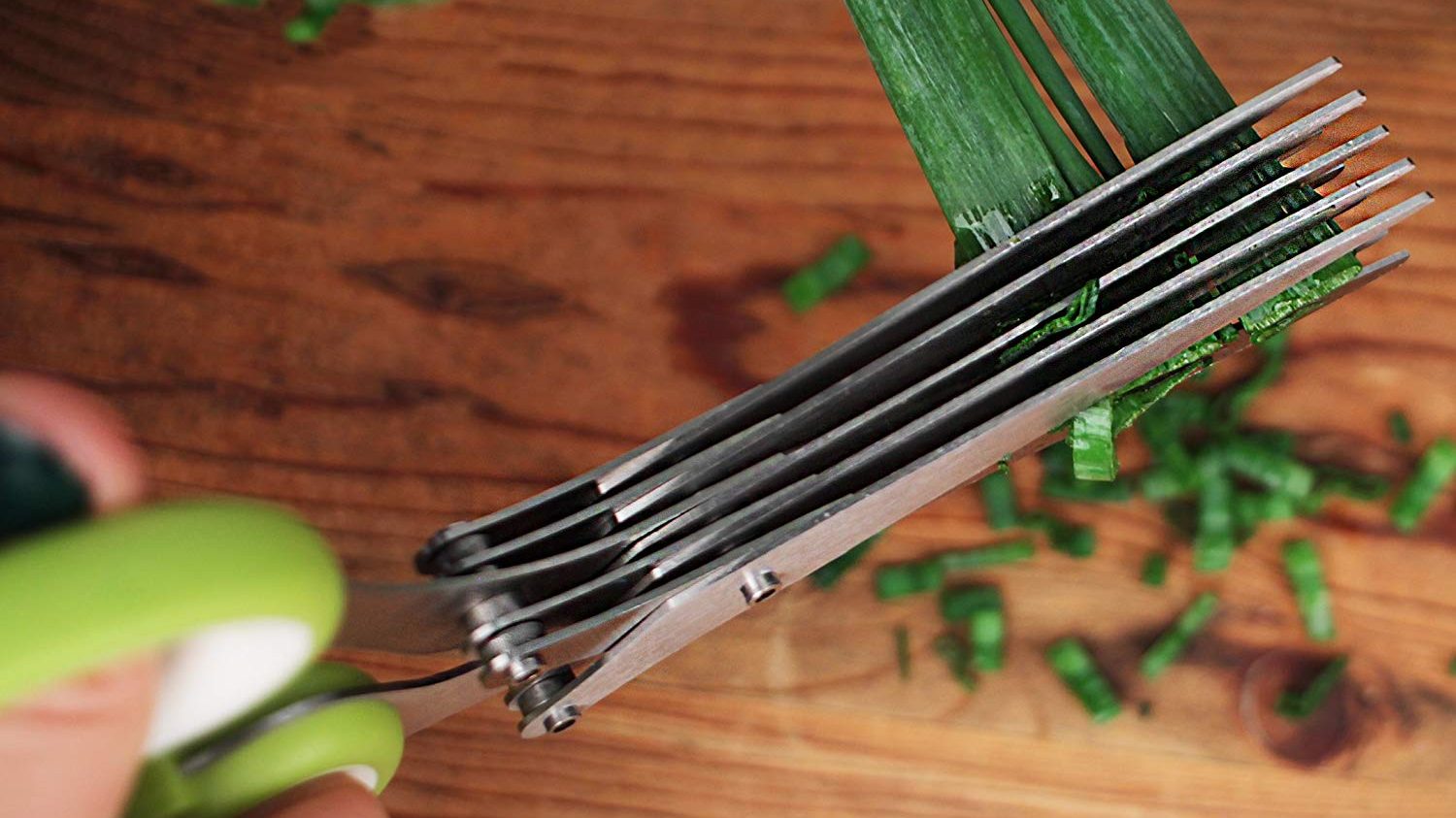 If you're looking for a powerful pair of herb scissors that won't cause a huge dent in your wallet, reach for the RSVP International SNIP Stainless Steel 5 Blade Herb Scissors. This cost-effective pair of scissors is great addition to any kitchen, as it comes with a protective cover and a cleaning comb. The scissors are also dishwasher safe, meaning if you can't scrape something off with your comb, you can wash them that way. This pair comes with a non-slip and comfortable handle, making them easy to use. The five, three-inch, stainless steel blades are extra sharp and will always stay together. This is great for basil, thyme, parsley, dill, chives, mint, or fennel. This helps preserve the healthy benefits of using herbs and will allow you to quickly garnish your dishes. The blade cover is BPA-free and the entire set takes up very little space in your drawer or kitchen utensils holder. You can also just rinse this off in the sink if that's easier for you to clean them.
RSVP International Fruit & Vegetable Kitchen Tool Collection Dishwasher Safe, Herb Scissors, GR…
Price:
$11.51
Available from Amazon, BGR may receive a commission