If you purchase an independently reviewed product or service through a link on our website, we may receive an affiliate commission.
How could you be expected to perform for at least an hour and then come out and do an encore to your adoring fans while having to hold your guitar in your arms without any support? That may not seem like such a big deal to some people, but for those who play the guitar, you know how much those bad boys can weigh. Whoever first thought of putting a strap on a guitar was looking out for the millions of players to come in the future. Attaching a strap to your guitar makes it much easier to play, allowing you to shred through a riff without having all the stress on your fingers, arms, and shoulders. No matter what type of guitar you play, whether it's an electric, acoustic, or a bass, there are plenty of straps out there for you. We've hand selected five of our favorites to give you an idea of what's on the market. Take a look and get ready to strum some sweet chords.
Best Value Guitar Strap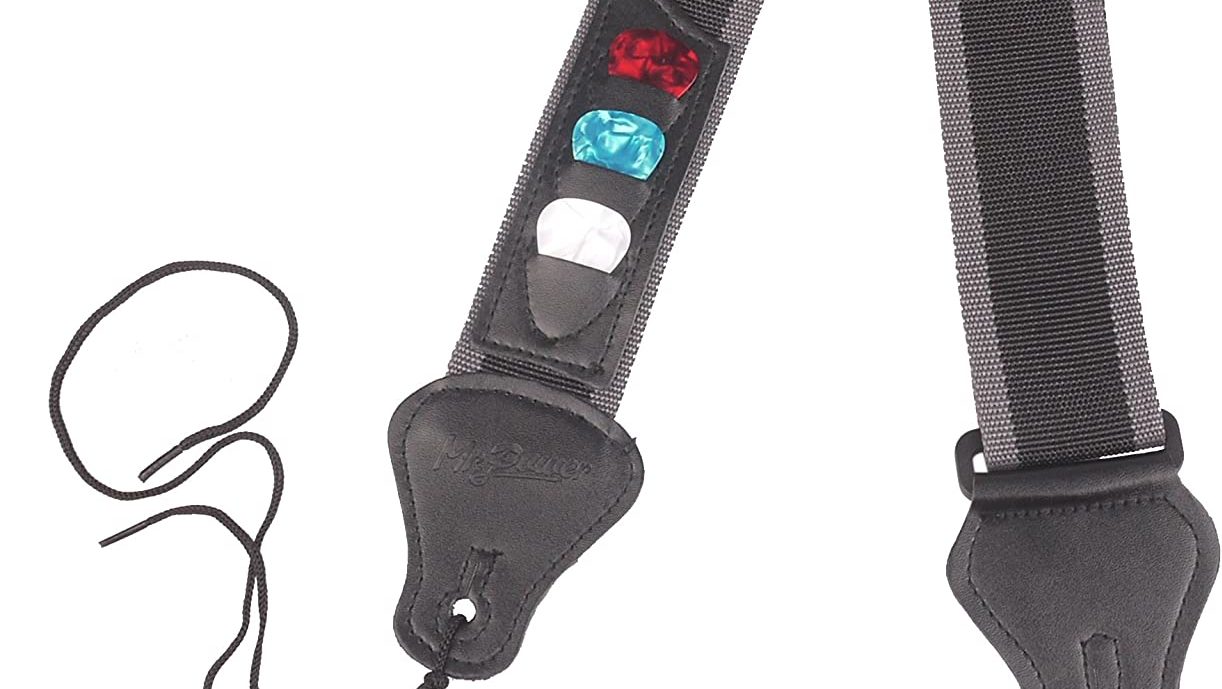 For those starting out and learning how to play the guitar, you're probably going to want something that is inexpensive. The Mr. Power Guitar Strap with 3 Pick Holders is a solid, cost-effective option for any player. You are able to adjust this from 36″ to 65″, so this can work for many different sizes of people. There is a pick holder at one end that has the capability to hold three picks, so you'll always have one available to you when you need one, even if you happen to throw one to your adoring fans. This is made from nylon and comes in a black and grey color that will fit in nicely with most guitars.
Mr.Power Guitar Strap with 3 Pick Holders for Electric/Acoustic Guitar (Nylon Strap)
List Price:
$9.00
Price:
$5.99
You Save:
$3.01 (33%)
Available from Amazon, BGR may receive a commission
Best Leather Guitar Strap
The Legato Guitar Strap is comfortable to wear and will never go out of style. This is made from genuine leather and is adjustable between 50″ and 57″. It can be worn at average height for a really tall person and it will evenly distribute the weight throughout the shoulders, so one area of your back or neck won't be under more stress. This is durable and versatile, as it's made to last for years. This can be strapped onto any guitar, so whether you're a lead guitarist or a bass player, you'll be set. It features a two-tone brown finish and exquisite stitching, so it looks the part as well as feels legitimate. It is meant to be comfortable with dual padding, meaning you can use it for long gigs or short practices.
Price:
Available from Amazon, BGR may receive a commission
Best Tweed Strap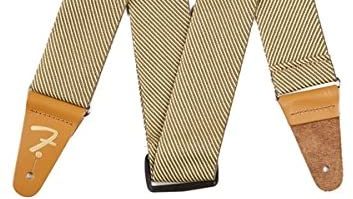 Boasting one of the most recognizable names in all of music, the Fender 2 Vintage Tweed Strap fits the bill. This provides a versatile fit for most players, as the 2″ wide strap makes it feel comfortable. You can fully adjust the length of the strap between 44″ and 52.5″, meaning a large number of people can use it. The classic tweed material gives your guitar strap a real vintage vibe, no matter what kind of music you're playing. Each end is made from leather and the embossed "F" logo makes it stand out.
Fender 2 Vintage Tweed Strap
List Price:
$19.99
Price:
$15.05
You Save:
$4.94 (25%)
Available from Amazon, BGR may receive a commission
Best Color Variety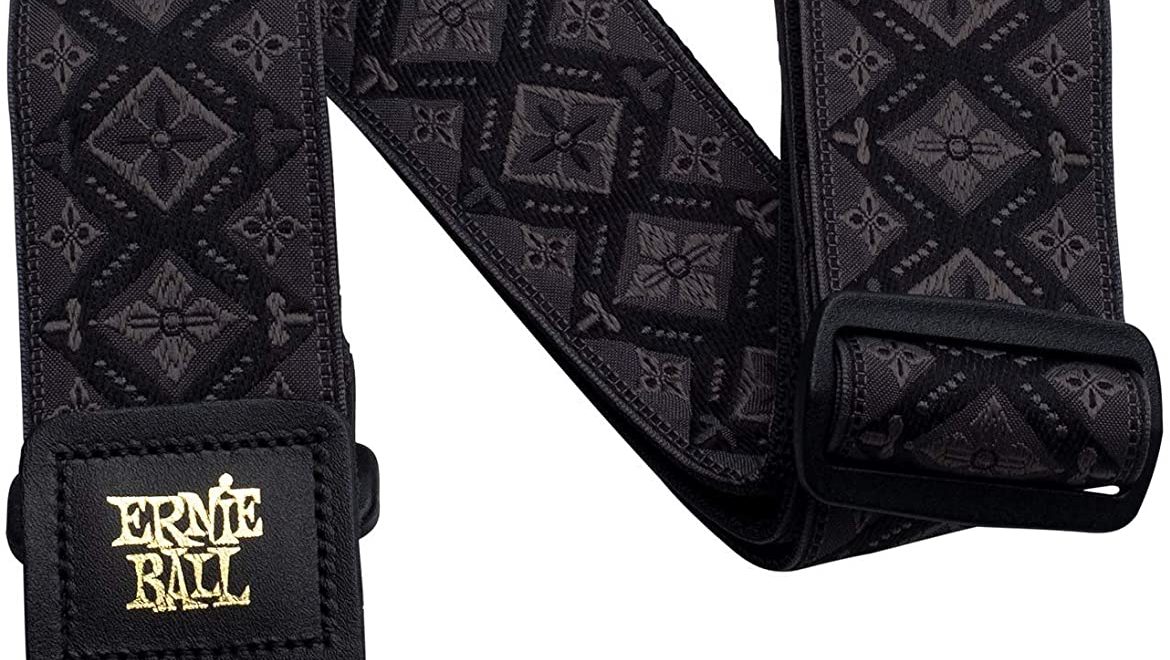 If you're looking to match your guitar color with a sweet guitar strap, then check out the array offered by Ernie Ball Jacquard Guitar Strap. There are 25 different colors and patterns to choose from, ranging from Regal Black to Taos Fire Red to Peace Love Dove (which are just the symbols from the 1960s generation). This utilizes the world's number one selling nylon strap and provides you with a cool look for your axe. This gives you a ton of flexibility when it comes to adjustments, as you can set it to anywhere between 38″ and 68″. The ends are made from real leather for a lasting appeal.
Ernie Ball Jacquard Guitar Strap, Regal Black (P04093)
Price:
$19.99
Available from Amazon, BGR may receive a commission
Best Strap for Bass Guitars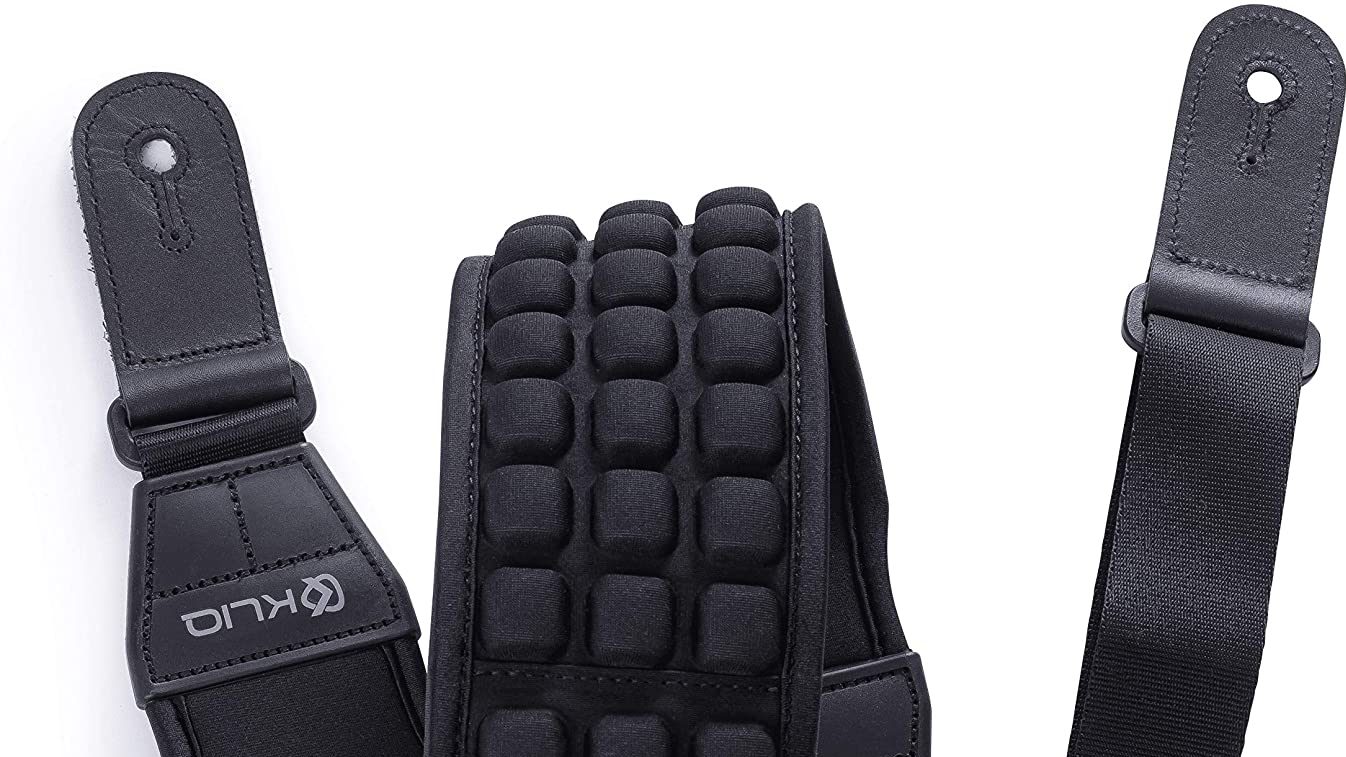 Many have been known to slap the bass and, for them, there's the KLIQ AirCell Guitar Strap for Bass and Electric Guitars. The unique air cells on the underside of the strap offer flexibility and added comfort while you're playing. The neoprene shoulder pad distributes the weight more evenly, limiting stress on your shoulder and joints. You can adjust it between 46″ and 56″ in the regular size, but there are also other sizes to choose from. This also wicks away moisture, so when you're playing a wild show and giving it your all, you won't be soaked by the end of the set.
KLIQ AirCell Guitar Strap for Bass & Electric Guitar with 3" Wide Neoprene Pad and Adjustable L…
Price:
$39.99
Available from Amazon, BGR may receive a commission