If you purchase an independently reviewed product or service through a link on our website, we may receive an affiliate commission.
Whether you love online gaming and battling with your friends or playing through the story line of an action-adventure game, there are a ton of ways to game. There are sports games, puzzle games, military-style games, science-fiction games, and many others to choose from. If you're someone who loves to game on their desktop or laptop, you need to have a proper setup. That doesn't just include a computer with killer graphics and a speedy processor. You also need a place to put everything. A gaming desk is specifically designed for gamers and is set up to give you success right away. There are places to store your keyboard, controllers, headphones, monitor, and pretty much any other piece of equipment you'll need to properly play. If you're in the market for a gaming desk or you want to start gaming significantly, we've got you covered. Below, we've highlighted five of the best gaming desks out there to get you started. Take a look and find a place for your desk in your home.
It's easy to point and click on this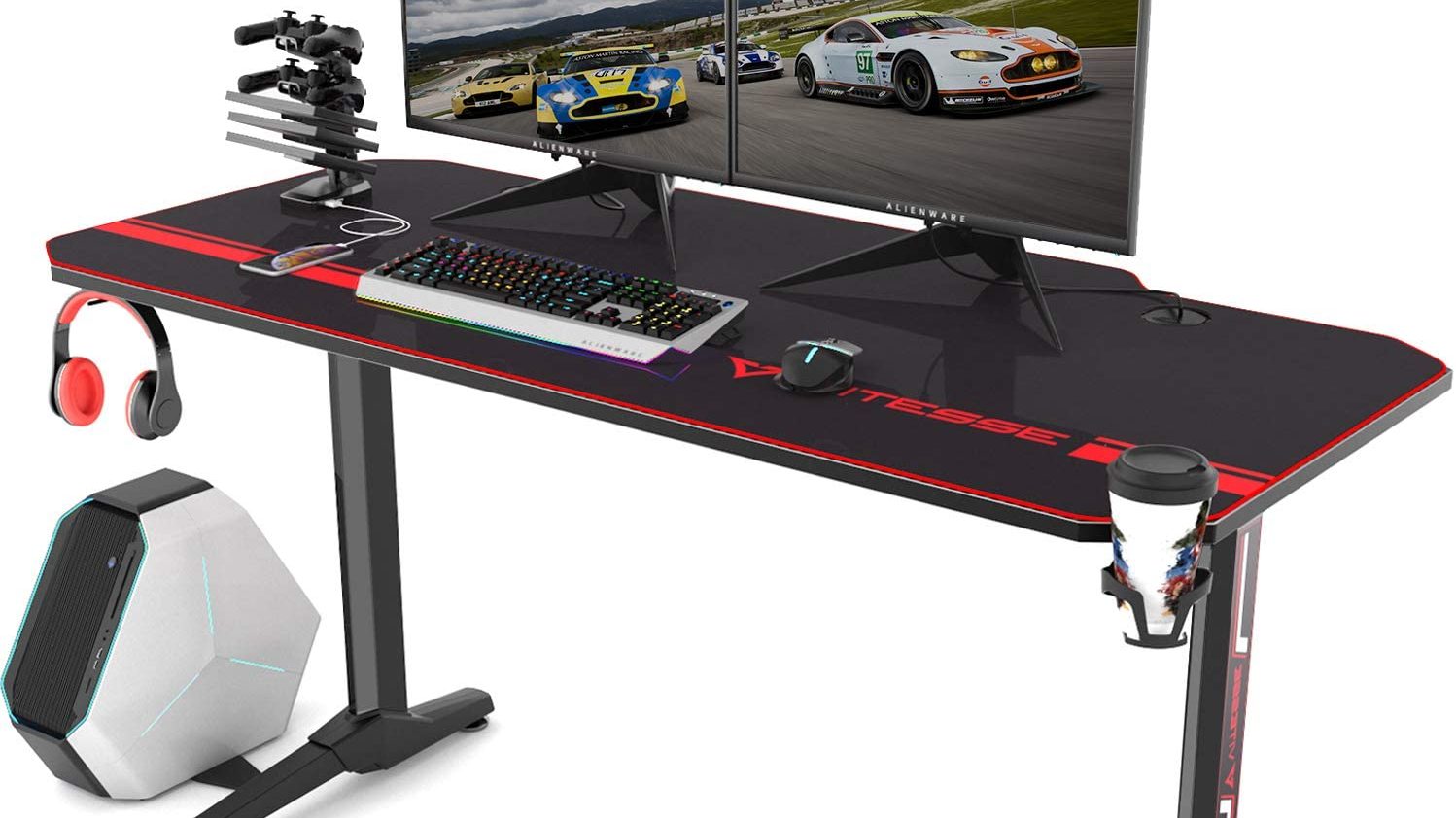 No matter if you're left-handed or right-handed, the Vitesse 55 Inch Gaming Desk Racing Style Computer Desk makes it easy to use your mouse. It measures 55.1″ x 23.6″ for an extra large desktop area. The mouse pad covers the entire surface, so you'll never run out of room and you won't have to worry about your keyboard and mouse being on uneven surfaces. It is constructed with premium density fiberboard and a coated steel frame. This helps ensure stability while you're gaming. This can fit multiple monitors and a bunch of accessories. The T-shaped design and four leveling feet keep the desk horizontal. This comes with a headphones hook and a cup holder as well as a charging rack for your controllers. There are also four USB ports to use, as you can never have too many.
Price:
Available from Amazon, BGR may receive a commission
Sturdy and long-lasting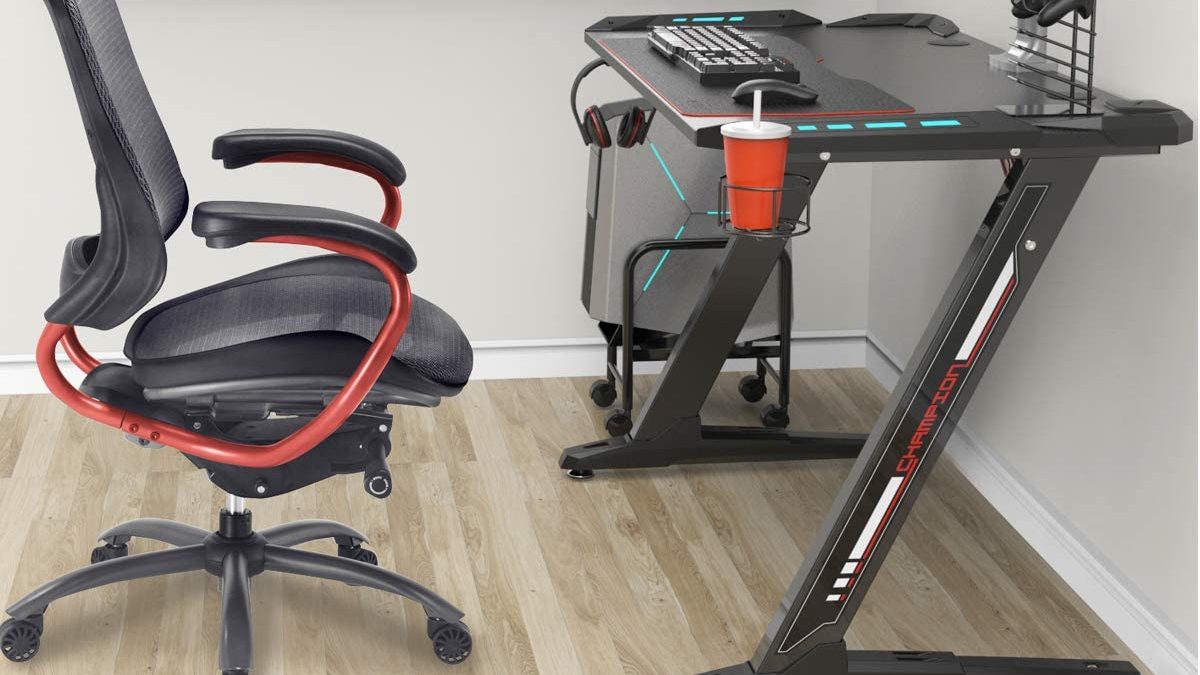 Stable and sturdy, you'll be pleased by how long you sit at the EUREKA ERGONOMIC Z1-S Gaming Desk. This features a large gaming surface that is 44.5″ wide by 24.2″ deep. It can support up to a 40″ monitor. With the four legs and Z-shape, this won't wobble ever. It features LED lighting that glow a cool blue for a sweeter gaming experience. It comes with a cup holder, headphones hook, controller stand, game storage, and an extra large mouse pad that you can put your gaming keyboard and mouse on. Made from sleek carbon fiber, it's built to last.
EUREKA ERGONOMIC Z1-S Gaming Desk 44.5" Z Shaped Home Office PC Computer Desk, One-Piece Table…
Price:
$209.79
Available from Amazon, BGR may receive a commission
Put it in the corner of your office
Perfect for any corner in your home, the GreenForest L-Shaped Corner Desk Computer Gaming Desk comes in three pieces. It's made out of eco-friendly particle board, which is moisture-proof and scratch-resistant. Because it comes in three pieces, you can switch up the layout by deciding which side has two sections. The sturdy frame is bolstered by the edgy architecture and the legs are adjustable, so you can fit them to your liking. The overall dimensions are 58.1″ x 44.3″ x 29.13″ and it comes with all the necessary tools for putting it together.
GreenForest L Shaped Gaming Desk 58.1 inch Reversible Corner Computer Desk for Home Office Work…
Price:
$109.99
Available from Amazon, BGR may receive a commission
Match your color to your home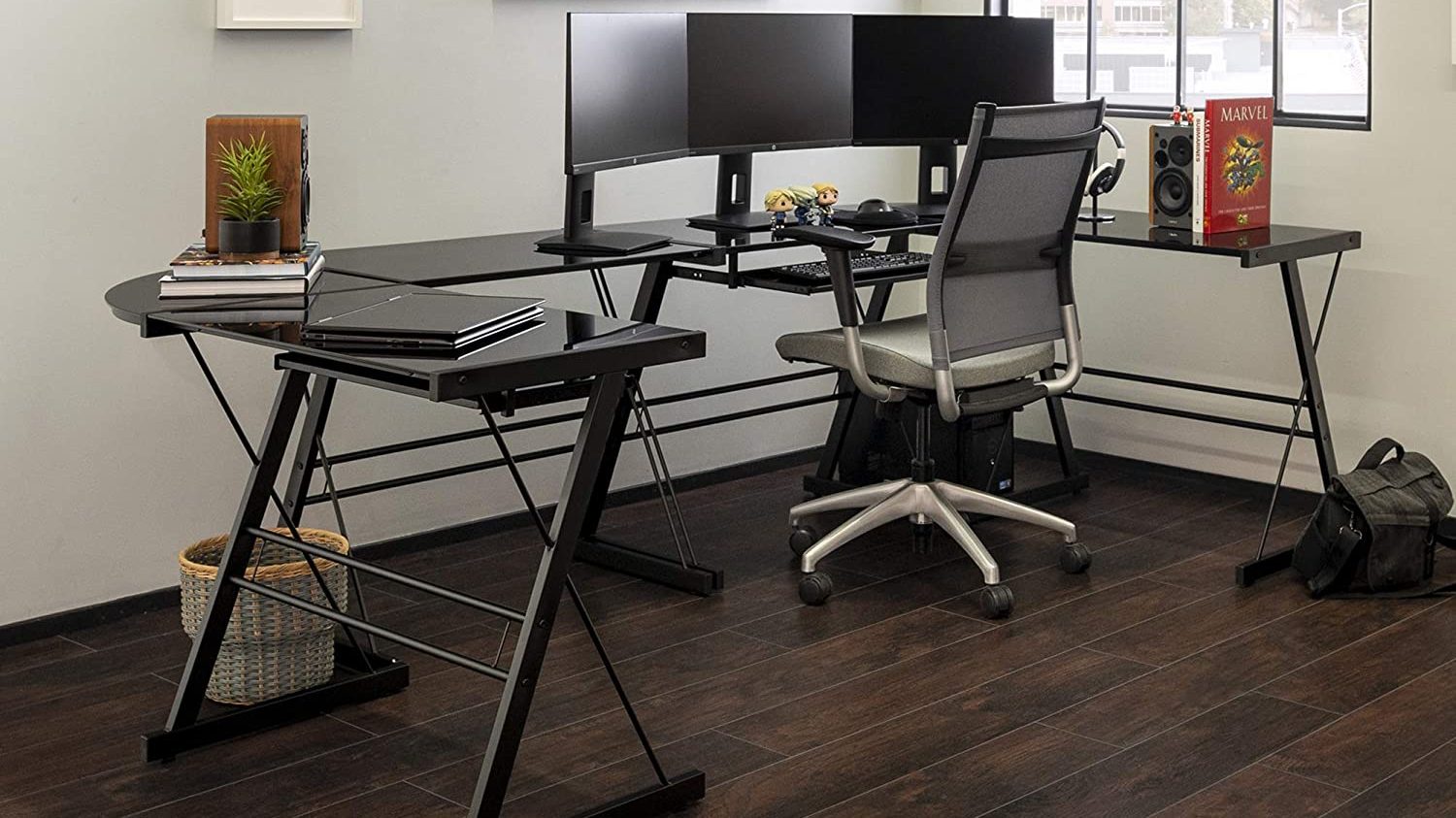 There are multiple options for colors if you choose the Walker Edison Furniture Company Modern Corner L-Shaped Glass Computer Workstation Desk. You can choose between black, black with glass, silver, smoke grey, and white, offering you ways to match your home decor. This measures 51″ x 20″ x 29″ and it can accommodate multiple monitors. It includes a universal CPU stand and you can adjoin multiple desks for even more gaming space. You can place your computer on one side of the L-shaped desk and put decorations on the other side.
Walker Edison Ellis Modern Glass Top L Shaped Corner Gaming Desk with Computer Keyboard Tray, 5…
List Price:
$249.00
Price:
$78.99
You Save:
$170.01 (68%)
Available from Amazon, BGR may receive a commission
Your money will go a long way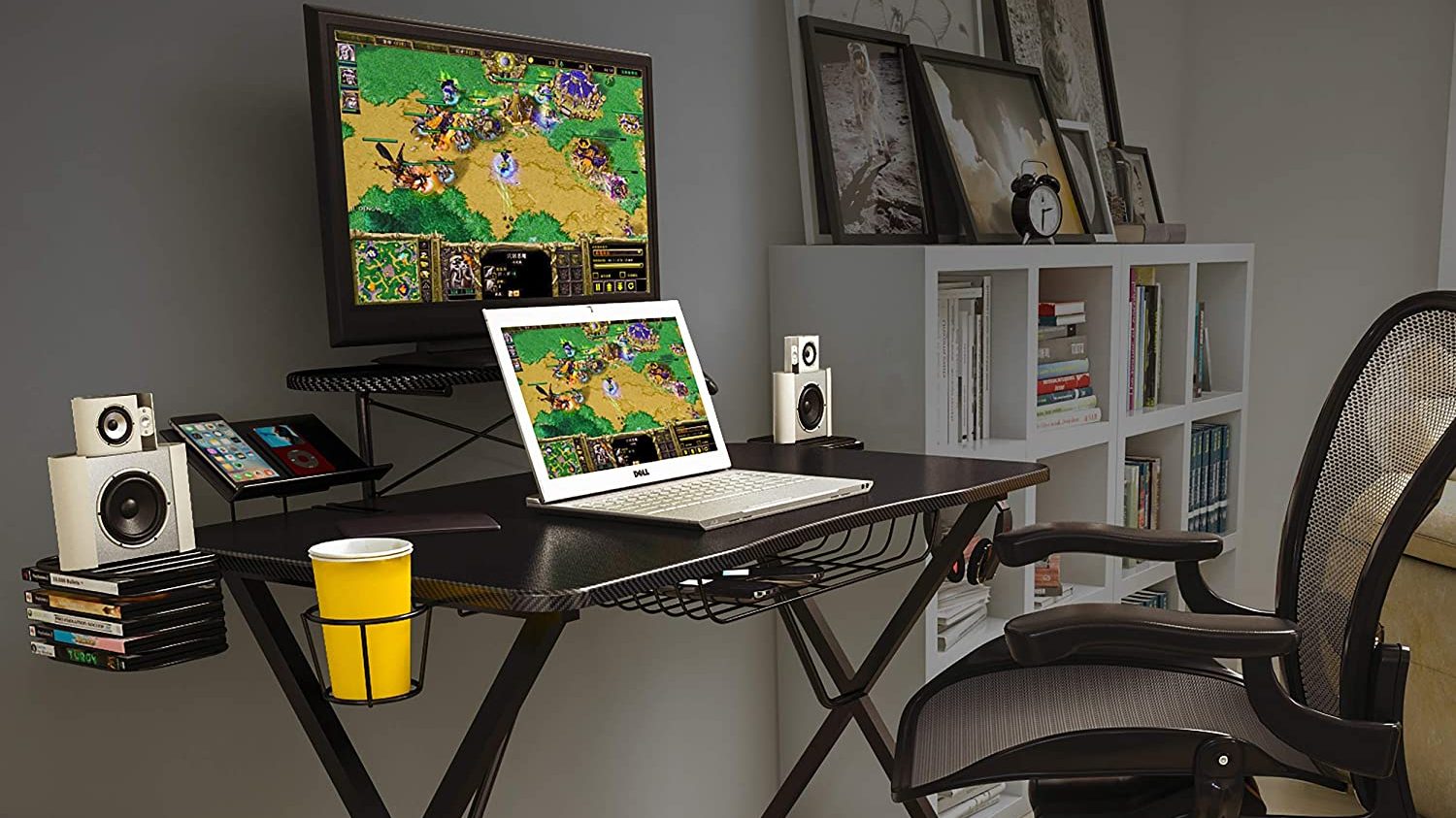 Providing you with all that you'll need, the Atlantic Gaming Original Gaming Desk is a cost-efficient choice. This checks in at 40.25″ x 23.5″ and it is curved to provide ample room for laptops and desktops. This includes a charging station for your phone or tablet, speaker stands which double as game storage, an under-desk basket, controller stands, built-in wire management, a rear power strip holder, a cup holder, and a headphone hook. You can elevate the stand to better fit your gaming chair underneath. It's made with durable steel leg construction and sleek charcoal-colored carbon fiber with a laminated top.
Atlantic Gaming Original Gaming-Desk Pro - Curved-Front, 10 Games, Controller, Headphone & Spea…
List Price:
$102.98
Price:
$86.49
You Save:
$16.49 (16%)
Available from Amazon, BGR may receive a commission