Samsung's new Galaxy S8 and Galaxy S8+ are the best smartphones the world has ever seen in so many ways. They're powerful, they're versatile, and their displays are incredible. But if there's one thing that stands out more than anything else, it's obviously the phones' stunning new design. Samsung has truly outdone itself and created a smartphone that is nothing short of mind-blowing. In fact, the Galaxy S8 is so impressive that it even makes Apple's iPhones look old and outdated.
Of course, there is one small problem with Samsung's gorgeous Galaxy S8 and Galaxy S8+ design, and it's this: the phones are so nice that everyone is going to have one before you know it. That means the design that everyone is going crazy over right now will soon be old news, because you'll see it everywhere you go. If you want to stand out from the crowd and add a little extra flair to your S8 or S8+, it's going to be your case that makes the difference.
Options like Spigen's glitter cases will add wonderful shimmer and shine to your new Galaxy S8 or Galaxy S8+. What's more, they add some much-needed protection to that all-glass and metal phone without ruining Samsung's design. In this post, we'll highlight some of the best Spigen glitter cases available, as well as several other case options if you're looking for something a bit more subdued.
Samsung Galaxy S8 collection: spigen.co/SpigenS8
Samsung Galaxy S8+ collection: spigen.co/SpigenS8Plus
Glitter Cases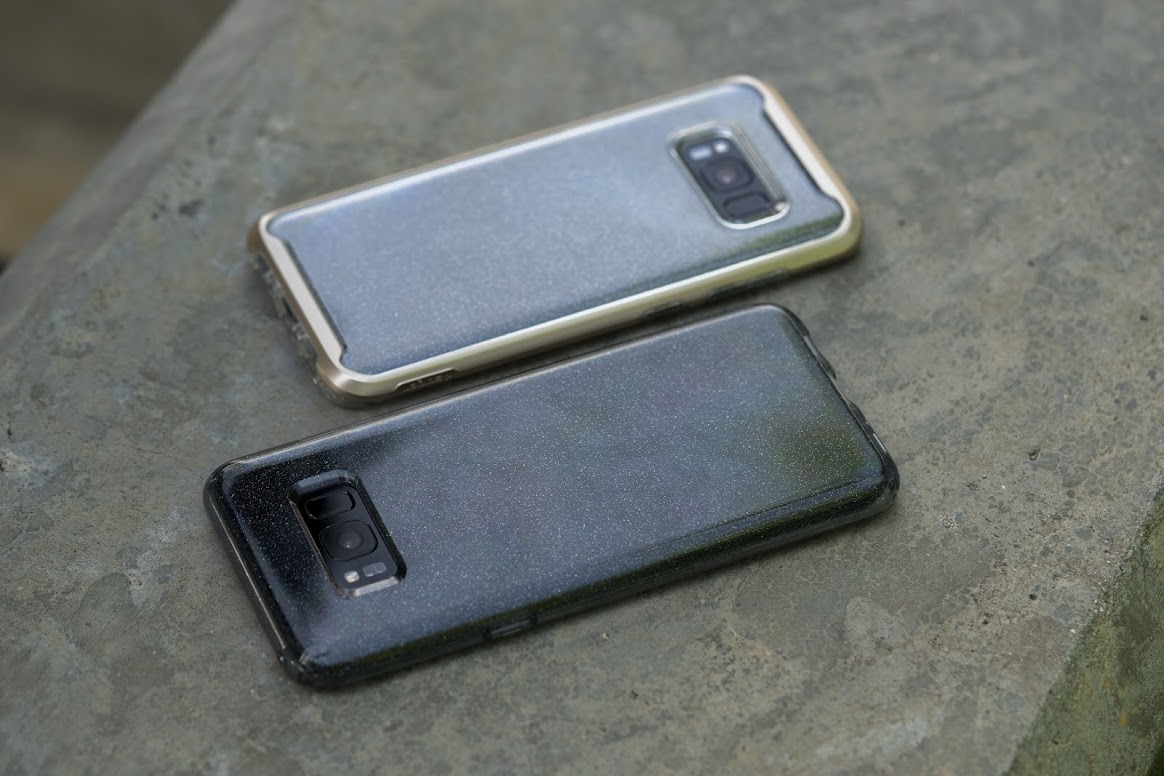 Liquid Crystal Glitter (Galaxy S8 | Galaxy S8+)
Available in three different colors, Spigen's Liquid Crystal Glitter cases offer the perfect balance of style and protection. The transparent TPU shows off your Galaxy S8 or Galaxy S8+'s design, but the infused glitter gives it a little extra sparkle that will make other S8 owners jealous.
Neo Hybrid Crystal Glitter (Galaxy S8 | Galaxy S8+)
If you love the idea of the Liquid Crystal Glitter case but you want even more protection from accidental drops, the Neo Hybrid Crystal Glitter is exactly what you're looking for. It comes in three semi-transparent colors, and it also has infused glitter just like the Liquid Crystal Glitter case. But it's made of a dual-layer structure with a TPU body and a polycarbonate frame, so it can withstand impact and keep your Galaxy S8 in one piece if you drop it.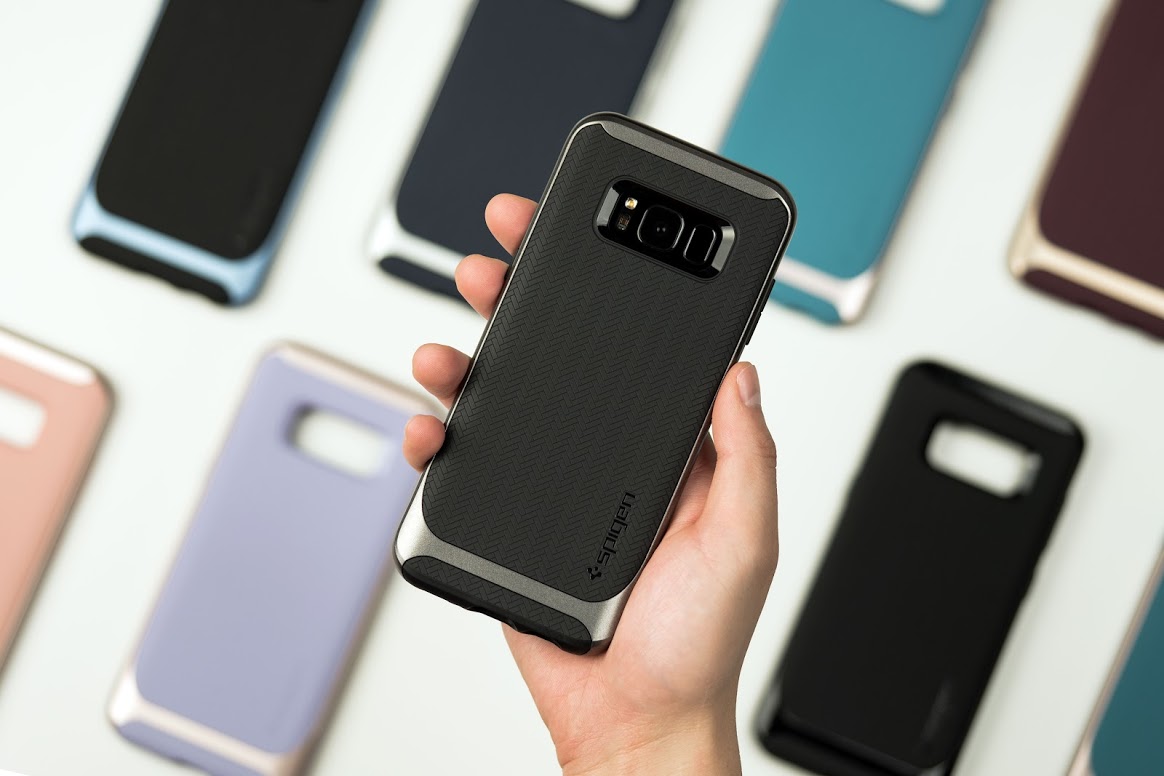 Neo Hybrid (Galaxy S8 | Galaxy S8+)
If glitter isn't your thing and you're looking for a nice unique design, the Neo Hybrid case is a fantastic option. In fact, this is currently the best-selling Galaxy S8+ case on Amazon. Spigen's Neo Hybrid cases come in seven different colors, and each one features a bold look that you're going to love. They also have a very cool herringbone pattern that adds some extra flair, and it's even fingerprint resistant.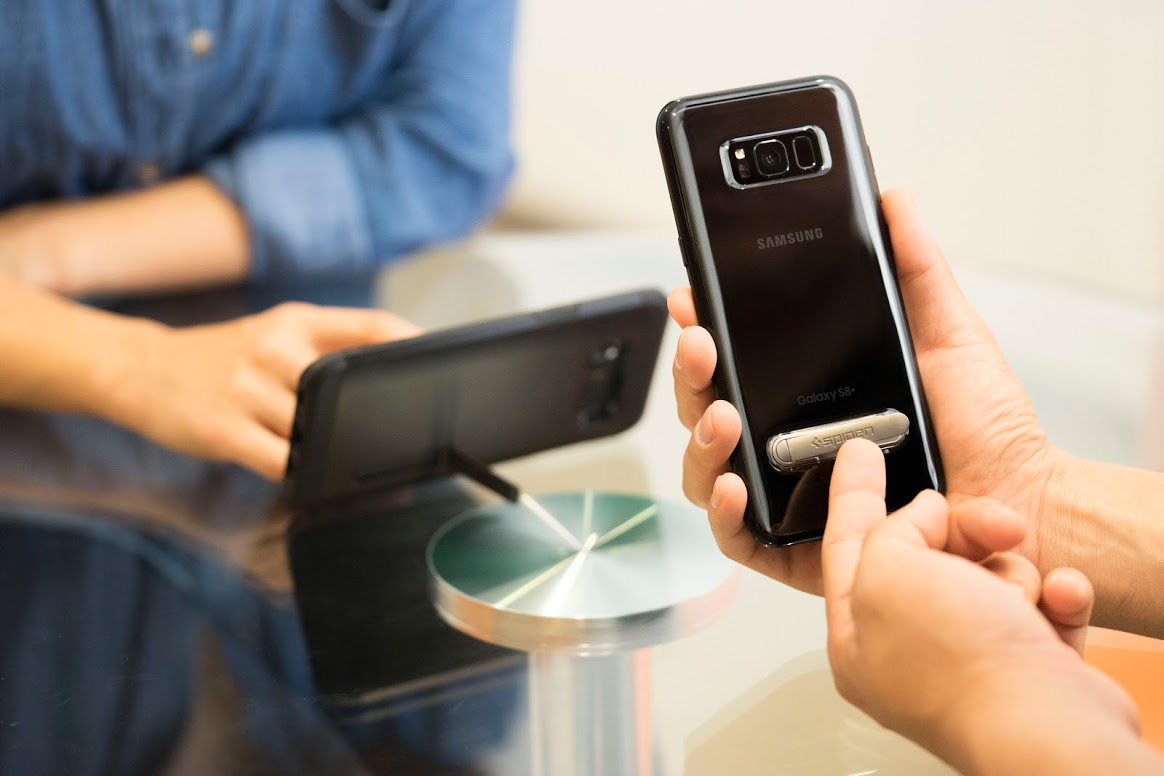 Tough Armor (Galaxy S8 | Galaxy S8+)
Spigen's Tough Armor case is true to its name, offering more protection than any other case the company makes. It comes in four different colors and offers military-grade protection thanks to Spigen's Air Cushion technology. There's even a built-in reinforced kickstand that's perfect for hands-free viewing.
Ultra Hybrid S (Galaxy S8 | Galaxy S8+)
Love the kickstand on the Tough Armor case but looking for something that will let your Galaxy S8's design shine through? The Ultra Hybrid S is exactly what you're looking for. This sleek case consists of a protective TPU bumper with a clear polycarbonate back that shows off your Galaxy S8 or S8+. Then there's also a built-in metal kickstand with a protective film that prevents any scratches to the device.
Thin Fit (Galaxy S8 | Galaxy S8+)
Spigen has two extra-slim options for the Galaxy S8 and Galaxy S8+, and the our favorite is the Thin Fit case. This case is made of rigid polycarbonate that protects your phone from drops, and it also has a handy hidden slot that can accommodate a magnet. This way, the case will work with any magnetic car mount without the need to use the ugly magnet stickers that those mounts ship with.
Flexible Screen Protectors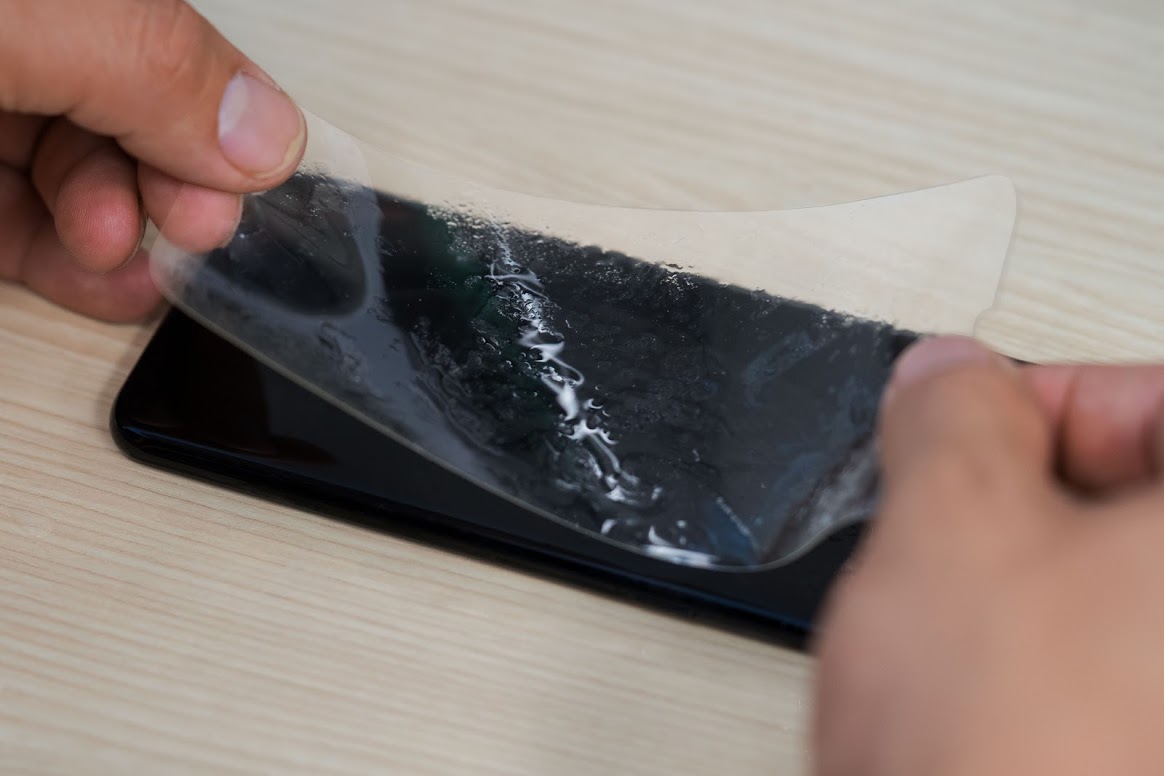 Spigen NeoFlex Screen Protector (Galaxy S8 | Galaxy S8+)
Now that you've picked out your favorite case to protect the back and sides of your new Galaxy S8, it's time to make sure the rest of your phone is covered. The best way to do that is with Spigen's NeoFlex Screen Protector, which of course is compatible with every single Galaxy S8 and S8+ case Spigen makes. These flexible films are available in 2-packs on Amazon for just $8.99, and you'll pay the same price for either the Galaxy S8 or S8+ model. Applying them is very simple using the common liquid spray method, and any air pockets will vanish within 24 hours. Also of note, the NeoFlex protects your screen from scratches without compromising touch sensitivity at all.
To learn more about our sponsored deals and sponsored posts opportunities, please email sponsored@bgr.com.