After a short hiatus, we're back with a slim, but solid, selection of free games from the App Store this week. All of the games on the list will end up on my phone at some point over the next few days, but it's especially hard to avoid the pull of a new Candy Crush Saga title, and this might be the most addictive one yet.
Badland Brawl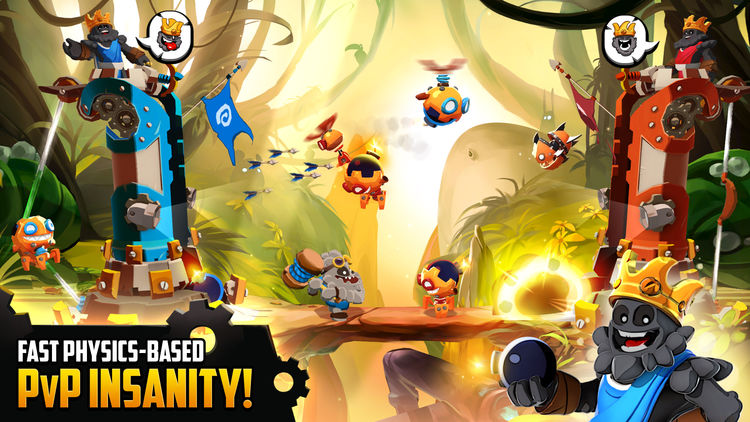 Explosive multiplayer brawler of epic action with easy-to-play but hard-to-master physics-based gameplay.

Sling your Clones onto the battlefield! Master your timing and build crazy tactics & devastating chain reactions! Combine dozens of clones into a brilliantly tactical onslaught and take down the opponent's tower!

Features:
● Battle friends and other players around the world in real-time Brawls
● Fun, intuitive and unique physics-based gameplay
● Build crazy chain reactions to outwit and overwhelm your opponents
● Award-winning BADLAND universe with dozens of new characters
● Unlock mysterious BADLAND eggs to collect and upgrade crazy clone characters
● Construct tactical brawl parties and learn to use your Clones in clever ways
● Progress through dozens of Lands and go all the way to the top!
● Join or create a Tribe, share Clones and build your own Brawl community
● Challenge Tribemates and friends to private duels
● Play 2 vs 2 battles and contribute to unlocking rewards for your tribe
● Learn new tactics by watching the best Brawls from BadTube (in-game)
---
Candy Crush Friends Saga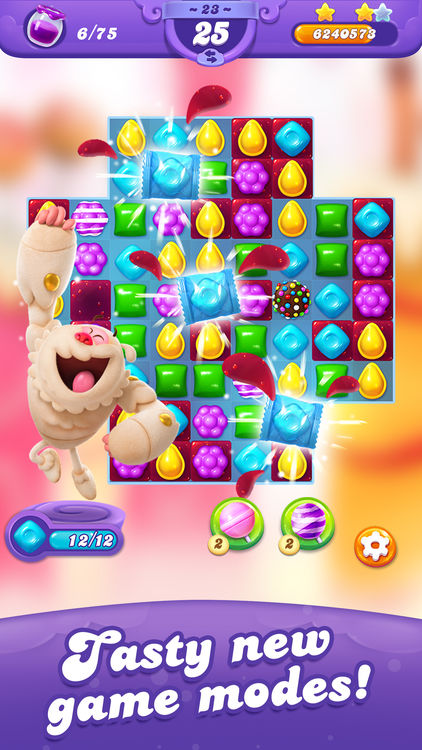 The newest game from the Candy Crush Franchise! With updated graphics, fun new game modes and a host of friends to help you blast through hundreds of levels!

Your Candy Crush Friends have been scattered throughout the Candy Kingdom – Join this match 3 puzzle game to find them! This friendly bunch have their own unique powers to help you to create sweet candy combinations and blastthrough blockers!

Switch and match candies to unlock rewards, friends, and sweet collectable outfits! The more candies you collect the greater your power on the game board!

This fun new Candy game is filled with delicious treats – cookies, jam, chocolate and more! Your favourite game modes, but sweeter than ever!

Candy Crush Friends Saga features:
• Hundreds of levels to play – collect your favorite friends along the way!
• Your Candy friends are your allies – they are ready to help you blast through levels!
• Watch Yeti and his friends dance when you win levels!
• Fun new game modes; dunk the cookie in the chocolate & free the octopuses and the mammoths!
• Keep your friends in a sticker book and change their outfits!
• Explore sweet new worlds in 3D!
• Easy to play but challenging to master!
• Play whenever, online and offline. Easily sync the game between devices and access full game features when connected to the internet.
• Take on this epic saga alone or play with friends to see who can get the highest score!
Download Candy Crush Friends Saga
---
Clear Vision 4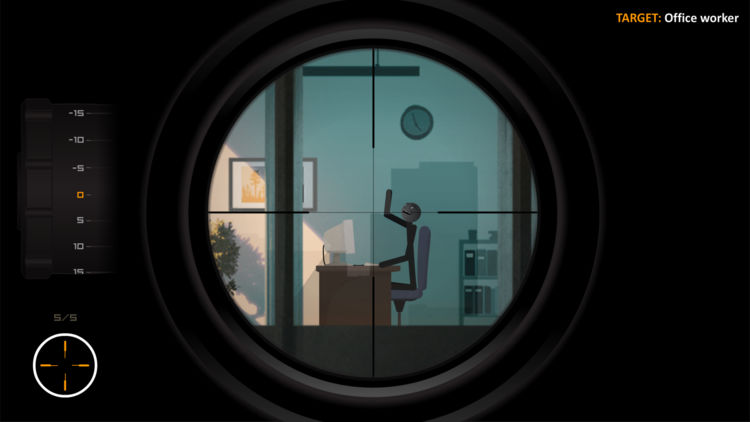 17+ NOT SUITABLE FOR CHILDREN!

Your favorite assassin Tyler is back in the most brutal sniper game around in this latest release in the extremely popular Clear Vision series.
Help Tyler get his hitman career back on track by making your way through tons of tailor-made sniper missions and build your arsenal of shooting guns.

"We have a young man that owes us money, he refuses to pay. We refuse to let him live."

Features:
FREE sniper shooting game.
• Extremely realistic sniper shooter look & feel.
• Hilarious blood and Gore Animations.
• Build your own brutal weapons with combinations of components and guns.
• 40+ Missions of dramatic sniper shooting challenges.
• The Clear Vision games have been played by millions of players worldwide.
• Dramatic cutscenes and storyline
• Endless hours of intense FREE sniper action.
• The follow up to "Clear Vision (17+)" , "Clear Vision 2" & "Clear Vision 3".

DOWNLOAD this shooting game for FREE now and take part in the development of our new Clear Vision game! Don't miss amazing NEW CONTENT on periodic UPDATES.
---
Dead Paradise
Welcome to Dead Paradise: The Road Warrior is the free death race shooting game with car battles on fury roads! Choose and level up your death car, upgrade your shooting weapon and bring destruction to your enemy! Become the best killer in the apocalypse race. Make your rivals tremble with fear! Show them the best driving, shooting and fury!

Dead Paradise: The Road Warrior allows you to drive different cars and use large upgrades arsenal. Upgrade machine guns and death shotguns for earning shooting power and destruction abilities of your car. Use addicted armor to reduce the received damage and destruction from your rivals.

EXPLOSIONS AND DESTRUCTION
Crash and burn your enemies in fury racing action battles with awesome graphic. Survive in burnout race, earning goals and receiving extra resources to unlock new game weapon, armor and cars. Join the race of death and defeat racing rivals to reach the goal. Compete against 5 unique bosses and dodge explosions, shoots, and traffic obstacles in every car battle. Burnout the world of apocalypse and kill your enemies in the best shooting car game!

WORLD OF APOCALYPSE
Welcome to New America – world of post apocalypse full of death, killers, destruction and fury enemies. Explore more than 70 levels with different locations: City, Desert, Canyon, Suburb, and others. Game difficulty addicted to game level, shooting power of rivals and car upgrades. Join to death race against the fury racing rivals at Dead Paradise: The Road Warrior and burn them all!

SHOW YOUR ENEMY A REAL DEATH FURY
Do you like car crashing, fury races and shooting car games with action, explosions and mad driving? Do you like apocalypse game with awesome graphic? Dead Paradise: The Road Warrior exactly what you need! Defeat more than 15 types of enemies, from ordinary bikes to heavy tanks. Drive cool, be hard and become the best car killer!

Fight with bosses to earn more resources. It's the most danger game enemy. You must be ready to meet them. Upgrade all your cars, weapons and armor, defeat your rivals and fight with game boss.

GAME FEATURES
70 unique levels in the world of apocalypse
15 unique types of enemies
5 death cars
5 unique bosses
4 types of upgrades
endless quantity of explosions, driving and fun!

You can play Dead Paradise: The Road Warrior for free! Enjoy one of the best free action games with fury races, explosions, bosses and awesome graphic! Total fun and total mayhem! Download this death race game right NOW!
---
Dizzy Knight
Grab your sword and start spinning! Dizzy Knight is a fantasy action game full of monsters, power-ups, bosses and more!

Master the art of the spin as you defeat wave after wave of fantasy monsters in this one of a kind dizzying adventure. Can you reach the Spiral Throne and become the ultimate…Dizzy Knight?

Features:

– 3 Game Modes: Endless, Campaign and Advanced
– Earn And Master New Abilities
– Find Power ups to help your quest
– 40 Stages across 4 different environments
– A host of traps, enemies and bosses stand in your way
– Wield 8 different weapons in battle
---
PAC-MAN: Ralph Breaks the Maze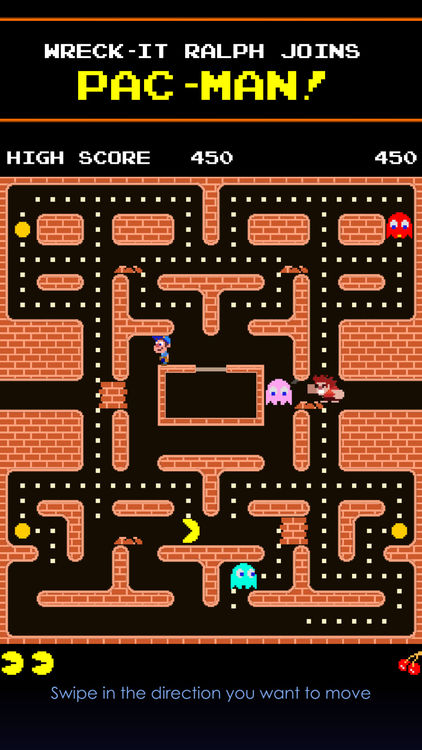 Wreck-It Ralph and his gutsy friend Vanellope meet arcade icon PAC-MAN in the remastered chasing adventure, PAC-MAN: Ralph Breaks the Maze! Collect some of your favorite characters from Ralph Breaks the Internet and more within the confines of the classic PAC-MAN maze.

Eat Power Pellets to weaken ghosts, and gobble unique themed items like Vanellope's candies for bonus points! Go for high scores.

ENJOY CLASSIC 8-BIT ARCADE ACTION…
• Guide the original coin-op icon, PAC-MAN through new mazes
• Run away or chase the ghosts
• Go for high scores and higher levels

…AND THE BEST FROM DISNEY!
• Eat recognizable items from your favorite Disney movies
• Collect characters and experience their themed power-ups

If you purchased a Bandai Wreck-It Ralph Power Pac Mini Figure Blind Box and want to redeem your toy code, hooray! Kid, this is the coolest app in the world for you!

To redeem your toy code:
1.Download and launch this app
2.Enter your toy code for the corresponding Disney character
3.Enjoy!

Download PAC-MAN: Ralph Breaks the Maze for FREE today!
Download PAC-MAN: Ralph Breaks the Maze
---
Skyward Journey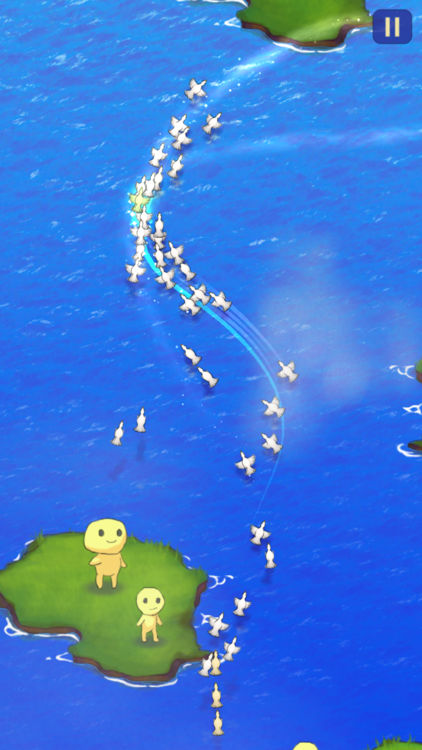 Gather lost birds, draw wind currents to guide them, and lead them on their long journey home…

• Intuitive, one-touch gameplay – anyone can play!
• A relaxed, zen-like experience with some thought-provoking surprises
• Beautiful, interactive audio by renowned musician, Jeff van Dyck
• 15-30 min average play time – or stay as long as you'd like!

'Skyward Journey' is a reflective, art-game by Dan Vogt – games industry veteran and creator of 'DATA WING'