If you purchase an independently reviewed product or service through a link on our website, we may receive an affiliate commission. Learn more.
Looking through the list of new releases on the App Store, this might be the biggest week for iPhone games in months. Not only are we getting a Futurama city-building game, but we're also getting a Final Fantasy XV mobile spinoff and an English version of the popular Fate/Grand Order. And don't forget that all of the free games from two weeks ago are still free if the 8 below aren't enough.
Adventures of Flig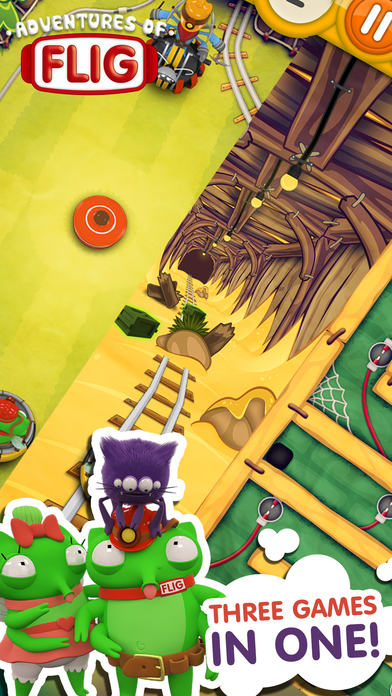 The adventure begins!

Explore beautiful and mysterious worlds and fight the unique enemies to help save Flig's beloved from the clutches of the vile Spider!

And don't forget the tiny spider Spidey! Guide him through the dangerous mazes and he'll play a significant role in the adventure!

"Adventures of Flig" is a fascinating story with an interesting plot which combines three games in one – a runner, air hockey, and labyrinth.

GAME FEATURES:

● 3 in 1 – runner, air hockey, labyrinth!
● 10 worlds
● 60 levels
● 40 unique enemies
● 30 units of unconventional weapons
● Interesting plot
● High-quality graphics
● Funny characters
● Plot-based video inserts – play and watch!
● PvP mode
● Achievements & Leaderboards
Download Adventures of Flig free on the App Store
---
Castle Revenge
Your castle has been attacked by Lord Grayson, you've managed to defend yourself but now you need to reconquer your land from the hands of your enemies!

Castle Revenge is unique mix of strategy and action games with realistic physics-based castle destruction!

– Build and manage your castle
– Fight with other players and Lord Grayson himself
– Conquer the map and reclaim your land
– Directly control your attack and wreck havoc with realistic physics destructions!
– Develop new types of projectiles for your catapult
– Be a king, become a hero!

Are you ready for the challenge?
Download Castle Revenge free on the App Store
---
Daily Solitaire
Daily Solitaire: Poker Saga is a fantastic example of how to make a mobile solo card game that's unique, fast, and strategic. Daily Solitaire: Poker Saga- A patience game that is a combination of both video poker and solitaire. So, if you enjoy solo card games like solitaire and video poker, then you will love what Daily Solitaire: Poker Saga brings to the table.

Also, Daily Solitaire: Poker Saga is made by peoples behind Politaire (Politaire is also a patience game which combines video poker's rule into a classic solitaire game too). This patience game is the winner of 10 Best Mobile Game by Apple 2016. So, you will be playing the game from the professional game maker with tons of experience on crafting patience game with video poker's element because we simply love it.

How to play?

It's started like a solo card game. You'll be dealt five cards, then you will decide which ones to discard by tapping those cards (Please keep in mind the rule of video poker, you need to calculate which cards you need to keep to increase the chance to have a winning set of cards in video poker!). After that, tap the Swap area and you will get the replacement cards for the cards you didn't keep. You will win if you wind up with a traditional video poker hands. It's easy to learn, but also hard to master! A patience game that is one of a kind!

Features:

. One-touch control with customizable UI for both left-handed and right-handed peoples. Daily Solitaire: Poker Saga is the only video poker game that allows player to play anywhere and anytime in it's portrait design. You will find all designs of this game rock hard!
. #1 Interface & UI Design for Mobile than any other Patience games. You will see no boring card designs, no boring visual like others Patience games anymore.
. Every card is easy to read, and large enough, even on a smaller device, to deliberately tap. The same goes for the colors — they're all bold and simple to comprehend, especially when it comes to delineating spades and clubs
. Win the DAILY BOOSTERS in Cardlott. This feature allows you to boost your score, cheat to have winning video poker hands more easier and other powerful boosters.
. Tons of levels with many missions are waiting for you to the journey of Daily Solitaire: Poker Saga. With many variations from rules of patience games, poker, video poker and puzzle elements. You will be surprising about the endless fun we have in this game.
. Leaderboards to compete your friends and competitors!
. Easy to sync DAILY SOLITAIRE across multiple devices!
. Requires no Internet Connection to play! (But it will need the connection to backup your progress to cloud drive).
Download Daily Solitaire free on the App Store
---
Fate/Grand Order
A new mobile "Fate RPG," presented by TYPE-MOON!
With an impressive main scenario and multiple character quests,
the game features millions of words of original story!
Packed with content that both fans of the Fate franchise and newcomers will be able to enjoy.

Summary

2017 A.D.
Chaldea, an organization tasked with observing Earth's future, has confirmed that human history will be eliminated at 2019.
Without warning, the promised future of 2017 disappeared.
Why? How? Who? By what means?
AD. 2004. A certain provincial town in Japan.
For the first time ever, a region that could not be observed appeared.
Assuming that this was the cause of humanity's extinction, Chaldea carried out its sixth experiment – time travel into the past.
A forbidden ceremony where they would convert humans into Spiritrons and send them back in time. By intervening in events, they would locate, identify, and destroy the space-time Singularities.
The mission classification is an order to protect Humanity: Grand Order.
This is the title for those who would take a stand against human history and battle fate in order to protect mankind.

Game Introduction

A command card battle RPG optimized for smart phones!
Players become Masters and together with Heroic Spirits, defeat enemies and solve the mystery of human history's disappearance.
It's up the players to form a party with their favorite Heroic Spirits – both new and old.
Download Fate/Grand Order free on the App Store
---
Final Fantasy XV: A New Empire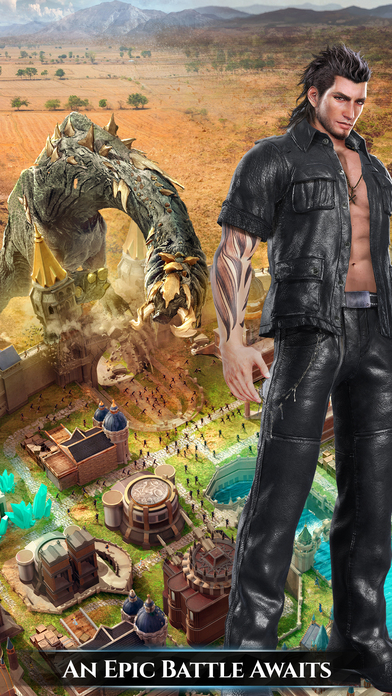 Be the hero of your own Final Fantasy XV adventure in the brand new mobile strategy game Final Fantasy XV: A New Empire! Build your own kingdom, discover powerful magic, and dominate the realm alongside all of your friends!

Do you have the courage to fulfill your destiny? Journey through vast kingdoms, gather magical resources, and build the strongest Empire in Final Fantasy history!

– Experience your very own FFXV adventure on your mobile phone
– Jump into the action with Noctis, Cindy, and all of your favorite FF15 characters
– Fight alongside friends and against foes in legendary battles against millions of players from around the world!
– Build up your Empire and train your troops to win in action packed, real-time battles
– Create the ultimate Guild or join up with already-powerful forces
– Strategize with your guild to crush enemies and beasts in real-time battles
– Compete for the Crystal against players from all over the world

An open world with no rules: only magic. Will your magic grow or do you stand to be defeated?

Your legend starts now in the new MMORPG: Final Fantasy 15: A New Empire.
Download Final Fantasy XV: A New Empire free on the App Store
---
Futurama: Worlds of Tomorrow
The next epic Futurama adventure has finally arrived! Play with all your favorite characters, build your own New New York, combat against alien species and explore unfamiliar planets on a mission to save the universe! Buckle your seatbelts, blast off into space, and play the new Futurama game!

Relive the show in this thrilling and hilarious game that will have you crying in tears. The funny never ends when you play as Fry, Leela, Bender or any of your favorite characters from the critically-acclaimed Fox series, Futurama! Is the future safe in your hands? PLAY FUTURAMA: WORLDS OF TOMORROW to find out!

GAME FEATURES:

– All new story from the creators of the original Fox series, Futurama!
– Build and customize your very own New New York!
– Control the story by making your own choices!
– Battle in epic 16-bit combat!
– Embark on funny space adventures as you explore a galaxy of new worlds!
– Complete your character's best look by unlocking funny and unique outfits!
– Customize and level up your characters!
– Hilarious Futurama dialogue from the show's writers, David X. Cohen and The Simpsons creator, Matt Groening!
– Select your crew and send it on adventure-filled space missions!
– Collect ancient artifacts and ensure the universe's best chance at survival!

Download the game and embark on the all-new adventure imagined and written by David X. Cohen and The Simpsons creator, Matt Groening! New worlds, strange species, and unforgettable stories are all waiting for you!
Download Futurama: Worlds of Tomorrow free on the App Store
---
Laser Kitty Pow Pow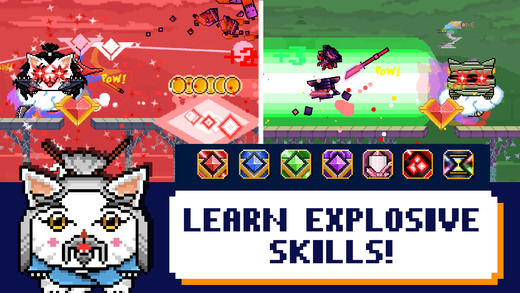 Cute? Maybe. Fast? Sure! Action-packed? You bet. Crazy? You won't believe your eyes! Laser Kitty Pow Pow is fast paced, arcade-like, laser infused, crystal boosted, ninja exploding and kitty flying game that challenges the definition of ARCADE ACTION on the App Store. Are you ready?

* Face more enemies than the highest number you know.
* Enjoy fast, easy to jump in and crazy satisfying action.
* Unlock, use and upgrade special Cat-laser powers.
* Meet Tim the Tailor and craft super cute and powerful Cats.
* Play adaptive challenge system and face new enemies at your own pace.
* Lose yourself in sensory-overloading retro visual style.

Get your favourite Kitty and defend the world against evil!
Download Laser Kitty Pow Pow free on the App Store
---
Swing King and the Temple of Bling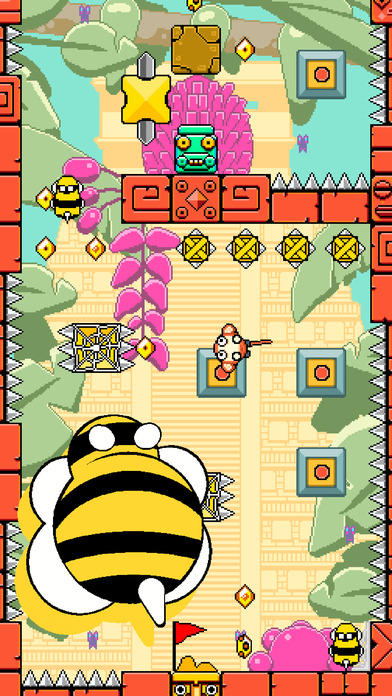 Swing King is a one-tap action puzzle game. Playing as a Mumbles the monkey, your goal is to unravel the secrets of ancient temples and collect hidden treasures.

Explore 45 levels of deceptive traps and creepy creatures in this retro adventure that will test your brain power and reflexes.

How to play:

– Tap and hold to stretch Mumbles arms outward to grab onto poles.

– Release when you are ready to let go.

It's that simple! You can hold as long as you like, and puzzle your way through each temple at your own pace.
Download Swing King and the Temple of Bling free on the App Store
---
Our deals and product reviews are picked by BGR's expert editors and team.

Follow @BGRDeals on Twitter to keep up with the latest and greatest deals we find around the web. Prices subject to change without notice and any coupons mentioned above may be available in limited supply.