If you purchase an independently reviewed product or service through a link on our website, we may receive an affiliate commission. Learn more.
Our first free iPhone game roundup of September is an extensive one, as there were plenty of solid titles to choose from on the App Store this week. Leading the pack is Alphabear 2, which has already stolen a few precious hours of sleep from me personally. There's also an HQ Trivia parody of sorts from the team behind Full Frontal with Samantha Bee. You can win money and educate yourself about politics ahead of the midterms!
Alphabear 2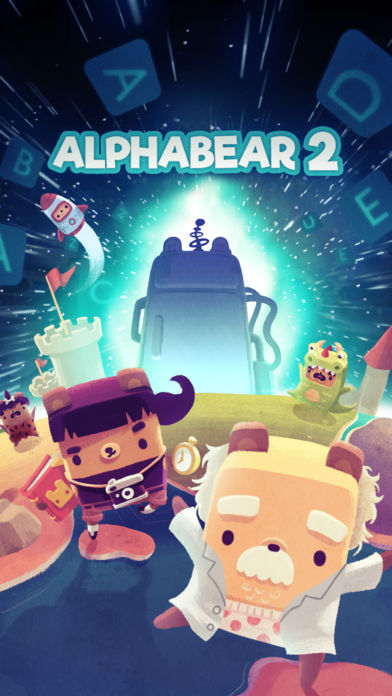 Alphabear 2 is an original English word puzzle game by Spry Fox, and the sequel to our hit 2015 game!

In Alphabear 2, you spell words by selecting letters on a puzzle grid. When you use letters that are adjacent to each other, bears appear! The more letters you use, the bigger the bear gets, and the more points you earn. Spelling words cleverly is the key to success!

Collect Bears:

When you solve the puzzles, you'll earn new bears for your permanent collection. These bears can team up to help you in future games! They increase the points you earn, extend your timer, modify the game board, and more.

Bear humor:

Fans of the original Alphabear will appreciate the much-improved "bear speech" — the words you spell will appear in funny cartoons like always, but the all-new templates come with a huge variety of backgrounds and amusing props.

Built-in dictionary:

Lastly, a smart dictionary and other new features make Alphabear 2 a great way to improve your English and have fun while doing it!

So what are you waiting for? The best word puzzle game of 2018 awaits! :-)
---
Bike Unchained 2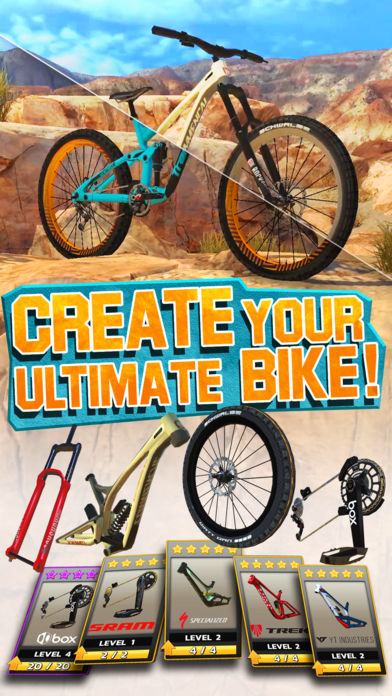 Bike Unchained 2 from Red Bull is the sequel to the #1 mountain bike game on mobile! Race against real riders in PvP Downhill action, or line up your best tricks in Slopestyle competitions. Will you be on top of the podium when the dust settles?

Gear up for the world's biggest mountain bike competition in Bike Unchained 2! Prove you're the fastest on the mountain in ranked league racing and take home the title of the world's top rider. Send it in Slopestyle runs that test your style and skill. Pedal through five different environments with trails that offer gnarly rock gardens, fast flowy singletrack, and everything in between. Customize every part of your ride and your look with an insane amount of parts and gear. Tell the world you're the best and look good doing it! We'll see you at the bottom.

MULTIPLAYER RACES & LIVE EVENTS

Win races and climb your way up through the leagues to win huge prizes and prove your dominance on the mountains. In each race, three real players will be looking to make you eat their dust. Cross the line first and you'll take the glory – and some pretty sweet gear. Keep climbing and you might wind up the best rider in the world. Daily, Weekly, & Special events give you more chances to win huge prizes and show off to the world.

GAME-CHANGING GRAPHICS

Bike Unchained 2 comes to the gate with a fresh look. The photo-realistic 3D rendered graphics will make you feel closer to the mountains on every run. Watch the dirt fly and the bikes soar in beautiful detail.

RIDE WITH THE BEST

The biggest names in the sport are all here and ready to lend you a hand. They'll teach you new tricks and skills that will raise your scores and shave seconds. From Aaron to Szymon, the pros can only be found here!

WIN WITH SPEED & STYLE

Use frames, forks, rims, and drivetrain components from the best manufacturers in the world. Craft the perfect bike, then unleash it on the mountains and your competition. Fully customize your look to tell other players who you are as they watch you ride away.
---
Billion Lords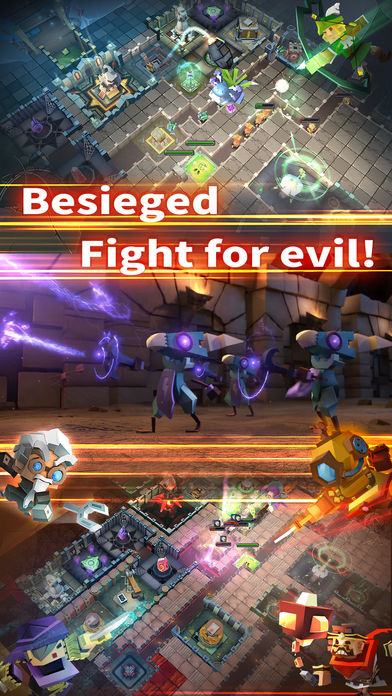 Once upon a time, the Underworld was ruled by Lord of Evil…

Driven by his endless ambition, he reached out above the underground…

To stop Lord of Evil, God of Light assembled an army of heroes.
With the help of God of Light, Lord of Evil was defeated by heroes.

The death of Lord of Evil ignited the Underworld.

All Lords began to fortify their dungeons and gather their armies, to fight for the empty throne.

A war is about to begin…

Features:
– Dungeon building: Create your own dungeon with traps, and canons. Lead your enemies to their doom.

– Gather troops: Summon a wild cast of Generals and Minions, each of which features their own abilities and appearances.

– Hero invasion: Defend invading heroes and tap to cast spells to annihilate them!

– Evil League: Ally and interact with other Lords to unlock perks and benefits. The more the eviler!
---
Gravity Ninja 2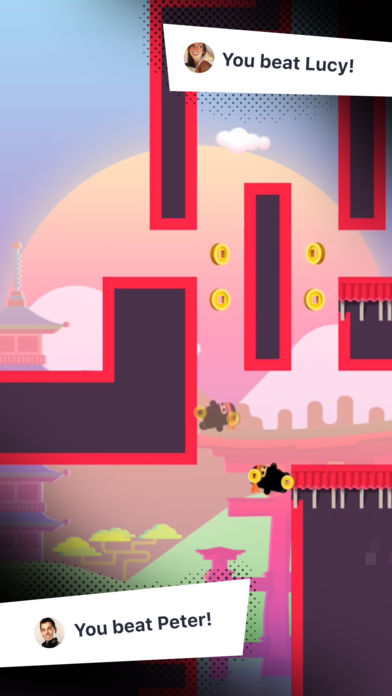 Time to embrace your inner ninja! Avoid enemies and dangerous obstacles, collect coins and become invincible!

Play huge Battles, win rewards, customize your profile and become a part of our battle gaming community!
* Connect to your friends and beat their scores
* Follow great gamers and challenge them all
* Battle your friends or battle anyone in your city

No tricks, all free & fair.
#PlayAllDay
---
H3H3: Ball Rider
JOIN ETHAN AND HILA FROM H3H3 IN THEIR FIRST OFFICIAL MOBILE GAME!

Help the YouTube superstars navigate through endless tunnels of retro pixel art goodness in this runner-style game.
– Navigate your way through 8 distinct environments.
– Collect and upgrade over 50 equipment.
– Customize Ethan and Hila with over 100 unique outfits.
– Compete in daily and weekly events against the world.
– Send challenges to your friends.
– And more!

Music by Echorobot
---
Onitama: The Board Game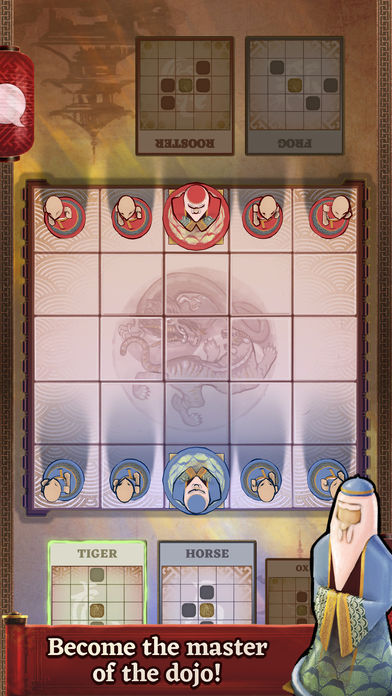 Immerse yourself in an ancient Japanese setting and discover Onitama, an exciting, fast-paced strategy game! Onitama is somewhat reminiscent of chess and rather addictive with its dynamic game mechanic in which warriors face off so their master may win the game. Concentration and luck are the only weapons you'll have at your disposal! You'll need to fully master mind and body to defeat your opponents.

THINK STRATEGY!
Every opponent has four warriors and one elder at their disposal. The objective is simple: win the battle. To do so, you must either capture your opponent's elder or take their place in the temple arch. The game is easy to play, but you'll need time to become a true master. Although, not really… Onitama is the ideal strategy game for exercising your mind, as you'll have to think ahead about moves! The moves you're allowed to make are determined by five cards which are drawn at random, shown face-up, and shared between players. Each card corresponds to an animal and sets out a specific move that you have to follow. When you play a card, you must place it between you and your opponent and pick up the previously played card, and so on. This way, both players have the exact same chance of winning the game.

IT'S ALL ABOUT ANALYSIS…
The key to success in this simple, elegant type of combat is to stay calm and concentrate. The Shrine of Onitama is a sacred ground where foresight is necessary. Animal spirits will guide you on the perilous path and allow you to gain true wisdom. In short, it's an elegant and simple game that captures the essence of martial arts. The game design and calligraphy will make your gaming experience a unique and unforgettable one.

PLAY ON YOUR OWN OR WITH OTHERS
Play against the computer on your own, or against your friends. Fight duels on the same device using pass and play mode. Bored of beating your friends? Connect your Asmodee account and face the best players in the world online! You can also customize your game with new boards, pieces, and music, or get a pack of 16 additional cards by purchasing extensions.

FEATURES:
-Full game
-Solo (several difficulty levels vs artificial intelligence)
-Pass and play (unlock by connecting Asmodee account)
-Online mode
-Sensei's Path extension (20 new cards)
-Customize boards with new music (medieval and science fiction)
Download Onitama: The Board Game
---
Pop Shot! Golf
TAP YOUR WAY TO A HOLE-IN-ONE – Can You Become A Pop Shot! Pro?

Tee up, aim and swing to victory in Pop Shot! Golf, the latest 'Pop Shot!' adventure designed for simplicity and competition! Drive It, Chip It and Hole It to the golfing big leagues.

PLAY IN A WORLD TOUR
Explore the world in a wide variety of different locations, packed with golf courses to play and scenic vistas to see.

ONE-TOUCH FOR GLORY
Use simple one-touch controls to hold the ball and swing with precision power to ace your perfect shot.

COMPETE AGAINST FRIENDS AT THE CLUB
Vie for the highest spot and compete against your friends score on the in-game leaderboards!

STEP INTO THE GOLF SHOP
Ever played golf with a LASER SWORD club? What about hitting a FIREBALL straight into the hole? Now you can! Play for gems to unlock more from the weird and wonderful world of Pop Shot!

UNLIMITED PLAY? ONE-TIME UNLOCK AND REMOVE ALL ADS
Become a regular at the club and purchase the full game with a one-off unlock.

MORE FROM THE POP SHOT! UNIVERSE?!
Bring It Home with Pop Shot! Soccer, taking the unique Pop Shot! gameplay to the pitch for a kick-off unlike no other! Download today and find your inner-Soccer fanatic.
---
Rumble Heroes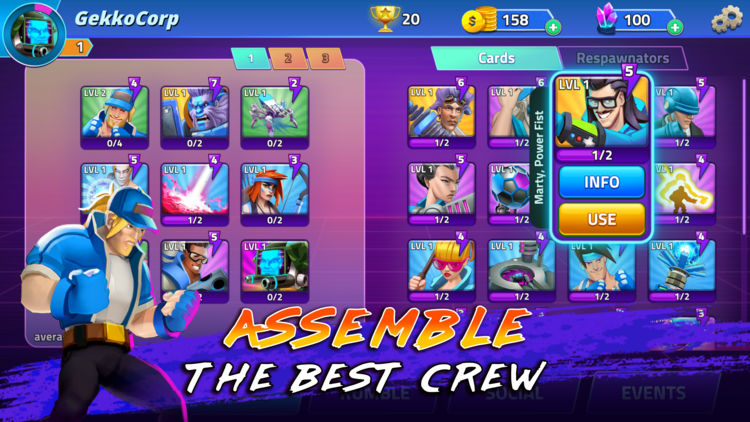 Are you READY TO RUMBLE?!

RUMBLE HEROES is a real-time PvP game with an over-the-top 80s arcade vibe. Assemble a team of unique heroes, travel to exotic locations around the world and fight other players for glory & cash!

FEATURES

• Real-time competitive strategy meets old-school arcade in 3-5 minute battles
• Collect + upgrade totally rad fighter heroes in common, rare, epic and legendary flavors
• Beautifully retro 3D heroes, VFX and combat arenas
• Fuse units in real-time for a tactical advantage
• Upgrade and unleash game changing ultimate powers
• Engage in daily and epic missions to earn awesome rewards
• Totally rad, award-winning retro synth soundtrack

Please Note Rumble Heroes is free to download and play but requires in-app purchases for some game items. An internet connection is also required. (network fees may apply).

Rumble Heroes collects data through third-party ad serving and analytics and contains direct links to social networking sites intended for an audience over 13.
---
This Is Not a Game: The Game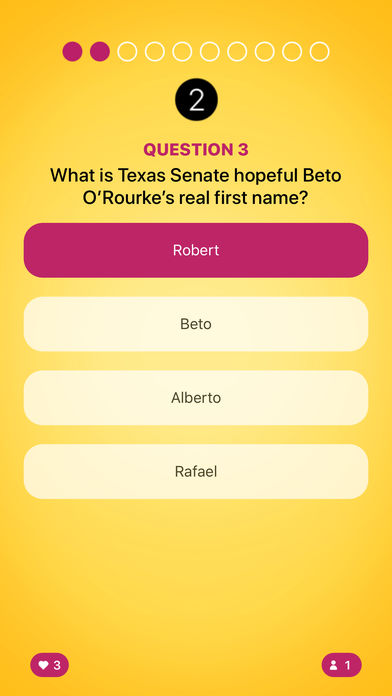 Samantha Bee wants to get you excited about the 2018 midterm elections in the best way possible: a daily trivia game with a cash prize of up to $5,000! And don't worry, the game isn't rigged; it's for everyone! We don't care if you're Republican, Democrat, Green Party, or Gary Johnson, we just want you to get excited about voting.

Once per day, you'll get the chance to answer 10 multiple choice questions about the midterms, current events and very important facts about democracy like in what 1980's vampire movie Kiefer Sutherland played POTUS. Get every question right and you'll win cash from the daily jackpot, split with the other winners (#winning)! Get every question wrong and you probably don't know anything about the United States, so we're glad you're here.

How it works:
* Join the game every day when you get a push notification—usually at 7pm EDT and 4pm PDT.
* Answer 10 funny trivia questions while the clock counts down!
* Win real cash by answering all 10 questions right.
* Winners split the daily jackpot of $1K to $5K—and sometimes more!
* Got a question wrong? Embarrassing—but you can keep playing if you have extra lives.
* Get extra lives by signing up for election reminders, inviting friends, and completing weekly challenges. If only a political comeback were that easy!

Why did Full Frontal make this game? To get people excited about the midterms, maybe even excited enough that they'll go out and vote! America's typical midterm election turnout SUCKS and we are 100% certain this game will solve everything. We want America to learn facts, register to vote, and get involved in the U.S. election process. Isn't that beautiful? Don't answer. We know it is.

All civic-minded people are required by law to play the game for a chance to win a cash prize. Non-civic-minded people are also encouraged to play. See you in the game!
Download This Is Not a Game: The Game
---
West Legends: 3v3 MOBA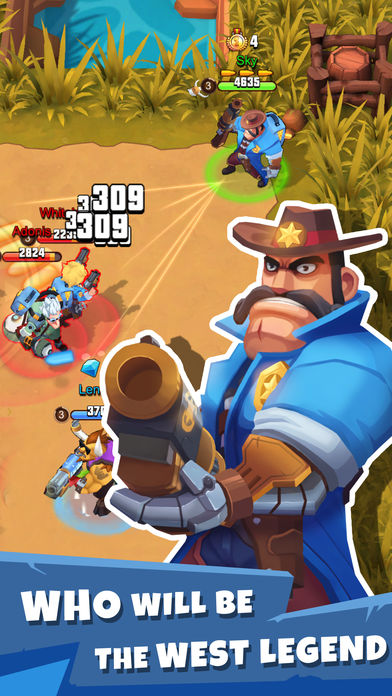 Calling all gunslingers and lawbringers:

Welcome to West Legends, adventurer! Take control of your favorite hero as you fight for victory in intense 3 minute skirmishes. Battle through various maps and gamemodes as you attempt to show exactly how the west was won. It's time to sharpen your steel and load your lead!

Choose a gamemode and team up with your friends, or match with random teammates to beat your opponents.

Game Features:
Become a hero of the Wild West!
Various gamemodes and maps.
Unlock and customize over 15 unique heroes.
Win chests that you can unlock to power up your heroes.
Play solo or with friends.
Choose different talents each battle to give yourself an advantage.
Fast paced, 3 minute battles. Anytime. Anywhere.
Coordinate with teammates for epic team fights.
Never give up! Comebacks are always possible.
Use the terrain and obstacles to dodge attacks and gain the upper hand.
Climb the ladder and prove you are a true legend of The West!

Gamemodes:
Jungle Raid, Beer Garden Brawl, Train Heist, Miner's Misfortune
Download West Legends: 3v3 MOBA
---
Our deals and product reviews are picked by BGR's expert editors and team.

Follow @BGRDeals on Twitter to keep up with the latest and greatest deals we find around the web. Prices subject to change without notice and any coupons mentioned above may be available in limited supply.