It's the weekend. You've already watched everything worth watching on Netflix. You're trying to patiently await the arrival of your new iPhone XS or Apple Watch Series 4. What better to pass the time with than a bunch of free iOS games? Lucky for you, that's exactly what we've got! Just keep on scrolling down.
Omega Wars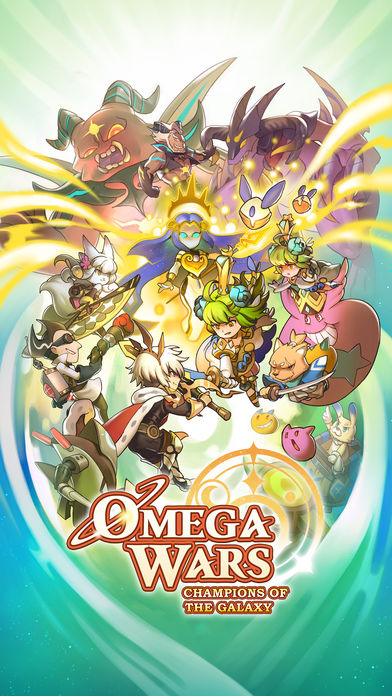 Claim your place among the Cosmic Legends!
Master unique Champion abilities, collect powerful characters and spells, construct mighty decks, and battle against opponents in 1v1 & 2v2 real-time PvP action MOBA!

Deploy troops and cast spells to take control of the ever-shifting arena. Develop unique strategies and combinations to outsmart and outmaneuver your opponents. Clash with friends and challenge players from around the world – the Omega Wars await you!

Omega Wars: Champions of the Galaxy Features:

Ω PLAY AS ONE OF THREE UNIQUE RACES
Take command and battle as the Champions of the Human, Phantom, or Demon Race. Each Race has its distinct abilities, attributes, defense formation, and exclusive cards. Confuse your opponent into attacking the fake Phantom tower, or go on an all-out attack with an assault as the Demon Lord! Learn the strengths and weaknesses of each Race and adapt it to your playing style!

Ω MERGE CARDS TOGETHER IN BATTLE
Combine cards directly in the live arena through the game's unique pairing system. Protect your Airtroopers from damage by placing them inside a Defender unit, or blast your Treant units directly at your opponent by loading them up in a Treant Cannon!

Ω CRAFT & UNLOCK SPECIAL CARD ABILITIES
Unlock special active or passive abilities for your troops and spells with the game's crafting system. Shift the tide of battle and catch your opponent off guard by "flipping" to your card's alternative form during battle!

Ω DYNAMIC 2V2 ARENA BATTLES
Team up with friends and clanmates in the most competitive and action-packed 2v2 arena battle mode yet! With a dynamic tower formation system based on the Champions selected, teammates can develop different synergies and strategies with their cards and abilities en route to victory!

Ω GLOBAL AND LOCAL LEADERBOARDS
Compete against the best in the World to earn your spot on the Global and Local Leaderboards! Master each Champion as you earn recognition in the Race Leaderboards, and join up with the best of the best as you compete for glory in the Clan Leaderboard.

Ω CONTROL YOUR VIEWS WITH AR MODE*
Bring your arena battles to life with an awesome augmented reality feature! Omega Wars' AR mode puts you in control of the camera angle – zoom in up close to see the Demon Lord lay waste to his foes, or spectate a match from afar with your pet as the backdrop!

Ω LIVE SPECTATOR MODE AND REPLAY FEATURE
Cheer on your friends and clanmates while watching them battle live in Spectator Mode, or watch and share favorite battles and highlights with the Replay Feature! Enjoy watching battles from three different camera angles, or control your own spectator experience while in AR mode!*

The battle for the Galaxy awaits – download now and join the War!
---
Pocket Luna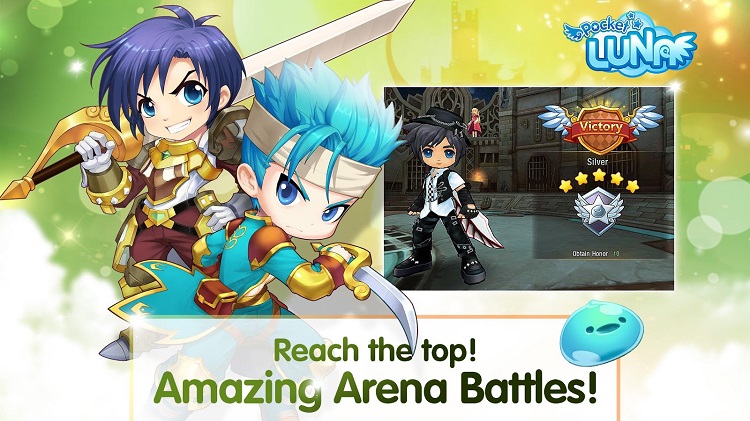 Pocket Luna – A fantasy game that takes you to an exciting and ancient world. In your travels here, you will meet new friends, collect cute pets and beasts, and fight the dark forces that lie within this world. The bright and playful art style mixes with an intricate skill system, exciting gameplay, fashionable clothes and wings, and deep social features to create an amazing fantasy world for you to explore!

Features:
-3 UNIQUE CLASSES WITH MIX-AND-MATCH SKILLS
Pocket Luna's detailed job system allows players to mix-and-match skills and abilities to create their ultimate hero!

-A VAST COLLECTIONS OF COSTUMES AND WINGS
Adorable outfits and wings to help you find the perfect style for you!

-UNLEASH THE HIDDEN POWER OF PETS
A pet in Luna is more than a simple friend. The lovely and super-cute pets are always there to cheer you up!

-FIND YOUR TRUE LOVE
Join us in Pocket Luna to find and marry your special someone! Build friendships and romances that will last a lifetime!
---
Pogocat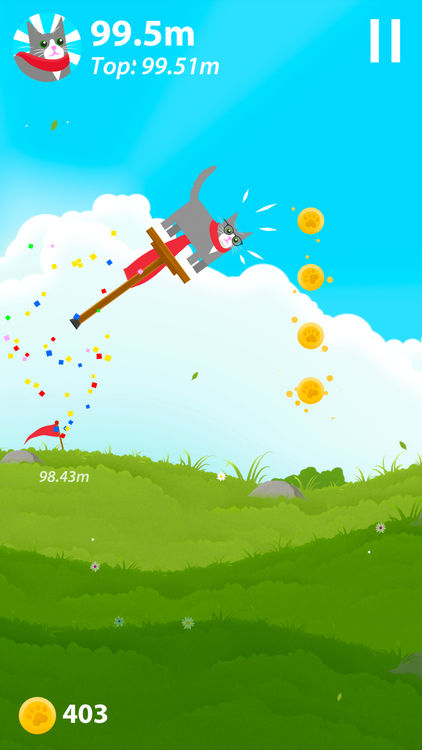 So you think you know how to manage a cat on a pogo-stick? Well, here you go. Prove it.

The sky is blue, the grass is green and Pogocat is prepared for a wholesome day of jumping. Hop, flip, spring, boing, and skip with her as far as possible across the grassy mountain plains.

Pleasant? Perhaps, but probably not. After all, it's a cat on a pogo-stick. There will be falls, and there will be tears. Patience is essential on Pogocat's journey.

Features:
– An endless, gruelling journey with you, a pogo stick and a persistent hopping cat.
– High-difficulty, physically-simulated pogo motion-dynamics.
– Feline outfits to make the journey more colourful (yes, Pogocat actually enjoys dress-ups)
– Ad removal for distraction-free jumping.
– A feline friendship worth working for.

Remember that feeling that you once had where one day you'd come across a cat on a pogo-stick? The day has come, and it's a beautiful one at that.
---
Shadow Battle 2
The SHADOW force has corrupted our Universe by its dankness power, all life forms are covered under its effect. The souls of the most powerful heroes have been sealed inside the magical artifact called Cube. Only you – the Commander – can free the imprisoned heroes, take the lead and fight against the SHADOW to bring peace back to the Universe.

This is SHADOW BATTLE 2.2 – A Revolutionary RPG-fighting action game!

* NEWS! *
SHADOW BATTLE 2.2 is released with Online Multiplayer Arena game mode!

* CREATE YOUR OWN FIGHTING TACTIC *
SHADOW BATTLE brings to you many heroes under 6 unique classes to choose from. Collect new heroes, emblems and manage them in the way you like. Be fast and graceful, strong and shattering, enigmatic and deadly.

* BECOME THE GREATEST LEGEND *
As a Commander, you can recruit, power up and manage heroes to fight against the SHADOW force that threatens to enslave all Universe!
– Gather all of the most powerful heroes together and let them stay by your side, fight under your lead.
– Undertake your epic journey amongst the stars, explore planets and beautiful landscapes.

* RISE TO THE CHALLENGE *
Engage in Versus battles to conquer your challengers; Win rewards, upgrade your force and become the top-ranked Commander!

* UNLOCK MYSTICAL PRIZES *
Win Cubes to discover the loot and treasures within: rare heroes, diamonds, valuable resources and other amazing rewards!

* Contact us *
We want to make sure you are entertained. Feel free to write us any feedback. They are real-time credits for us. Let's improve the game together!

* Update Suggestions *
Any ideas and suggestions, please send us an email at shadow.battle.superhero@gmail.com.
---
Tap Tap Dig – Idle Clicker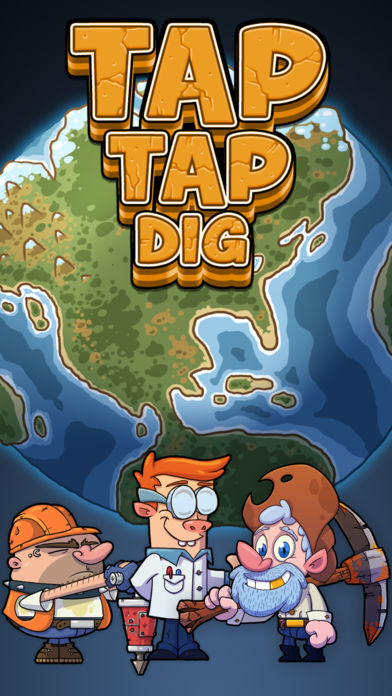 If you enjoy clicker games, Tap Tap Dig is perfect for you! Tap Tap Dig is an incremental idle clicker game that lets you take control of a miner and dig deep into the planet's core! Just start clicking to mine. Bring along special mining helpers, collect coins, diamonds, and more! Upgrade your miner and helpers to increase your DPS and reach uncharted depths.

Digging for gold has never been more exciting! Tap to start, then upgrade your helpers and hire benefactors to help you dig deeper, faster. Unlock a pirate helper, construction slime, a miniature black hole and more! Still not strong enough? Collect fossils and trigger a Big Bang to boost your digging power even further!

Download now and start digging for gold in one of the most addicting incremental idle clicker games! How far can you dig?

TAP TAP DIG FEATURES

Idle Clicker Gameplay
● Tap: Swing your pick-axe!
● Tap: Squish earthworms and earn diamonds!
● Dig: Earn coins and fossils!

Incremental Upgrades
● Collect 12 helpers to dig for you!
● Hire benefactors to unlock unique bonuses
● Evolve your digging strategy! Unlock special mysterious benefactors to lend a helping hand, fin, or claw!

Upgrade Your Miner
● Gold Miner: Unlock prospector skills and dig even faster
● Research stat bonuses and profit!
● Rewards to permanently upgrade your prospector are everywhere!

Idle Mining
● Earn coins even when you're not playing
● Bonus – enjoy cool bonuses from our unique ad reward system
● Achievement system – show off to your friends!

Tap Tap Dig is the perfect incremental clicker / idle game for fans of endless fun. Tap the day away digging for gold, diamonds, fossils, and more! Bring along friends like Rocky the loyal dog, Mack "The Anchor" pirate, and Jack Hammer the construction worker and get digging today!

Tap, Tap, Dig – can you dig it?

Become a gold digger in one of the newest free mining games and download now!
Download Tap Tap Dig – Idle Clicker
---
Warhammer AoS Champions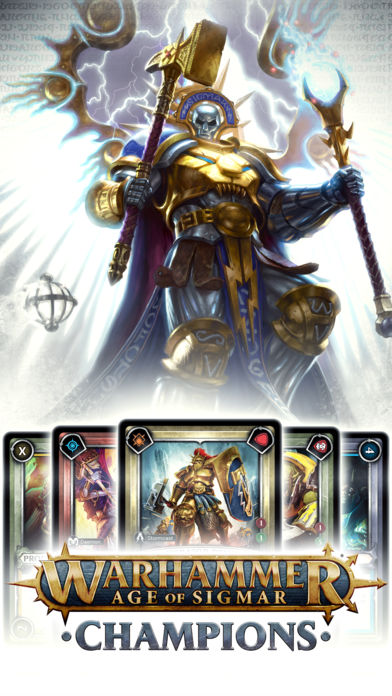 Command powerful factions & legendary Champions in this Warhammer Trading Card Game.

We are Sigmar's Champions!
Thousands of players are heralding the new era – the Age of Sigmar, in this epic Warhammer trading card game born from magic and fantasy.

Deploy units and unleash deadly magical abilities, while completing quests to earn blessings from the gods. Only the mightiest of warriors will stand victorious in this battle for the Mortal Realms, that spans both physical and digital worlds.

Where does your allegiance lie? Don't wait! Start your mighty quest today!

• DISCOVER the WARHAMMER AGE OF SIGMAR universe with breath-taking imagery as you've never seen before!
• CHOOSE your allegiance from the GRAND ALLIANCES – Order, Chaos, Destruction and Death.
• COMMAND legendary Champions that form the backbone of your army.
• FAST, TACTICAL GAMEPLAY – easy to play, takes skill to master.
• CARDS with unique rotating mechanics for damage, healing and novel over-time effects.
• COMPLETE quests to unlock powerful blessings.
• BATTLE your opponents in an epic duel of strategy and skill.
• CONSTRUCT YOUR OWN MIGHTY DECK of cards to prove your might.
• PLAY with digital cards or scan physical cards into your mobile collection to level-up and play them digitally for free!

Are you ready to choose your allegiance?