If you purchase an independently reviewed product or service through a link on our website, we may receive an affiliate commission. Learn more.
Catching up with family and friends over the Thanksgiving holiday is a fun and whole experience, but after being asked how things are going for the 30th time today, you'll probably be ready to crawl into a hole and shut yourself off from the world. Thankfully, a ton of great new and totally free games just hit the App Store.
Faraway 2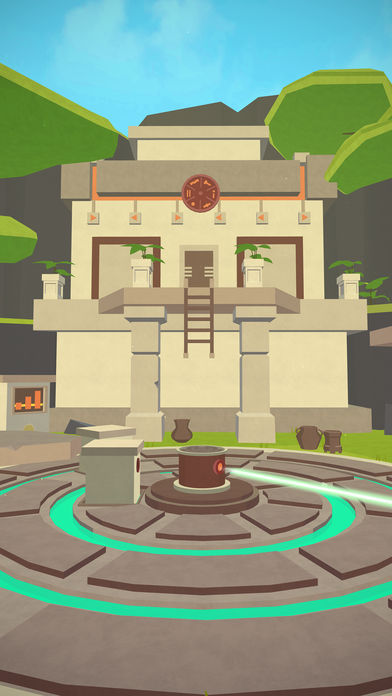 Escape all new temples in Faraway 2: Jungle Escape that are full of new challenges and mysterious puzzles. This room escape game will surely challenge your puzzle escaping ability. Sequel to one of the best escape games ever with over a million players! A room escape puzzle game that will completely challenge your mind, captivate you & offer hours of amazing mobile gaming entertainment.

FASCINATING STORY
It's been almost a year since you started your journey, searching for your lost father. After solving a multitude of mind-boggling puzzles, the last portal you went through took you to an entirely new continent full of new temples to explore. It seems like you are getting closer to something and you are continuing to find notes left behind by your father, only now it seems he is not alone. Observe the environment, collect items, manipulate devices and solve perplexing puzzles to escape temple labyrinths.

COMPLEX PUZZLES
Explore 18 new temples packed with escape puzzles, Explore a 3D world that will captivate you from the moment you begin. Turn, look and explore mind-bending puzzles and contraptions.

IMMERSIVE WORLD
Relax to the ambient soundtrack and the easy to navigate the 3D world that you will find in an escape game, with an abundance of secrets to discover.

THE MYSTERY CONTINUES
You have many more pages of your father's missing journal to find, maybe then you will unlock your family's past. This is an escape game that will keep you engaged for many hours!

NEW FEATURES
In game camera allows you to take snapshots and save them for later use.

TRY FOR FREE
Enjoy 9 free escape levels before you decide to purchase the remaining levels and experience the whole Faraway 2: Jungle Escape story that will leave you impressed.

SUPER WIDESCREEN SUPPORT
The puzzle game looks beautiful on new 18:9 phones and also shines on tablet devices. Enjoy stunning and astoundingly detailed graphics that look exquisite.

SUPPORTS IPHONE X SCREEN
Compatible with new standard screen sizes for iPhone X.

Enter an all-new intriguing environment of room escape games & puzzles with Faraway 2: Jungle Escape!
---
Farming Dead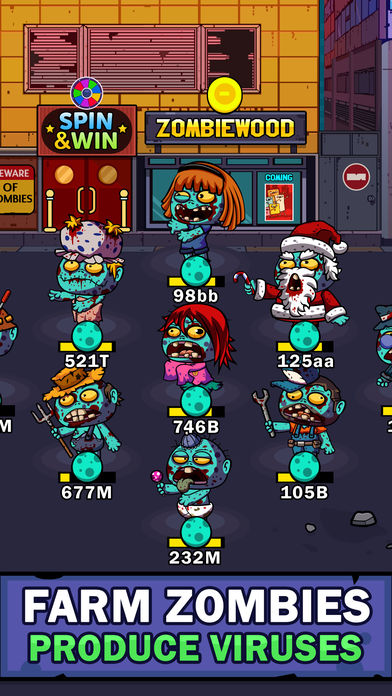 Ever wanted to have zombies, many zombies, and see them infect the world? Well, then let's go farming dead! Farm zombies for fun and profit in this relaxing idle simulation game!

Start from the bottom with a cute zombie and with big dreams of achieving zombie domination. Tap n' swipe to collect viruses, spawn zombies, buy upgrades and repeat. It's simple as that. There are many hilarious zombies to unlock and humorous upgrades to buy.

The more viruses you spend for upgrades the more viruses they produce for you. There's no progress without sacrifice, so you regularly need to sacrifice your zombies to keep gaining even more. Just chop their heads off and see how the production goes up! Hire beautiful babes for mega boosts. Your zombies will love them! Get and feed cute pets and… oh no, poor little pets when they become big and juicy… they will help in infecting the world! To infect humans you will need to extract cells from zombies. Get the dust off the extractor and squeeze as many cells as possible from every zombie.

GAME FEATURES:

* FARM funny zombies and produce viruses
* SIMPLE tap n' swipe to collect viruses; spend it on awesome upgrades… and profit!
* PRODUCE viruses even when you are offline
* OPEN ZOMBOXES to discover new zombies
* DEFEND your zombies from commando attacks
* REVIVE your killed zombies
* SLICE some hams to feed the zombies; they won't produce viruses on an empty stomach, huh…
* EXTRACT infectious cells from zombies and infect the world of humans
* UNLOCK cute pets… and find out their purpose
* SACRIFICE your zombies and spend it on new upgrades, there's no progress without sacrifice!
* MIX some bloody ingredients like brains, worms, and blood to make delicious cocktails and unlock unseen types of zombies
* AMUSE zombies with a charming belly dancer or serve fresh popcorn for profit
* HIRE BEAUTIFUL BABES for mega boosts
* VISIT ZOMBIEWOOD and be rewarded
* SPIN & WIN for exclusive bonuses
* TONS OF ACHIEVEMENTS for you to discover
* EASY TO PLAY for the whole family

Play Farming Dead now, and get ready for zombastic fun!
---
Legend of the Skyfish Zero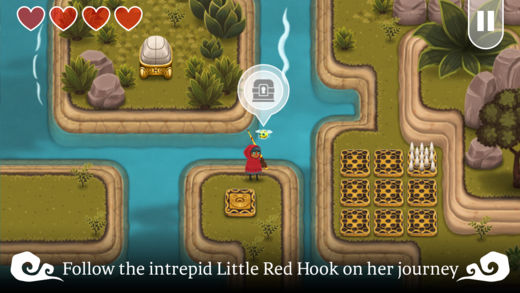 Legend of the Skyfish is a beautiful adventure puzzler with a unique weapon and tool – a fishing pole!

Follow the intrepid Little Red Hook on her journey with the Moonwhale to defeat the monstrous Skyfish.

Use your fishing pole as a weapon or a grappling hook, and upgrade it as you go.

Legend of the Skyfish is filled with beautiful hand-painted art, intricate action puzzles and unique enemies.
Explore a huge world of 45 handcrafted levels and defeat giant bosses.

** This is an ad-supported version of Legend of the Skyfish. You can play about half of the game for free and then decide if you want to purchase the upgrade to the full, ad-free version.

Features:

– Unique fishing/grappling hook mechanics
– Gorgeous hand-painted environments and creatures
– Original music score by Sean Beeson
– 45 handcrafted levels
– Epic boss fights
– Many items to find and use
– Various puzzles to solve
– Great for all ages!
Download Legend of the Skyfish Zero
---
Letteral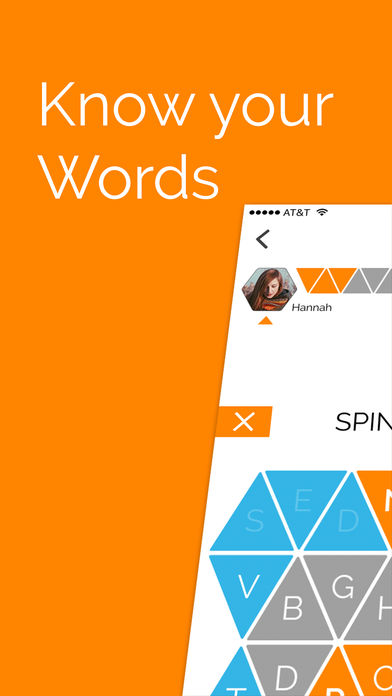 Letteral is a beautiful and clever word game, that you can play for free against your friends or anybody in the world. But be aware, word wizards; Only with a superior strategy will you be able to beat your opponents.

– Play games in English, Spanish, German, French, or Danish
– Duel your opponents online or on play locally on a single device
– Beat your friends or players from around the world
– Choose from a variety of stylish themes to liven up your game
– Keep track of your games through statistics and achievements
---
NARUTO X BORUTO NINJA VOLTAGE
The characters from TV animes BORUTO: NARUTO NEXT GENERATIONS and NARUTO SHIPPUDEN are finally united in NARUTO X BORUTO!

Create your very own fortress, then attack your rivals' fortresses!
Experience a new style of ninja battle:
a fusion of action and strategy!

————————–
■Game Overview
————————–

[Characters]
All your favorite characters are joining the battle, including Naruto Uzumaki, Sasuke Uchiha, Kakashi Hatake, and Sakura Haruno from NARUTO SHIPPUDEN,
along with Boruto Uzumaki
from BORUTO: NARUTO NEXT GENERATIONS!

[Action]
Simple controls that let you perform combo attacks and all types of Ninjutsu!
The action you expect from NARUTO and BORUTO reproduced using beautiful graphics, including powerful Ninjutsu attacks such as Naruto Uzumaki's Rasengan, and Ninjutsu power-ups like Sasuke Uchiha's Sharingan!

[Strategy]
Position traps and the Shinobi that you've trained
to protect your village from other players' attacks, all while
creating your very own ultimate fortress!

[Battle Rankings]
Battle rankings are provided,
and let you compete for points by attacking and protecting fortresses. Try to get the
highest ranking by competing with players from all over the country!

[Multi-Player]
Online multi-player missions also available!
Team up with a maximum of 4 players and defeat mighty enemies!
Download NARUTO X BORUTO NINJA VOLTAGE
---
Phantom Chaser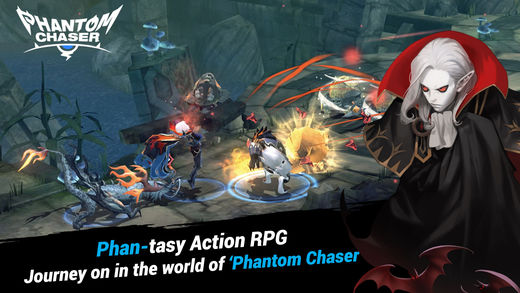 The Epic PHAN-tasy RPG with Award-Winning stunning graphics is now open to the Global Audience!
Get ready to greet a bunch of infamous Phantoms from myths & legends around the globe!
Explore the world of Phantom Chaser and lead your team to victory against the evil force once and for all!

◎ Over 130+ Phantoms to collect and master!
Phantoms from various myths & legends around the world can be found in the world of Phantom Chaser
Dracula, Frankenstein, Succubus, Anubis, the great Nine-Tails, and many more

◎ Unique & Fun 'Mimic System'
Possess your character with Phantoms to absorb its abilities and unleash powerful skills.
Strategical use of Mimic can turn the wave of battle.

◎ Configure your team wisely!
All characters are divided into 3 roles; Melee, Mid-Range, and Long-Range.
Examine what you are up against and set your team accordingly to gain Victory

◎ Manual Control for a more Strategic play!
Control the position of your team members to avoid or reduce damage from enemy attack.
Focus fire on a single target to eliminate present threat!

◎ Acquire and Enhance Phantoms to Strengthen your team
Acquire Phantoms through playing stages, summoning and also CRAFTING!
Level Up, Upgrade, Transcend and Evolve your Phantoms to unlock potential powers.
Watch your Phantoms change in appearance as they become Stronger!

◎ Put your team to the test in Arena!
Battle it out with other 'Phantom Chasers' from around the world.
Climb up in the Ranks to receive a worthy reward for the effort.

◎ Acclaimed Visuals!
Nominated & Awarded for 'Best Graphics' in 'Unity Korea Awards 2017'

Prepare for an Epic Journey into the world of Phantom Chaser!
---
Pukk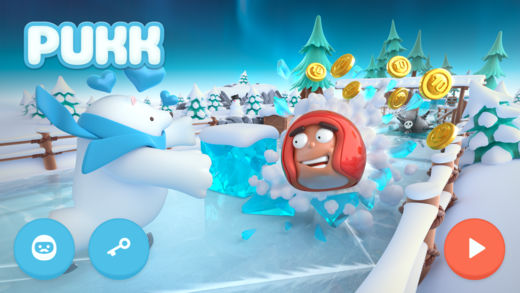 Pukk is a treasure hunter in search for gold way up north in Sweden. This ice cool and unique runner lets you smash your way through challenging levels looking super swag or utterly ridiculous!

But it doesn't matter how you look, the lovesick polar bear will still chase you till the end of time. Use all your skills as master ice glider to smash treasures and avoid obstacles!

» Smash and grab gold galore
» Use your gold coins to open loot boxes
» Style and swag your Pukk in all kinds of ways
» Many challenging levels

Pukk is a premium game for free. Maximize your experience and buy the Premium Edition!

Extra Premium Edition features are:

» Open Premium loot boxes containing rare items
» Save your level progress without ads
» Save all your cool and crazy styling looks
» Get a Premium-only item (The Royal Crown)

Pukk is delivered to you with love from Team Itatake <3
Enjoy!
---
Puzzle Fighter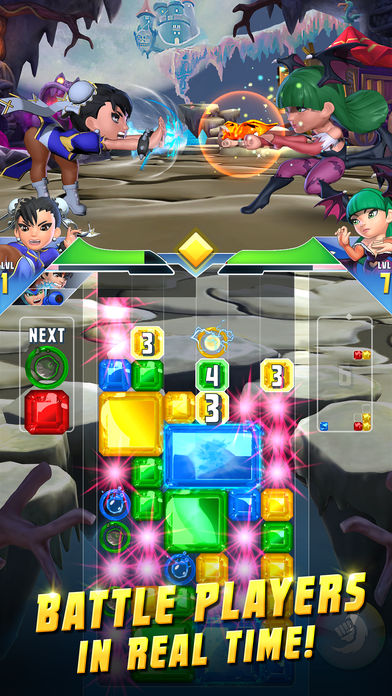 Experience Puzzle Fighter action like never before. Assemble a team of legendary characters from favorite Capcom franchises. Challenge players to thrilling real-time battles. Discover dozens of strategic abilities. Build up and destroy gems to unleash epic combos. Puzzle Fight your way to the top of the World Leaderboard!

Build your team with a main and two support characters, each with their own strengths and benefits. Enlist Street Fighter's Ryu, Ken, or Chun-Li to take on Mega Man's X, Darkstalkers' Morrigan, or Dead Rising's Frank West. A growing roster of Capcom's most famous characters compete on legendary stages from Street Fighter, Darkstalkers, Okami, and more. Get ready for a knockout world of explosive gem-crushing action in the ultimate Puzzle Fighting game!

FEATURES

• Challenge players from around the globe in exciting real-time puzzle battles
• Collect your favorite characters, each with unique and iconic abilities
• Build and level up a team of legendary fighters and compete on classic stages from across the Capcom universe
• Customize your team with dozens of costumes and colors
• Take on daily missions for exclusive rewards
• Challenge friends to casual battles and discover new strategies and playstyles
• Collect Ranking Points and climb the World Leaderboard in PVP seasons
• Discover new characters, stages, and tournaments with live events
• Experience the evolution of the beloved arcade classic Puzzle Fighter
---
Survivor Royale
Survivor Royale is coming, which is a mobile version of Battle Royale presented by NetEase. Fight alone or team up with your best friends in a 2- or 4-player mode and be the last survivor out of up to 100 contenders! Use realistic weapons, vehicles and attachments to explore the massive map with sophisticated geography and buildings. Experience the joy of intense, extreme survival on the go, anytime, anywhere!!!

Up to 100 players are spread across a large map. Beginning with unarmed equipment, compelled to scavenge for the weapons that are randomly spawned through the area. Over the course of 20 minutes, the playable area contracts, forcing survivors into a fight to the death. Last man standing.

[100 contenders for ONE chance of living!]
100 players, one fair battlefield, only the best stands till the last.

[HD maps, a huge world to survive!]
Extra large maps, sophisticated geography, diverse buildings — a real fighting!

[Team up, warriors!]
Both solo and cooperative 2- or 4-player modes are available.

[Realistic Weapons and Vehicles involved!]
A wealth of weapons, attachments and vehicles to be scavenged. Are you ready for it?
---
Ultimate MotoCross 4
An Ultimate Gaming Experience!
Get ready in the starting-blocks and try to keep the control of your motocross!
Exceed your limits and increase your experience!

5 game modes await you:

• "CAREER": Challenge the greatest pilots and try to be in the top 3 in the leaderboard!
• "DUEL": Compete with the best pilot of the world!
• "TIME ATTACK": Break your own records!
• "FIGHT": It must remain ONE!
• "SUPERBIKE": Drive your motocross on asphalt road!

Incredible sensations and Over than 60 challenges await you!

A tutorial is available on the Main Menu to learn how to control your motocross.

Set your own settings:

• The control method that you like.
• The difficulty level.
• The ideal point of view.
• The music.
• The rendering quality.
• …

Find all your scores by touching the "Scores" button in the main menu.
Share your scores in the online leaderboard.

Are you ready?

••• Game Features •••

• Drive your own motocross!
• Striking Drift!
• 5 Game Modes!
• More than 60 Challenges!
• Full 3D Real Time Rendering!
• High Graphic Quality!
---
Our deals and product reviews are picked by BGR's expert editors and team.

Follow @BGRDeals on Twitter to keep up with the latest and greatest deals we find around the web. Prices subject to change without notice and any coupons mentioned above may be available in limited supply.