After a slow few weeks, the App Store roared back to life over the past couple days with some of the more interesting mobile games of 2018 so far. Most exciting among them is Pocket-Run Pool, the latest twist on a classic game from Zach Gage. Seriously, if you haven't played one of Gage's games before, you should download all of them. But start with Pocket-Run Pool. And when you need to take a break from that, there are nine other games too.
Baseball Nine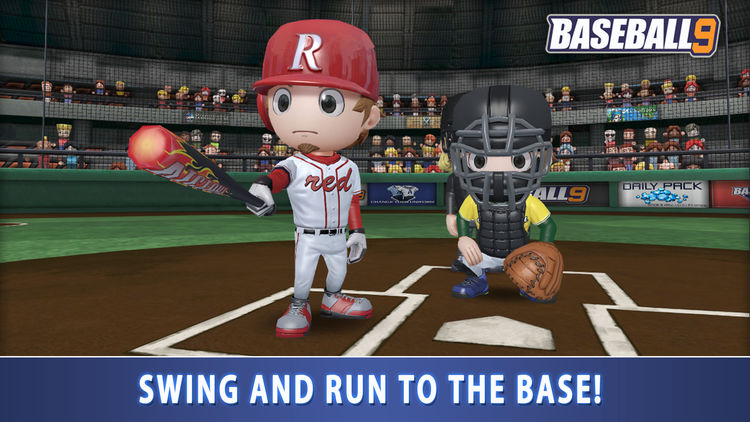 Build and play your own team!
Baseball at your fingertips! BASEBALL NINE!

Enjoy fast-paced, realistic baseball, featuring compact gameplay and informative stats.
Play BASEBALL NINE to become the Legend League Champion!

Play without connecting to the internet.
Supports tablets.

* Fast, compact gameplay!
– Enjoy a speedy, streamlined playing experience.
– Hit massive dingers and get thrilling strikeouts.
– Specialized auto functions by game, by inning, and by player are a given!

* Enjoy realistic baseball!
– Experience gameplay with realistic baseball rules.
– Simulated results based on actual game stats.

* Recruit and develop your roster!
– Recruit players and develop them by raising stats of your choice
– Equip and upgrade skills to develop them into specialists.
– Raise the player tiers to turn them into hall of famers.

* Customize your players!
– Rename them and set them as left-handed or right-handed batters or pitchers.
– Change their faces, pick body types, and choose different batting and pitching motions.
– Try equipping a range of bats, gloves, and glasses to customize your players in unique ways.

* Manage your team and get promoted to higher leagues!
– Rename your team and change its emblem and uniform.
– Expand into new stadiums and manage the team's cumulative stats.
– Advance to the postseason and win for promotion to a higher league.
---
BattleHand Heroes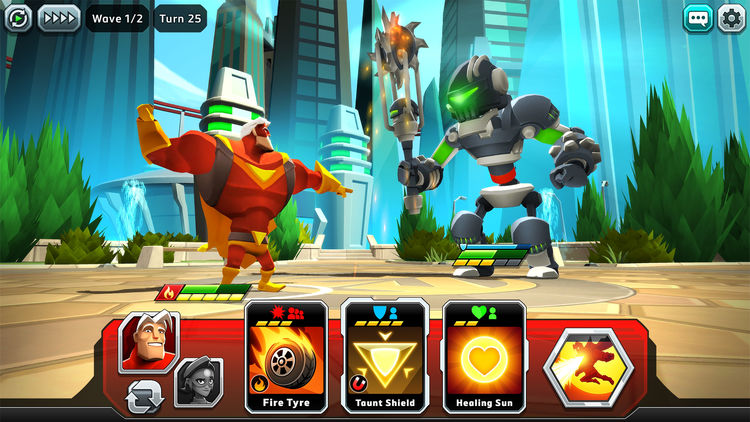 Calling all Super Heroes!

The interdimensional being Omega has settled in Silver City to bring chaos and destruction. Crime is through the roof!

Take Mr. Sunshine and his incredible powers and build a team of Heroes known as The Sentinels to take back the city from evil.

From Kitty Karma to Cloud-9, rally a team of Heroes and save the world!

Join a Global Alliance, battle in the Silver City Stadium, climb your way through Titan Tower, and take on challenges from the Helipad.

Battlehand Heroes is an all new adventure, with AAA graphics, hilarious animations, and the ability to be just a little more super than you are in normal life.

Join the fight today in BattleHand Heroes!

Features:
* Epic free-to-download strategy adventure RPG (Role Playing Game).
* Recruit a team of legendary Super Heroes to save Silver City!
* Unlock incredible upgrades through each Hero's skill tree.
* Multiple battle modes, including a Robust Campaign and Player vs. Player challenges.
* Collect, level up, and evolve powerful cards on your way to build the perfect Super Team.
* Adventure all over Silver City in the name of Justice!
* Perfect your combat strategy using elemental strengths and weaknesses for all Heroes and Villains.
* Stunning 3D animation and easy to learn tactical combat.
---
Blade Reborn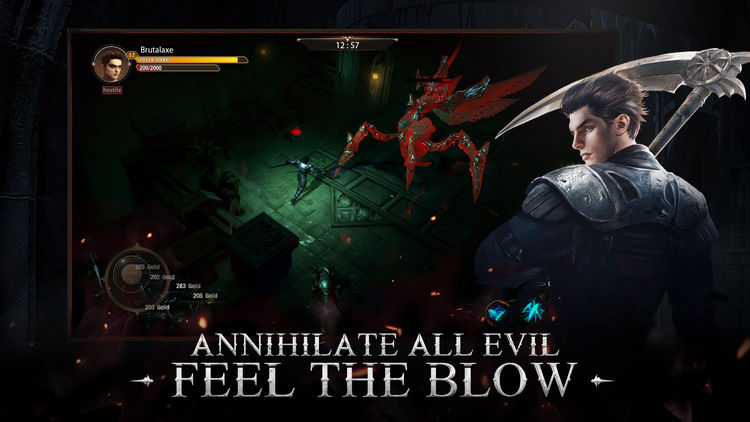 To my fellow warriors,
The illusion of peace has deceived us for far too long. As we speak, the Demon race is plotting a large-scale invasion of our realm to pilfer our blessed iron ore. Darkness is rising, it's inevitable – we must band together and prepare for it. But don't despair, my warriors, you mustn't forget how we prevailed over this same threat several centuries ago. Grab your weapons, dive into the underworld and fight for the greater good!

CLASSIC DUNGEON CRAWLING LOOT-BASED GAMEPLAY
– Scatter the Demon race, protect the blessed iron!
– Explore and build your legend in a variety of diabolical worlds.
– Collect piles of loot and gold in endless dungeon instances.

HACK 'N' SLASH, CAST SPELLS, AND MORE
– Be one of three unique heroes: An Immortal Wizard, Indomitable Warrior, or a Deadly, SIlent Assassin. Master over 64 Different skills and talents for each class.
– Switch weapons freely during combat – create stylish combos by switching weapons on the fly. Master all of your weapons' skills to dominate even the most powerful enemies.

YOUR GEAR, YOUR STYLE
– Identify countless weapons to find the most powerful random attributes for every piece of loot you find.
– Craft powerful runes, master various talents and create your own unique playstyle.
– Customize your outfits by dying them to your exact specifications.

ENDLESS DUNGEONS, DIVERSE GAMEPLAY
– Play solo or queue with friends for dungeon instances, compete on MOBA-style battlefields, and risk your life in massive 25v25 battles.
– Challenge powerful World Bosses, Treasure Bosses, and more!

GLORIOUS WORLDS, BREATHTAKING ACTION
– Experience phenomenal graphics with HD mapping, next-gen special effects, all powered by the latest Flexi engine.
– Immerse yourself in visceral combat action with intense feedback and gorgeous visual effects.
---
Deploy and Destroy: Ash vs ED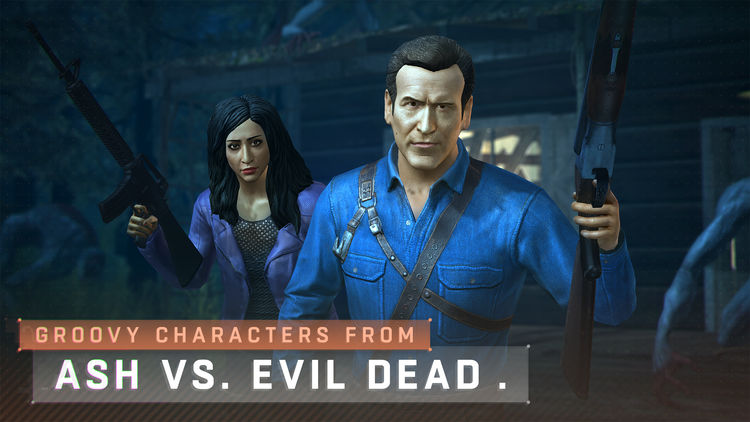 Welcome to Deploy and Destroy ft. Ash vs. Evil Dead and Divergent.

Dive into the terrifying fun of Ash vs. Evil Dead and the post-apocalyptic locations of Divergent. With its awesome graphic quality, cinematic arenas, PC-quality visual effects, and Hollywood action characters in addition to customizable original characters… "Deploy and Destroy" has it all.

Download now to play as Ash, Kelly, or Pablo from the Ash vs. Evil Dead TV series, or as Tris, Eric, Edward, or Max from Divergent! You can also play as one of our original Deploy and Destroy Characters, customizing your look by earning weapons upgrades, new armor, and other cool swag while you play.

Stay tuned for updates, and get ready to Deploy and Destroy!
Download Deploy and Destroy: Ash vs ED
---
Eden Obscura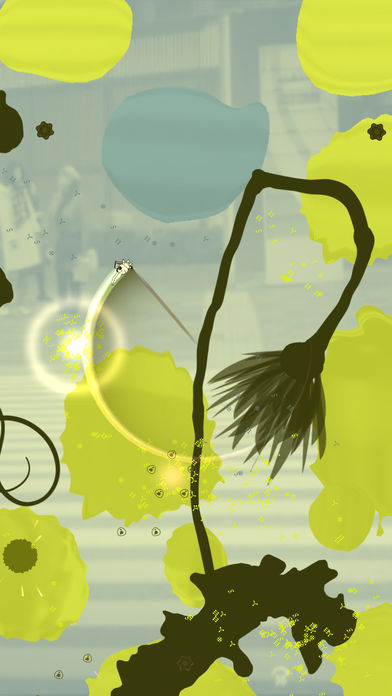 Welcome to a paradise of sound and life.
Journey to the garden of sound and life, a mysterious and artistic place full of the extraordinary!

Eden Obscura, named after the historic camera obscura, is quite literally "light" entertainment; it uses the camera in your phone to create interactive visual effects while you jump around the screen gathering pollen to grow surreal artistic plants and landscapes in a world that is like no other. Vibrant colors combined with eclectic and sophisticated electronic music take you on an artistic and mind expanding journey, while at the same time it is quite simply a ton of fun to play.

================================

・An artistic style simulating nature and plant life, imagined through the random flow of ink dropped down a sheet of paper.

・Unique garden visuals that use the camera to synthesize light and your surroundings in realtime.

・A unique action experience born from the symphony of grooving techno/house sound and stylistic visuals.

================================

■Nominated in 3 categories as the first Japanese title by IGF Awards hosted by Game Developer Conference and selected as the committee choice award by the Agency for Cultural Affairs in the Art Festival Entertainment category, the world-acclaimed PixelJunk Eden takes on new life on mobile as Eden Obscura!

■Eden Obscura is a reimagining of the award-winning game PixelJunk Eden for mobile devices, and is once again helmed by international multimedia artist Baiyon, previously featured in the magazine Game Developer as one of 50 people to watch in the games industry.

■Winner at Busan Indie Connect Festival 2017

================================

"Eden" is a collective world formed from an untold number of gardens. You control the "Grimps," residents of this world, and travel through these gardens collecting "Spectra," the source of life.

As you run, jump, and spin on silk string, the gardens grow around you providing new paths to adventure and you'll find yourself deep in a realm of cutting-edge sound and amazing visuals.

================================

This app requires the camera feature to be turned on.
---
Epic Skater 2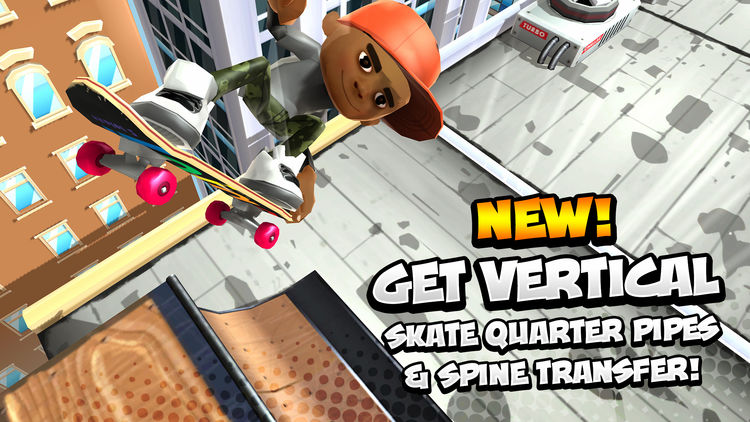 Epic Skater is back, rebuilt from the ground up and bigger than ever! Thank you for your feedback!

Hop in, unlock and upgrade all of your tricks to land the biggest combos!

Play the way you want! Look the way you want in Epic Skater 2!

Explore the Streets of Epicwood. Launch up to the Rooftops for a long half pipe session, or cruise down to the Subways to catch every rail.

Create-A-Skater
The all-new Create-A-Skater features over one billion outfit combinations with update packs on the way.

Skate the furthest, and bust-out the longest combo in Endless mode or skate the perfect line in any of the 24+ Career mode levels.

Get vertical!
Now you can skate quarter pipes and spine transfer for big air and massive points!

This FREE to play skating game will keep you coming back for more to complete daily challenges, unlock new gear, reach higher distances in Endless mode, and mastering levels in the NEW Career mode.

This game supports both phones and tablets.

Welcome back and happy skating!

FEATURES:
* Rebuilt from the ground-up! Go big and get Epic'r!
* Over 600 skate gear, clothing, and accessories to customize your skater for over 1 billion outfit combinations!
* 24+ Career mode levels loaded with challenges!
* 11 Tiers with 1500+ Goals in Endless mode to keep you GRINDING
* Super Small download! Under 81 MB
* More than 44 unique, upgradeable tricks for epic combos
* Grabs! Hold the Grab button and swipe for style and huge points!
* Turn around and go where you want! Wallplant, Wallpush, and explore every area.
* Skate Quarter Pipes! Acid Drop and Spine Transfer for BIG AIR!
* Made from some of the former Tony Hawk's Pro Skater developers
* Use boost pads reach new heights and find secret areas
* Skate and destroy! Thrash ramps in vert sessions!
* Skate the furthest, combo the biggest, unlock all of the goodies, complete all of the levels to be the next Epic Skater.
---
Faraway 3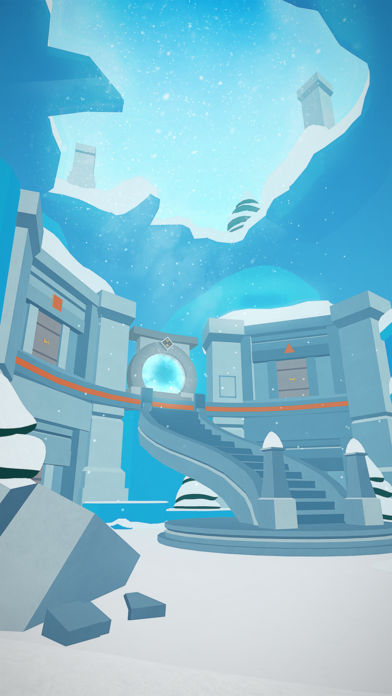 Escape all-new distant places in Faraway 3: Arctic Escape that are full of mind-bending puzzles and new exciting locations to explore. This room escape game will challenge your puzzle solving ability. Sequel to one of the all-time best escape games with over a million players! A room escape puzzle game that will completely challenge your mind, captivate you & offer hours of amazing mobile gaming entertainment.

FASCINATING STORY
It's been several years now, since your journey began, searching for your lost father. After unraveling a huge number of mind-boggling puzzles, the last gateway you entered took you to an altogether new wintery continent filled with frosty, new temples to investigate. You seem to be getting closer to finding your father, all the while you are still finding notes he left behind.
Observe the arctic environment, collect items, manipulate devices and solve perplexing puzzles to escape frosty temple labyrinths.

COMPLEX PUZZLES
Explore 18 new temples packed with escape puzzles, Explore a 3D world that will captivate you from the moment you begin. Turn, look and explore mind-bending puzzles and contraptions.

RIVETING LOCATIONS
Navigate through one of the easiest 3d environments in an escape game while enjoying an ambient soundtrack. Uncovering secrets have never been so much fun.

THE MYSTERY CONTINUES
You have many more pages of your father's missing journal to find, maybe then you will unlock your family's past. This is an escape game that will keep you engaged for many hours!

NEW FEATURES
In game camera allows you to take snapshots and save them for later use.

TRY FOR FREE
Enjoy 9 free escape levels before you decide to purchase the remaining levels and experience the whole Faraway 3: Arctic Escape story that will leave you impressed.

SUPPORTS iPhone X SCREEN
Compatible with new standard screen sizes for iPhone X.

Enter an all-new, fascinating world of room escape games & puzzles with Faraway 3: Arctic Escape!
---
Pocket Run Pool
The return of arcade pool from the creator of Really Bad Chess and Flipflop Solitaire.

Pocket-Run Pool combines 8-ball pool with the thrill of a chasing the perfect highscore.

In Pocket-Run, your goal is to sink all the balls, but where and when you sink them is what matters most!

With each pocketed ball, you're awarded points based on the pocket you sunk. So sink carefully, but watch out, with each miss or scratch you lose a life — run out before you finish the table and it's game over.

Compete against yourself, the world, or the bank in a variety of thrilling game modes!

Can you make the perfect pocket-run?

Arcade pool is back!

——WHATS IN THE "BOX"?

– Play Pocket-Run Pool's Standard, High Stakes, and Insta-Tournament modes for free!
– Asynchronously Go for gold against players from around the world in Insta-Tournament mode
– Manage your risk against all manner of game conditions (like the devious Cuewall) in High Stakes mode
– Unlock Break of The Week, alternate backgrounds, and remove Insta-Tournament buy-ins with a single In-App-Purchase of just $2.99
– Track stats for all four modes
– Win alternate pool cues and color schemes in High Stakes mode

——A WORD FROM THE DEVELOPER

I've always loved pool, and when I got my first iPhone years ago, the world of digital pool games opened up to me.

There are certainly a lot of options out there, but finding a simple and enjoyable single-player pool game was harder than I expected. I found one that I enjoyed, but after playing it extensively I found it too easy to beat the computer every time. Suddenly the problem with pool hit me — when you play against a computer in a physics simulation, you're literally playing against a god… By which I mean, either the computer is going easy on you (for a reason), or it's playing a perfect game and taking all your money.

It dawned on me that if I wanted a good single player pool game, I'd have to make a new kind of pool — a variant that doesn't need a computer opponent, that's built around the notion of scoring and improving, of taking risks, and of presenting unique and interesting challenges.

Pocket-Run Pool is the game I came up with, I hope you enjoy it!

-zach
---
Stickman Soccer 2018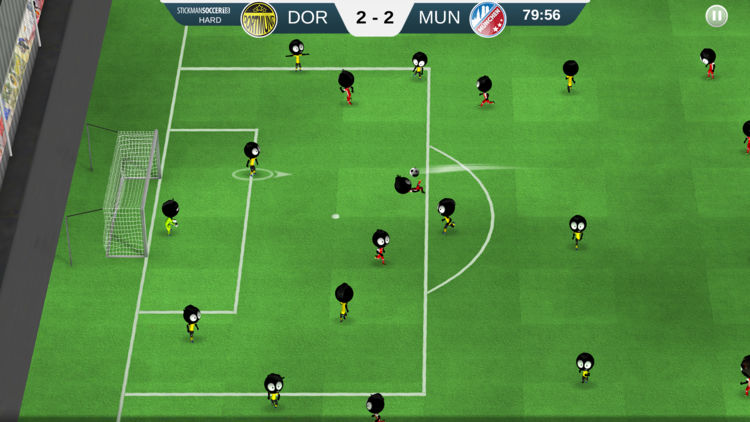 Stickman Soccer 2018 is the brand new and better than ever sequel to the award winning Stickman Soccer with more than 75 million players. Experience pure soccer fun with fast paced arcade gameplay, an astonishing atmosphere, stunning smooth animations, simple controls, insane action and tons of replay value in this from the ground up redesigned Soccer game. Choose your favorite soccer teams and rank up while playing various seasons, national leagues, cups or the World Cup 2018 in Russia. Stickman Soccer 2018 has tons of new gameplay features like yellow/red cards, sprint button, slow motion replays, overhead kicks, free kicks, … an outstanding stadium and finally the ability to customize all teams, every soccer player and upgrade your team within the transfer market. Choose your favorite soccer team from more than 150 different skilled teams and lead them to glory!

EXPERIENCE FAST PACED AND FLUID PURE ARCADE SOCCER, not just another simulation!

You can play offline whenever you want or play online and participate in daily changing live events or even challenge your friend locally with up to 2 controllers.

Stickman Soccer brand won the "Best Soccer Game 2015 Award" by German Soccer Culture Academy

GAME MODES
• Quick Games, Training, Seasons, National Leagues and Cups
• World Cup 2018 Russia
• Online daily live events
• Daily and Weekly Tournaments
• Offline support, play whenever and wherever you want
• Local multiplayer mode with up to 2 controllers

FEATURES
• New game mechanics including yellow/red cards, sprint, fouls, free kick, penalty kick, long pass, overhead kicks, header, corner, etc..
• Slow motion replays, experience your best goals from different camera angles and perspectives
• Completely from ground up redesigned and challenging smart AI with new movements and tactics
• Full Team Editor, customize everything including team names, logos, player names/appearance and many more Transfer market, get the top soccer players and upgrade your team
• Compete with your friends and all other players with the integrated world ranking tournaments
• More than 150 different soccer teams grouped in various leagues
• More than 300 trophies to unlock including the ultimate Master Trophy
• More than 50 different looking world famous top players to deploy into your team
• Various difficulty modes
• Full controller and gamepad support
• Simple yet powerful touch controls, easy to learn, hard to master
• Smooth animations with 60 frames per second
• Automatically sync progress among your devices
---
Words Royale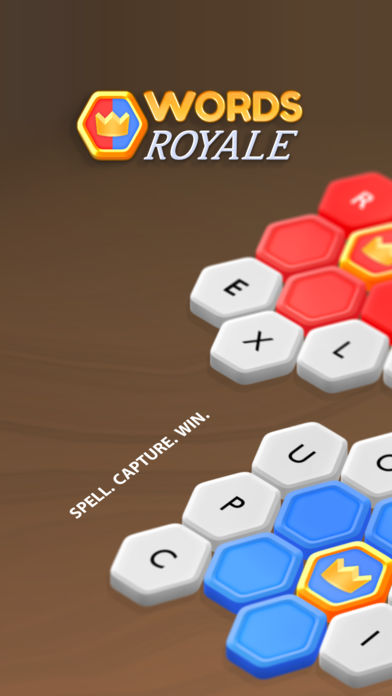 Bring your brain to the battle in the addictive word based strategy game Words Royale.
Play words on the board to increase your territory at the expense of your opponent. Capture their crown to win!

– Vanquish your opponents with your voluminous vocabulary!
– Sweep aside your adversaries with skillful strategy!
– Battle against your friends, or compete against the AI to rank up!