Whether you're looking to build an empire in space or in a fantasy world, you can do so with this week's selection of free games from the Apple App Store. Marvel also has another new game for mobile devices (this might be its 100th), and it's sort of like a turn-based RPG. I have already wasted a few hours with it, and if you're a fan of collecting comic book heroes and making them battle each other, you'll probably find it fun too.
Art Of War 3
А unique classic real-time strategy game with direct control for true commanders who are not afraid to face the enemy in real-time PvP battles! For those who want to feel the thrill of victory over a live opponent! For those who can think like a strategist and act decisively in any battlefield situation! It's no place for the timid!

Are you ready for the challenge, Commander?

Art of War 3: Global Conflict (AOW) – is a real-time strategy online game in the best tradition of old classic PC RTS games. Command, conquer and defeat your enemy on the battlefield! In this modern warfare game, you have to fight with other players in PvP battles, invent new combat tactics, develop your victorious strategies, and upgrade infantry, assault vehicles, tanks, navy, and air force to achieve supremacy over the enemy in battle.

The action takes place in the near future. The world is engulfed by a global conflict between two warring factions – the Confederation and the Resistance. Choose your side and fight shoulder to shoulder with other commanders to win in this World War. Take the side of the Confederation and protect the world from the red alert. Join the rebels and crush the global domination system.

● Epic real-time PvP and cooperative battles.
● Thousands of players online from all over the world!
● Classical RTS direct control system. You can control each unit directly!
● Stunningly detailed 3D graphics will provide you with full immersion.
● A variety of units and tactical abilities allow you to invent different victorious strategies.
● Two warring factions, each with their own features, unique combat units, strengths, and weaknesses.
● А big number of unit and building upgrades gives you ample opportunities to create your own unique and victorious army.
● Continuous World War in which the clans fight each other for global domination.
● А huge campaign for each faction, including dozens of hours of game time.

This online, real-time (RTS), modern war strategy game gives you the opportunity to feel like a battlefield general. Command, conquer, build your base, train infantry, produce assault tanks and armored vehicles, warplanes, and warships to defeat the enemy. Take part in the World War. Use superweapons and unleash your power! Join a clan with your friends and fight other clans to dominate the world. Bring your enemies to total annihilation!

We need you, general!

Art of War 3: Global Conflict is a multiplayer online game. It requires a constant, stable internet connection.
---
Galactic Frontline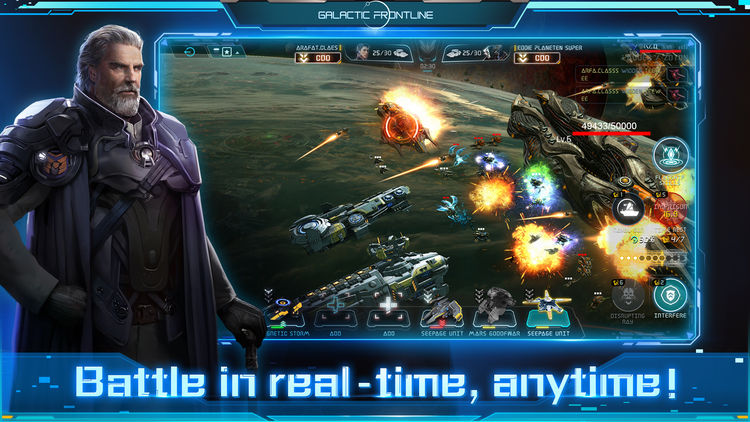 Collect and upgrade a vast array of combat units and escort vessels, unlock and develop tactical skills, and increase your fleet's firepower.

Battle in real-time with players from around the world and climb the global rankings and take part in worldwide tournaments.

Travel through the galaxy to experience the epic story of three races – the Terrans, Ensari and Zoltarians – as they fight for survival and supremacy on the Galactic Frontline.

Battle Guide:
As the battle begins, both sides' ships will occupy opposite ends of the map. Each captain will command a ship, up to 4 tactical escort vessels, and up to 6 combat units. Producing units and using skills requires energy. Energy cost, maximum energy level and regeneration rates vary based on time, upgrades, and map features.

The ship is the core system of any battle. If the enemy's ship is destroyed, you win the battle. You need to use your energy wisely and make strategic decisions based on your opponent's actions. Using your tactical skills in the right place at the right time, as well as deploying the best combat units for the situation, is the key to victory.

Take the opportunity to attack your enemy's ship right away and dictate the rhythm of the battle.

The Galactic Frontline is waiting. Join the fight!

Features:
Battle in real-time, anytime!
Challenge players worldwide!
Build and command an interstellar fleet!
Collect over 50 different combat units and tactical escort vessels.
Follow an epic storyline and explore a galaxy at war.
Lead an alliance against the world's best!
Join exciting global tournaments!
---
Immortal Warriors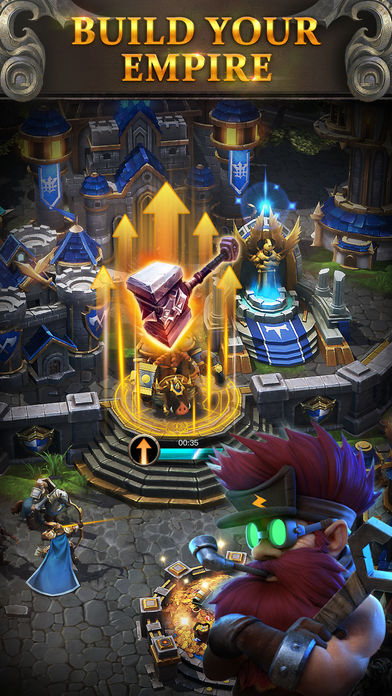 Immortal Warriors is an epic strategy MMORPG game.
It's the perfect marriage of strategy and MMO. Bring you an unprecedented addictive experience!

The magic land, epic heroes and fast pace of the war experience. Take your sword and create a global alliance to smash Demons' conspiracy. Get prepared for the challenge from the players worldwide! The throne's 'help wanted' sign is up, get ready and you will be the greatest Lord of this land!

FEATURES:
– Play GVG against millions of online players in real time MMO battles.
– Build your empire in the world of chaos.
– Craft weapons & armor for your Heroes from rare hearth materials found around the world map.
– Conquer the Wonder to become Immortal!

If you have any problems or suggestions with the game. You can contect us by the feedback. We would love to hear from you!

Join us now for FREE.
Become a Immortal Warrior!
---
Kingpin Bowling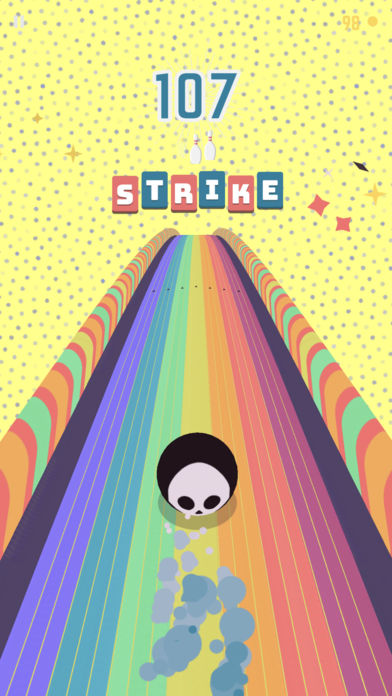 The scene: 1979 Iowa State Bowling Championship. Primetime is your middle name, and the pressure is right up your alley. After all, it's how you roll. But keep your mind out of the gutter, pal. It's down to this: Munson, McCraken, The Jesus, and you. Let's do this.

Kingpin Bowling is an endless arcade bowling game with a bevy of cute and clever characters to keep you dancing on the tips of your bowling shoes. Avoid giant hotdogs, gargatuan soda pops, oversized clipboards, massive pencils, flying popcorn, and a few surprises, all while knocking down pins in your lane to the State Championship.

You were born for this, and this game is a strike!

Kingpin Bowling features:

• Simple one touch control scheme perfect for mobile devices
• Epic bonus rounds
• Randomly generated gameplay to keep things perpetually fresh
• Unlock-albe balls like El Diablo, El Scorcho, El Sofia and more
• Share GIFS of your gameplay with friends and family
• Over a dozen achievements and Leaderboards
• Whimsical characters and soundtrack
• Kids mode for the young ones
• Dope iMessage sticker pack
• Cool and impeccable design
• iPhone X optimized
• Haptic feedback
---
MARVEL Strike Force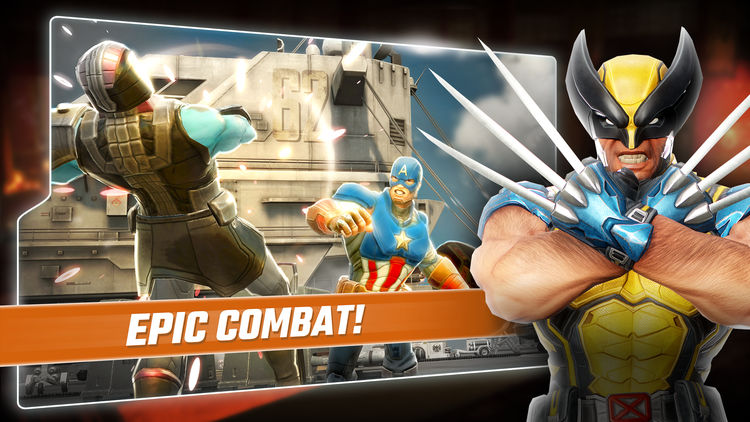 In MARVEL Strike Force, ready for battle alongside allies and arch-rivals in this action-packed, visually-stunning free-to-play game for your phone or tablet. An assault on Earth has begun and Super Heroes and Super Villains are working together to defend it! Lead the charge by assembling your ultimate squad, including Spider-Man, Doctor Strange, Groot, Rocket Raccoon, Loki, Elektra, Captain America and Iron Man, as you enter strategic combat against an all-new enemy threat. It's time to fight! Gather your squad and prepare for the battle to save Earth!

ASSEMBLE YOUR SQUAD
Recruit your strike force and form a squad of powerful MARVEL Super Heroes and Super Villains like Iron Man, Captain America, Loki, Elektra, Dr. Strange and more.

STRENGTH THROUGH EVOLUTION
Outfit and upgrade your Super Heroes and Super Villains to become stronger than ever before.

STRATEGIC DOMINATION
Who you bring to the fight matters. Pair up specific Super Heroes and Super Villains to perform combo moves to take out enemies. Expert in-fight tactics in 5v5 battles give you the power to vanquish the greatest villains of the Marvel Universe.

EPIC COMBAT
Experience groundbreaking gameplay cinematics, as your heroes unleash dynamic chain combos with a single tap.

STUNNING VISUALS
Play one of the most visually stunning mobile game experiences that has ever been released. Your Marvel Super Heroes and Super Villains look as close to life-like as possible on your phone!
---
Orbital 1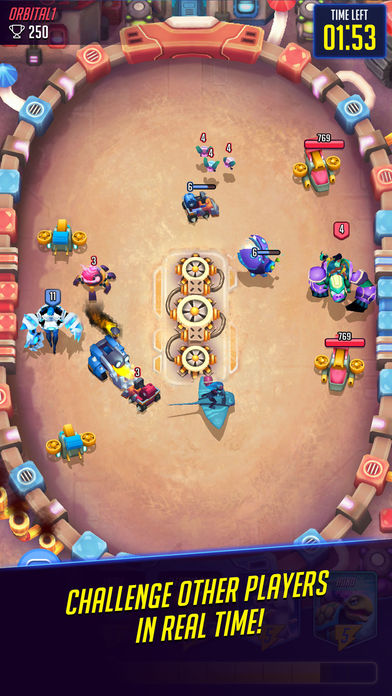 Let the action begin! Orbital 1 is a real-time strategy game set in interplanetary scenarios.

TAKE YOUR UNITS TO THE STADIUM and destroy your opponent's fleet. Conquer this action and strategy competition designed entirely in 3D to give you the best game experience.

CUSTOMIZE YOUR CAPTAIN with awesome skins and head to the stadium to show the world what you are made of!

COLLECT DIFFERENT UNIT CARDS: Smash troops down with the adorable Mastodon, tear your adversaries apart with the fearsome Hell Bite or plan your air attack with our cute Buzzer. One way or another, you won't be able to stop moving!

DESIGN YOUR DECK from endless combinations. Pick the best troops, choose your favorite gadgets and use strong defense and continuous damage structures. Plan your strategy and defeat players from all over the world!

WIN REWARD COURIERS full of Coins, Gems and new cards. Upgrade your units, master your deck and unlock new interplanetary stadiums throughout the galaxy.

Take on this gyratory challenge and fight for victory!

***FEATURES***
● Challenge and compete against players from all over the world, entirely in 3D.
● Deploy your strategy in player versus player (PvP) real-time games.
● Win trophies to unlock new interplanetary stadiums.
● Receive Couriers full of rewards.
● Collect Common, Rare, Epic and Legendary cards.
● Improve your collection, upgrade your units and fight for victory!

***COMING SOON***
● New Captains with customizable skins.
● More stadiums and fun cards.
● New club features coming up soon.
● Exclusive live events.
---
Peko Peko Sushi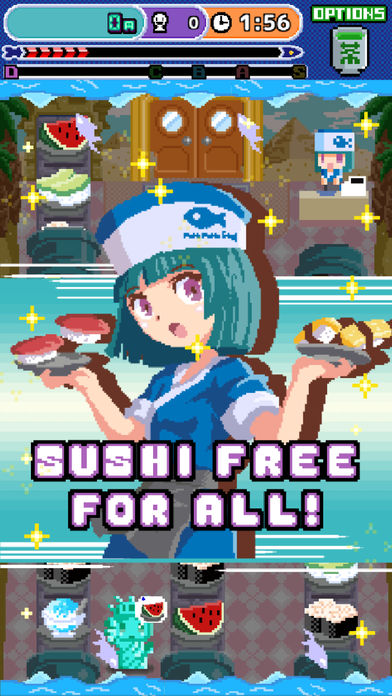 GAME DESCRIPTION

Peko Peko Sushi is a fast-paced conveyor sushi puzzle game. Serve hungry customers by shuffling sushi about, racking up high scores by stacking plates and acting quick. Unlock new staff and store parts to change the way you play and make it your own. Download now and help Ayame build the greatest sushi restaurant of all time!

KEY FEATURES

– Fast-paced sushi matching fun.
– Hundreds of sushi, store parts, and customers to unlock and choose from.
– Dynamic weather and calendar system that changes with every play.
– Amazing soundtrack and audio to serve sushi to!
---
Sword Art Online: Integral Factor
The newest Sword Art Online game!

This time, the protagonist is…you!
You appear in this online RPG as a member of an Assault Team, working with other imprisoned players to reach the 100th floor of Aincrad!

What if you were trapped in a game of life or death?
You can experience meeting familiar characters and connecting to the original SAO story from your own POV.
Experience behind-the-scenes stories not seen in the original SAO, and completely different story developments! Live out a "what-if" story where you affect Aincrad!

Battle System
Fight through the sprawling fields of Aincrad with your partner Koharu, trapped together in a game of life and death!

You'll need to cooperate with Assault Teams across the land and battle together to beat powerful monsters and tough quests! Forging stronger weapons, using skills with all kinds of effects, and preparing for each enemy's weak points and attack patterns are all key to your success!